Subscribe
Join 40,000+ sales and marketing pros who receive our weekly newsletter.
Get the most relevant, actionable digital sales and marketing insights you need to make smarter decisions faster... all in under five minutes.
Thanks, stay tuned for our upcoming edition.
How to Create Instagram Stories Like a Pro: 12 Essential Tips for 2019

So, you want to be an Instagram Stories pro? You came to the right place!
Stories continue to rise in popularity with more and more companies using it to connect with users. In fact, there are 300 million daily active Story users.
Originally launched as a direct play to win audiences back from Snapchat, Instagram Stories have quickly overtaken its predecessor.
Stories can be compelling, engaging, and create a true personal connection with your audience.
But how can you use it for marketing your business? And how can you take advantage of all those cool features you see other companies and influencers using?
We've got you covered.
At the end of this post you'll be on your way to being an Instagram Stories pro.
1. Opt for Natural Lighting
Like any video or photography, lighting can make or break the professional nature of your Instagram Story.
It doesn't mean that you need to go out and buy professional lights and setup a fully-decked out studio. In fact, the best lighting typically comes from natural light.
Natural light tends to be more flattering for all skin tones and allows you to avoid strange shadows.
The best time of day to get natural light is right after sunrise or an hour before sunset - also known as "the golden hour."
You might be under the assumption that middle of the day would be best to capture all the sunlight, but it's actually too bright and can often cause overexposure and shadows.
If most of your day is spent indoors and you don't have much time to get outside, consider scoping out places in your office, or house that have big windows facing the light, so that you're shot isn't backlit.
So you live in a place that rarely has sun? I'm sorry, you should consider moving. Just kidding.
All jokes aside, there are other options for you and they don't have to be expensive or difficult to use.
In fact, Wistia has a "Down and Dirty DIY Lighting Kit" that you can put together for under $100.
2. Use Your Phone's Native Camera
You don't have to shoot with a fancy camera to get professional quality. Thanks to smartphones, you can shoot great video with what's already in your hand!
For the best video footage from your phone, make sure you use your native camera, and not the one in Instagram when shooting. Videos taken directly in Instagram have lower resolutions and limited options for editing directly in the app.
If you happen to have it in your budget to invest in a camera we suggest going with a DSLR.
If you aren't familiar with what that is, it's short for digital single reflex lens. It differs from others cameras based on its technology and components.
A DSLR can give you high image quality as it records in raw image format (useful for getting a bunch of different file formats for post production) and does not apply compression.
It allows full manual control and interchangeable lenses for more cinematic looks.
Like I mentioned, this isn't a must nor something I would recommend as you're starting with Instagram video, but it's a nice to have if you are a little further along in your video marketing or have the means to get one.
3. Keep Video Length & Editing in Mind
As you might already know, Instagram Stories only let you post videos up to 15 seconds long, so you'll have to learn to keep things snappy. These videos can be shot in portrait or traditional landscape mode, but considering that Instagram users typically browse with their phones vertically, it's best to stick to portrait.
One great way to ensure you're able to appropriately fit your content into a 15 second snippet and allow Stories to flow nicely without awkwardly cutting you off during your recorded story is to use editing software.
Editing Software
With such a strict time limit to your Instagram Story videos, editing can be key! Luckily, there are many options at your fingertips and you don't have to be a pro to use them!
Here are a couple options to get things off the ground.
This app is great for beginners due to its simplicity and ease of use. It gives you the ability to edit audio and video after the video has been created.
This comes from GoPro, but you don't need GoPro to use it. You're able to choose from a variety of filters, and it allows you to bring together multiple unedited videos into one fully edited one. You can also add in music and transitions. And it's free!
This is also an easy to use video editing app. You have the ability to add in music, filters, subtitles, and more. The features you have access to depend on what plan you're on. They do have a free version though that allows you to tackle basic editing features.
This is another great app that will allow you to edit the video, rearrange clips in a certain order, customize the speed, adjust lighting and music. This can also easily be effective without going into the paid plans.
There's a ton of others too. We dive into a bunch more here.
4. Keep Branding Consistent
Alright, now that we've got the foundational pieces covered, let's talk about the different features on Instagram and how to best use them.
Just as you'd keep the same branding on printed materials as you would on your website, you want to make sure that consistency spreads to your Instagram account as well.
Think about your website - do you use more images of people or products? Do you use particular overlays on images? What is your color palette?
Make sure this all translates into what you're producing for your Instagram Story.
Consistency should also be seen in your messaging and content. Keep in mind your established audience, their likes, and expectations. Everything you create should be in line with these.
Why is branding consistency on your Instagram Story important?
It strengthens brand recall, and doesn't create confusion or division amongst followers. You want someone to have the same experience with your brand no matter the medium they are on.
A great example of strong brand consistency is the way HubSpot uses it in their Instagram Stories.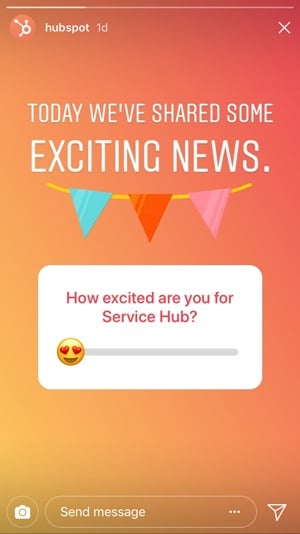 They show their real employees, always find a way to use the color orange, and use their Stories to educate followers on marketing and business tips.
5. Use Locations and Appropriate Hashtags
Using hashtags and locations in your Instagram Stories allow users to more easily find your content (especially the ones that aren't following you). This is one of the big reasons why Instagram Stories are beating Snapchat's these days so make the most of them!
If you're struggling to put together hashtag ideas, consider doing a simple search on the platform.
Start with some words that your audience might be searching for. From there, you'll se a list of the top hashtags around it and how many posts have been tagged with them.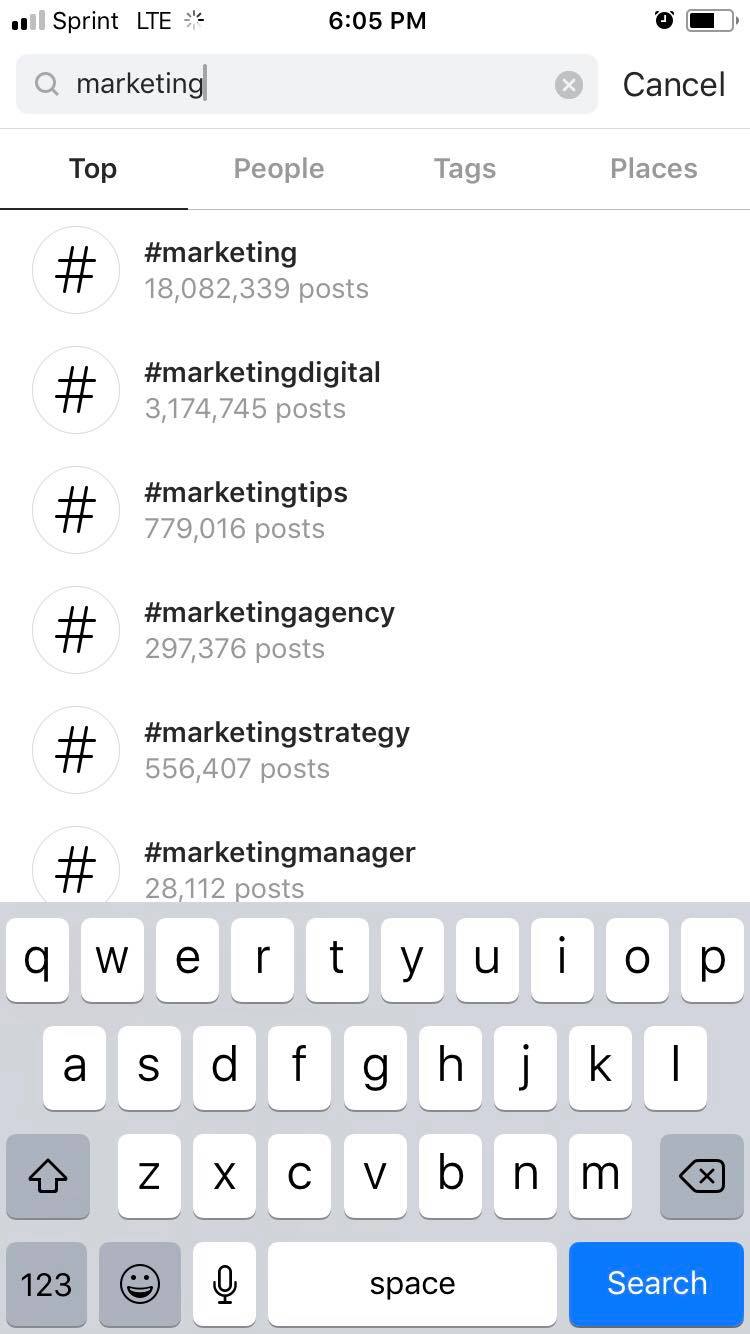 Another option to consider is taking a look at some competitors to see what hashtags they are using.
Keep in mind hashtags (like keywords) can get competitive.
For instance, if you're a travel company, you don't want to just hashtag "travel."
Think about the top destinations people are booking through your company and start tagging those specifically. It's like long-tail keywords. You want to get as specific as possible.
Also include locations in your posts and Stories.
The perk of including the location on your story is your content will appear if someone does a location search. It will also appear when a user is on their general search page.
There are Stories at the top of the page based on the user's nearest location.
Plus, how many times have you seen a cool photo or video on a friend's Instagram Story and wondered where that was? Using location tags answers this question and builds buzz.
Invision does a great job incorporating location and hashtags into its Instagram story: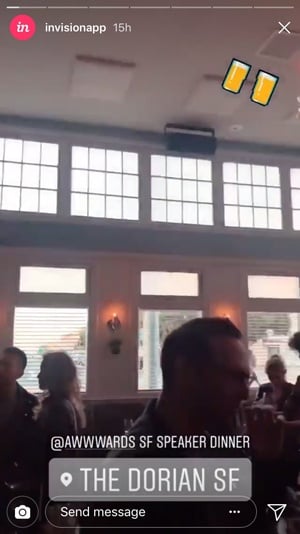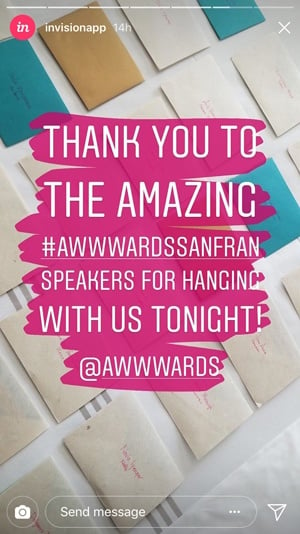 6. Add Animation & Music
Another really cool thing you can add to your stories is animation. This is a great way to switch things up and make your videos standout.
There are free tools that you can take advantage of to do this, but my favorite is Adobe Spark.
It's as simple as downloading the app on your phone or computer, picking a rich visual template, colors palettes, saving it to your phone, and uploading to Instagram.
With the array of templates and colors available, you're bound to find options that match your brand.
This YouTube video gives you a quick how-to of the app so you can get started in no time:
Another animation feature you can add to your Instagram story are GIFS - because who doesn't like to have a little fun.
Go to your video, tap on the "stickers" feature, tap on GIF, and then you have the ability to sort within GIFs to find the one you'd like to use.
Music
There's a couple different options for adding music to your Instagram Story.
If you're recording a story right in the platform, all you have to do is play music on another app within your phone. In other words, if you're already blasting music through Spotify while you record a video, it will be included.
If you're looking to integrate music after you've recorded a video outside of the platform (which we recommend),a great third party app to consider is InShot.
It allows you to tap into music you have saved on your phone, or access their library.
InShot also allows you to trim music, select level of volume, crossfade, and add in fade in/out options.
Of course ,if you're a more seasoned video professional, you can also always drop in music through your editing software of choice, then upload it back onto your phone.
7. Use the Native Effects to Enhance Your Story


Pinning
Ever add text into a video and it's just in an awkward place the whole time? It doesn't have to be that way! Instagram allows you to pin text, @mentions, and graphics in your Story.
After you create the text you'd like to include on your Story, hold your thumb down on it until you see a pin option at the bottom right.
From there you'll see a line that will allow you to go through the video clip and choose where you'd like to pin the text.
Font Options
As you're writing text on a Story, you'll see the option to change between neon, modern, typewriter, strong, and classic. That way you can choose something that is a bit more aligned with your brand (if you're not ready to get fancy with editing text in through video software).
Super Zoom
When you're about to create a video right within Instagram, you'll see many options at the bottom of the screen, one of them being super zoom.
Super zoom is a lot of fun (arguably one of the best features). It allows you to dramatically zoom in on a person or object in a variety of different styles - bounce, tv show, dramatic, beats.
TV Show for example, blurs slightly and adds a purple circle around the object in the center of screen, while also playing "dreamy" music that you might hear in an 80's or 90's sitcom.
Random? Yes, but they could be a great way to show of your sense of humor and team culture.
Try them all out and see which you like best. To see the options click on the music note which will allow you to filter through them. Once you've selected the one you want. you'll just click record and super zoom does its magic.
Boomerang
Who doesn't like a good old boomerang shot? Ever since Instagram introduced this app and incorporated the feature into its Stories, I can't get enough of them.
These quirky video loops are another option to switch up your video and show some personality in a unique way.
What you'll do is select the option once you're on the Instagram camera. Obviously, you don't want to record something still - that would be boring.
Make sure that what you're recording is moving in an interesting way to get the most out of it.
Slo Mo
This one might be a little more difficult to strategize (or not if it's your jam), but when you find the right moment to use it, you'll be glad you did.
Slo Mo can make any moment a little more dramatic and emphasize a specific action in a creative way.
You can also select this option when you're on the Instagram camera mode.
Text Frames
Instead of having to clutter a photo with text, you can use a colored blank background and add a text frame to include more of a narrative to give video and photos more context.
Within text frames you also have the ability to add tags as well.
This also helps break up the photos and video and include an even different way of relaying a message.
8. Encourage Engagement with Polls & Mentions
Another unique feature to get more people interacting with your Instagram Story is polls.
Polls are a great way to not only get users engaged with your content, but it also provides an excellent way to see what your audience is interested in.
Consider asking questions that will help you craft future content. This should help with seeing engagement numbers increase as you're posting content your audience has told you they are interested in.
You can also boost engagement with mentions. For example if someone hashtags or mentions your brand in a post, consider re-sharing it in your story and mentioning them.
To highlight our friends at Invision again, check out how the brand mentioned its team members and others they met an industry event in its Instagram story: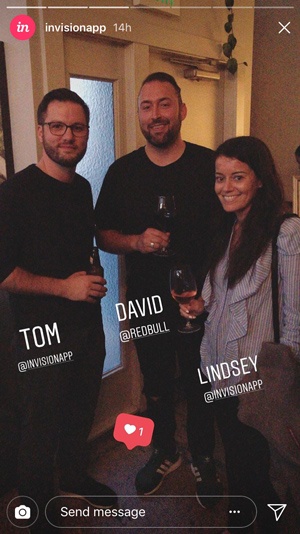 9. Go Live
I'm sure you've seen celebrities and influencers do this to interact with their followers.
Going live on Instagram Stories lets you engage with your audience in real-time.
Use it to showcase something new and exciting at your company or to even invite someone in your industry who is well-known to do a Q&A on a trending topic and allow your audience to interact and ask questions.
You can also use Live as an opportunity to invite users to get a glimpse into your business.
For example, show what production looks like for a product - show them how it's made and who is making it. This gives a more human element to your brand and allows people connect on an even greater level.
10. Link out!
Just as I'd recommend you provide conversion opportunities on your website, I highly recommend you take advantage of the "see more" CTA in Instagram.
This is a way for you to drive traffic from Instagram to your website or anywhere else you want them to go -- unfortunately, it's only available to those with over 10,000 followers right now.
To add a link, you add/upload your video to stories and then you'll see a chain link icon at the top of your story. From there, you can add in a URL and once you see the checkmark is green you're good to click done.
Even though there will be the "see more" link at the bottom of the story or post you want to make sure that you provide CTA text on the post to encourage the user to swipe up.
If you don't have 10,000 followers yet, you can always send people to the link in your bio as you would in a normal post.
One down side of Instagram is that it doesn't track link clicks.
Thus to track actions you have to to use UTM parameters. These are short text codes added to a url that allow you to track visitor traffic sources. UTM parameters send information to Google Analytics to track how much traffic your social media posts are sending to your website and what the conversions are like.
11. Create Story Highlights
Story highlights allow you to pick videos and pics from your Story that you to feature on your Instagram profile.
Instagram Stories are great, but they disappear after 24 hours. With Highlights, you and your audience can enjoy them permanently.
As you're creating Highlights, consider breaking them up and organizing them into different topics. This makes it easy for the user to check out exactly what they are interested in.
Learn more about setting them up here.
Due to a recent Instagram update your Stories should automatically be archived so you can start doing this right now, if you haven't already., Check your account settings to make sure this is turned on.
12. Plan Your Content
Last but not least, plan out your content!
Just as you would plan out an editorial calendar for blogs, decide the type of content you want to produce for your Story ahead of time.
This is a great opportunity to show people behind the scenes of your company and to introduce them to your team members.
When you're planning out your Story content, include strategic hashtags and calls-to-action to drive users from the platform to your site to interact even more.
Do it for the 'Gram!
See, Instagram Stories are that daunting. There are a lot of tools at your disposal that can take yours to the next level even right within the platform.
Something to always keep in mind is that these social media platforms are always changing which means as a marketer you should continue to keep an eye on the changes/updates and how you can integrate them into your strategy.
Also, remember to test what you're doing. See what resonates most with your audience and optimize it. If there are strategies that just aren't working - get back to the drawing board.
At the end of the day, the ultimate thing to remember is people don't come to social platforms to get sold to - they come to connect, socialize and learn new things.
So, make sure as a business user you're using it the same way.
Free Assessment:
How does your sales & marketing measure up?
Take this free, 5-minute assessment and learn what you can start doing today to boost traffic, leads, and sales.