Website strategy cost: How much should we budget for our business? (+ video)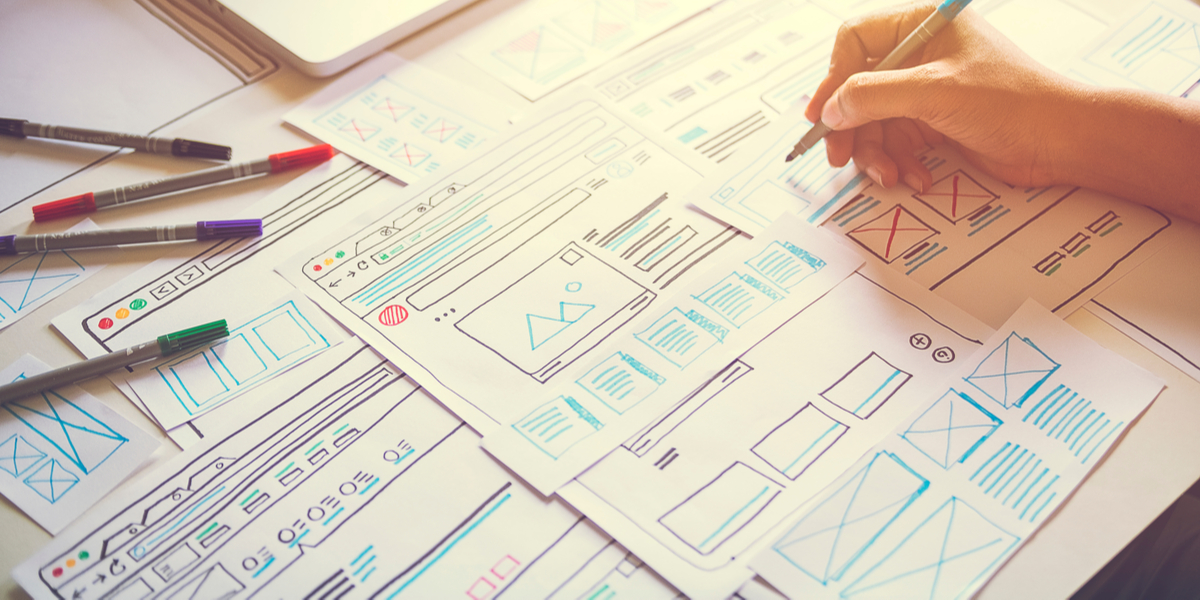 How much does a business website strategy cost?
A business website strategy can cost anywhere between $1,000 and $15,000, depending on a variety of different factors. The most critical factor, of course, is how you choose to have a website strategy delivered by an agency. It can be done as the first step in a standard website redesign project, a separate half- or full-day workshop, or a standalone, multi-week project.
Website strategy cost overview
Now, let's dive more deeply into the answer
If you're anything like me, you grew up with a mom who loved clichés.
"What's meant to be will be."
"The grass is always greener."
"Because I said so."
Also if you're anything like me, while you tried your best to avoid it, you inevitably inherited the cliché gene (Love you, mom 😊). Now, I'm going to embrace it when I describe website strategy using a tired, but efficient metaphor.
"Just as you wouldn't build a house without a blueprint, you shouldn't build a website without a strategy."
Think of the mess a contractor would make with all of your hard-earned cash if they were to break ground on your home without a solid plan in place. Yikes!
The same goes for your website.
It's no longer enough to just have a website presence — and design is only part of the equation. There needs to be a purpose for every page and every section within that page. You need a plan for users to accomplish their goals and ensure your goals are met as well.
As awwwards perfectly states:
"When trying to design a great website it is very easy to focus on making something aesthetically pleasing while forgetting to make sure that the website also achieves your business' online goals."
We couldn't agree more.
What is website strategy and why is it important?
Simply put, a website strategy is a well-thought-out plan to achieve a specific set of goals for your site. A great strategy takes your prospects', customers', employees', and search engines' needs into consideration.
If you are getting ready to devote your time, energy, and budget into a new website, an effective strategy is the critical first step. It's the guiding truth when making all content and design decisions.
Why work with an agency on website strategy?
Congratulations! You've decided to redo your website. You may have ideas about new pages to add and special functionality to implement, but perhaps you aren't sure how to get started.
Here comes a digital marketing and sales agency to the rescue!
Hiring an agency to lead your website strategy is a smart decision for three essential reasons:
1. A fresh perspective
The first is that an agency can offer a unique, third-party perspective. Your website is like a member of your team, and regardless of whether you took part in creating your current website or if you inherited it when you joined the company, you are close to it. You know everything about it, the good and the bad.
An agency will review your current site with a fresh lens and come to the table without bias. In addition, they will make sure you don't get hung up on what you've done in the past, and help to think outside the box.
It's hard to start with a clean slate without an external point of view.
2. Accountability and guidance
An agency will walk you through the process step-by-step and ask the right questions at the right time.
Action items and meetings will be scheduled on a predetermined timeline so that this important work won't fall by the wayside.
3. Experience and expertise
Just as you're an expert in your field, an agency is an expert in theirs. Agencies have learned what works and what doesn't work with hundreds of other clients before and will leverage that knowledge when working on strategy with you.
Could you plan a website strategy and build a site on your own? Yes, but that doesn't necessarily mean you should.
Though you can certainly try to do it yourself, you may end up with the same results as your last site, or worse
How to prepare for an agency-led website strategy
Once you've selected an agency to lead your website strategy, you may be wondering what you need to do to prepare. Luckily, you won't have to do any of the heavy lifting, but you will need to follow three simple steps before getting started:
1. Do your homework
Your strategist will likely task you with a few assignments before your first call to ensure the kickoff runs smoothly. This generally includes a questionnaire they'd like you to answer, covering everything from expectations and company history to your target audience, sales history, and website goals.
Your effort on these assignments is crucial to starting off on the right foot.
2. Make time in your schedule
Depending on the agency and the package you select — be it a half or full-day workshop, a multi-week deep dive before your project begins or packaged within the website redesign project itself, you'll need to make sure you can clear your schedule for meetings with your strategist and give yourself time to review documentation between calls.
3. Invite the right people
Make sure all website stakeholders are invited to the meetings. This will likely include your marketing team, content writers, and sales team members who want to give their input about sales and customer history, in addition to how the website could be helpful in their sales process.
How much does a website strategy cost?
A website strategy can cost your company between $1,000 to upwards of $15,000.
I realize this is a big range. Let's dive into the factors that can influence these costs.
The two overarching components that can drive the price either up or down are deliverables and packages.
Deliverables of a website strategy
Your website strategy can consist of a multitude of different exercises, and the list will vary depending on the amount of time you have and how in-depth you want to go.
The more deliverables you receive from your agency, the more your strategy will cost.
Below are the most common deliverables of a website strategy, divided into four key phases:
Discovery
Planning
Inspiration
Scoping
Discovery
Discovery is the process of exploring the current state of your company, your clients, your competitors, and search engine data. Here are four exercises you may encounter during the discovery process:
1. Company and needs assessment
This includes but is not limited to:
An analysis of your past, present, and future as a company
A list of your products and/or services
Top competitors and differentiators
Target audience and their goals and pain points
Website goals
Your agency will typically gather this information in survey format as homework before any strategy work begins, with a follow-up chat on the kick-off call. This type of assessment should come standard with any type of strategy package you purchase.
2. User interviews
If you want to take your customer and sales history discovery a step further, your web strategist may conduct interviews with past and current customers, as well as prospects who never bought from you.
Having a neutral party administer the interviews will ensure the gathering of honest, unbiased feedback.
User interviews are often only included in the more expensive strategy packages due to their time-consuming nature
3. Customer empathy and value proposition maps
One of the biggest issues we see when evaluating a prospect's website is that their content is all about them, which is a telling sign that their current website strategy may be broken.
Tools that can help you turn it around are customer empathy and value proposition maps.
HubSpot put it best:
"An empathy map is a tool used when collecting data about customers to better understand your target customer base.

"Similar to a user persona, empathy maps visualize customer needs, condense customer data into a brief chart, and help you consider what customers want — not what you think they want."
There are many variations of what an empathy and value proposition map may look like, but the goal is always to first consider the user's needs, wants, and feelings, and then position your benefits, features, and experience in support of those items – not the other way around.
You'll likely see these exercises as part of your strategy beginning at the mid-level price range of around $7,500 and up.
4. Keyword research
There's an ongoing debate in the marketing industry over whether or not keyword research is dead, but here at IMPACT, we believe it's alive and well, though evolved.
Your strategist will assign a unique primary keyword to each core page of your website. The primary keyword will be used in the page title, header tag, URL, meta description, and page copy.
While imperative for search engine optimization, keyword research is not ordinarily a part of lower-end strategy packages. As the word "research" implies, it's a labor-intensive undertaking.
Planning
The planning phase is what most people think of when it comes to website strategy since it's where you begin to get a visual idea of the structure taking shape.
1. Sitemap
A fundamental step in any website strategy project is creating the sitemap. This consists of your main site navigation, as well as any other pages on your site that don't live in the main menu.
Ideally, your sitemap will be set up as a diagram, with boxes representing each page. Being able to see exactly how the pages link together allows for a greater understanding of how the finished site will look.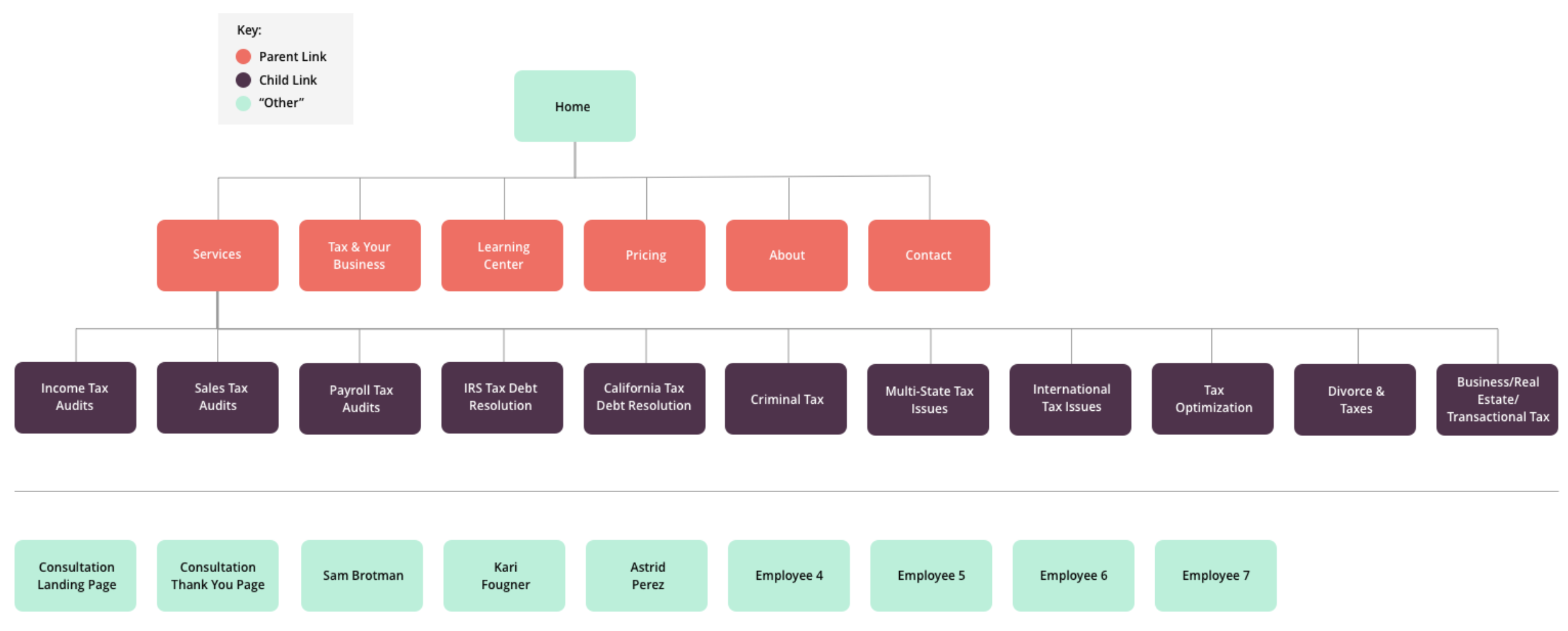 Image courtesy of Brotman Law
2. User flow
User flows are excellent for planning the paths you'd like users to take on your site. A strategist will start by considering the top entry pages — which are usually blog posts — and think through the next steps a visitor might take.
How can you lead users from point A to point B in a way that works for them and you? While there are likely many ways to reach the final destination, which is usually a lead conversion, the goal here is to highlight the ideal flow.
Since user flows are assumption-based, they fall into the nice-to-have rather than the must-have category. Oftentimes you'll only see them included in the higher end strategy packages.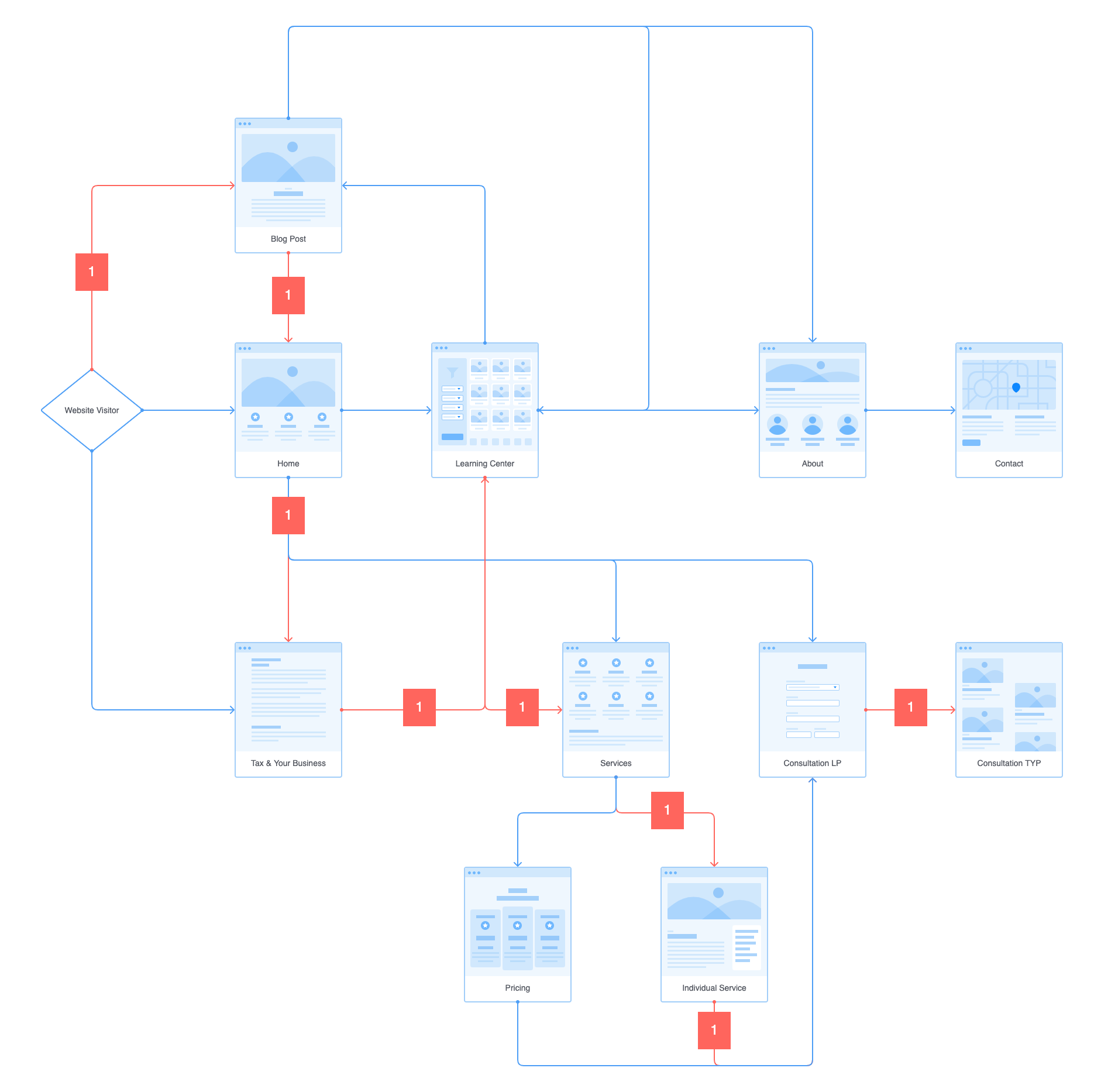 3. Page strategy
Page strategies will get you as close as possible to understanding how your new website will lay out before wireframing and design.
Your strategist will note the main goals of the site as a whole and then get more granular on a page by page basis by defining the following for each:
Overall page goal
Section name
Primary goal of each section
Content notes
Visual notes or inspiration
By the end, you'll have a clear vision for wireframing and design.
Inspiration
Design inspiration is an advantageous add-on to lower and mid-range packages.
The goal is to get your team aligned on aesthetics from the beginning. It usually starts with a web designer sharing example sites to gain an understanding of your likes and dislikes.
Based on the information gathered, the web designer may then create an element style guide or mood board. Using your branding guidelines as a base, they will provide you with sample font pairings, icon stylings, photo treatments, background textures, and other graphical samples.
After a design direction is selected, the web designer will move into a high-fidelity mock-up of your home page, using the page strategy determined by the web strategist.
Scoping
The last but certainly not least deliverable that should be part of all website strategy projects is a scope for the website redesign project.
On top of creating a solid plan for your site, one of the most valuable aspects of a website strategy is determining how much the project is going to cost, based on your specific needs and requirements.
Another significant element that's commonly included during scoping is a project timeline. It will show what needs to be completed by specific dates and who is responsible for each task.
Since the strategy work is already complete at this point, you're more likely to receive an accurate and realistic time frame for the project.
Website strategy packages
The package you select plays a large role in determining the price of your website strategy.
Agencies typically offer one or more of the following packages: workshops, a separate strategy project before the website design/build starts, or they include strategy as the first stage of the website redesign project.
There are pros and cons to each method.
1. Strategy workshop
Workshops are generally a half or full-day intensive hands-on collaborative effort for creating a website strategy and typically run between $1,000 - $6,000. Deliverables you might see included in a strategy workshop are a company and needs assessments, sitemaps, and scoping.
Pros:
Quick turnaround time
Cost
A chance to work with the team before you make a larger investment
A general idea of the website project cost
Cons:
A limited number of deliverables are included
No time for reflection
No design inspiration
The remainder of the strategy work will be added to the price of your site
2. Separate website strategy project
Also known as website blueprints at IMPACT, a separate website strategy project often takes place over three to five weeks, depending on how in-depth you'd like to get, how many deliverables you want, and if you'd like design inspiration.
Separate website strategy projects can range from $5,000 to $15,000 depending on their complexity and deliverables.
Pros:
A true deep-dive into strategy
A chance to work with the team before you make a larger investment
A full home page design before the web redesign project begins
The most accurate project scoping method
Cons:
3. The first stage of a website redesign project
Some agencies will bake the cost of the strategy into the main website project, so rather than paying ahead of time, it's added as part of the overall project scope.
Pros:
Cons:
Scoping may be based on your existing site, not what you truly need
You're making a large investment without "trying before you buy"
A well-executed website strategy is a game-changer
As you can see, the process of creating a website isn't what it used to be.
If you're in the market for a new website, you're about to spend a significant portion of your marketing budget, so it's imperative that you eliminate as much guesswork as possible. A solid foundation must be laid if you want your website to reach its maximum potential.
A website strategy is the necessary first step that will allow you to gather data, establish your content positioning, guide your SEO plans, and determine the architecture for your site.
An upfront investment in a product like our website blueprint will set your website and business up for success and real results.
So, before you dive into your new website project, pause, take a moment of reflection, and work with your agency to build a strategy before moving into execution.
Free: Assessment
Does your website build trust with buyers and bring in revenue?
Take this free 6 question assessment and learn how your website can start living up to its potential.