3 Awesome Google Chrome Extensions You're Not Using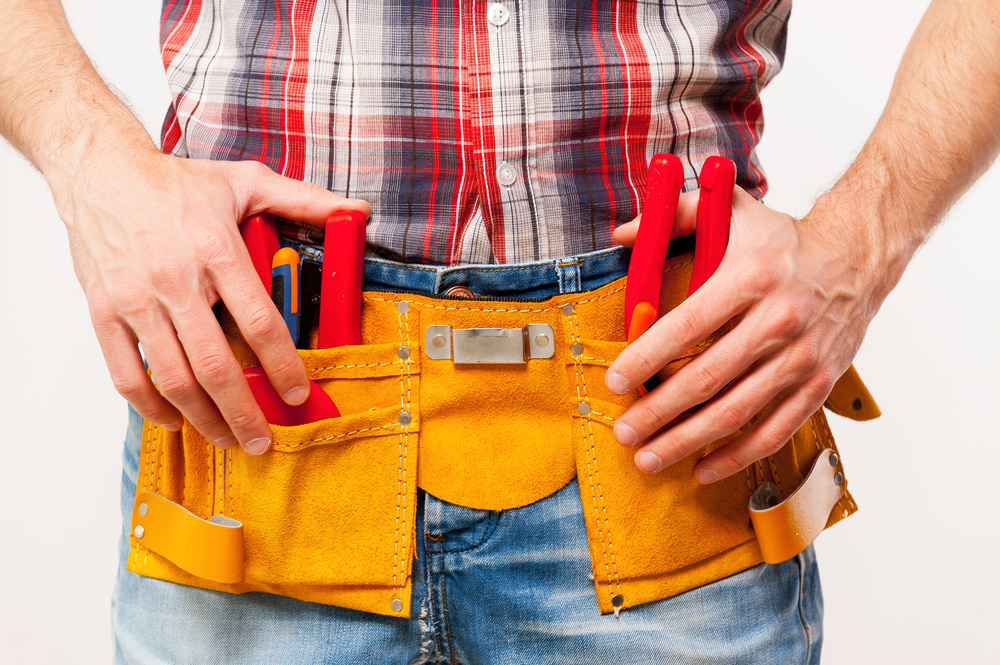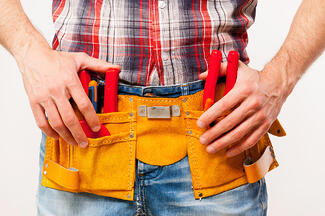 As busy online marketers, we all share the same desire to save time where we can.
As we carry out our day-to-day tasks and interactions, we are constantly searching for ways to simplify our efforts in order to squeeze more into our work days.
It's like it's in our blood or something.
Google Chrome extensions serve as not only valued time savers, but they're also a marketing manager's best friend.
With your tool belts full of tips, tricks, and other gadgets, you may feel like you've seen and tried it all, but I can assure you, there's more out there.
Consider these 3 Google Chrome extensions the hidden gems that you're probably not using yet, but won't be able to quit when you start.
Evernote Web Clipper
If you love Evernote, you're going to looooove Evernote Web Clipper.
This extension makes it easy for Evernote users to save things into their account as they come across them. Capture screenshots, mark them up, and save them right to your Evernote to access at anytime, anywhere.
There's a ton of features that allow you to modify the content to meet your needs. For example, users can "clip" a page 5 different ways:
Article: automatically detect the content on the page
Simplified Article: convert the article into the simplest form by removing distractions to ease readability
Full page: Save the whole page
Bookmark: Save just the main page and a snippet of text
Screenshot: Snap a screenshot of the page
From here you can markup the clipping using the built in highlighter, marker, stamp, pixelator, arrow tool, and type tool.
When you're satisfied with your clipping, you can save it to your Evernote, share it on Twitter or Facebook, or email the clip.
Here's an example of what the tools can do: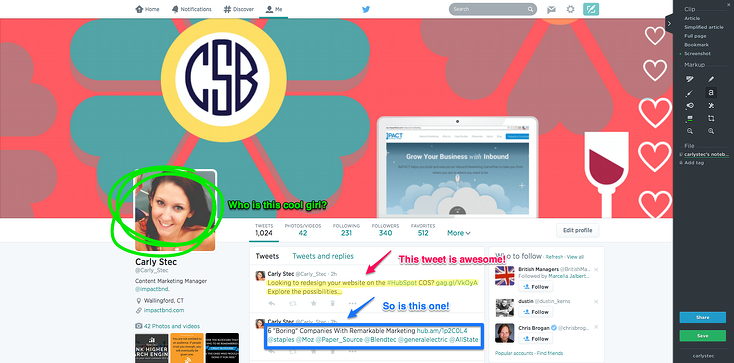 What this means for businesses:
If you're creating content on a regular basis, it's likely that you're already using Evernote to compose articles, hash out outlines, and store ideas on the go.
With this extension, you can simplify these efforts even further by adding and marking up information to your Evernote without even leaving the screen you're in.
Evernote Web Clipper gives you the ability to email your clippings once you're finished, which serves as an excellent way to share ideas with your colleagues quickly and easily.
Additionally, users can share their clippings to social media, providing them with an opportunity to create and share quick "how-to" visuals using the markup tools.
What users are saying about it:
"I love Web Clipper. I use it multiple times almost every day, keeping up with web content I would have lost, otherwise, because I use multiple PCs and multiple mobile devices. Bookmarks just don't get it when your life is fast paces and spread out among multiple devices." - George Williams
"The clipper is fantastic and captures all the core functionality you'd need. allows you to quickly save and organize key pieces of information during your travels through the web." - Brian Schmidt
"Incredibly convenient way to store information from the web into your Evernote system. Great tool!" - Mary Yuan
Ginger
Ginger is an online proofreading and rephrasing tool that lives in your Chrome Extension dashboard.
What separates it from other tools is that it has the ability to not only detect and correct spelling errors, but it also provides users with rephrasing suggestions to help them ease readability.
Whenever you are typing, whether it be an email, blog post, or social media update, Ginger will highlight any and all spelling errors in blue to make it easy to correct them. Check it out: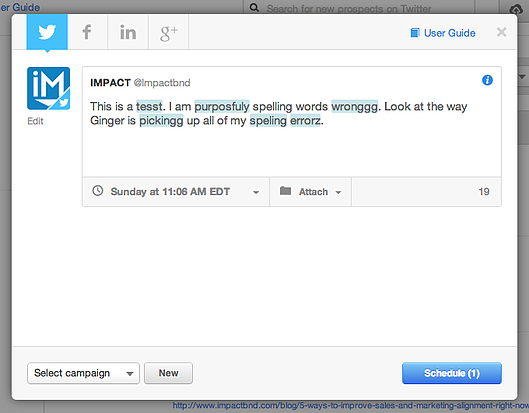 If you're typing along and you feel hesitant about spelling or phrasing, you can also pull out the a text box by selecting the Ginger icon from your dashboard like this: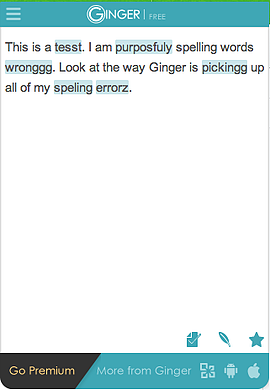 By selecting the paper icon in the bottom right, Ginger will automatically correct all of the highlighted errors.
If you're looking for a different way to word something, select the feather icon to pull up alternative suggestions: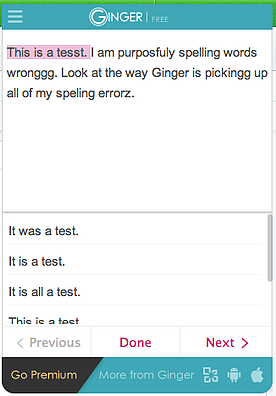 What this means for businesses:
Whether you like it or not, grammar ultimately has the ability to affect your business' bottom line.
Messy grammar and misspelled words are likely to slow your reader down and make them lose interest.
Additionally, if your content is plagued by poor grammar, it's likely that people will think twice about the quality of your products or services.
This extension makes it easy for users to catch mistakes and reduce the likelihood that your business falls victim to these types of oversights.
What users are saying about it:
"Great app! finally don't need to look up how to write things in Google - Ginger REALLY improved my writing..." - Efrat Kotler
ColorZilla
While this extension is particularly useful for graphic designers and developers, there comes a time in every marketing manager's life that you find yourself operating as a jack of all trades.
With no formal design training under my belt, I've come across several apps that make coming up with last minute Twitter images and blog visuals more manageable.
ColorZilla is one of them.
Aware of the importance of consistent branding, ColorZilla makes it easy users to read colors from your browser, and paste them into another program using the eyedropper tool.
Here it is in action: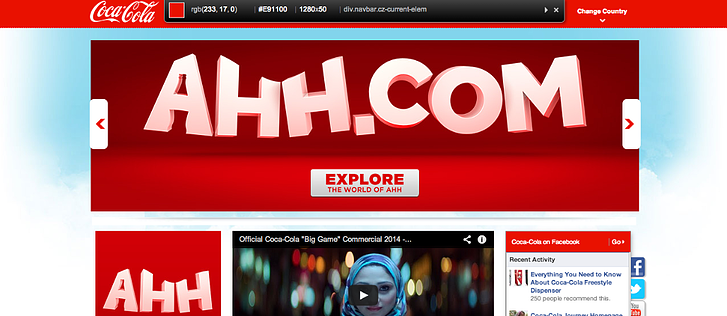 As you can see, the extension is able to pick up the HTML code for Coca Cola's infamous red, E91100.
What this means for businesses:
Professional looking design is all about the details.
If you don't have a team of graphic designers and developers readily available to you, there are several things you can do to help your brand's image.
Simple things like using a consistent color scheme throughout all of your branded messages is a good start.
Whether you're adding a logo to your latest SlideShare, creating a graphic is promote your new ebook, or adding some text to an image, use ColorZilla to ensure that everything matches up.
What users are saying about it:
"Works great. Hover over any element, image, on a page, click, and it will save the HEX code to the click board." - Michael DeAngelo
Free Assessment:
How does your sales & marketing measure up?
Take this free, 5-minute assessment and learn what you can start doing today to boost traffic, leads, and sales.