Facebook Marketing: 5 Brands You Can Actually Learn From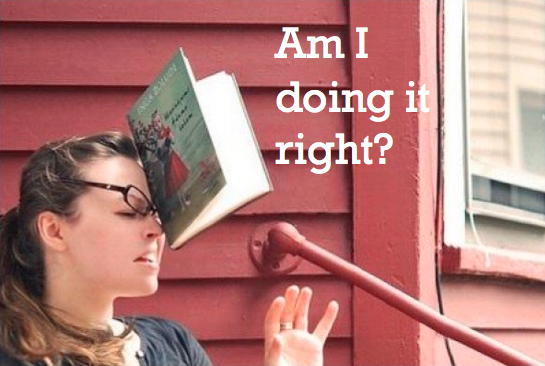 We've all read blog posts correlating Facebook marketing success with the practices of some huge Fortune 100 company.
(Check out what you can learn from Coca-Cola's Facebook strategy!)
However, if you're a small or medium sized business, chances are there's not much that you can learn. Their marketing budget is astronomical, they spend more on 30 seconds of air during the Super Bowl than your business has probably spent on marketing during the last five years. They can post a picture of a cat drinking Coke and it'll end up in your 72-year-old mother in-law's news feed somehow.
It's not grounded in reality. So we've highlighted five brands you won't see on TV, or hear on the radio, and show you how they've grown their brands with effective Facebook marketing strategies that you can actually learn from.
5 Brands Executing Great Facebook Marketing Strategies
1. HubSpot – The "No B.S. Approach"
The best Facebook marketers are introspective. Consider the manner in which you scroll through your own news feed.
It's quick.
The brands accompanying a Dickens novel along with an otherwise attractive update are the ones being passed over. The reason? Because it's taking too long for people to discern any measurable value.
In this update from HubSpot, they've taken the "No B.S." approach in order to allow their followers to easily identify the value of the offer posted.
"Learn the secrets for B2B lead generation on Facebook? Yes, please!"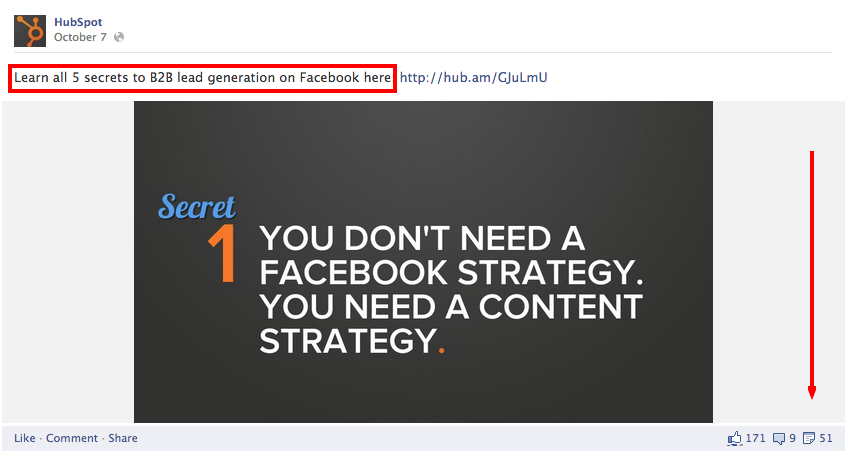 Check out the number of shares and likes. (This also increases HubSpot's Edgerank, allowing future updates to be seen by a higher percentage of their following.)
When you're sharing anything of value, get to the point quickly. Waxing poetic about the story behind an offer only dilutes the message. The sad reality is many of your followers don't enjoy consuming or reading too much content, so make it easy for them.
This is even more important on mobile, as there are far too many distractions to waste any time getting to the point.
2. Moz – Transparency
One of Moz's most admirable traits is their ability to remain human in an industry reliant on robots and technology.
In this update, they saw a good level of engagement due to the level of transparency in announcing a personnel change at the top. (It also helped that Rand Fishkin, one of the most recognized faces in SEO, is featured in the image.)
At the time of publication, this update was one of the highest shared on their entire wall.
Why? Because in announcing a change in personnel – usually a very private matter – in such a public, down-to-earth way, Moz allowed its followers a peak inside the inner workings of the company. As a result, they felt included.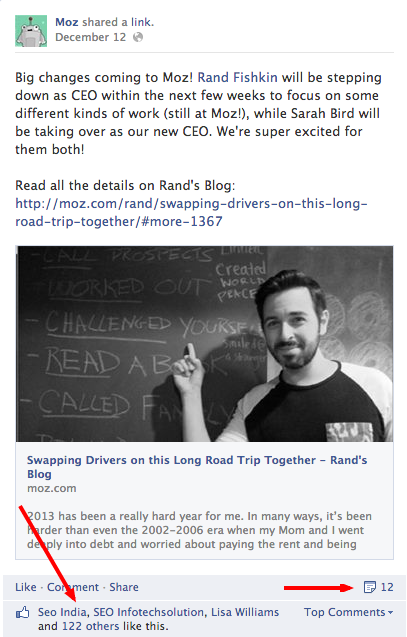 Everyone wants to feel included. By keeping your followers in the loop on company decisions, you're removing the whole "iron curtain" approach that plagues many companies, and as a result, keeps consumers an arms length away.
That's no way to build relationships.
3. Trello – Letting the Users Tell the Story
I've heard the "cocktail party approach" referenced far too many times in regards to social media, but it's too relevant not to mention here.
Would you, at said cocktail party, brag about yourself the entire night?
Of course not. So why treat your social media presence any differently?
Rather than talk about how great its project management app is, Trello used Facebook as a platform for sharing unique stories about how customers are using it.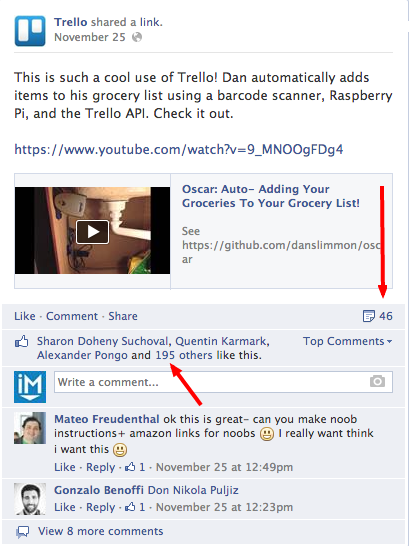 They even included a video! (Bonus points!)
Try telling your story from your customers' perspective. This not only creates endorsements for your brand, but it also prevents you from sounding like a complete narcissist, resulting in the dreaded "unfollow."
4. Dollar Shave Club – The Funny Bone
More than any other social network, Facebook is great at supplying fodder for the water cooler. People scroll not only to see what people close to them are up to, but also to stay in the loop.
FOMO (fear of missing out) afflicts Facebook users of all ages.
And no one likes missing out on a good laugh, and more importantly, laughter goes a long way toward humanizing your brand, thus creating solid brand equity.
Simply put, nothing is better than a good chuckle.
Take Dollar Shave Club, whose viral video propelled the brand toward relevancy in 2012. They had a unique product at an unbeatable price point, sure. But this isn't how Dollar Shave Club landed 200,000 subscribers as well as $9.8 million in VC funding.
They did it with a cheeky video. By being funny, human, and as a result, dominating water cooler talk everywhere. Their Facebook page is no different.
If they simply played it straight by promoting razor blades, not only would Dollar Shave Club not have millions in VC funding, but they also wouldn't have a social media presence that elicits the amount of shares, comments, and most importantly, eventual purchases as they do. (Check out the fan asking where to buy their product.)
Blades aren't a "sexy" product. But with a touch of humor and cheekiness, Dollar Shave Club has become as attractive as a brand can get on social media.
5. Salesforce – The Right Viewpoint
Let's face it, when it comes to the visual element, job postings are pretty boring. They're loaded with text, industry jargon, and enough requirements to make even the most qualified of applicants a little wary of the culture they're applying to.
While many companies simply broadcast that they're looking for talent through an all text post, Salesforce decided to flip the script. By posting such a beautiful image of the Chicago skyline in order to promote the company, they not only seem more attractive to applicants, but also received lots of shares in order to spread the message as far as possible.
Given the amount of shares this post received, I'd say Salesforce received a good deal of applicants, wouldn't you?
So the next time you post something, ask yourself, is there a more visually appealing way to get this message across? Anything goes.
After all, you wouldn't normally associate a city skyline with your run-of-the-mill job posting.
Be Worthy of Attention
You don't need a "sexy" product, or even a fat marketing budget in order to see great engagement on Facebook as these five brands have proven.
None of them sell a sugary drinks or some other product you might see during halftime of the Super Bowl.
They just know how their audience behaves in this specific social setting. They act like freakin' humans.
As these five brands have shown, it's not hard to do.
Free Assessment:
How does your sales & marketing measure up?
Take this free, 5-minute assessment and learn what you can start doing today to boost traffic, leads, and sales.