How Do We Implement They Ask, You Answer As Web Developers [Interview]
John Becker also recommends this free website performance assessment.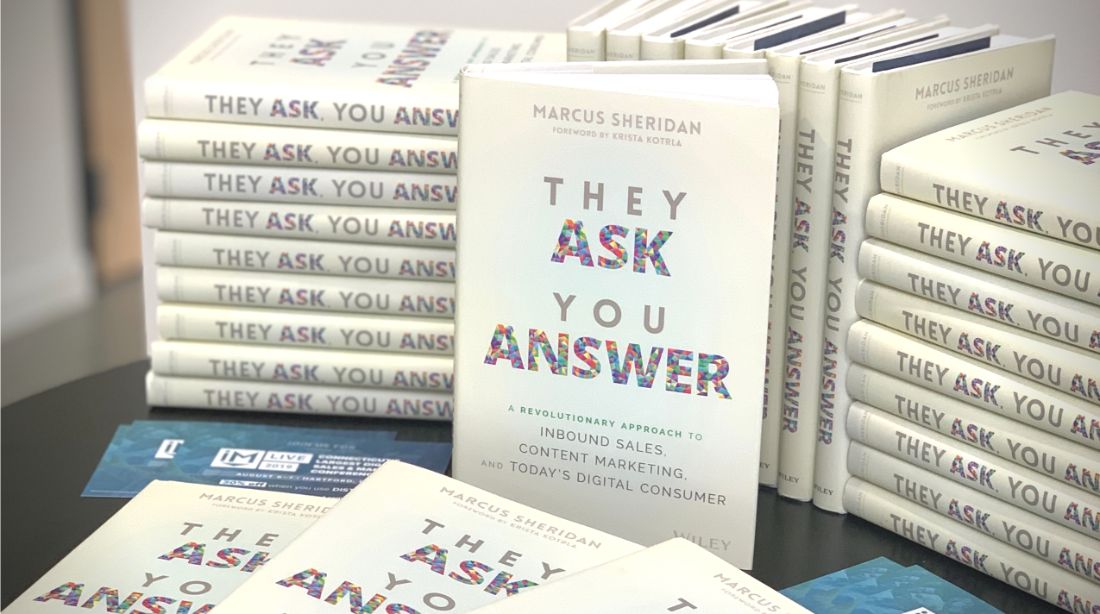 They Ask, You Answer is an intuitive yet revolutionary marketing and sales strategy that has been adopted by businesses of all kinds across the country. Marcus Sheridan is seen as a preeminent expert, even being called a "web marketing guru" by the New York Times.
It's easy to see how this business philosophy can completely change the way marketing and sales teams work. However, what about a company's less visible experts?
Free Assessment: Website Performance Assessment
At IMPACT, They Ask, You Answer has even influenced the way we build client websites.
I sat down with Senior Front-end Developer Tim Ostheimer to talk about how it's changed the work he does each day.
John Becker: How does They Ask, You Answer change the way a business uses its website?
Tim Ostheimer: The goal of a They Ask, You Answer website is to create a marketing machine that is able to get you sales-ready leads without any human-to-human interaction.
This doesn't mean that we want to eliminate that interaction entirely, just that we want to save that precious time for when the potential buyer is truly ready. This way, the discussion is much more productive and valuable to both the salesman and the buyer.
Content should be informative and educate the buyer so most of the sales process is done before they ever talk to a salesman. This could affect many aspects of your website, but it depends on the manner in which the content is displayed.
One of the most important aspects to consider is assignment selling, which is the concept of using the content that you've already created as a sales tool.
You've probably already written content that answers the main questions and concerns that potential buyers will have. So, rather than spending time educating each buyer one-on-one, you can just send a link for them to read.
This means that a company following They Ask, You Answer would need to consider the best way to present their content so it is optimized for search engines, intuitive for new website visitors, and useful for educating potential customers during the sales process.
From a web development standpoint, this usually means that we will need a flexible webpage layout which gives plenty of control to the content creator but without it being overwhelming.
This allows them to easily edit their content when necessary without needing to involve a designer or developer.
When creating a piece of written content you may not think to add in a section that addresses a specific topic until that piece of content is used for assignment selling — so the amount of work required to make that happen should be minimal in order to maximize efficiency without sacrificing quality.
JB: It sounds like companies tend to be updating, adding to, or augmenting the content on their website frequently. Does that affect the way that you would build a site?
TO: Yes. Previously we tended to build webpage templates as mostly static templates, meaning things weren't as flexible — you couldn't really rearrange things easily.
You could easily change what the text content was in a specific spot, but you wouldn't be able to easily add, remove, or rearrange sections.
Now, we're building sites so that each section is seen as a standalone design during the creative process. Each section serves a specific purpose and is intended for certain types of content so we're able to determine what sections are needed for a page based on the overall strategy.
This means that after the initial website is built, any new content can be slotted into the most appropriate available design instead of requiring a new template for every unique page layout.
This also means that the designer and/or developer are able to proceed with the design process for a section even if the content isn't finalized.
For example, we may know there will be at least one pillar page on a website but we may not know exactly what sections will end up being used.
We may suggest there be a section featuring a valuable testimonial, but it may take time for the content to be prepared or a video to be created.
This allows everyone to plan ahead but move forward without stopping, knowing that what's there now may only be a temporary version of what will eventually be.
This allows our clients to work with their marketing strategist to not only plan out the entire website but also begin implementing it much sooner than they otherwise could, which significantly reduces the gap between the initial planning of a website and the date at which the site is launched.
JB: So, how has this changed the philosophy behind your work?
TO: The new approach that we have for business website design and development has definitely affected our relationships with our clients for the better.
As a developer, my role is still the same, but we think about how pages are built much differently now.
In a way, we have to consider multiple end users because we are building beautiful websites with conversion optimization in mind, just like we always have, but now we're also building website templates which must be intuitive for our clients and coworkers to use and work in an endless combination of layouts.
The relationships our clients have with IMPACT is now much more consultative than it used to be.
Our project managers and consultants collaborate with clients on strategy while actively building webpages and demonstrating appropriate usage of section designs. This results in meetings that are more valuable and more efficient.
JB: What website challenge is most often unanticipated by a company going into this transition?
TO: The entire website design process can still feel overwhelming. Anyone who has been through it knows that it's a much larger task than most people expect it to be. But, this still usually comes down to simply having the content ready.
This is because it can take a long time to write good content. And, if the intention is to use the content for assignment selling, then it's even more important that the content be created and presented in the right way.
One of the things that we see that most clients are least prepared for is video, which is such an effective tool for both the website and for the sales process.
Although many clients will have experience writing content, they most likely don't have experience filming video or being in video, but it's something that is critical for a They Ask, You Answer website to have.
It's okay if you don't have video when your site launches, but it's something that you should plan for in the final version of it. Until then, you can substitute a relative image. But, in terms of being a sales tool and showing your brand and your personality on your website, video is the most effective way.
JB: If you were to imagine designing a website for a They Ask, You Answer customer versus a more static template like you talked about before, is one more long-lasting than the other?
TO: A They Ask, You Answer website needs to be much more flexible to enable the marketer to publish the content in the layout that they need when they need it.
A static template still may look very nice and perform very nicely, but it is more limited in the way it can be used and the content needs to be prepared before the page or template is designed and built.
This means that a flexible structure, like we do on our recent sites, has more value to it and will age better because it can be continuously updated without the need to have a developer do it for you.
The benefit of a static webpage is that, once the design is determined, there is less room for error during content entry and the marketer doesn't have to worry about the layout of the page because it has already been determined.
This helps streamline content entry, but as a result you sacrifice flexibility and the ability to display your content is the best way possible.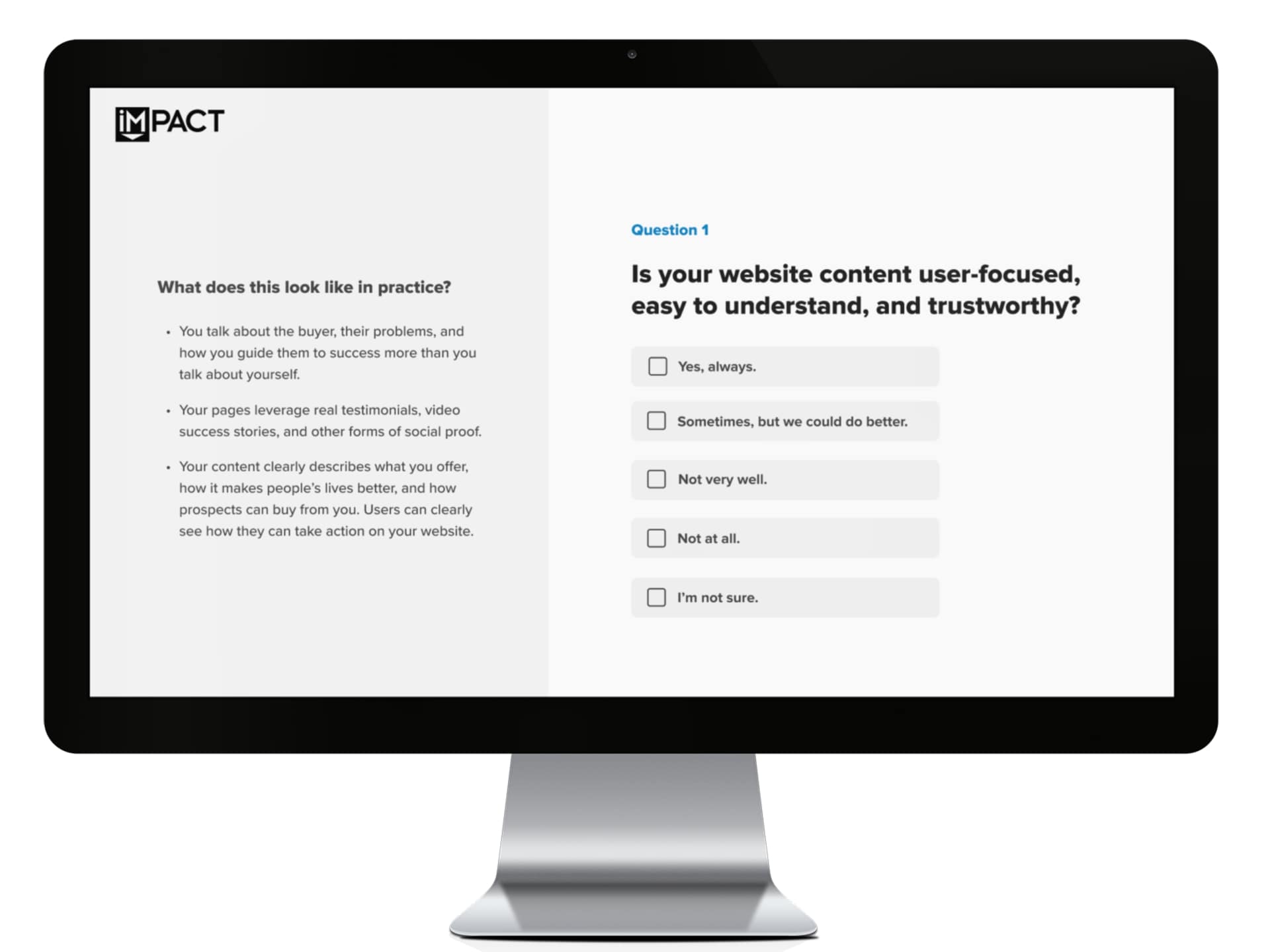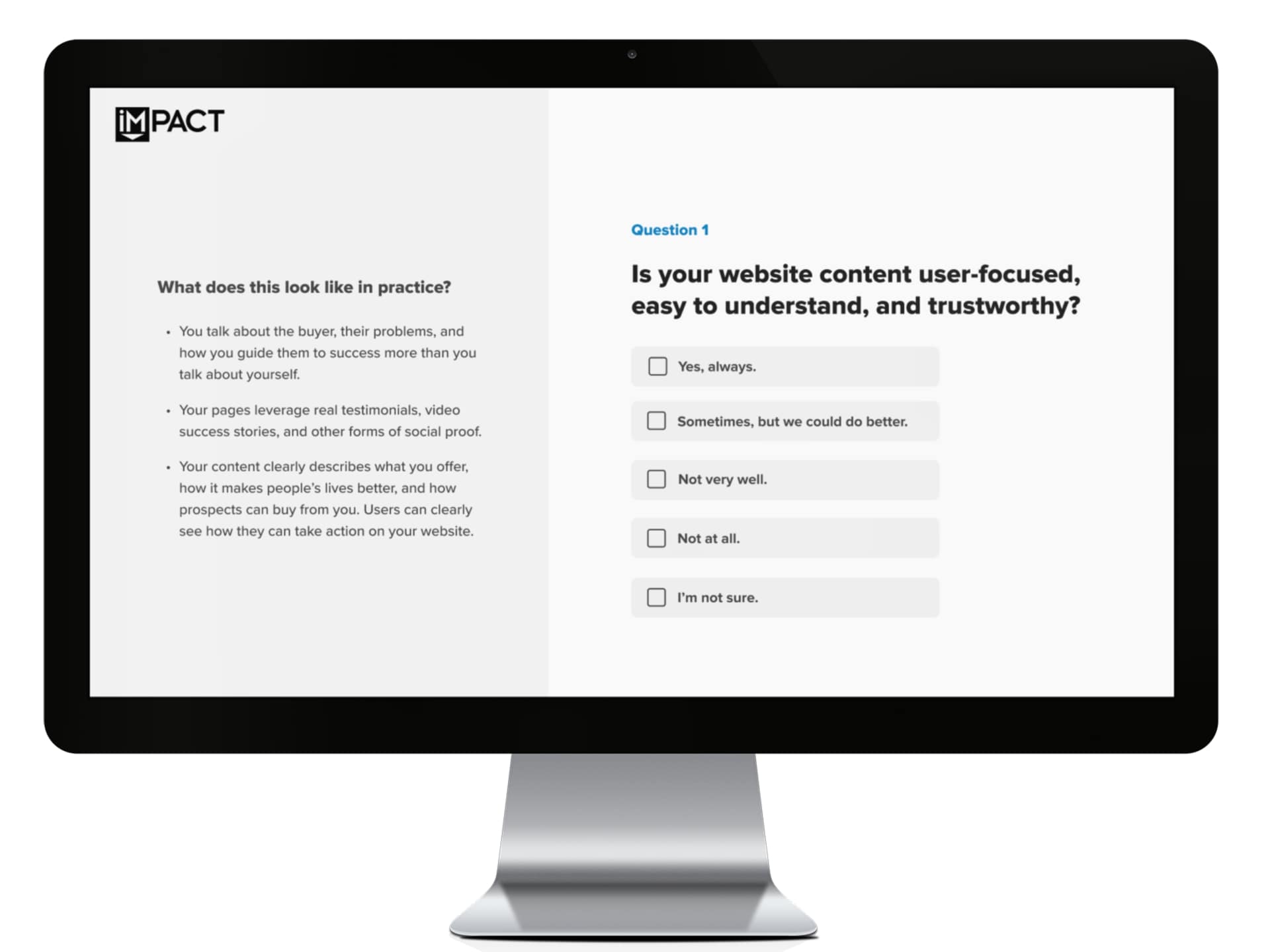 Free Assessment:
Website Performance Assessment
Does your website build trust with buyers and bring in revenue?
Take this free 10 question assessment and learn how your website can start living up to its potential.
Published on September 23, 2019