Subscribe
Join 40,000+ sales and marketing pros who receive our weekly newsletter.
Get the most relevant, actionable digital sales and marketing insights you need to make smarter decisions faster... all in under five minutes.
Thanks, stay tuned for our upcoming edition.
8 of the Best Business Website Designs to Inspire You in 2024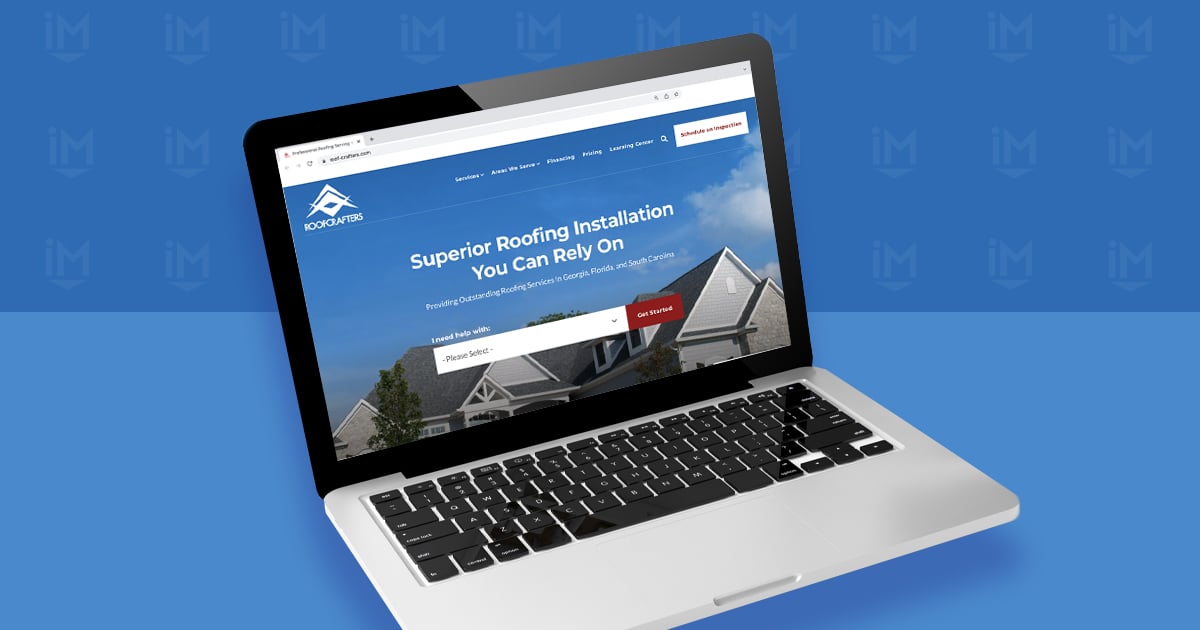 You don't have to be a marketer to know a website is a must have for any business.
It tells a customer what you have to offer and shares how to contact you, among other things. It can even help you get found in search engines and act as your greatest salesperson after hours.
It is a sign of establishment and legitimacy. It shows you take your business and accountability seriously and you want others to do so as well.
Whether you want to build brand awareness, drive traffic, generate more leads, or increase sales, a well-designed, professional website can provide a platform to make your business goals easier to achieve.
Thankfully, with tools like Squarespace, WIX, and HubSpot, creating a website is faster than ever, but that doesn't mean a great business website comes easily.
There are millions of businesses and business websites out there. In this article, we'll spotlight eight of our favorites and explain what makes them worth emulating.
What makes a business website great?
While the primary functions or actions your customer seeks from your website may vary, there are some standard things that your web presence should accomplish.
In a nutshell, a great business website does three things:
Communicates your brand/offering clearly
Makes conversion/buying easy
Educates your audience
It communicates your brand/offering clearly
One thing all business websites need to do is communicate a clear message. When website visitors arrive, they should immediately get a sense of what your company does and who the intended audience is.
There are many different approaches to messaging, but one of our favorites is The StoryBrand Framework, a seven-point outline that positions your audience as the hero in their story and your business as the guide who helps them along the way.
It makes conversion/buying easy
In addition to conveying who you are and what you offer, your business website should make it clear how someone can take action to work with you, whether it be through the website itself, finding a product in store, getting in contact on the phone, or using a self-selection tool.
From clear calls-to-action (CTAs) and dynamic design elements to easy navigation, all of these pieces aid in making your website more conversion friendly.
It educates your audience
Last but not least, your website should educate your audience not just about your company, but about how they can make the best buying decisions. This means answering their most urgent questions.
These can cover a broad range of topics, but a great place to start is with what Marcus Sheridan calls The Big 5.
Note: Want to get more granular about what your website should include? We break down the three points above and other specific features of effective business websites in the article, "What does a great inbound marketing website look like today?"
We also share examples and dig deeper into accomplishing everything we talk about here.
8 of the best business website design examples
Whether you're starting from scratch or undergoing a website redesign, here are eight examples of some of the best business website designs to inspire your own company website.
Some are multinational brands with huge budgets — and some are mom-and-pop type businesses with a handful of employees. In each case, though, the websites you'll see are well thought out and customer-centered.
Let's take a look.
1. Business Made Simple (BMS)
BMS is a course for those working in small-to-medium sized businesses by StoryBrand founder Donald Miller so it comes as no surprise that its website hits the nail on the head.
Right when you arrive on the page, BMS clearly and concisely tells you what they offer and who it's for (using The StoryBrand Framework), and gives you a CTA to get it.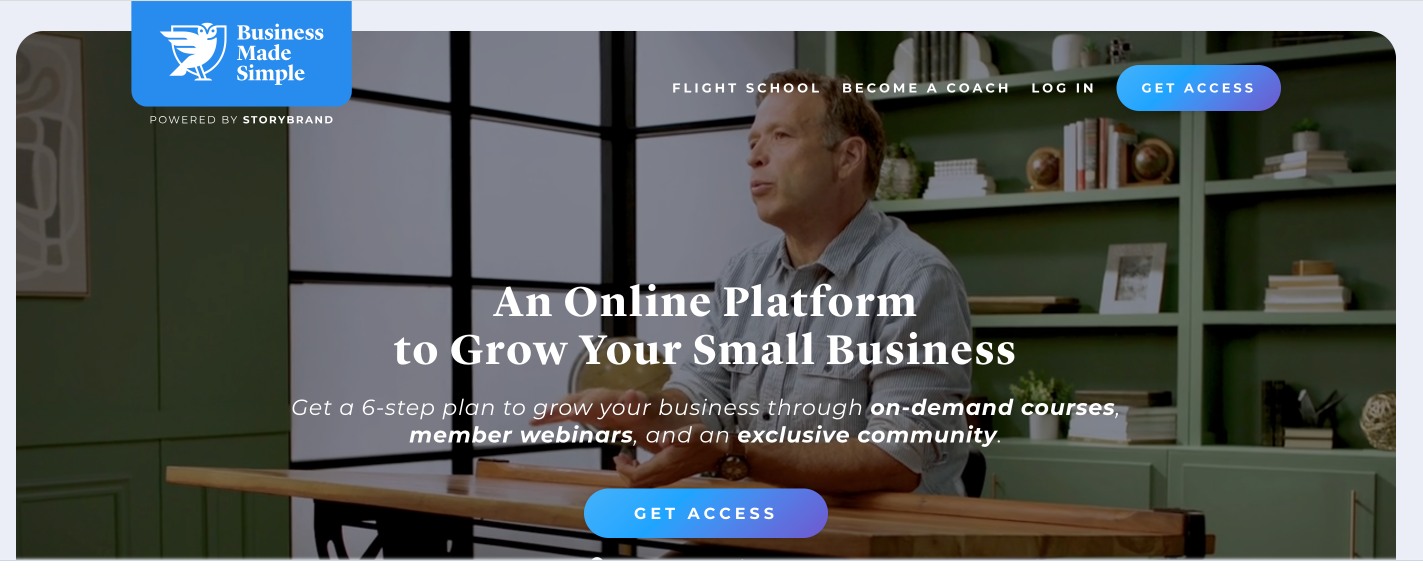 Then, as you scroll, it goes into more detail about how its offerings work through copy and video. It also shares testimonials to prove its claims and delivers all of the basics (like how to contact the company, its history, and terms and conditions) in the footer.
The site is streamlined to essentials and easy to navigate.
2. ClickUp
Project management tool ClickUp has one of the most visually striking and engaging websites on our list.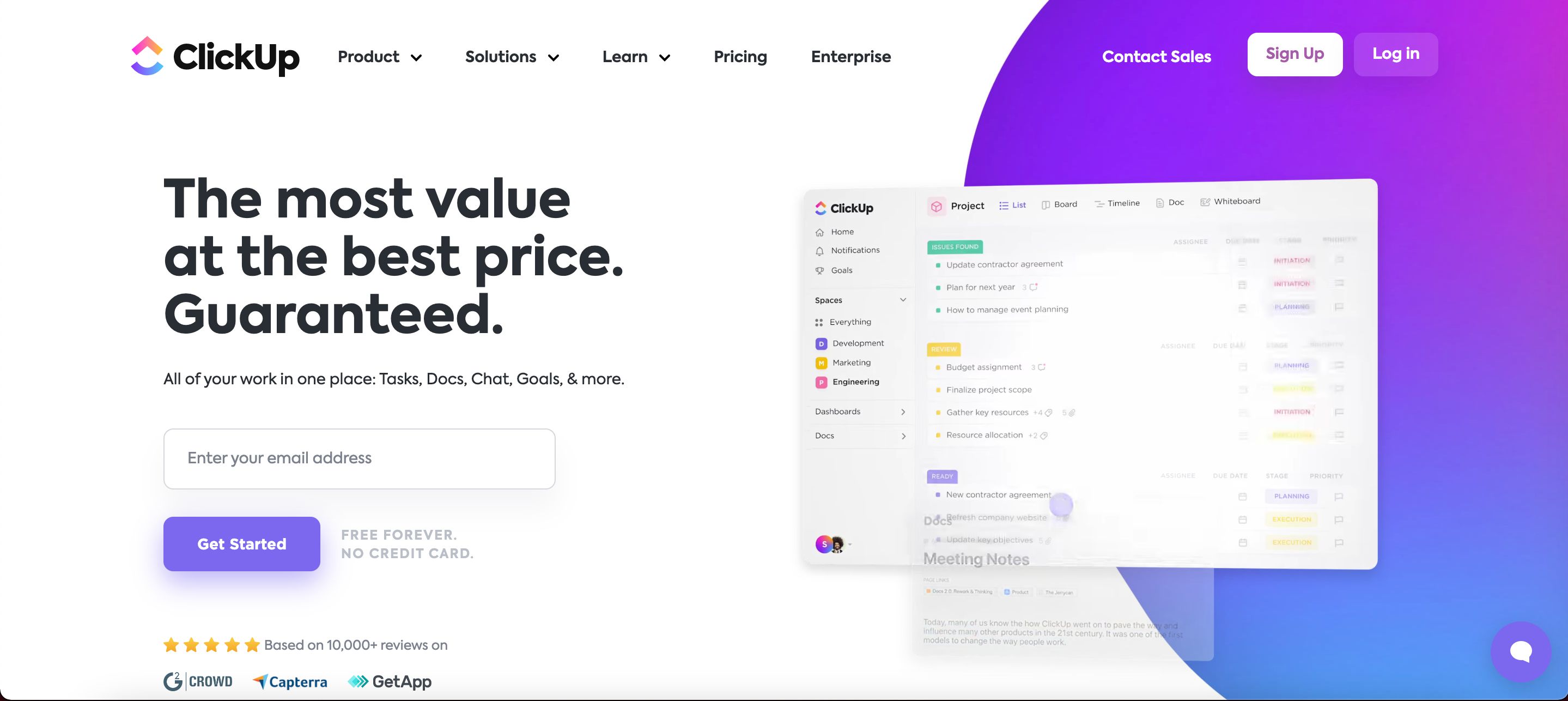 When you first arrive, you get pretty much everything you need to know to feel comfortable converting right in the hero section (first area you see on a website before you have to scroll):
A clear and concise description of what the company does
An in-line form to get started
Social proof in the form of reputable third-party ratings
Dynamic visuals of what the tool looks like
Live chat
Links to all the key sections of their website, including product information, pricing, a blog/learning resource, and contact information.
Below the fold, everything else is a bonus, going into greater detail with colorful, interactive graphics.

ClickUp is a robust tool that offers a lot of functions and prompts a lot of questions; it's only natural that the team will have a lot of information to share with its visitors.
Fortunately, this website is a great example of how to organize and deliver that volume of content in a way that is still easy to navigate and digest.
3. Bill Ragan Roofing
Next up, we have IMPACT client Bill Ragan Roofing — a wonderful example of a small business website doing everything right.
Like Business Made Simple, this website follows The StoryBrand Framework to make its messaging direct and easy to grasp.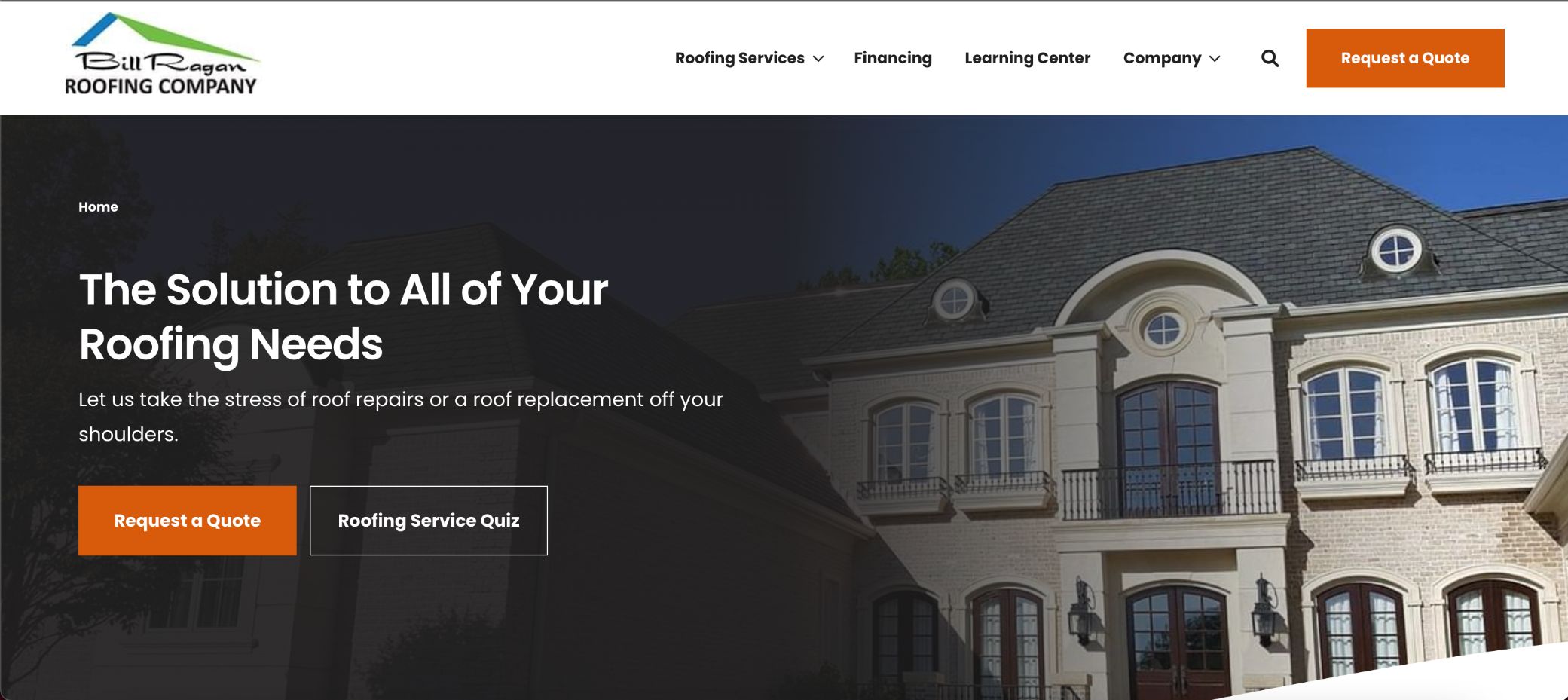 It also leaves no questions about how to start your journey with the company, using a bright orange button in its hero section to "request a quote" or take a quiz to determine what kind of roof service you need.
The website's navigation also does a good job of directing you to the most essential information to begin your purchase journey — pricing and its learning center where it offers a variety of educational articles and videos to help you learn more about roofing and how to make a smart decision.
4. Ellevest
Ellevest is a women-first financial consulting company.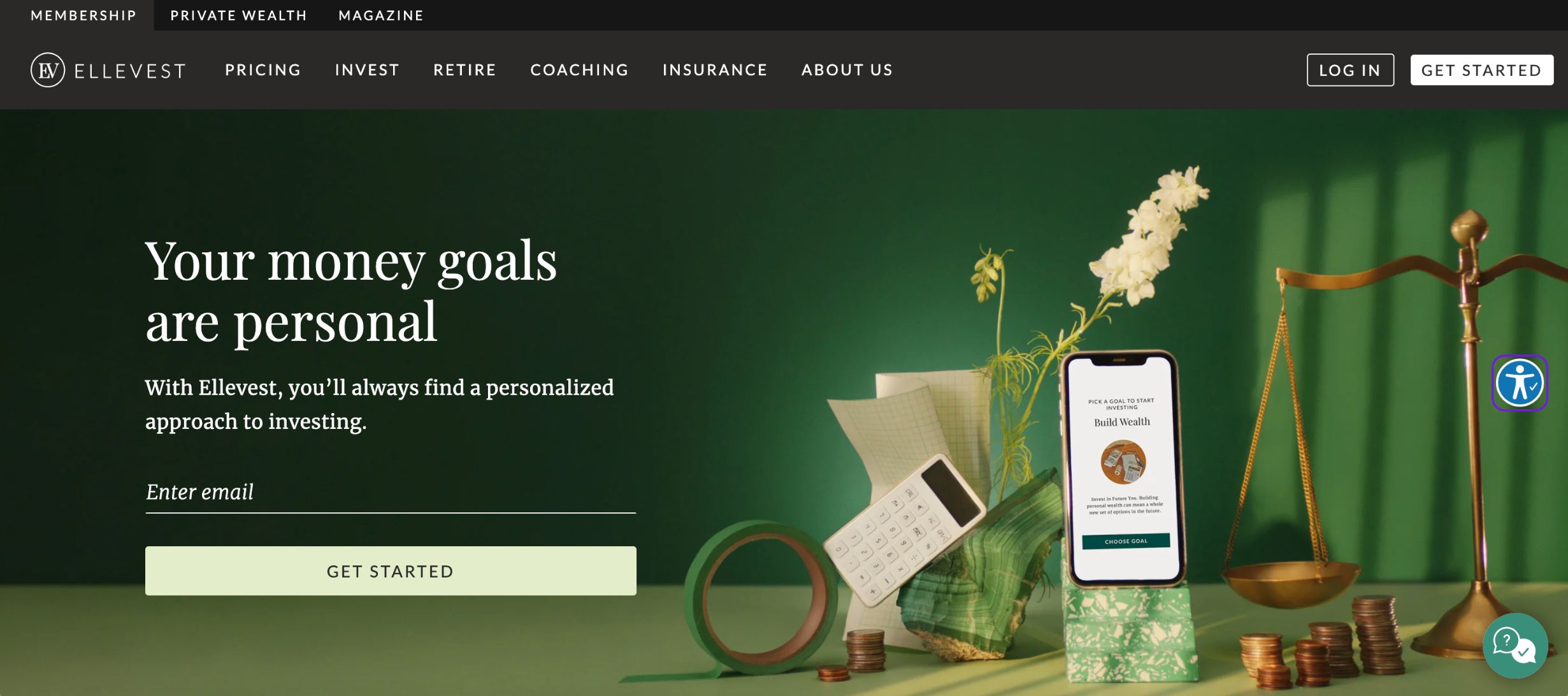 The brand's website stands out by initially focusing on the emotional value it offers (personalized financial support) and key differentiators.
Then, as you scroll, the team unfolds more about its "mission to get more money in the hands of women" with original reports and data and testimonials from real members, along with photos and videos of the team.
The clean, minimalist web design goes on to build credibility and trust, including the logos of media outlets the company has been featured on.
It also offers a few different options for starting your journey with them depending on your needs — becoming a member or signing up for their newsletter.
Another standout part of this website is its accessibility features for those with visual impairments.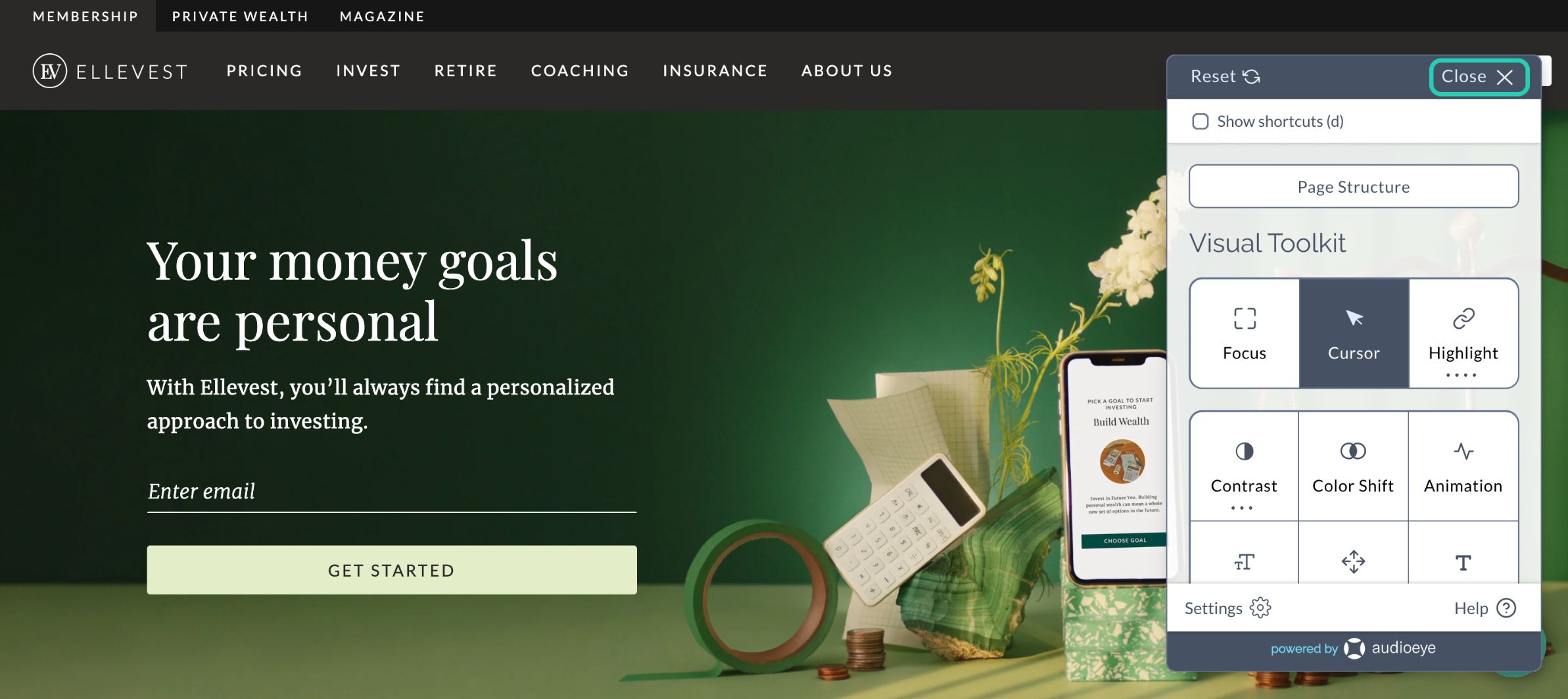 Simply click the menu on the right and you'll be met with options for adjusting the website's color palette, text sizing, focus, and more.
5. Roof Crafters
Roof Crafters is another IMPACT client with a great example of a well-done small business website.
This roofing company is unique in that when you arrive on its website, it guides you immediately to its self-selection tool.
While other examples opt for a multi-step quiz, Roof Crafters goes for a simple dropdown, asking you to identify exactly what you need help with.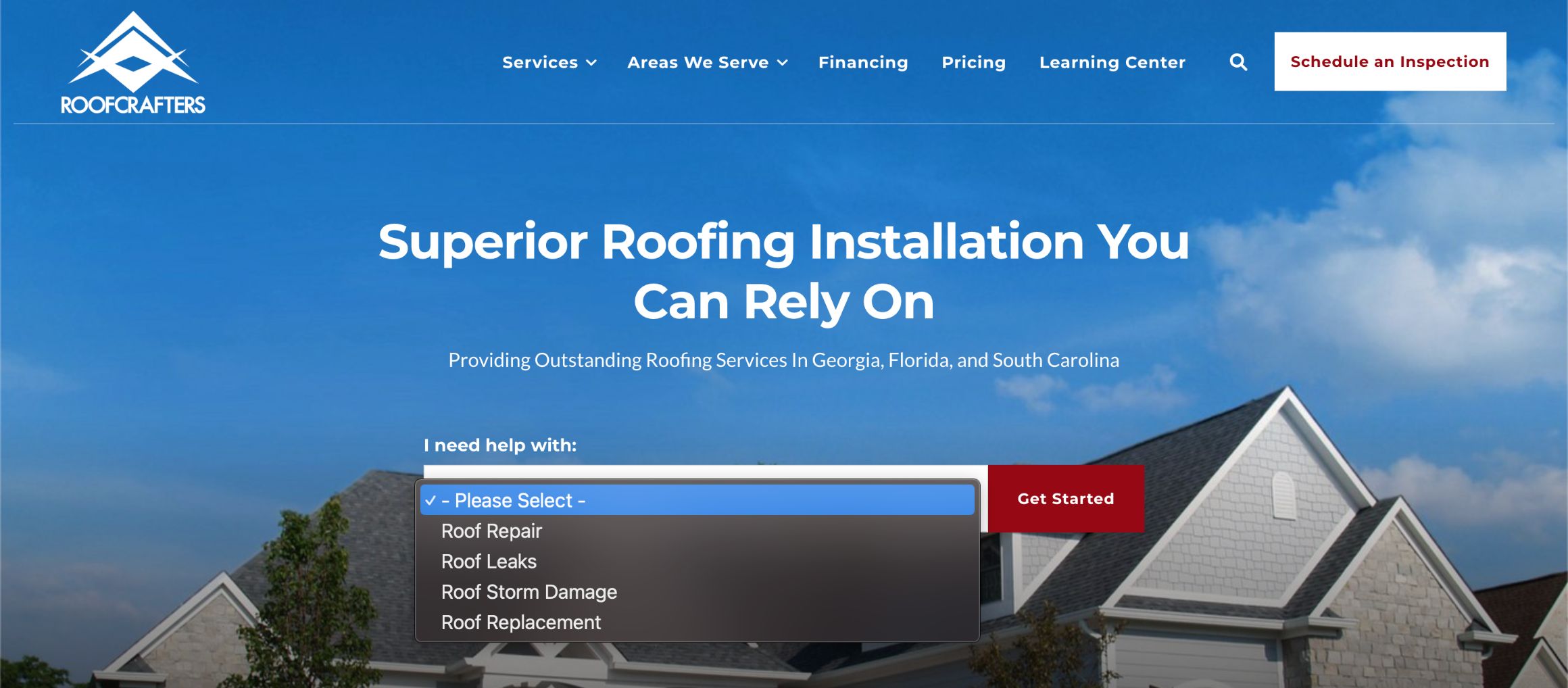 From there, you're taken to a dedicated page around that service, complete with detailed information including videos, photos, testimonials, FAQs, related content, and a form to get started. There's also a learning center filled with information.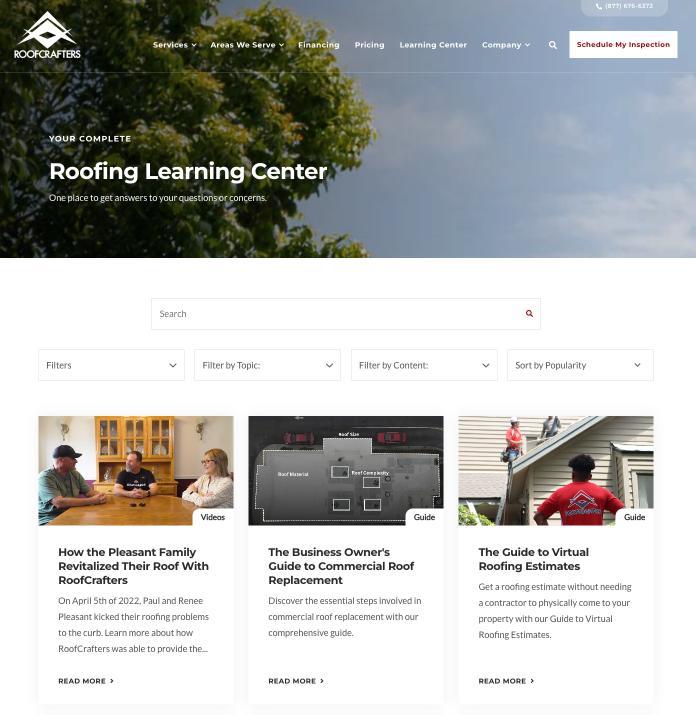 Overall, Roof Crafters does an excellent job of guiding users where they need to go without much thought and delivering all of the information they need to move forward on that journey in a clean and organized way.
6. Our Place
One visit to the Our Place website and it's immediately clear what they're about.

When you arrive, the company's signature products — the Always Pan and Perfect Pot — are front and center, along with an explanation of what makes them special.
There's no question about what Our Place wants you to do, with its clear CTA.
As you scroll down the page, the brand does an admirable job of establishing what it offers and what it believes. It sells cookware, tableware, kitchen tools, and ovenware, and it "believes in the power of home cooking to bring people together."
From there, the website makes it easy to shop for the most popular products, embedding them right on the page and following up with media recognition, real reviews, and videos to show you what real buyers think.
Last, but not least, it delivers educational and informational content in its footer with links to the blog, FAQs, contact information, and warranties.
Overall, Our Place creates a beautiful site that makes it easy for you to take action, but without neglecting essentials.
7. PriceFX
IMPACT client PriceFX does a great job making the complex simple and easy to understand. The company helps its clients with pricing and logistics challenges, and the website offers information, social proof, clear CTAs and more.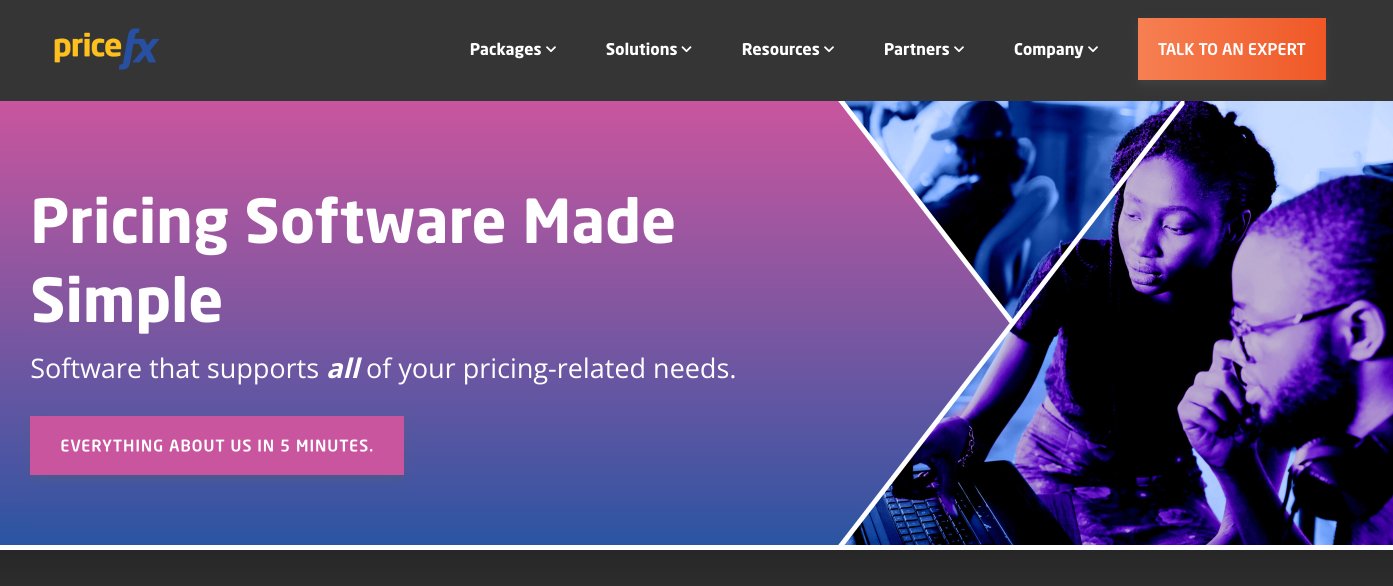 Keep scrolling and you'll find everything you need to become a customer. Not sure where to start? Click the button for a five-minute explanation that explains exactly what PriceFX can do for your business.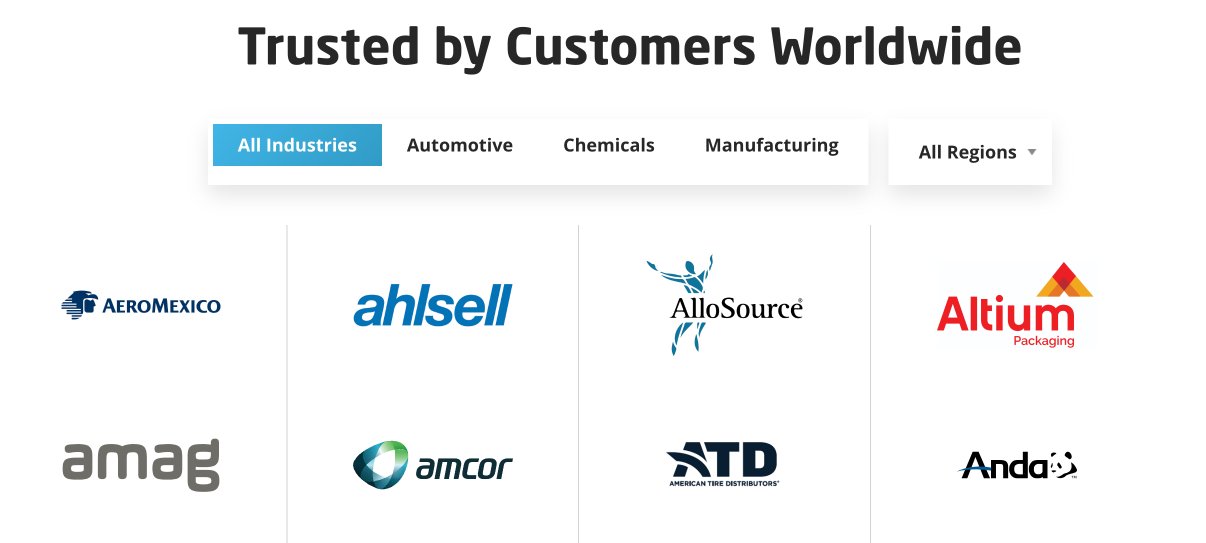 I've always loved the cool color aesthetic of the brand, which stands out against so much of the tech world.
8. Scribe Media
Last but not least we have Scribe Media, a full-service publishing company that can help you with everything from actually writing your book to marketing it.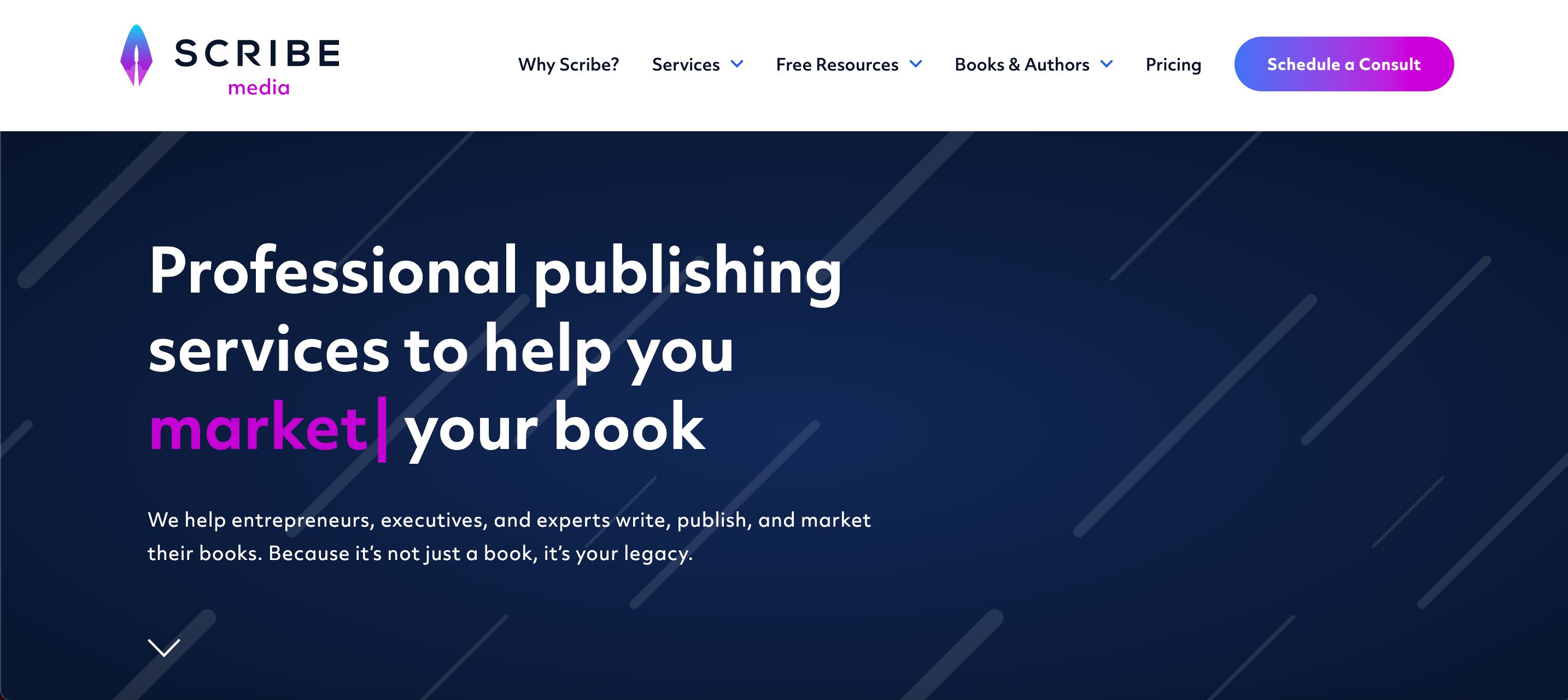 To capture this on the website, the team uses an animated text in the hero that cycles through its various services in a way that is engaging, but subtle.
From there, it capitalizes on social proof to further illustrate what it does. It shares the number of books the company has worked on and their accolades, then highlight prominent projects, faces, and stories from each of the primary services.
These projects then link to the service being discussed as well as a video diving deeper.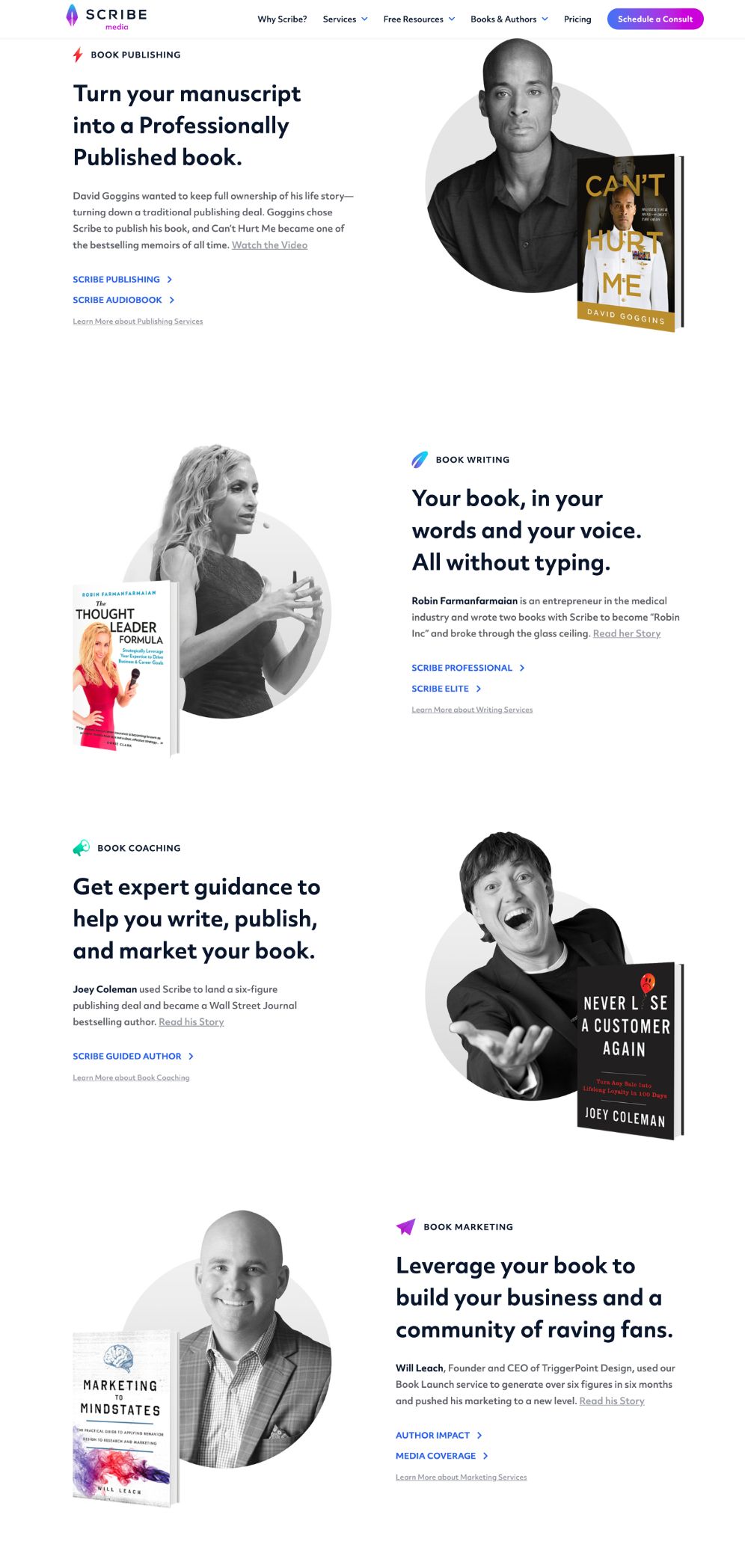 Outside of the homepage, Scribe Media does a great job of answering common buyer questions in the top navigation, such as "Why Scribe?" and how much it costs to work with the company.
It also shares valuable educational content via a blog, podcast, and more linked in the footer.
Breathe new life into your business website
Your website is the strongest tool you have in our digital world.
But to leverage all that it can do for your business — generate leads, increase brand awareness, make sales, and create trust with customers — it needs to be well-strategized and designed.
Now, that doesn't mean you scrap what you have now.
There are numerous ways to breathe new life into your website and achieve your goals. Perhaps your website is due for a whole new look or perhaps it just needs some new pages or content.
With that in mind, use these examples of websites done well to help you evaluate where your website may be coming up short and what you can do in the coming quarter to improve it.
Need a little more guidance? Check out our free website performance assessment to help you find out where you need to focus.
Free: Assessment
Does your website build trust with buyers and bring in revenue?
Take this free 6 question assessment and learn how your website can start living up to its potential.