How to Embrace the Inbound Buyer's Journey on Your Website
In my previous article, "What is the Buyer's Journey," we spent some time with our example buyer, Gary the Data Analyst, and followed his progression through the Awareness, Consideration, and Decision stages of the buyer's journey.
While Gary's story has been generalized, know that each of your qualified prospects is experiencing their own version of that buying journey framework.
This considered, the real question becomes - is your best salesperson (your website) equipped to support their journey?
Below, we'll explore the strategic process you can use to infuse elements of the buyer's journey into your website, and will ultimately create a more engaging experience for your users, shorten the sales cycle, and drive more qualified leads.
1.First... Stop Thinking Inside-Out
More often than not, there is a tendency for companies to think from the inner workings of the corporation and build outward. For example:
"Our company has these three products so let's create some product pages as part of our site architecture to talk about them. Our President also just wrote a whitepaper on an important topic, so let's place it on the homepage for visibility."
This is a troublesome approach as it does not take into consideration that perhaps your ideal prospects don't search by product name. Maybe they prefer to navigate by solution type (i.e. HR Document Management versus AcmePaperDigitizer.)
Also, the whitepaper the president wrote is very much "Consideration" stage content, but is placed in the homepage slider, where your prospects are likely in the the "Awareness" phase and aren't ready to engage with it.
The opposite and more effective approach (Outside-In), relies heavily on data from external sources that we'll discuss below.
The overall objective for the Outside-In approach is to let the data tell us how and where prospects are engaging with your content, and to make educated decisions on fully mapping the buyer's journey for your website.
Use data to better understand your buyer's journey and let it guide the way you design and organize content on it.
This is a recurring theme in almost every article I've written and it's clear as to why.
You need buyer personas. You need to know how your buyer's actually buy - their research process, perceived barriers, buying triggers, and how they make decisions - all before you can map the buying journey.
The best answers will come from interviews with your existing or past customers, but also consider interviewing key members of your sales team as well. They are on the frontlines, picking up the conversation where your website has left it off.
Those interviews will help you uncover the questions they're being asked by their prospects.
The information you gather here will give you insight as to where the content gaps exist between your website and the live engagement with the salesperson. It also allows you to conceptualize the types of content you need to create in order to fill those gaps, which will ultimately shorten the sales cycle and make more efficient use of your salesperson's time.
3. Gather Data and Evidence From Your Existing Site
While your buyer personas will deliver the qualitative data necessary to map out the buyer's journey, it is also imperative to support that with quantitative website data as well.
Gathering this data usually requires a multitude of different and disparate tools that sit behind your website and track everything from motion, mobile usage, and pages visited, to exit points, feedback polls, and funnel metrics.
We've found an amazing formula that allows us to accomplish all of the above with two tools: HubSpot + Hotjar.
HubSpot
We've talked at length about the power of HubSpot and the data it delivers about your site visitors so I won't dive too deep into that here. Aside from being able to capture real data about the people visiting and converting on your site, having a tool like HubSpot isessential in closing the loop on the overall effectiveness of your site pages, blog articles, and relative content marketing assets.
If you currently have HubSpot, a firm understanding of your personas, have generated some quality leads, and perhaps have closed some leads as customers, you have a head start!
HubSpot Contact Timelines
Review the contact timeline of both the most qualified leads and customers you've generated to trace the source they originated from and the pages and content assets that were absorbed prior to and possibly after a purchase was made.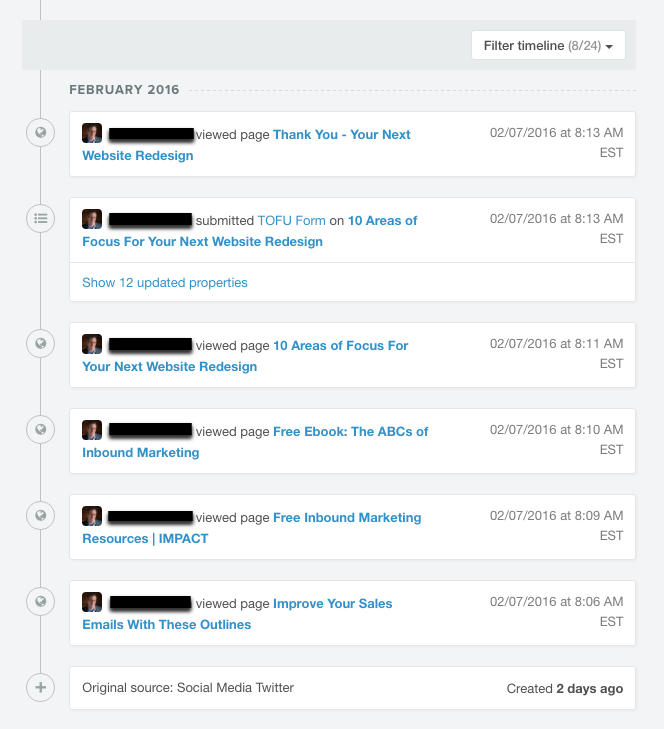 Look for overlap in the journeys that each of those contacts take. You may find that there are specific assets that are being viewed more often and are converting at a higher rate.
You can also compare the order of information. The above screenshot is a great example of a visitor moving to a lead (Awareness to Consideration) at a pretty quick clip.
Hotjar
Hotjar is a recent industry disruptor that has democratized and unified the web analytics space, much like Hubspot has done within the marketing space... And we freakin' love it!
Instead of having to purchase multiple softwares like CrazyEgg, Survey Monkey, Clicktale, and Qualaroo, Hotjar gives you the ability to generate heat maps, record user movement, build funnels, create user polls, and build surveys all within one platform. Sweet!
Below, I've broken down the key quantitative, data-gathering features that will help you build an engaging, high-converting buyer's journey:
Heat Maps
Click maps, movement maps, and scroll maps are all part of the heat maps tool in Hotjar. They provide physical evidence of your users' interaction with site elements like buttons, mouse movement across a page, as well as the percentage of your users that are scrolling down to a certain point on the page.
I find the scroll map is the most useful tool in building and adjusting the buyer's journey on your site as it can give you actionable insight on how and where to reposition calls-to-action, forms, etc. This can be really critical in the placement of your "Awareness", "Consideration", and "Decision" stage content.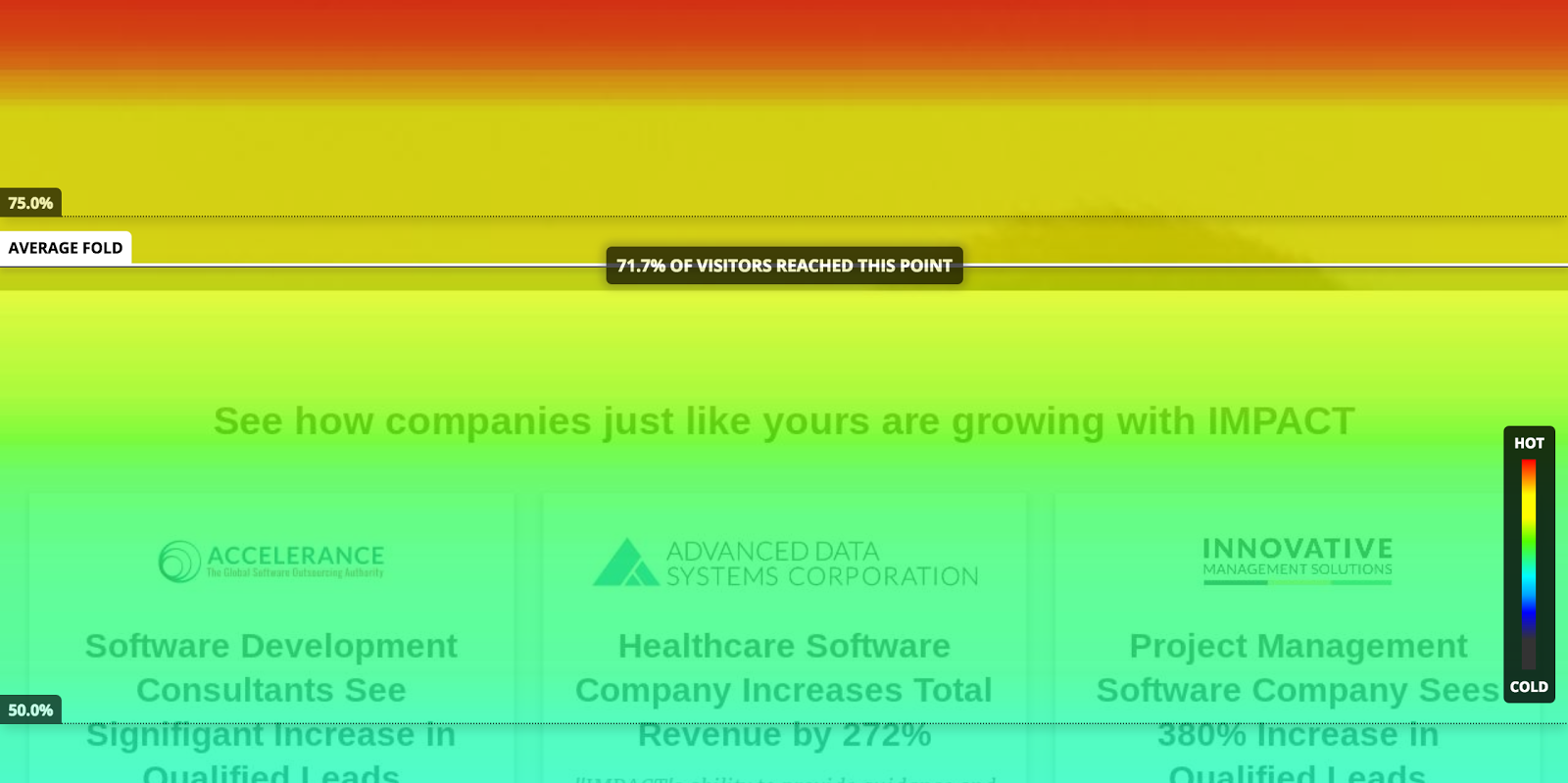 Recordings
Being able to visualize scroll, movement, and click maps is incredibly valuable, but have you ever wanted to jump inside the eyes and hands of your site visitors? The recordings tool on Hotjar allows you to watch all of those together as a site visitor moves about the page.
Funnels
Setting up a funnel on Hotjar creates visibility into the flow and cohesiveness of the site pages you define as "steps." This is the perfect measurement tool to see where site visitors are entering and exiting part of their journey.
In many cases, it may make sense to use this as a tool to test the effectiveness of your initial buyer journey build out.
In other words, by leveraging dropoff data, you can see where the opportunities lie to add pages or content to increase the "stickiness" of each step.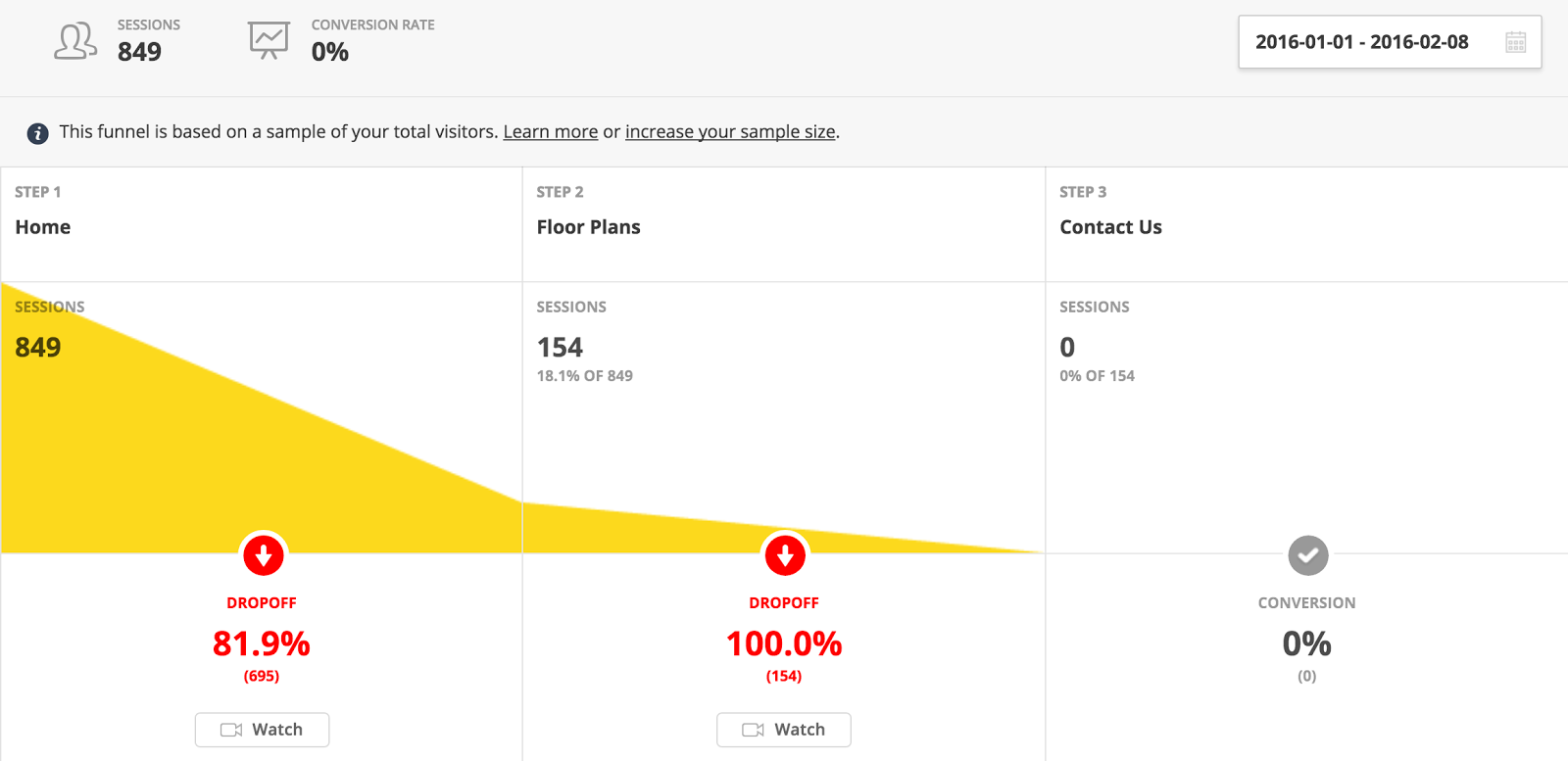 4. Map Your Ideal Prospect's Buying Journey
With the above persona research and data gathering completed, you should have a firm grasp on how to map your prospect's buying journey.
Use the following buyer's journey document (courtesy of HubSpot) to map everything out: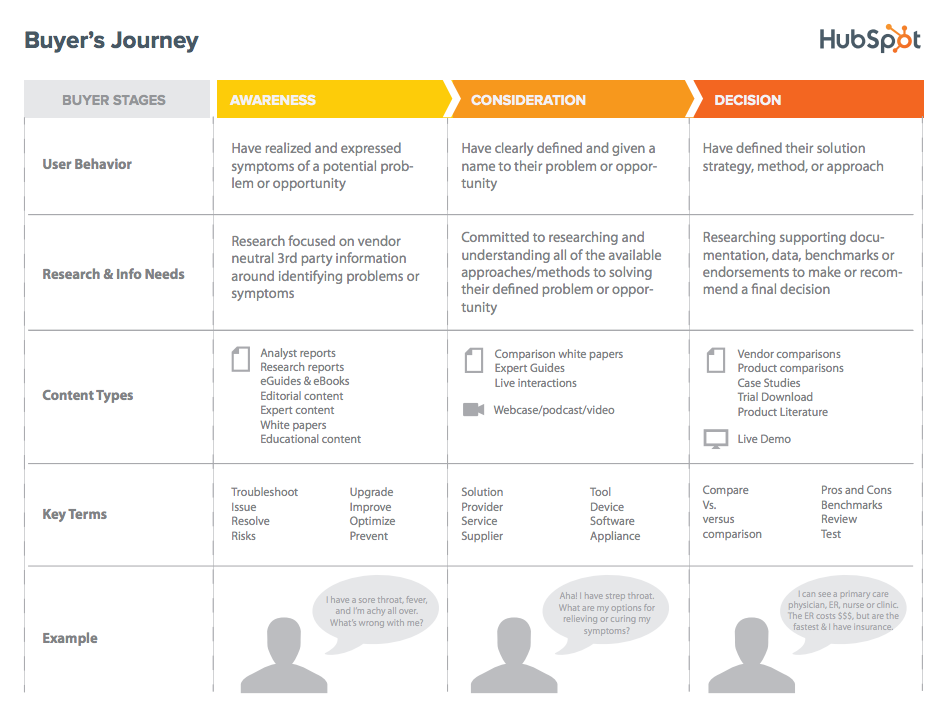 By filling in this guide, you can first document the behaviors your buyers exhibit during each stage of their journey, then actually visualize that journey with examples of your existing content or fill in ideas for content you SHOULD be developing and implementing on your site.
*Tip #1: Although not listed in the worksheet, I recommend adding a row for "Key Site Pages" just above "Content Types." Site pages are pieces of content themselves and should be recognized as such. Adding this row forces you to include specific pages (even if you haven't developed them) as part of the journey.
For example, consider a "Request Consultation" (or something similar) landing page under the "Decision" column.
Put another way, perhaps your persona is an entrepreneur, and based on your research, you know that she doesn't have enough hours in the day nor the desire to read your current 30-page eBook. This may lead to the development of a simple, highly-optimized site page or a succinct slideshare as a better alternative to your "Awareness" stage content.
*Tip #2: Complete this map prior to the build out of your website's architecture. The completed buyer journey map will greatly influence your link structure and page flow. It will also help you to determine the assets you need to build like in the above example.
Key Takeaways
Think Outside-In. Take account of data and use that to guide strategy on your website

Thoroughly define and research your buyer personas. Knowing their goals and behaviors will help you better understand their journey and how to simplify it.

Make use of tools like Hotjar and HubSpot to research your buyer's on-page behavior.

Map out your buyer's journey in an easy to understand and update chart
Free: Assessment
Does your website build trust with buyers and bring in revenue?
Take this free 6 question assessment and learn how your website can start living up to its potential.