Intent research vs. keyword research: planning your SEO strategy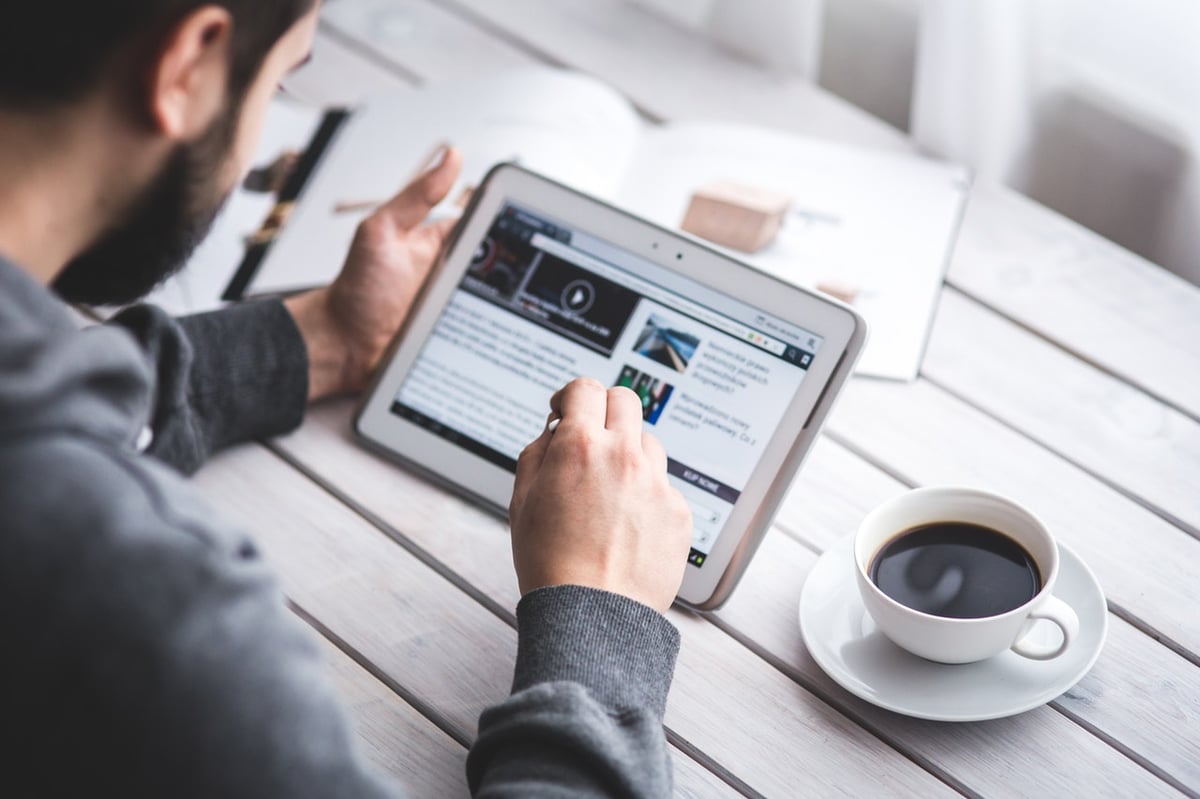 You were taught early on in your marketing training how to optimize your website around a list of root keywords that you wanted to rank for.
In order to get traffic and leads from your digital efforts, you needed to rank highly for keywords with some monthly search volume.
Your website strategy likely revolved around building pages based on these specific search queries that were relevant for your business.
You learned the game, understood what levers to pull, and drove traffic to your site.
But as it is known to do, the SEO game changed.
As has been the case in the last couple of years, search engines are ever more focused on creating a better experience for the searcher. This means they are constantly evolving to continue to present the most relevant results to the searcher.
In short, search engines are more focused on trying to learn the why someone searched something instead of just what the searcher typed in.
The goal for all SEOs is to build a website and a content strategy that attracts ideal prospects and customers. But your SEO strategy can no longer rely on extensive keyword research alone.
In this article, we will explain keyword research, intent research, and how to leverage both to help create an SEO strategy for 2020 and beyond.
🔎 Related: Wait, what's intent research?
Building an SEO strategy with keyword research
Historically, to create a website and SEO strategy around keywords, the first step was to gather all the root keywords that are important to your business.
Thinking of your ideal buyer, what are the keywords that they would plug into a search engine that you'd want to be found for?
These keywords would be closely linked to the products or services that you offer. Answering this question would lead you to the basis of your keyword strategy.
With this keyword list, you'd then create longer and more specific versions of these keywords and build individual blogs targeting the long-tail variations.
So, if you were a roofing manufacturer building a keyword strategy around "metal roofing," some of these long-tail variations might be "how much does a metal roof cost" or "how to install metal roofing."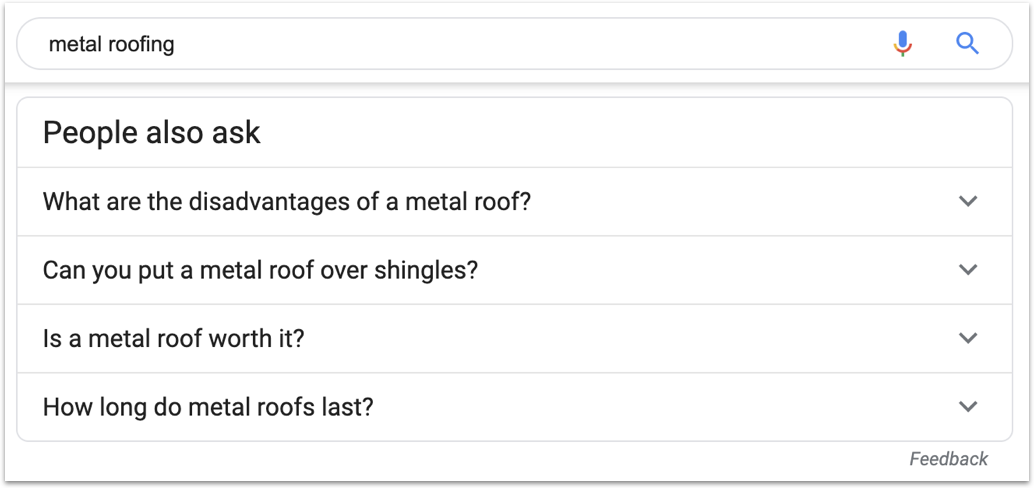 Using a tool like SEMrush, you'd be able to perform long tail keyword research, paying close attention to monthly search volume and competition score.
The expectation was that if your content was well-written, and the SEO boxes were all checked, you would rank highly for your important keywords, users would click your results, and you'd get organic search traffic and leads.
However, with the continued refinement of search engine technology, this strategy no longer works as it once did. Today, you need an understanding of what results the user is really interested in when they type a search query.
Understanding search intent
To help explain how Google provides the most relevant answers for users, it's helpful to define the types of searches. There are four well-regarded categories of searches, each with a unique type of search intent.
Understanding these search types will help you understand what type of content to create that's aligned to the intent of the searcher.
Informational search
These are search queries that someone types in with the intention to learn about something.
The results will largely be populated with content that answers these questions. It's pretty common that when someone types a search query that falls in this category the results are various websites, all answering the same question.
Some examples of information search queries are:
Benefits of a standing desk
Content marketing strategies
What color should I paint my house?
NFL players in the XFL
Navigational search
Think of these search queries as a user leveraging Google as a shortcut. The user has a predetermined end destination in mind and they are using a search engine to help them get there more quickly.
These searches are performed as a replacement for typing in a URL. Users in this category are wanting to get to a specific page.
The search results will typically favor the websites and pages that the searcher is looking for.
Some examples of navigational search queries are:
IMPACT blog
Facebook login
Google docs
Ubersuggest tool
Commercial
These users are further along in their buyer's journey than someone in the informational search category.
These keywords have some buying intention behind them, but the user also doesn't know exactly what they want yet. They are considering options that can solve their particular problem and are looking for the best fit.
The search results are likely to be reviews and comparisons to align with the search intent.
Some examples of commercial search queries are:
Best inbound marketing agencies
iPhone 11 pro vs. Google pixel 4
SEO tools for small businesses
Food near me
Transactional
When someone types in a search query of this kind, they know exactly what they want to buy. They've done the research and are looking to make a purchase.
Search results in this category are likely to be product pages and shopping results that allow the searcher to make a purchase on the page.
Some examples of transactional search queries are:
Buy iPhone 11
Charlotte Hornets tickets
Opti-greens 50
IMPACT content consulting
Applying search intent to SEO
Starting to understand and create a content strategy around intent research isn't as cut and dry as traditional keyword research, but it will help you deliver relevant content to your ideal buyers.
Let's say for example that we here at IMPACT wanted to rank for "Facebook ads."
This would be a good term for us to rank for as we offer paid media services that include Facebook ads among others.
Instead of just creating a blog article or website page focused on the keyword, we'd start by plugging the keyword into Google. Here's what we'd see: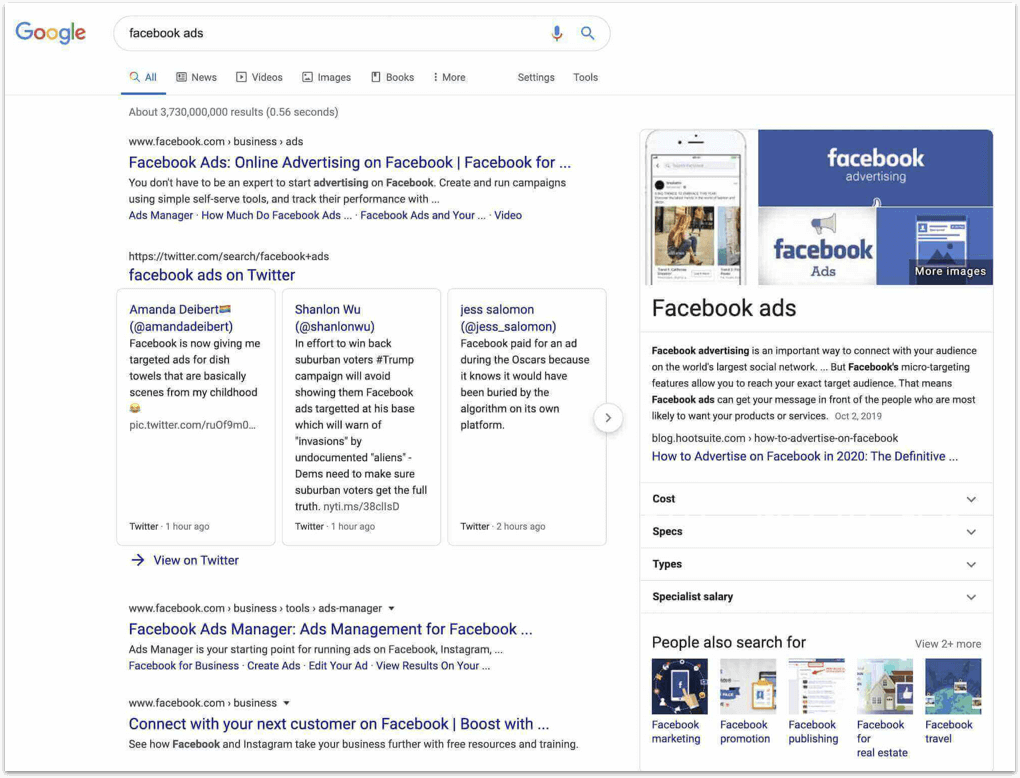 Notice anything about the top results?
Three of the top website results go directly to Facebook's website to let you learn more about how to host ads on their platform. This falls into the category of "navigational search."
Users that search "Facebook ads" are trying to get to Facebook to manage and create new ads. This means that it's almost impossible to rank in the top three positions on Google for this term.
Google doesn't want users to have to bounce up and down the search results to find what they're looking for. They want to deliver the most relevant information to the searcher in the quickest way possible.
Whichever result users click is what Google will deem as most relevant for the search query and, thus, rank highly. And, as Google positions these results highly, they'll garner a majority of the clicks, helping secure their place at the top.
Google continues to learn and evolve based on this type of user feedback to help identify the intent behind the search.
Building an SEO strategy with intent research
In order for IMPACT to be found for our Facebook ad service, we'd want to find search terms that align with someone looking to learn about Facebook ads.
This could be an informational search term like "How much should I spend on Facebook ads" or a commercial term like "Facebook ads vs Boosted posts."
Instead of spinning our wheels trying to rank for "Facebook Ads" knowing that the user who searches for this really just wants to login, our efforts to get in front of ideal buyers are better spent on people looking for information, comparisons, and reviews of Facebook ads.
This brings us to the main strategic difference between keyword research and intent research:
Because of the search volume of "Facebook ads" dwarfs the search volume of "How much should I spend on Facebook ads," a keyword research focus would indicate putting your effort into the term with higher search volume. That is, "Facebook ads."
But at the end of the day, if the user searching for the term only wants to get to the login and has no intention of clicking your search result, what's the point of even ranking?
To get traffic that's interested in your content and can turn into prospects, your search result has to be found with the right keywords and align with the type of results the searcher wants to see.
Performing intent research as part of your SEO strategy requires you to go to Google and start learning. Plug in a keyword and answer these questions:
What content is currently ranking high? Are the top results from companies like mine or that offer a similar product or service?
What format/structure is the content in? Are the results leading to product pages, informational blog posts, how-to guides, etc.? This can help guide the strategy on what type of content you can create.
What search intent category does the keyword fall into? Understanding this will help you determine if the keyword aligns with what you can offer. If it's a transactional or navigational search for something that you don't offer, find other keywords.
When planning the content you'll create, go beyond just using keywords, keyword volume and content type.
With search intent in mind, there are some additional layers to content planning that can help you drive relevant traffic.
Using Google as a tool, find and add modified keyword variations that have clear intent. Detail how you can format your content similar to high ranking results.
Intent research in practice
Going back to the metal roofing example, some of the additional keywords with clear intent would be "how much does a metal roof cost" and "how to install metal roofing."
When you type in "how much does a metal roof cost", you'll see similar results to those shown below.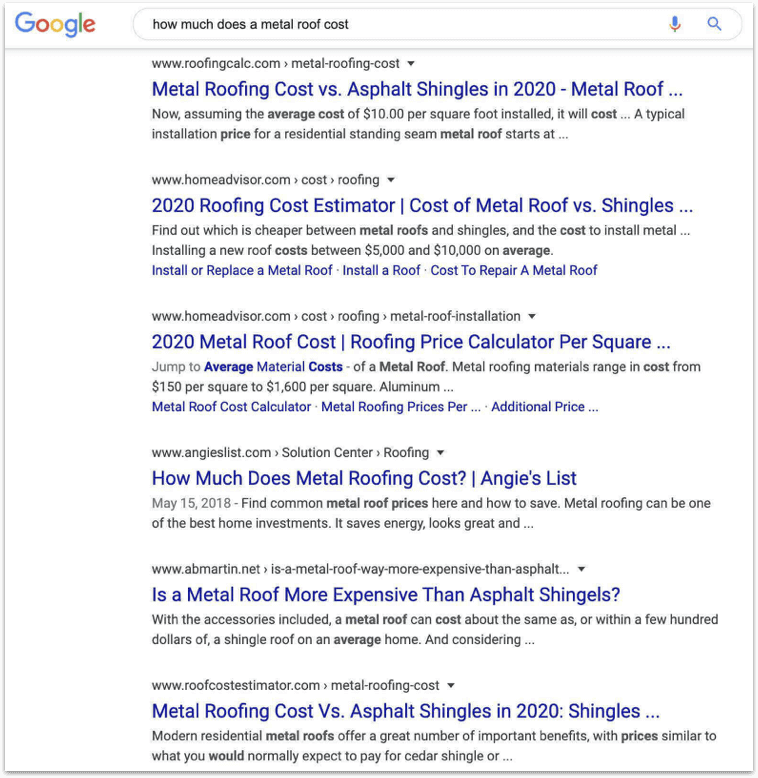 From this you can see the content is relevant and related to what you'd like to rank for. You also may notice that the type of content that you'll likely create would be a long-form blog.
You'll also see that one of the things that people care a lot about is a cost comparison between a metal roof and asphalt shingles.
Knowing that, you would likely want to include the cost of asphalt shingles into your blog and not just write about the cost of a metal roof.
Similarly, if you want to build content around "how to install metal roofing," type that phrase into Google.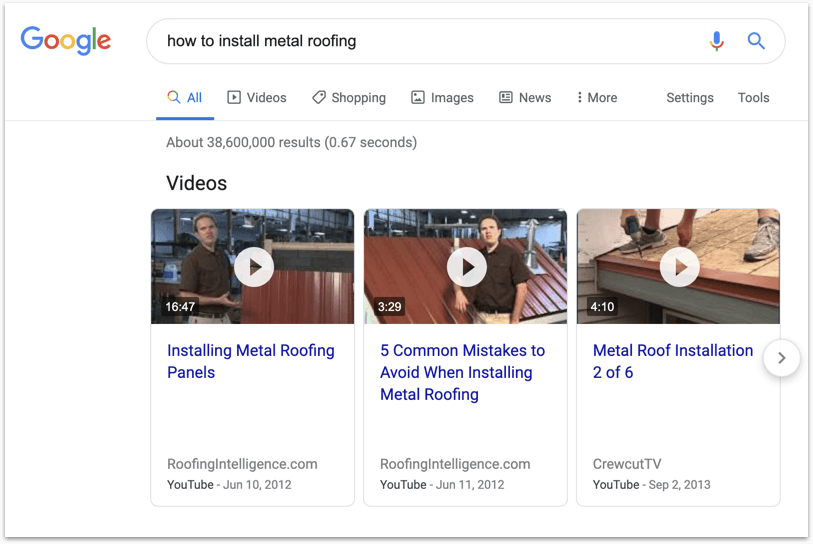 As a manufacturer of metal roofing, you'll see the results are relevant to the products that you sell, so there is unique intent.
Based on the top results with this Google search, you'll also be able to strategize what type of content to create. You'd likely want to create a video rather that writing a long-form blog, or at least have a video to go along with your blog.
Google is highlighting videos because for this search term people would rather see how to install a metal roof than exclusively read about how to do it.
Combining keyword and intent research to build an SEO strategy
When it comes to SEO strategy, neither keyword or intent research methods can live on its own without the support of the other.
Keyword research is the foundation on which you need to build your SEO strategy. You need to understand what people are interested in and therefore what they search for online.
But focusing on monthly search volume, competitive density, and keyword difficulty can only take you so far.
The next step in your SEO strategy needs to add a layer of intent over top of your keywords. Google is the best tool to use to understand the search intent behind these keywords that are important to your business.
By understanding which search intent category the keyword falls into, you can understand the content that would need to be created to rank well. Additionally, search the keyword string in Google and see what results are already ranking highly.
This will give you a good idea of what Google and searchers deem relevant to the search query.
What is crystal clear is that Google wants to provide the most relevant results to searchers. In order to position your company for success, SEOs must understand three things:
The keywords that have volume
The search intent behind the query
The structure or format of the content Google deems valuable
Understanding these three elements is vital to plan what keywords to target, what type of content to create, and how to be a relevant result that gets clicked.
Free: Assessment
Does your website build trust with buyers and bring in revenue?
Take this free 6 question assessment and learn how your website can start living up to its potential.
Score My Website
Free: Assessment
Does your website build trust with buyers and bring in revenue?
Take this free 6 question assessment and learn how your website can start living up to its potential.
Published on February 26, 2020