Subscribe
Join 40,000+ sales and marketing pros who receive our weekly newsletter.
Get the most relevant, actionable digital sales and marketing insights you need to make smarter decisions faster... all in under five minutes.
Thanks, stay tuned for our upcoming edition.
Is your Current Marketing Campaign a Trick... or Treat?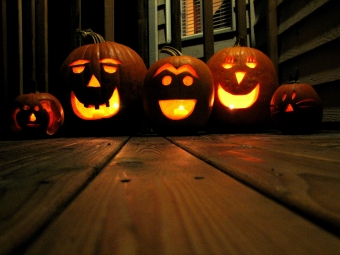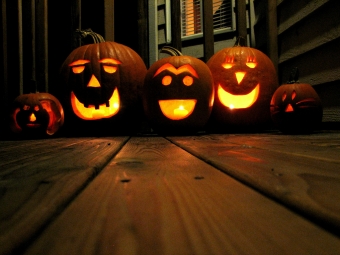 Everyone remembers the excitement of rushing home from school to make preparations for a productive night of trick or treating. You knew what you were going out as, who you were going with, and what route(s) you were going to take (after all....you had to fill up that pillow case.)
Just as well as you remember these wonderful rites-of-passage, you also remember those few houses with their lights turned off, all but shooing you away with a broomstick. Or how about those few houses who left the bowl outside, instructing hordes of adolescents to "please take one." They didn't even have the decency to engage with you.
Or even worse...those nutty people who actually gave you an apple or banana. (Gasp!) I mean....who does that?!
Believe it or not, practices like those aren't exclusive to simple childhood traditions, but they're also alive and well in the marketing world, and we're going to help show you so you can spot the difference between the trickers and the treaters so you can make sure your company is practicing the latter.
Contact IMPACTand learn more about how inbound marketing can transform your campaign and if it's right for your company.
Your Marketing Campaign: A Trick....or Treat?
Engagement
Trick: So you have the lights off? These are the companies who choose to automate every aspect of their marketing, and aren't engaging with their prospects or visitors at all. Is your Facebook wall a one way street? All posts from you, and yet no answers to your fans questions or engagement whatsoever? Let me guess...you tweet a whole mess of things promoting your company, yet you're not engaging or re-tweeting other industry leaders to effectively build relationships. If so....you are the dreaded house at the end of the street with their lights off. Why do you hate fun?
Treat: You're every trick-or-treaters dream! Not only do you answer the door with gusto, but you ask about all of the kids costumes, making all of their (and their mothers) days. These are the companies that treat their social media platforms as a dialogue rather than a method of dictating to their target markets. You not only listen to the questions and concerns of your followers, but you work to help solve them with great advice, setting yourself aside as an industry thought leader in the process. And who better to do business with than a thought leader?
Experience
Trick: Haven't you ever heard of a party store? Geeze, even your house feels underdressed with all the decorative homes surrounding it. These are the companies who are still running brochureware-type websites, meaning their website offers no valuable content or resources and instead offers very little information other than your companies name, address, and contact information. Prospects who are conducting product research wil breeze right past your site in search of a company that offers a more helpful, beneficial experience. I mean, would it kill ya to throw a few corn stalks and pumpkins out on the porch!?
Treat: Now you on the other hand, just couldn't say no to anything in the Sunday flyer to decorate your home. And you know what? It looks great! Your garage turned haunted house offers all the kids a reason to stay at your house a little longer than the others. They'll surely remember you out of all the other houses out there. These are your companies that feature great, attractive websites, offering a unique visitor experience, complete with a helpful blog, as well as calls-to-action and offers that help identify their needs while getting free, valuable advice on how to solve it. As a result, visitors will likely stay on your site longer and will undoubtedly remember you over the rest of the clutter out there.
Hand out the Good Candy
Trick: Oh...so you thought it'd be good for us kids by blessing us with a delicious apple and banana. What are you...my dentist? There's nothing worse than going through all that trouble only to get something of little value. Much like visitors who download offers from websites that are of little to no help, and do not push them further down the sales funnel so they can more adequately identify their needs and a potential solution. And you can bet all the kids will skip your house next year.
Treat: These are the companies who are rocking their lead generation by creating original, resourceful offers in the form of ebooks, whitepapers and webinars in order to help solve their prospects needs. Not only do these visitors feel fulfilled, but they're also being worked further down the sales funnel in each offer, offering an opportunity for them to find a solution and hopefully a provider. Translation? Not only are you handing out the good stuff (Snickers, Milky Way, Kit-Kat, Almond Joy), but you're handing out the king sized bars! The kids will be up all night! Woo!
Manners
Trick: On the flip-side, as the person handing out candy, don't you hate it when you reward your trick-or-treaters with a handful of candy, only to have them close their bag and walk away silently without so much as a 'thank you'? Well...your visitors feel the same way when you don't follow up after they've taken the time to fill out the form and download your offer with a 'thank you' email. These are also extremely beneficial for your company, as it offers a way to push these leads to another offer or further down the sales funnel should they be ready.
Treat: Now here's some polite trick-or-treaters! Not only do they say 'thank you', but they also give you that cute smile while they strut proudly in their costume. These are the companies who are rocking their email marketing, using marketing software like HubSpot to pump out thank you emails attached to each offer to help their leads reconvert. The result? A higher volume of sales-ready leads as well as more form submissions in general.
Be Present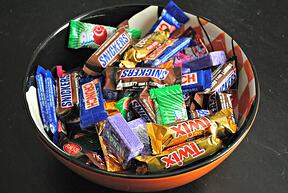 Trick: So did you really think a bunch of young adults would really only "take one?" I mean....really? There are many companies however, who are not always "present" with their clients and prospects, choosing instead to automate everything through voicemail or email contacts. This will almost always result in the abuse of the system and leave you with an empty bowl.
Treat: There's just nothing like a face-to-face meeting, even they are dressed as "Maverick" from Top Gun. Companies who take the time out to meet or speak with their clients on a regular basis, and make it easy for them to be contacted will always see a more positive return in the form of client retention as well as new business. These companies don't believe in throwing the bowl out on the porch and sitting in front of the TV for the night, instead, they put the time in and hold the bowl out for their visitors all night.
Make your Marketing a Treat
If any of these "tricks" sound like part of your marketing arsenal, it may be time to reevaluate your campaign. It's become even more critical to do so during the Internet age, as more consumers than ever have taken to the web to perform product and company research, and if you're not offering a great experience, you can expect the parade of trick-or-treaters to skip right over your house in the future.
Interested in learning more about transforming your marketing campaign? Contact IMPACT and learn how we can help!
Free Assessment:
How does your sales & marketing measure up?
Take this free, 5-minute assessment and learn what you can start doing today to boost traffic, leads, and sales.