Subscribe
Join 40,000+ sales and marketing pros who receive our weekly newsletter.
Get the most relevant, actionable digital sales and marketing insights you need to make smarter decisions faster... all in under five minutes.
Thanks, stay tuned for our upcoming edition.
4 Things Every Keyword Research Strategy Must Include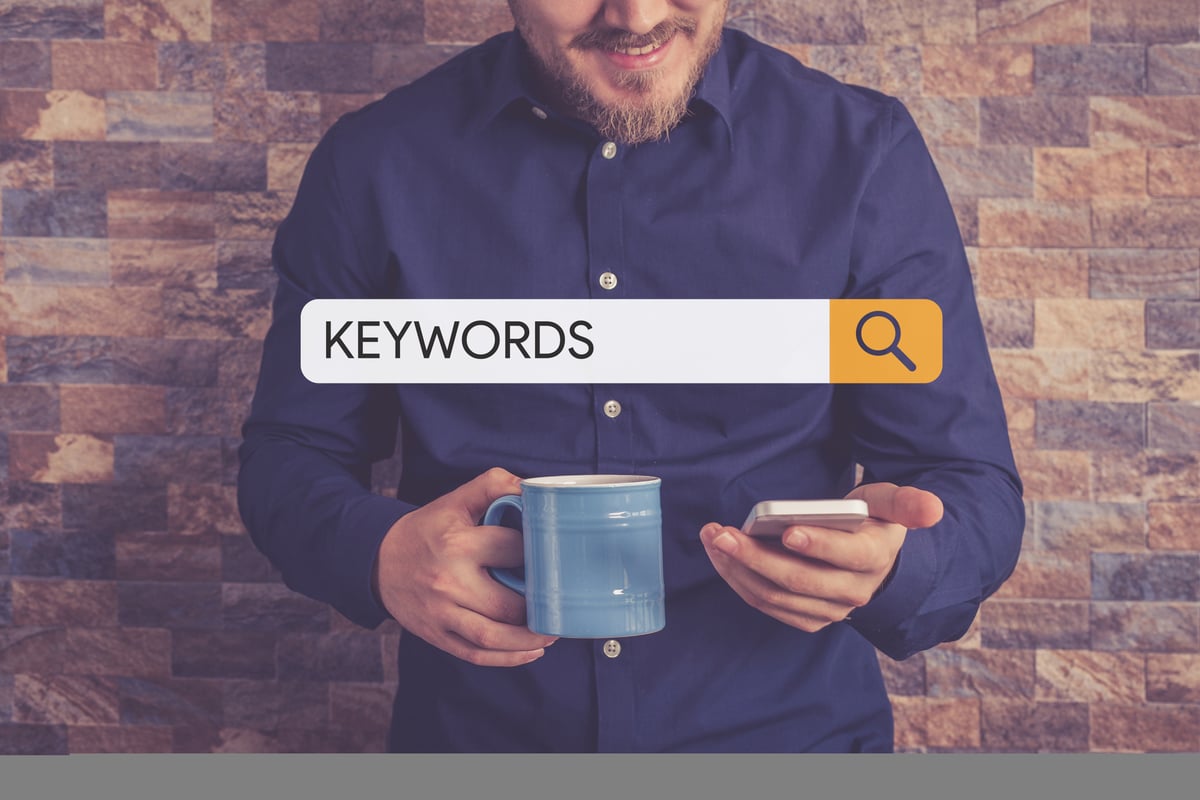 Keyword research is a tactic that has consistently evolved with search engine algorithm updates, approaches to content creation, search behavior, and user intent.
Successful keyword research strategies incorporate the following:
Objectives & Key Results
Target Audience Behavior
Opportunities & Priorities through Strong Data
Pillar Content & Topic Cluster Approach
I'll dive into these in a moment, but first, some context.
As the daughter of a journalist, I was always taught that writing was an instrumental way to work through challenges.
Writing allows for a safe space to brainstorm, be vulnerable, validate or invalidate a mindset.
In high school, however, it became a regimented task or a learned skill.
Writing in school is more research-oriented, structured, and graded. Now, working in the field of marketing and technology, we have to be conscious of algorithms, search volume, and competition.
Regardless of the time period, Google search update, or type of writing, one thing continues to underpin the work of great writers… research.
As marketers, we are taught to make data-driven decisions to drive our strategies. This is no different when it comes to keyword research.
When we write on digital platforms with the intention of having our work found by search engines, our content is judged first by viewers based on the title and description as they appear in the search engine results pages (SERPs).
Think about it - someone has to actually click on your content in a search engine before they can read your website page, article or other form of content.
What is the best way to ensure that your target audience finds - and clicks through on - your content?
Gone are the days of going with your gut instinct on what content feels right or typing in a variety of terms that pop into your head or that you find via Google Keyword Planner (also known as GKP).
At the end of the day, your content should always be produced with the end user in mind; using the same words they are using to search for answers to their questions and solutions to their problems.
This is why keyword research is so important.
IMPACT's resident website and inbound strategist, Stacy Willis, explains it best:
"The primary goal of keyword research is to understand how the marketplace is looking for information. Understanding what your audience is looking for, how they are phrasing it, and what other information exists for them is key to determining how you can provide them the most value and that will always be what Google and every other search engine rewards."
4 Things Every Keyword Research Strategy Must Include
Now that you know why keyword research is important, how do you actually do it?
It's easier said than done, but if you know your business and your audience, you're in a solid place to begin.
1. Establish Objectives & Key Results
Start by taking a look at the big picture. What does success look like to you this year? This quarter?
With this vision in mind, review your current performance using keyword research tools like Google Analytics and SEMrush to get a better understanding of the work that needs to be done.
I recommend that you start by exporting query data into a spreadsheet for easy visualization. Query data can be found by using Google Analytics, Google Search Console, and SEMrush reports to showcase what words (or queries) people are searching for.
There are 9 types of keywords SEOs use when looking to convert website traffic and referring to types of keyword combinations. These keyword types include: short tail, long-tail keywords, short-term (fresh), long-term (evergreen), product defining, customer defining, geo-targeting, LSI (Latent Semantic Indexing), and intent targeting.
The various type of keywords all have their place in a content strategy and should be leveraged based on the objectives and key results that you have set out to achieve.
These are some of the most common metrics we track when doing keyword research:
Position

Search volume

Cost per click

URL

Traffic (%)

Competition
Often, marketers do not have 100% buy-in from other decision makers within the company when it comes to the objectives and key results they are tracking. What may be important to the marketing team could be less significant to these other stakeholders.
One way to build consensus and reach alignment is to make sure that the metrics you are tracking for keywords will ultimately show a direct impact on the company's bottom line. That, in my experience, is something that everyone - from the C-Suite to the sales team - can get behind.
2. Target Audience Behavior
Once you have identified the objectives and key results that you'll be using to determine the effectiveness of your keyword strategy, the next step is to identify topics of interest within the industry or audience segment you are targeting with your content.
A great way to do this is by making a list of the questions that your customers and prospects are actually asking (check out Marcus Sheridan's BIG 5 article, questions that drive the most traffic, leads, and sales for those smart enough to write about them). Your service and sales team are good resources for brainstorming this information, as they are more than likely already answering these questions on a daily basis.
If you are struggling to come up with these questions, Marcus says it best:
"You've lost touch with your ideal customer or client. If this is the case, it's time to get with your sales team, customer service team, and everyone else, and relearn what your ideal customer wants to know to be able to make an informed buying decision."
Once you have developed your list of questions, find out where your audience currently goes to get answers. Consider forums, social groups, communities, thought leaders, conferences, and review sites.
Information about where your audience is consuming content can be found through surveying and market research, looking at a source report in Google Analytics, asking your existing clients, as well as using an incognito window to see what search results come up for the keywords you are considering using.
PRO TIP: Use one of my favorite Chrome extensions, "Keywords Everywhere", to get estimates of search volume, competition, and CPC right in the Google search browser.
Here is a screenshot of the features: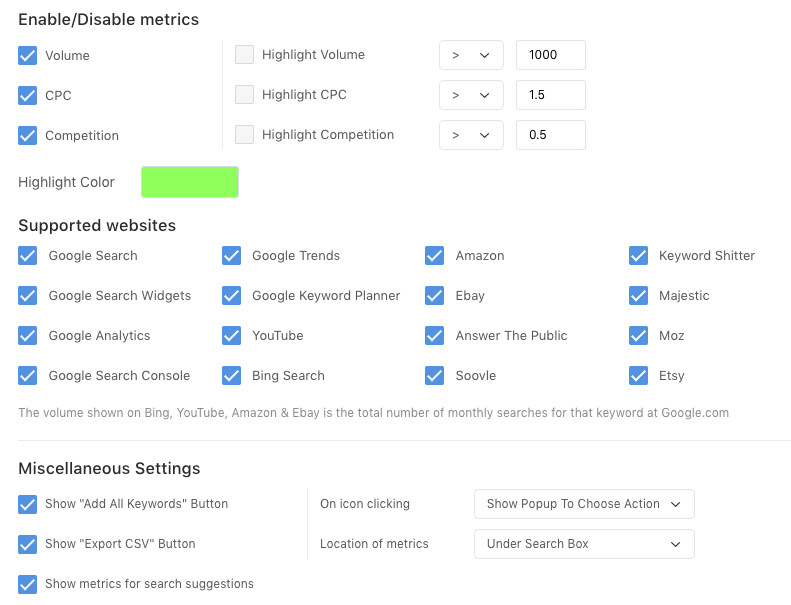 3. Identify Opportunities & Priorities through Strong Data
The next step in your keyword research process is to identify keyword and content opportunities by reviewing your current performance and analyzing the competition.
I look at metrics like current ranking position, search volume, and the competition score in Google Analytics and SEMRush. I document it all in IMPACT's Keyword Research Template (which you can download and use for yourself).
If you have limited time and resources (like most marketers), focus on the keywords you are close to ranking in the first few positions on the SERPs versus those that are a bigger stretch. This will give you much bigger bang for your buck, along with quicker results.
Here are some guidelines I use to identify the proverbial low hanging fruit when it comes to keyword research:
Already ranking on the first page of the SERPs

High search volume

Low competition score (as a good rule of thumb, look for competition less than .5 or 50%)

Low cost per click (also known as CPC)
Using the criteria above as a guideline, prioritize your list of target keywords..
I like to use color coding for high, medium, and low priority keywords. You can determine the priority of your target keywords based on company goals and the data points I listed above.
I typically start with search volume and competition, then make adjustments based on the remaining data, as follows:
High Priorities:

Top 20 keywords that will drive the greatest impact the quickest, branded keywords, and competitive keywords identified by stakeholders. Also look at keywords utilized in high impact pages such as product, service, and about pages to name a few.

Medium Priorities:

Top 30 keywords found through queries currently ranking but not in a top 5 or page 1 category. In the industry we call these "sleeper keywords" which are found on pages 2 and 3 of search engines.

Low Priorities:

The remaining keywords that are currently ranking for you, competition keywords, and other nice-to-have keywords that could be reprioritized next quarter.
Once you understand your audience behavior, objectives and key results, and know what keywords you are targeting, then you need to determine how it all fits together.
This is where pillar content and topic cluster strategies come into play.
4. Pillar Content & Topic Cluster Approach
Search engines are in the business of solving for the searcher, and that means delivering the best answer, the fastest.
To do this, search engines such as Google and Bing are increasingly relying on artificial intelligence and machine learning as opposed to mathematical algorithms to determine how content should rank because AI more closely approximates how humans search and the answers they are looking for.
The pillar content and topic cluster approach is a search engine optimization strategy that was developed in response to these changes that search engines are making, and is one of the most effective ways to rank for your target keywords.
Pillar content is a comprehensive resource page or long form article that covers a specific topic in depth and links to other high quality content on the same website that addresses subtopic keywords.
Topic clusters are the 6 to 8 articles born from the supporting topics and subtopic keywords that are associated with your pillar. These pages are often in the form of blogs and landing pages that are linked to pillar pages.
When developing a keyword strategy for pillar content and topic clusters, look for opportunities to categorize the keywords you are focused on, consider synonyms and variations of keywords being used, and look for ways to incorporate existing content into your strategy.
If you are a business owner who focuses primarily on local traffic, ensure your keywords incorporate geo-targeting.
For example, we work with a local IT company in Connecticut who only wants to do business regionally. Their marketing qualified leads must be within the local geographic area where they do business to move to sales qualified status.
In this instance, we created landing pages focused on specific cities within the region and aligned them with the company's service offering.
Conclusion
Today, keyword strategies are far more in depth than they used to be. Take the time to understand your company's goals, your audience's behavior (and intent), and use strong data to drive a successful content strategy.
Most importantly, remember to keep the user in mind and recognize that your strategy can (and most likely will) always be changing. Search engine algorithms are constantly evolving and your approach will need to evolve with them.
Free: Assessment
Does your website build trust with buyers and bring in revenue?
Take this free 6 question assessment and learn how your website can start living up to its potential.