Step 4: Great marketers tell stories we believe. A story changes the way we experience a product or service as consumers. As consumers, we make a prediction about what will happen next and rationalize anything that doesn't match that prediction. Godin notes that, "authentic marketing, from one human to another, is extremely powerful," causing both of us to win (consumers and marketers) when marketers succeed in telling an authentic story and the organization backs it up by creating a product or service that does what the marketer says it can do.
Step 5: Marketers with authenticity thrive. This is the process of successful marketing related to finding a consumer audience that wants to believe a story that's being told. Godin says, "The authenticity of the story determines whether it will survive scrutiny long enough for the consumer to tell the story to other people." Bottled water companies made billions while lying about the purity of their product compared with tap water in the developed world. The thing is, lying doesn't pay off anymore. That's because when you fabricate a story that just doesn't hold up to scrutiny, you get caught. Fast." (5)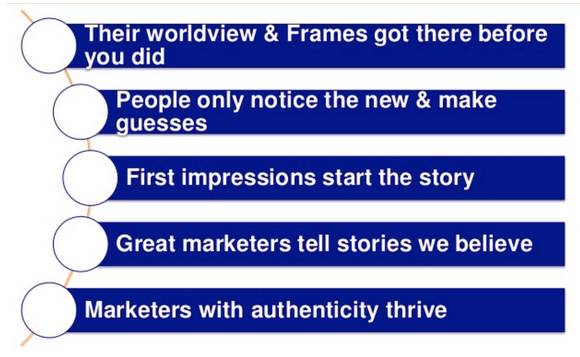 Case Study: How We Apply This at IMPACT
For me, this book underscored the importance of knowing our customers; When we tell stories in a way that aligns with their worldview, they will listen.
That's why we create buyer personas or profiles of our customers before communicating with them.
A buyer persona is a semi-fictional representation of our ideal customer based on market research and real data about our existing customers.
When creating buyer persona(s), we may include customer demographics, behavior patterns, motivations, and goals. The more detailed we can be, the better.
Buyer personas provide great structure and insight for our company, enabling us to know where to focus our time, guide product development, and allow for alignment across our company. By doing so, we're able to attract the most valuable visitors, leads, and customers for our business.
Another important point related to storytelling: The wine glass everyone is selling is virtually the same—it's a commodity. Likewise, many inbound marketing agencies have the same tactical approach that we do—most know how do some SEO, some email marketing, and blog content—but most of them are just creating noise.
The agencies that get it right are those creating resonanting messages with their audiences; They're the ones who succeed. At IMPACT, I believe our messages resonate because we understand our customer's worldview. What's more, it's been fun and fulfilling to teach a number of other businesses to do the same with their customers, helping them understand the importance of authentic storytelling and creating buyer personas so their business can thrive and prosper.
References: