Marketing is all about telling a story. Your brand and your products or services need to have a story to engage people.
It's the story that separates iconic brands from forgettable companies.
We live in an age where more opportunity exists than ever before. More and more people are building very profitable businesses with nothing more than a laptop and an internet connection.
Yet, despite the rapid growth in entrepreneurship, we still only see a small percentage of businesses really take off and fly to the next level. The difference between recent breakout companies like GoPro and Kickstarter and the thousands that never took off is the story that engages their customers.
In Meaningful: The Story of Ideas That Fly, Bernadette Jiwa analyzes the story that customers of the best brands experience and offers a simple formula for crafting a story for your own products. Meaningful was listed as one of Inc Magazine's top business books of 2015 and comes highly recommended by the likes of Seth Godin and Guy Kawasaki.
Bernadette Jiwa is a five-time bestselling author who specializes in marketing and brand storytelling. She's consulted with hundreds of entrepreneurs, creatives, and marketing professionals to help them turn their ideas into stories that "fly" and her blog, TheStoryofTelling.com, has been voted as one of the best business blogs.
In her work, Jiwa has discovered that the businesses that "fly" aren't those that start with the best idea or the biggest budget, but with the story of someone who wants to do something and can't.
To help readers develop their story, she shares the four step "Story Strategy Blueprint" in this article. This framework helps ensure that the wants and needs of your customer remain front and center at all times.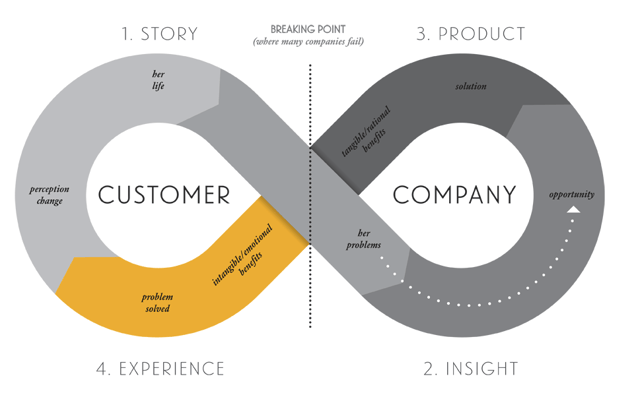 Step 1: Story
"If marketing is about making people aware of the value you create, to do that, you have to unlock the value in your story. If innovation is about creating value, to do that well, you must unlock the value in the stories of the people you hope to serve."
To create your story, think about who your ideal customer is. Dig deeper than demographics.
What is a day in their life like? What is important to them? What are their hopes, dreams, and fears?
More importantly, what are the immediate problems they are facing right now? How does your product or service address them?
Entrepreneurs are dreamers who think big, which allows them to come up with great ideas, however, too often they make the mistake of building products around their dreams, instead of around their customer's dreams.
Successful products and services have true value to their customers because they help them see what's possible for them.
Great marketing starts by telling the story of your customers' lives to them – a story that resonates deeply because it's relatable for them.
Step 2: Insight
"Our job, as Steve Jobs put it, is to 'Get closer than ever to your customers. So close that you tell them what they need well before they realize it themselves."
Understanding your customers and telling their story is only the start. That's how you capture their attention and allow them to relate to you.
To sell them something, you have to provide deeper insight – you have to show them what they're missing.
What does your Buyer Persona want to accomplish, but can't?
How can you help them? Look for opportunities to make a real impact in their life.
Have you ever been shown a product that solved a problem you didn't even know you had, but suddenly you couldn't live without it? That's the result of insight.
The problems you solve don't always have to be serious problems your customers are already struggling with. They can simply be an obstacle between where they are now and where they would like to be.
Step 3: Product
"We are so focused on ideation and creation that we forget to think about the story we will ask the customer to believe when the product launches, and so we miss an opportunity to make the product or service better. The innovator considers it his mission to create the best app, phone, car, show, or platform, and then he hands it off to the marketing department to tell the story to the customer."
Once you've crafted the story of your Buyer Persona and you've helped diagnose a problem they now have a sense of urgency to solve – the next step is to present your solution.
Using your insights into your customer's life, position your product features as benefits. How will your product make them feel? What results will they get to enjoy?
It's easy to imagine how some products are so irresistible to us. When a brand is relatable, they understand the specific problems we'd like to solve, and they've created the perfect solution for those exact problems – how can we say no?
Step 4: Experience
"As customers, what we crave more than the commodity we think we are paying for is to be understood. What we want more than a reliable ride to our destination, a comfortable bed for the night, or even a book we can get our teeth into, is to really be seen."
As redundant as it is to keep using Apple as an example, Apple has truly perfected the art of selling an experience better than any other company. The best way to learn how to sell an experience is to study Apple's advertisements.
What happens to your customer after they have used your product? What does the experience look like?
For Apple, it looks like an effortless, stress-free experience, while for GoPro, it's the adventure of your lifetime. For Kickstarter, the experience looks like a rare opportunity for innovation without going through the hassles of conventional fundraising.
Once you've solved the problem for your customer and given them an experience like no other brand, their story changes, and the cycle continues from there.
The exception to this cycle is if your company hits a breaking point (represented by the dotted line on the graphic above). The dotted line represents the failure of companies to use their insights to create and offer content that is genuinely useful.
If you are ignorant to your customers needs and wants, the entire framework breaks down.