Public speaking is a powerful way to attract more clients and develop your personal brand as a leader.
In The In-Demand Marketing Agency: How to Use Public Speaking to Become an Agency of Choice by Karl Sakas, you'll find straightforward, actionable advice on developing your speaking career.
Sakas holds nothing back and I was impressed at how useful the material in this book is even outside of an agency setting.
Not only agency leaders, but any entrepreneur or business leader could use the information from this book to launch a successful speaking career.
Sakas covers the entire process from planning to execution.
How to Create a Speaking Plan
According to Sakas, creating a speaking plan is one of the best ways to quickly grow your career as a public speaker.
Not only will you be more prepared, but this speaking plan, filled with Sakas' advice, will help you build momentum by giving talks at smaller, intimate venues before building up to larger keynotes.
Below are the guideline Sakas provides for creating a speaking plan. He recommends doing the following tasks over the next 3-12 months:
1. Write an "advance retrospective"
Your advance retrospective is a brief summary about where you intend to be in the future as a speaker and as a business leader.
2. Block-out "heads down" time in your calendar for doing your speaking work
The process of launching your speaking career requires dedicated attention, especially as the skill of public speaking requires refinement on its own. Just like all business endeavors, you need to prioritize more of your time in the beginning if you are to lay a strong foundation. Blocking out this dedicated time will help you do that.
3. Develop titles and blurbs for your highest-potential topics
Whenever you pitch a speaking engagement, you'll use these titles and blurbs to provide a summary of what could be included in your talk.
Sakas repeatedly emphasizes the value of case studies, so include one if you can.
Here's an example of how David Meerman Scott does this on his website: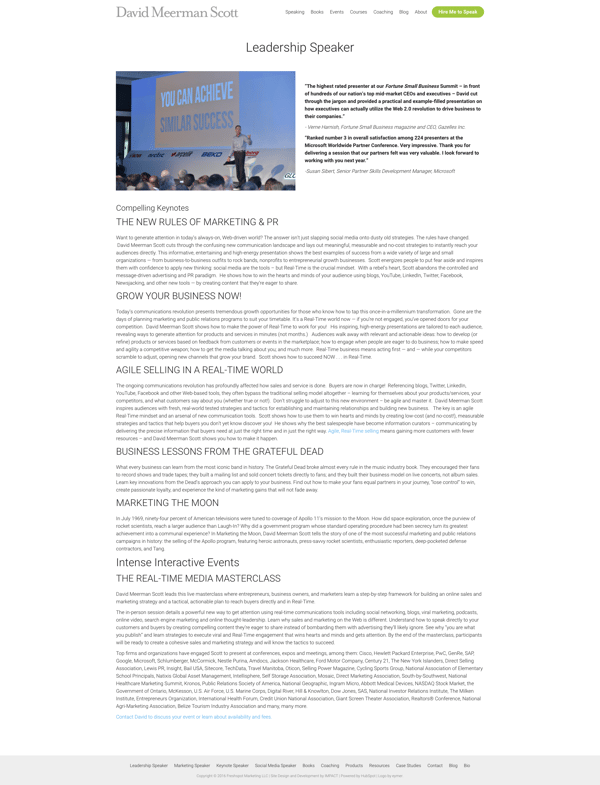 4. Flesh out your highest-potential talk as an outline
Sakas recommends holding off on creating your full slide deck until you've actually got a speaking gig booked. Having a confirmed venue is an instant motivation booster that makes it easier to finish the slides and also allows you to adapt them for that venue and audience.
5. Give your first talk in lower-profile venues
The same way that comics test out new material in small comedy clubs before introducing them to a wide audience, all public speakers should practice their presentation at smaller venues.
Once you've gotten your feet wet, you can then use that feedback to make changes and improve your routine.
After you've practiced, you'll feel more confident presenting in front of your larger audience.
6. Build social proof
Compile a list of testimonials, venues from previous speaking engagements, and an estimate of your "talks per year" count.
Outside of your actual presentations, this social proof along with your speaker resume will make the biggest impact on the quality and quantity of speaking gigs you book.
For example, motivational speaker and author, Tony Robbins highlights testimonials from high-profile celebrities like Usher, Maria Menounos, and Derek Hough, while Seth Godin mentions his appearances at "Disney, Cadillac, eBay, Google, Amazon, Microsoft, Adobe, American Eagle, Eddie Bauer and hundreds of others."
7. Build a list of places to pitch
Once you start to gain traction in your speaking career, you'll start to notice speaking opportunities popping up everywhere. Sakas recommends you create a list of potential speaking venues to stay organized and ensure proper communication when you pitch them.
8. Make a list of people you currently know who could hire you (or introduce you to people who could hire you) for an event
Instead of trying to pitch people who know nothing about you, it's easier to find speaking engagements within your own network first.
In the early stage of your speaking career, it's all about getting practice. The size of the event doesn't matter, just focus on practicing as much as you can and raising your "talks per year" count.
9. Track active and potential speaking opportunities in your CRM.
Treat speaking opportunities like you would other sales leads. Enter and track them in CRM so you can easily apply inbound strategies and win even more speaking engagements out of them.
10. Build marketing materials to support non-referral opportunities (where you're cold-pitching)
Another benefit to pitching people you already know (#8) is getting hired without having to create marketing materials. Despite this, you will need marketing materials to educate and attract new leads in the process, so get started on those as soon as possible.
11. Start gathering video footage of your talks
Smaller venues may not mind, but well-established, large venues and events will want to see videos of previous speaking engagements to see if your style will match theirs.
Start keeping your reel or video clips on a dedicated external hard drive then carefully choose some to share with your audience. Consider showcasing a highlight reel on your website like Ann Handley does here.
12. Say "yes" to random opportunities along the way
Have you seen the movie Yes Man starring Jim Carrey? At the beginning of your career, you should model his approach and say "yes" to every speaking opportunity you can find.
As you improve, become better known, and get better gigs, you can be more selective, but Sakas recommends that you always leave room for random opportunities that might pop up early on. Doing this will not only help you practice your delivery but also help you experiment with a variety of different audiences.
13. As you move forward, keep an eye on potential book ideas
Publishing a book almost guarantees an increase in the amount of speaking engagements you get and the quality of those events will go up as well.
A book is like a business card and resume wrapped in one. It will share your voice and give people a good idea of what to expect from your speaking engagement long before it occurs.
Plus, a great book will add another revenue stream to your portfolio.
My Favorite Tips for Business Owners and Entrepreneurs Who Want to Crush Speaking Engagements
As I went through this book, I was impressed by all of the actionable and insanely useful pieces of advice Sakas provides. The following are tips I found especially useful.
Improving Your Skills as a Public Speaker
Public speaking takes a lot of practice, just like any skill requires if you want to master it. To help improve them you can:
Join a Toastmasters club

Practice in lower-profile venues first

Test topic ideas with blog articles to gauge interest

Take improv classes or do an improv activity at your office
Before the Speaking Engagement
As you prepare your speaking plan and get ready for speaking engagements, keep the following tips in mind:
Practice at least 20 times before delivering presentation

Have outlines of two to three presentations ready at all times

Make sure each presentation has one major key takeaway (and some smaller takeaways). You'll need these for speaking pitches.

Setup Google Alerts for conference speaking opportunities. "Call for speakers" + "keyword"

Reverse engineer where your competition speaks

Look for last minute opportunities

Negotiate a post-event email blast to attendees

Do a webinar

on the topics you want to speak about and save the recording

Invite people directly to come beforehand via LinkedIn, Twitter, email, etc. to drive a highly qualified audience.

Decide what to get in exchange for free gigs: email promotion, VIP dinner with prospects, set up a paid workshop, pay for travel, book buy, etc.

Create a one-page PDF sales tool

Get a demo video completed

Create a presentation account on my laptop, no password, turn off sleep mode, and have my files right on the desktop
During Your Presentation
Of course, practice makes perfect, but there are other ways to improve your speaking presentations.
Photo-based decks with limited words work best

Send the audience home with a challenge

Do a Q&A at the end of your presentation

Schedule 15-20 tweets to go out while you're speaking and use tracking codes and hashtags to see where traffic is coming from

Create standard and widescreen versions of slide decks

Always bring your own clicker

Bring a battery-powered countdown clock and countdown cards

Focus on the call-to-action at the end of the presentation

Give options for email list signup

Get the audience to interact, so they learn

Always record yourself with an MP3 recorder
There's one last tip for after your speaking engagement is complete that I really like -- send a $0 invoice with the original speaking fee reduced so they can see the value on paper.