Like any quality content, video content ultimately needs to deliver value to your audience to be considered great.
Depending on the audience's intention, question, or goal when landing on your video, that could mean entertainment or education, but regardless of the content, you can't accomplish your goal if your video is not structured for search, understanding, and engagement.
With that in mind, in this chapter, we'll share strategic and structural elements that can help your videos get found, watched, and overall be more effective.
How to Structure a Great Marketing and Sales Video
Retention and engagement are how you ensure viewers receive your whole message. They are also major triggers for platforms like YouTube and Instagram to favor your videos in search results and recommendations, and simply put, to get your video found.
A lot of this comes back to how your video is structured and edited. Thankfully, IMPACT's Zach Basner has summarized the six most important elements that your videos must have to be most effective in keeping viewers watching. He calls them The Video 6.
The Video 6 is made up of six key elements that create a familiar and easy-to-follow video structure that will keep your viewers engaged (so long as the content is valuable of course).
The Teaser: An exciting pre-intro to grab the viewer's attention and let them know what to expect.
Logo Bumper: A design element that keeps your business's name and logo front and center throughout your video.
Introduction: A briefing at the start of your video talking about you, your subject, and the purpose of the video.
Segments: Digestible chapters of your video that make it easier for viewers to follow along and pace their progress through the video.
Call-to-action: Verbal and visual cues of what to do next.
Outro: A reiteration of your call-to-action and positive closing message to the viewer.
This structure helps break up your video in digestible chunks to add in message delivery and understanding while also keeping your brand front and center for awareness.
Another crucial part of building awareness is getting your videos found in search engines.
Note: Though not listed in The Video 6, always include captions in your videos. Not only have studies shown that most people are viewing videos on mute (especially on social media), but captions also make your messages accessible to audience members with auditory impairments.
A Great Marketing and Sales Video is Also Optimized for Search
Like a blog article or website page, optimizing your videos for specific keywords is the best way to ensure they show up for relevant queries in search engines.
Owned by Google, the most search-friendly video platform is understandably YouTube, so for this section we will focus on that.
In the past, a common misconception of YouTube SEO was that the exact-match keywords in your tags were the best way to rank for those keywords, aside from your title.
That is until YouTube stated:
"Tags can be useful if the content of your video is commonly misspelled. Otherwise, tags play a minimal role in your video's discovery."
Turns out that in addition to your tags, the title and the description are actually where you need to include those exact-match keywords and other contextual information for the algorithm to read.
Optimizing Your Video Title
There's a fine balance between creating a title that is not only captivating, but optimized for search.
As you're deciding what the title of your video should be, think about how users will search for this online.
By thinking about creating a title using this strategy, you're thinking like your potential viewer, which is who you want to attract using this title. The algorithm YouTube uses recognizes early on in the phrasing if a keyword is used in the title of a video.
For example, if you're creating a video for the keyword "hair growth" and you title it "8 Essential Tips for Hair Growth," think instead about titling the video "Hair Growth: 8 Essential Tips."
In this example, by adding "Hair Growth" to the beginning of the phrase, as the creator, you're signaling to the YouTube algorithm that your video is primarily about this topic.
It will be more likely to show your video at the top of the search because of the strategic placement of the words in your video title.
Optimizing Your Video Description
After your title, you need to focus on your video description. The video description often gets no credit, but if you give it the right structure, it can be quite powerful.
We suggest structuring it something like this:
Opening statement
Content description
Segment time stamps (if applicable)
Call-to-action
Boilerplate Information
You can see this in action in this example from our channel, They Ask, You Answer taught by IMPACT: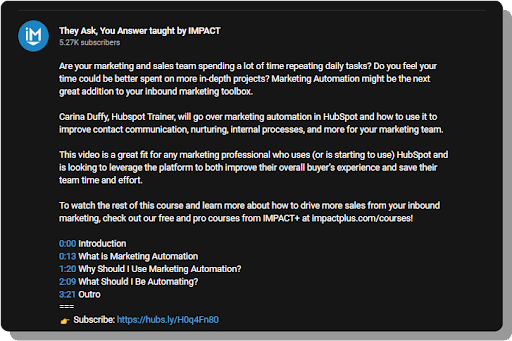 As you can see in this example, a structure can ensure that you include all of the necessary SEO elements and calls-to-action while maintaining readability.
The first part of this description, or the opening statement, is what would be displayed in search results.
The content description is typically a bulleted list that includes more targeted keywords and phrases, including ones that might not fit neatly into a normal video description. In this case, we also incorporate time stamps so the viewer can easily jump to the segment of the video they're looking for.
For example, above we included "What is Marketing Automation" in the content description bulleted list. Although Carina addresses it in her video, by itself, it doesn't really fit into a paragraph description.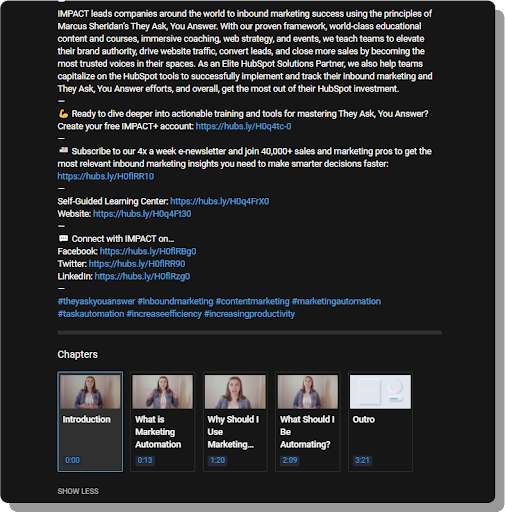 By using a structure and including those important contextual keywords and phrases in your description, you're helping YouTube understand when to display your video in search results and when to suggest it with other related content.
Optimizing Your Thumbnail
Along with a good title, you also need an attractive and eye-catching thumbnail to make your video stand out in search results.
Your thumbnail is the first visual representation of your video that someone searching for content online sees in their feed. You want it to be custom to your video and complement the title, including the words in the video as another visual aid.
A great thumbnail can often be captured by taking a screenshot of your footage, but even if it's not, to reinforce trust with your viewers, your thumbnail should always further emphasize what your video is about and your focus keywords, with a text overlay and related imagery.
For example, when we searched "beginner yoga," these were the top three videos that came up: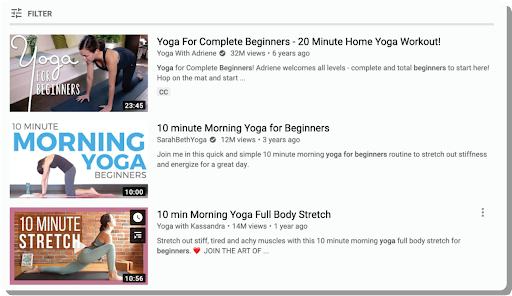 In all of these thumbnails, there is an image of a simple yoga pose, with supporting text differentiating between the options.
The middle thumbnail in particular does a great job, setting expectations by providing the viewer with a time range in which they can expect to complete this session (10 minutes), emphasizing this is for a beginner's skill level, and suggesting it is a good routine to perform in the morning.
Here are some other general best practices to consider:
Use a high-quality image (640px x 360px at a minimum).
Feature close-ups of faces showing emotion (smiling, screaming, crying, etc.).
Make sure the image looks good at a small and large image size.
Use a contrasting background.
Use minimal, but relevant, and bold text.
The image should provide an accurate preview of the content. There's nothing wrong with intentionally trying to get attention with your thumbnail image (that's the point!), but misleading viewers will only spike your bounce rate and lower your SEO.