As the name suggests, videos like The Selling 7 are made to either be incorporated into your sales process or used on your website. They are materials that can be used to drive leads and sales. In addition, there are ways to incorporate videos into your actual sales process.
More specifically, your sales process is where you'll want to incorporate one-to-one videos, rather than formally produced "one-to-many" videos.
One-to-one videos are personalized videos created for one specific person. It's a video that isn't meant to be used over and over again for multiple prospects.
This kind of video is essential to building more personal and trusting relationships with prospects, making it much more suited to the sales process.
(Note: If you didn't read the last chapter, I suggest going back to read it, or at least the last section leading into this one, to be fully caught up.)
Now, I know — every organization is a unique snowflake, each with different dreams, desires, goals — and, most of all, very different sales processes.
We even see that in our industry, every agency is different in their approach.
With that in mind, we're going to take you through five general phases that are found in most sales processes: prospecting, managing inbound leads, the discovery phase, proposals, and sales-to-service hand-offs.
Stage 1: Prospecting Videos
The first stage in most sales processes is prospecting. In this stage, you're focusing on people who know about your company or may have been in a nurturing sequence created by your marketing team. (Or, if you're doing cold outreach, they might not even know who you are at all.)
Because the main goal of this stage in the process is to kick off a relationship that will hopefully turn into a sale, it is one that can be most positively impacted by one-to-one video.
Think about all the sales emails that flood your inbox each day. They probably all look the same — some hungry sales rep asking for 15 minutes of your time so they can tell you how their product or service is going to rock your world. And, to top it off, it's probably a mass email clearly sent out to a list, with zero personalization.
There are several ways to stand out from this sea of lackluster prospecting emails, and one-to-one video plays a major role in this.
Tips for creating successful one-to-one prospecting videos
Use a whiteboard
Imagine this: You get an email from a sales rep you don't know, but this time, it includes a video, without all of the usual throwaway email copy. Then, to top it all off, the person in the video has your LinkedIn page pulled up or they are holding up a whiteboard with your name on it: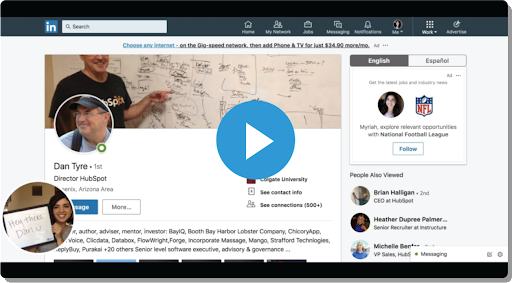 (Not a playable video — just an example.)
Your curiosity is piqued, and there's a good chance you're now going to watch this video because you're curious about why they have your LinkedIn or website up.
You can use a whiteboard in a couple of different ways, so test out different methods and get creative to see what gets the highest engagement rate for you.
You can start out by including their name and/or posing a question that hits on a specific pain point they have.
If you're using the pain point method, make sure you have your personas clearly identified and documented. This will provide a much quicker way to break down your outreach and tailor it in the most effective way.
As a salesperson, it's your job to know your prospects' pain points. Use this as an opportunity to leverage it. The whiteboard approach isn't going to work for you if you fail to ask the right questions.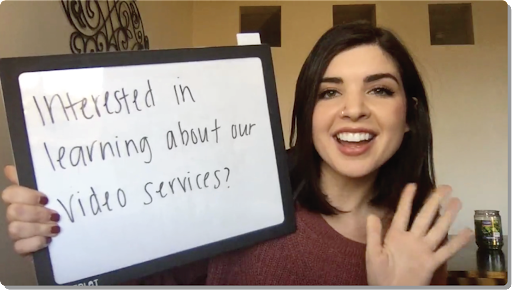 If you're doing outreach to your current contacts, you're going to be most effective if you take the time to look through their activity on your site and gauge what resources they've been consuming.
This will give you a clearer picture as to what they are interested in so you can tailor your outreach accordingly.
Create a Thumbnail With Their Website or LinkedIn Page
The ultimate goal of a thumbnail is to find ways to pique someone's interest enough to click on it. Now, what better way than to have your prospect's website or LinkedIn page up?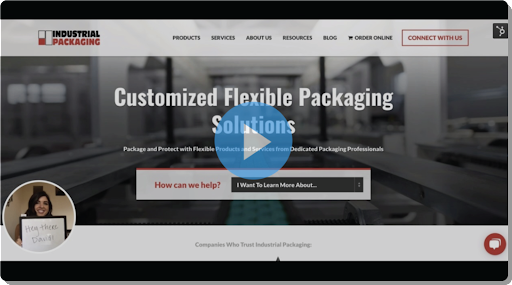 A screenshot of a website-focused thumbnail from a prospecting video.
This automatically signals to the viewer that this video is specifically for them and makes them want to click.
So, what website page should you have pulled up? First, think about your message, and ask yourself these two questions:
Why are you reaching out in the first place?
What are you planning on saying on the call?
The biggest mistake you can make with this is having a random page pulled up that has nothing to do with what you're saying in the message. Chances are, what you have to say can tie to a page on their website that you can use.
For the LinkedIn tactic, start by pointing out a commonality to quickly build rapport — a shared connection, going to the same college, etc. — and then point out a challenge they might be facing based on their job role, and offer additional resources to help them out.
You might be a little further in the process where you can suggest a meeting, but it's always important to offer something of value in your video message and put the ball in their court.
Be Concise and Get to the Point
This is your first message to them — so, since they don't really know who you are, they aren't going to invest a whole lot of time listening to what you have to say.
The first video message you send out should be no more than 60 seconds. If you can keep it to 30 seconds, even better.
It'll take some practice to get in the groove with prospecting videos, but here are four things you should always cover in your messages:
Who you are, with a comment that builds personal rapport.
Why you are reaching out.
Immediate value with a quick win opportunity or advice that isn't "you"-focused.
A question to engage them and prompt a response. Again, make it about them, not you.
You also want to keep in mind that you don't want to lay all your cards on the table. Make sure there is an element of mystery and a reason for them to continue the conversation with you.
Focus on a Single Call-to-Action
Another reason your video outreach might be failing is you're providing way too many calls-to-action, confusing your viewer with what action you want them to take. A call-to-action (CTA) can be as simple as a statement designed to get your prospect to take a certain action.
For example, if you want your prospect to book a time to speak with you, your CTA would be "book a time to meet."
I know, you might be excited about all the great resources you have to offer, but you're going to overwhelm your prospect if you're including three ebooks, an additional video, and a standard CTA to book a time to speak with you.
Which one should they do first? Which one is the most important?
This should be your focus.
Share The Length of the Video Message Ahead of Time
Another way to get a good click-through rate to your video is to let the prospect know how much time it's going to take to watch the video. They will be more likely to watch if they know the time commitment.
You could even include the length of the video in the subject line and email copy itself. For example, this could be your subject line: [30-second video message inside]
By being straightforward about the time commitment, you will more than likely see an increase in open and click-through rates.
Also, don't fib and say "one minute of your time," when it's actually two or three minutes. (No one likes that guy. Or trusts him.)
Stage 2: Connect Phase and Inbound Lead Videos
For us, the connect stage is the first conversation we are having with an inbound lead — someone who wasn't prospected, but filled out a form and raised their hand to engage with us.
At IMPACT, this is also when, rather than sending a video, we ask for a video conference call. A video call helps you show your human side, while also having the added benefit of creating a stronger connection between you and a prospect.
Aside from the first call being conducted via video, there are a couple other ways you can incorporate a video that might seem minor but can have a big impact on how a prospect views your company.
An Auto-Response After Someone Books a Meeting
After someone books a meeting, have an automated email go out confirming the meeting with a video.
This may not sound groundbreaking, but even if this email is automated — which ours is — a video message that introduces who your prospect will be speaking with and expectations for the first call is a stand-out touch.
This video allows prospects to connect a real live human face and voice to a name, feel a connection to the person they will be talking to, and know what to expect when going into the first call.
This is also a great way to show the lead the excitement you have in talking to them, in turn getting them excited at the idea of connecting with you, as well.
Day-Of Meeting Video Reminder
You know it's a best practice to send out a confirmation email the day of your meeting, but why not trade that conventional text for a video?
You can record a quick video letting them know how excited you are to connect, that you wanted to confirm the meeting that day, and reminding them of the expectations of the call.
If you have an issue with a high number of no-shows to your connect calls, video can be a great way to bring that stat down with a higher rate of yes-shows!
Follow-Up Video Post-Meeting
You've just concluded a really productive first meeting, and the prospect is excited for the next step in the process — yay, keep that excitement and interaction going!
There are two types of video you can record for a post-meeting follow-up depending how much time you have to record videos and how personalized you want to get.
First, after each connect call you have, you can record a video follow-up of what you just discussed, and what the prospect's challenges and goals are. This shows the prospect that you were listening and are on the same page.
On the other hand, if you're strapped for time, you can create a general video letting the prospect know how much you enjoyed the conversation, set expectations around next steps, and remind them of anything that you need from them for the following call.
Stage 3: Discovery Videos
So, you've determined that there is a chance you can help this prospect out. Typically, the next stage in the sales process is the discovery stage.
During discovery, you have the opportunity to dive deeper into your prospect's goals and challenges, and to provide more information about how your organization could potentially help solve these for them.
Also, you'll be providing answers to specific questions they have and sharing any materials that will help move them along the sales process. Your goal is ultimately to get them to understand how you can help them, and why your organization may be the best choice for them.
How can video accomplish this?
Follow-Up Video
You just ended your video discovery call with your lead, and you're feeling pumped.
While the excitement is still brewing, consider recording a personalized recap video right when you get off the phone.
In this video, you'll want to show all the emotions of being pumped about working together. Also, recap the discussion you had, and confirm their goals and objectives. Finally, review any major questions and/or answers that may have come up, and then clearly lay out next steps.
Don't wait to do this! You have a short window to deliver the video and capture that moment in time. Much like your lead, it's too easy to get distracted and fall away from that moment — and you're the one that wants the sale!
Note: Additionally, you might want to think about recording all of your calls with clients so you can send it to them, and they can share the recorded file internally. This will help with bringing people up to speed who might not be involved until later in the process much faster. (Zoom will automatically give you video and audio file recordings separately.)
Create Playlists
So, your marketing team has created a handful of super powerful marketing and sales videos for you to use. You know you should be sharing them, but what's the best way to do that?
Enter playlists. Playlists will allow you to add videos within a single player. I would recommend chatting with your marketing team and creating a few different playlists (via YouTube or Vidyard) ahead of time.
When doing this, consider the different types of services/products you offer, and then organize your videos by service type/topics. Also, consider varying the messaging in the videos and creating playlists for specific personas.
Playlists will also allow you to see what topics your prospects watched, and how long they watched them for. It will also give you notifications if other people in their company watched. All of this provides great insight and information you can leverage to help close the deal.
Stage 4: Proposal Stage Videos
One of the biggest time-sucks we see in our sales process is when a proposal is out and the team has to go back and forth, answering questions and checking up on the status of a proposal.
Often, this happens when the decision-maker isn't part of the conversation early on. This also happens when an organization is reviewing multiple proposals from you and your competitors.
This is where video could get rid of roadblocks and speed up the turnaround time.
Use Video When Sending Your Proposal
When you're sending out a proposal, include a video in the very first section of your email.
Not only is it important to call the personalized video message out, but you want to make sure it's bold and not something that could be easily skimmed over. If you have the ability to generate a thumbnail (as we've shown you in previous sections) so that it's not just a link, do it.
During your video, you should walk through the document, while discussing:
What's included in the proposal.
Why each of those items is included.
How your proposed action plan is going to help them reach their goals and challenges.
How excited you are to help them out, of course!
A Reminder for Proposal Videos
Are there certain sections within your proposal that, without fail, result in more questions? These are the areas you should call attention to within your video. Address those questions in advance as much as possible to shorten the amount of time you spend during the process.
Plus, when you check your analytics, you might see that your prospect may not have opened your email or video.
If that's the case, reach out via email with your video to all the stakeholders. Better safe than sorry.
Stage 5: Sales-to-Service Handoff Videos
You. Are. Amazing. You put in the work and closed that deal, but your work isn't done. Now it's time to make sure there's no buyer's remorse following the signing of your proposal.
Transitions between teams can be rough, especially between sales and service delivery. As a sales rep, you've built trust and a solid relationship. Now comes the moment when trust has to be transferred and re-established. The best way to keep this going is by making sure the introduction is solid.
A great way to ensure there is a smooth transition and introduction is to have the person they will be speaking with record an introduction video.
The video doesn't need to be created every time, but rather can be a general video used each time an introduction is made. Also, it does not need to be scripted or overly produced. In fact, the less produced the video, the more personal it will feel.
Whether you or someone else is creating this video, make sure to include:
An introduction of who you are and your role at the company.
Genuine (not over-the-top) excitement about the potential of working with them.
How much you appreciate their time and how excited you are to help them tackle their challenge and see positive results.
Expectations of what will happen on the next call, and reminders of any homework they need to complete.
A fun fact that will help them get to know you, or your service colleague, and feel more comfortable. Again, it's all about creating that human-to-human connection as quickly as possible. This is a great way to do that.
It's important that you continue to make your client feel as special as they did during the sales process when transitioning them to their new team.
A small-time investment with video will set the stage for a stronger relationship and long term retention.