Like blog articles, video can be used in your marketing to educate, entertain, and nurture your audience to make a purchase.
The difference? As we mentioned in our introduction, video is more in-demand than ever among audiences and is also scientifically proven to make information easier to understand and remember than text alone, thanks to its use of sound and visuals.
But what kind of videos should you be creating?
Educational videos are some of the most popular and highly sought-after videos on YouTube, which make video the perfect medium for answering your buyer's most pressing questions.
That doesn't, however, mean you should create a video just for the sake of creating a video.
Think about the query or topic and if a video is the best way to deliver an answer. A good rule-of-thumb is to highlight topics that require or heavily benefit from visual guidance or instruction.
For example, if you are an insurance company, you may want to create a video on "how to file an insurance claim" that walks viewers through the process, but not so much, "what should I look for in an insurance company?"
This video from Guitar Center on "How to Use a Guitar Pick" is a great example: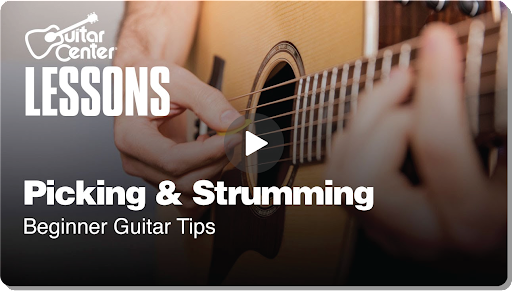 Visual instructions aside, we recommend creating videos around categories that Marcus Sheridan's books, They Ask, You Answer, and The Visual Sale, refer to as The Big 5 and The Selling 7.
The Big 5 are topics buyers most commonly have questions about (and search for) when making purchases:
Cost and Pricing
Problems (with your product or alternatives)
Comparisons (between possible solutions)
Best-of Lists
Reviews
The Selling 7 are the seven types of videos we have found to most likely help you convert leads and generate sales:
80% Videos: These are videos that address 80% of the most commonly asked questions during the sales process. Sales reps can send them off to prospects before conversations to save time during calls or help them qualify/disqualify themselves.
Employee Bio Videos: These are videos introducing your team and what they do that can be shared on your website or in email signatures. They help your audience get to know your team on a more human level even before they've actually spoken.
Product or Service Videos: As the name implies, these are videos highlighting your offerings.
Landing Page Videos: These are videos that appear on your landing pages, explaining the value of converting and also what to expect after filling out the form.
Cost Videos: Like a cost or pricing article, these videos explain how much your product costs or what influences the cost.
Social Proof/Testimonials Videos: These are videos showcasing positive stories and interviews from past buyers.
"Claims We Make" Videos: These are similar to social proof videos, but focus on showing evidence that backs up other service claims, such as quality of work or particular processes.
Then what do you do with these videos?
As you can see, these videos span a wide range of topics and different stages of the buyer's journey. Once you have them in hand, you can use them with a host of your marketing materials, including:
Social media (in particular, YouTube)
Blog articles
Frequently asked questions
Emails
Website pages
Video is a dynamic form of content marketing. Depending on the subject matter, it can be used in almost any instance that written text is normally used.
Get started implementing the concepts of this guide with free tools and training inside IMPACT+.
For more hands-on help from the IMPACT team, book a free meeting with an IMPACT advisor.