How to Transform Your Social Media Engagements with Social Inbox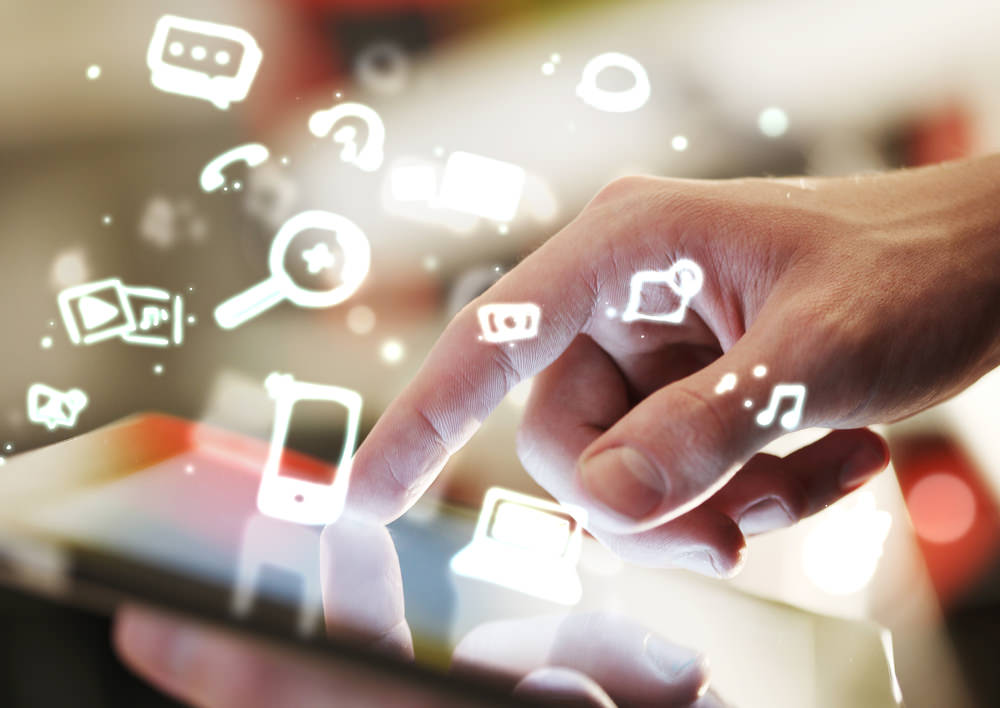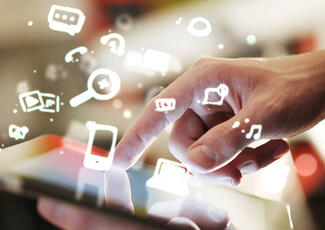 When HubSpot introduced Social Inbox back in May 2013, marketers everywhere fell in love at first sight.
When HubSpot introduced the new and improved Inbox this May, users renewed their vows.
To be honest, it's tough to find something not to love about the tool.
It alleviates the guesswork that comes with prioritizing social interactions, simplifies the way we cultivate and carry out relationships with leads and customers, and provides us with the all-in-one insight that we've come to expect from HubSpot.
In fact, it has so much to offer that often times users aren't even fully aware of everything that it is capable of helping your business achieve.
To ensure that you're not missing out on an opportunity to transform your current social media engagements, we've defined a few Social Inbox features you'll want to be sure you know about.
Easily Recycle What's Working
In the interactions option in Social Inbox, you'll find that you can easily view any likes, favorites, retweets, or +1's that your published content has received.
While this collective stream is awesome without a doubt, what we really love is the ability to take immediate action once we uncover what's performing the best in terms of engagement.
Rather than view the interactions in one screen, making a note of something that resonated, then shift gears to schedule it out elsewhere, Social Inbox connects the pieces for us.
Let's say I come across this tweet from our account that has received a few re-tweets. For me, that's a pretty good indicator that the content was well received by our audience, which ultimately leads me to believe it deserves another round on social.
All you have to do is simply select the schedule again button and you can pepper that post back into your queue without leaving your screen: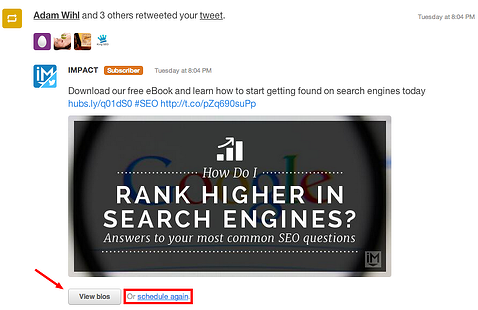 While many marketers worry that recycling content on social is in bad taste, we'd argue that it's actually highly effective.
In fact, we keep tabs on a list of what we liked to call our "All-Star Tweets", which have proven their ability to elicite engagement time and time again. Whenever we're looking for a boost, we'll reschedule some of our top contenders to get people talking.
Leverage Contact Card Insight
Social Inbox makes it easy for users to gain valuable insights about their new followers through the implementation of Contact Cards. These cards highlight important HubSpot and Twitter data to help users determine if they should reach out to the new follower.
You'll notice that under each of the contact's bios there is a number of interactions listed. Clicking into this pull a list of all of their interactions by date, as well as any of their tweets that matched your steams. This type of insider information will help you to determine what type of content is resonating with them, which can then be used in follow up conversations.
Each Contact Card contains a label that identifies the unique relationship the individual has with your company, whether it be lead, customer, evangelist, etc. By clicking the label, users will be redirected to the individuals Contact Record where they will have access to a detailed account of all of the actions they have taken on your website.
If you determine that the new follower is a good fit, you can follow them back right from the card using any of the accounts you have connected with HubSpot. You can also send them a message to say hello or thanks for the follow straight from the card.
Receive Custom Notifications
Streams are an incredibly powerful tool, in that they allows users to filter through all of the noise and extract the tweets and conversations that pertain directly to their interests.
While very basic streams that track hashtags for example (i.e: #inboundmarketing) are great for surfacing the people who are engaging in conversations around topics in your industry are helpful, there is a greater value to be uncovered.
For example, a custom stream can be set up that sends out a notification to a designated group of recipients every time a qualified lead from you database mentions you on Twitter, or tweets a link from your website. This allows for a more timely, relevant follow up.
Would't it be nice to know when one of your qualified leads mentions one of your competitors on social media? There's a steam for that too. Here's how to set it up: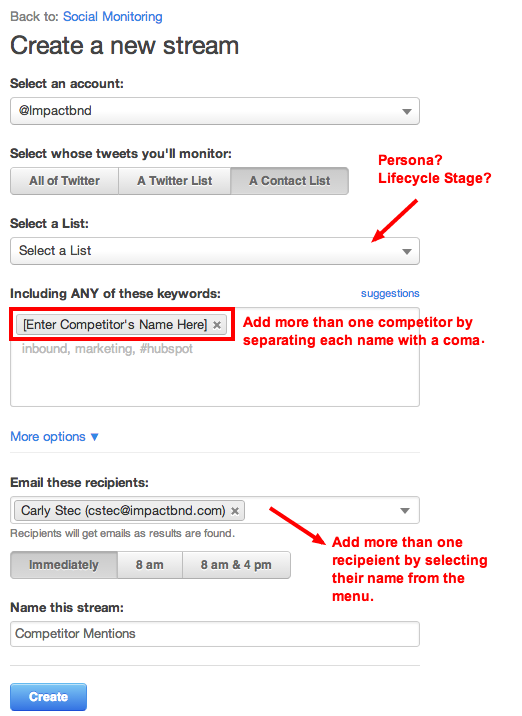 With the flexibility of customization, there's a number of valuable streams that can be implemented to improve your social interactions. Here's a few ideas to help you get more out of your social interactions:
Hosting a conference or big event? Create a steam that monitors the event name to help you stay plugged into the online conversation as it unfolds.

Create a steam for keywords that you want to rank for. By monitoring the conversations going on around these keywords, you'll find that it will be easier to create informed, relevant content around them.

Monitor mentions of your business' name, not just your handle. This will make it easy to turn up conversations about your business that may be about you but simply not contain a formal @ mention.
Free Assessment:
How does your sales & marketing measure up?
Take this free, 5-minute assessment and learn what you can start doing today to boost traffic, leads, and sales.