How to use HubSpot for WordPress websites (step-by-step instructions)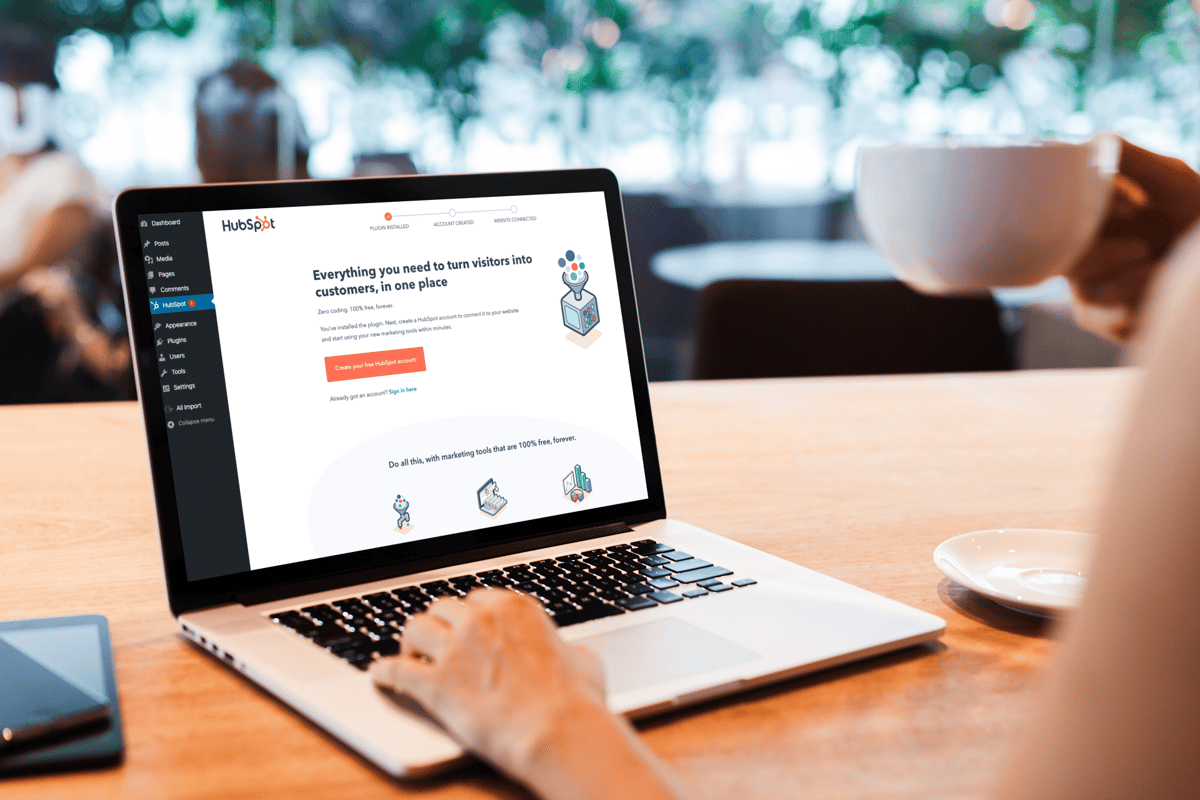 WordPress is the number one used content management system in the world, powering over one-third of websites on the internet.
It's within this behemoth content management system where we can do anything we want,.
Except when it comes to marketing automation, and lead generation and nurturing... that's where WordPress falls short for businesses.
Don't believe me?
Well, imagine we create this amazingly powerful WordPress website that's fast, SEO-friendly, with a kick ass user interface and experience, and so on. Google's crawling it and potential buyers are visiting it — at least we think so 'cause there's a ton of traffic coming through on Google Analytics...
...and yet, even with all that, we're not closing that many new deals.
Moreover, with only our WordPress-powered website, we're not sure how many potential leads we've lost or when we lost them during their journey. We have no data telling us what we can be doing better.
🔎 Related: HubSpot vs WordPress for business websites
Next there's HubSpot — considered by many to be the most powerful, premier marketing, sales, and service automation platform on the planet. HubSpot empowers you to get so granular with your marketing, it will make your head spin.
For many, however, HubSpot is (from a budget perspective) out of reach for their businesses. (Or, maybe, you just prefer WordPress, and that's OK!)
Is it possible to combine the power of HubSpot automation with WordPress' popular CMS platform to make your site beautiful, easy to update, and future-proof, with the ability to analyze what your visitors are consuming and where your content doesn't meet their expectations?
Is there some way to bring this digital sales and marketing power couple together under one website roof?
Yes, yes, there is!
WordPress and HubSpot come together to make website magic
Toward the end of 2013, WordPress and HubSpot met, fell in love, and produced a beautiful, bouncing baby integration/plugin called HubSpot – CRM, Email Marketing, Live Chat, Forms & Analytics.
Amazing name, right? Really rolls off the tongue.
🔎 Related: Everything you ever wanted to know about HubSpot for marketing
Anyway, this marriage of technologies takes the world's most versatile content management system and couples it with an all-in-one powerhouse marketing automation tool to provide the clearest picture on how your website performs, what your user journey is, and where your opportunities to increase traffic, leads, and sales lie.
What can you do with HubSpot's free WordPress plugin?
Engage visitors with live chat and chatbots, and convert leads with forms and lead magnet pop-ups.
Build beautiful, responsive email newsletters and nurture your leads with marketing automation campaigns.
Manage your entire contact database with HubSpot's free CRM, and group contacts together with the built-in list builder.
Measure your business growth with analytic dashboards.
That's straight from their plugin description.
Setup is super easy and aside from outlining some of the key benefits of using them together, that's what we'll cover today.
First, you'll want to setup a HubSpot account
HubSpot offers many different packages including their very own content management system — recently upgraded to their brand new, fully-fledged HubSpot CMS Hub — providing even more value as an all-in-one solution, but their pricing isn't for everyone.
I definitely encourage you to check them out, but for the purposes of this article, we're only interested in their free CRM tool. That's right it's not a trial. It's free for life and can integrate into WordPress.
To sign up for your very own visit their sign-up form and in just a few steps we'll be ready to move onto the next step.
The two packages we're specifically interested in are the following:
What's included with the HubSpot CRM?
Contact management
Contact website activity
Companies
Deals
Tasks and activities
Company insights
Gmail and Outlook integration
HubSpot Connect integrations
Custom support form fields
Prospects
Ticketing
Forms
Ad management
Conversations inbox
Reporting dashboard
Email tracking & notifications
Email templates
Canned snippets
Documents
Calling
Meeting scheduling
Messenger integration
Custom properties
What free HubSpot marketing tools are available?
Forms
Blog publishing
Lead scoring
Lead nurturing workflows
Social media publishing
SEO tools
Content strategy
Landing pages
Email marketing
Ad management
List segmentation
Conversations inbox
Team email
Live chat
Conversational bots
Mobile optimization
Reporting dashboard
Messenger integration
Custom properties
Awesome. You've got your new account. Now we'll start the process of establishing that line of communication between them.
Visit the plugins page inside your WordPress dashboard and click Add New.
In the search bar type HubSpot -- CRM
Find the result called HubSpot – CRM, Email Marketing, Live Chat, Forms & Analytics and check its compatibility with your version of WordPress -- it will say so right in the bottom right corner of the result card.
If it's compatible, click Install
Once that's complete, click Activate.
Now, go through their configuration process… it's painless, I promise!
Once the plugin is activated, you'll see a brand new section on your dashboard's left sidebar called HubSpot.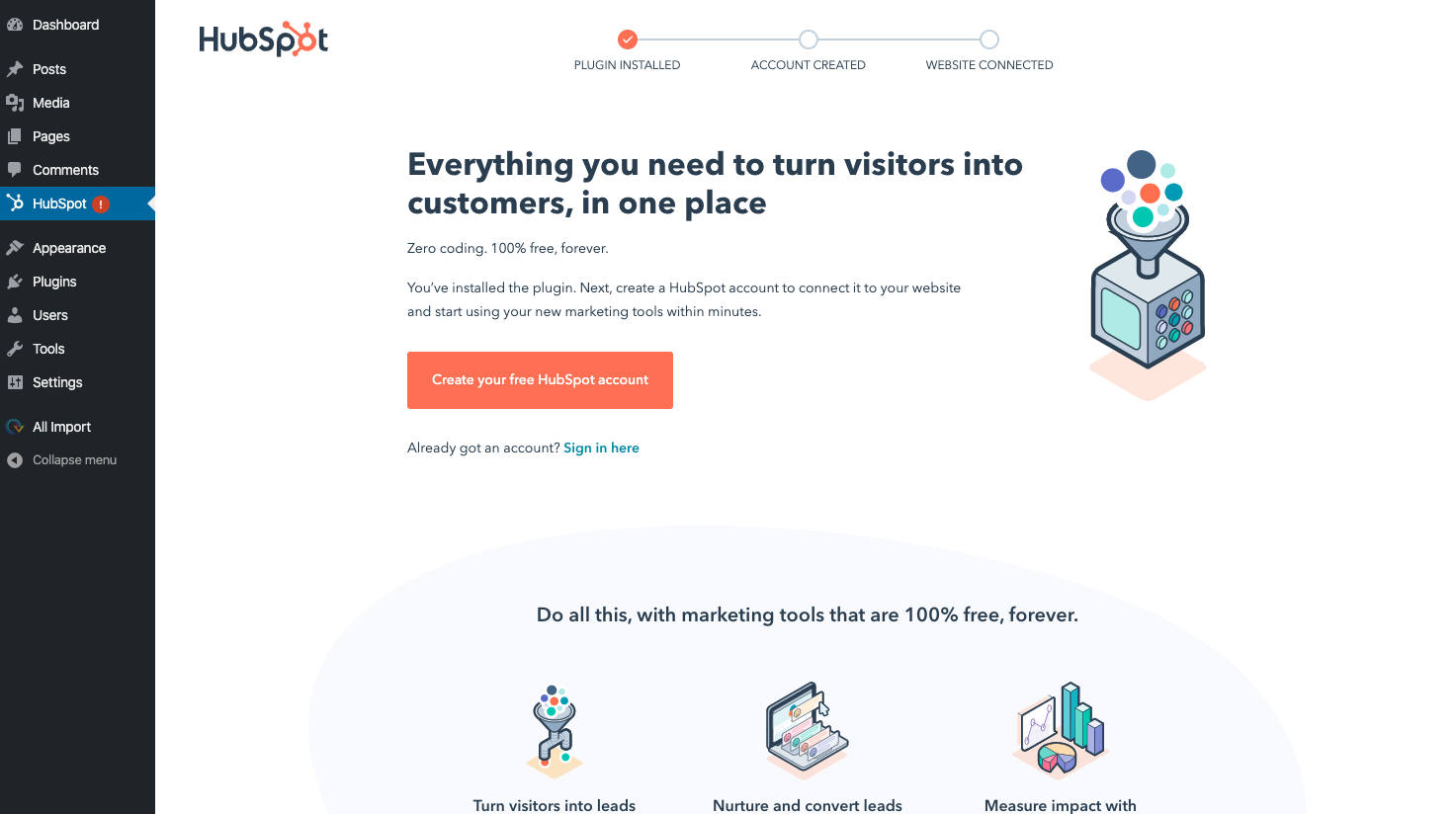 Follow the on-screen instructions either by clicking on the orange button to create a new account (if you haven't already) or clicking on the link that says Sign in here.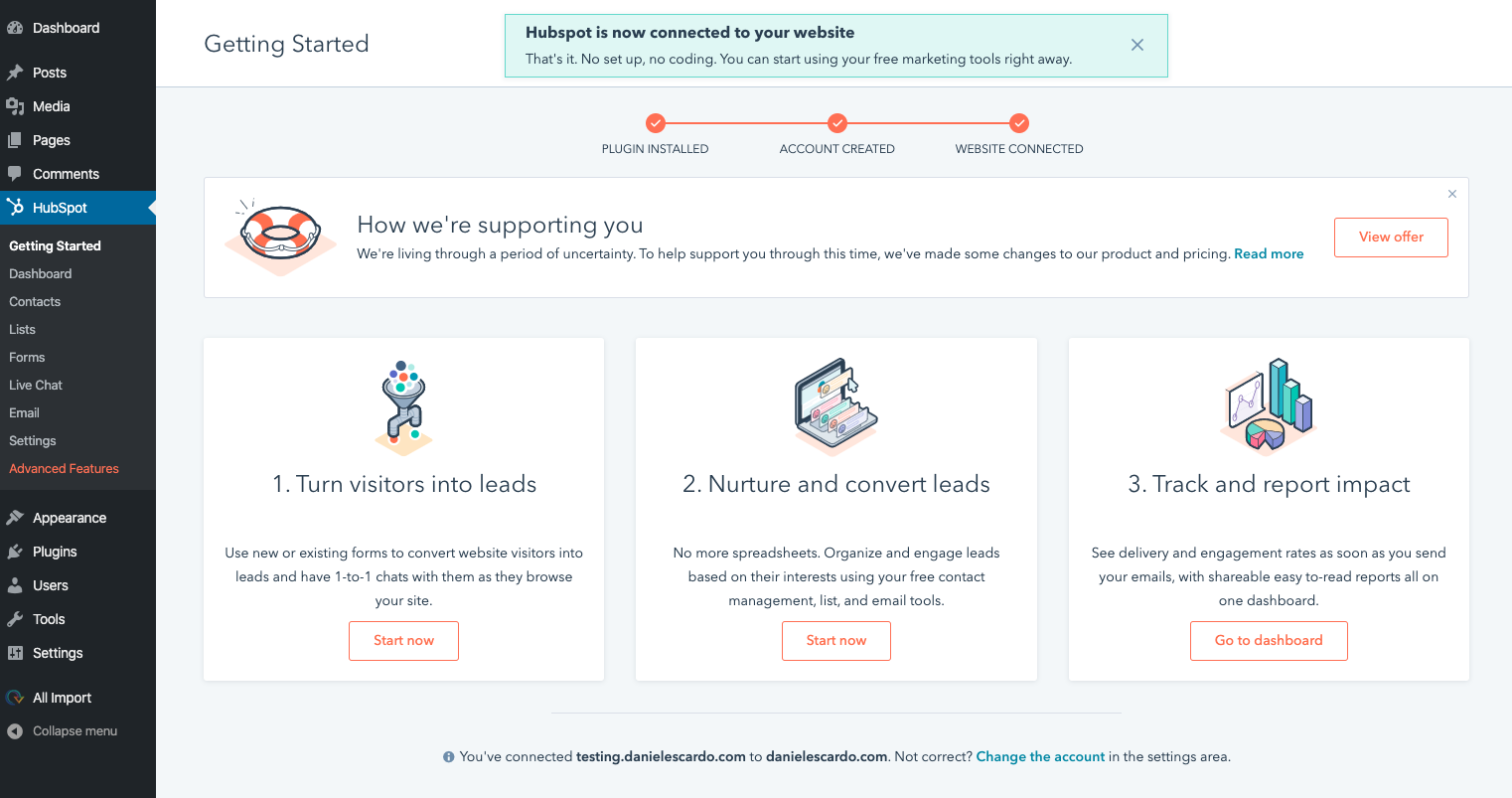 Voilà! You're connected! Now, let's explore why these two were made for each other...
OK, so we've got everything set up, our account is active, we've looked at all the pretty dashboards. Now what?
Well, now we start to use the tools provided by HubSpot to track behavior on your WordPress site like never before.
Put your forms to work for you
One of the most powerful features you'll enjoy from using this new integration is the ability to sync your form data back into one easy-to-use and powerful customer relationship manager or CRM.
A great place to start is to replace all your forms with HubSpot forms which will automatically sync back to your HubSpot CRM. This will provide your sales teams with qualified leads which most certainly represent higher close rates.
Pro Tip:
If you don't sign up for one of HubSpot's Marketing Hub Professional, Enterprise, or Legacy Marketing Hub Basic plans, you won't be able to style your forms using external CSS. This means you'll need to manually style each form or use the branding that comes with them.
Chatbots are an amazing, indispensable tool — use them
With HubSpot, you get a super powerful conversational marketing tool referred to as "chatbots," which you can configure to sit on your site and offer help for consumers in real-time.
The communications are all put into the HubSpot CRM and allows you the ability to to communicate in real time with you website visitors to help answer any questions or concerns they may have.
"Wait, I can automate communications to prospects based on their behavior?"
That was my legit reaction.
That's right, your leads can find their own paths to a purchase or engagement with your site. With HubSpot's marketing automation, you can use each lead's behavior to tailor emails and deliver content at exactly the right time.
And all of this wondrous lead data is captured and synched back from WordPress to HubSpot auto-ma-ti-ca-lly, folks.
Obviously, you won't know a contact's name unless they've volunteered it by either subscribing to something or filling out one of your forms, but there's still anonymous data you can use, as well.
Now, you might be thinking: "Wait, doesn't HubSpot have its own CMS?"
You betcha! We've covered a bunch of reasons why these two services can complement each other, but as CMS's they serve two completely different markets.
WordPress, which I've previously dubbed the Swiss Army Knife of content management systems, is for companies that need a ton of control over their website's functionality, e-commerce, robust membership needs, etc.
HubSpot, on the other hand, has their own CMS Hub. As a HubSpot Diamond Partner, IMPACT has a TON of experience with HubSpot's CMS and we absolutely love it. (There's a reason why 75% of the websites we build are on HubSpot.)
That said, it's not for everyone.
While WordPress' main software offering is open source (free), HubSpot is a SaaS company, which means they offer a Software as a [Fee based] Service. Their fees are well worth it but (as I said at the start of this), those fees for many companies can prove cost prohibitive.
No matter where your website lives, be relentless in your quest to engage your customers
If you're on a WordPress website, and you're looking to reign in your website communications, give you sales teams a fighting chance at closing more deals, and provide your customers new ways to ask the right questions at the right time, I can't stress enough how much these two lovebirds of HubSpot and WordPress — seriously, get a room you two — will help.
🔎 Related: What's the best website builder for small businesses?
This powerful pairing will enable you to take all of your website traffic and increase your leads and sales... otherwise, your website may merely live on as a static digital billboard for your company.
Free: Assessment
Does your website build trust with buyers and bring in revenue?
Take this free 6 question assessment and learn how your website can start living up to its potential.
Score My Website
Free: Assessment
Does your website build trust with buyers and bring in revenue?
Take this free 6 question assessment and learn how your website can start living up to its potential.
Published on May 11, 2020