How to Critique Your Own Website (Without Being Biased)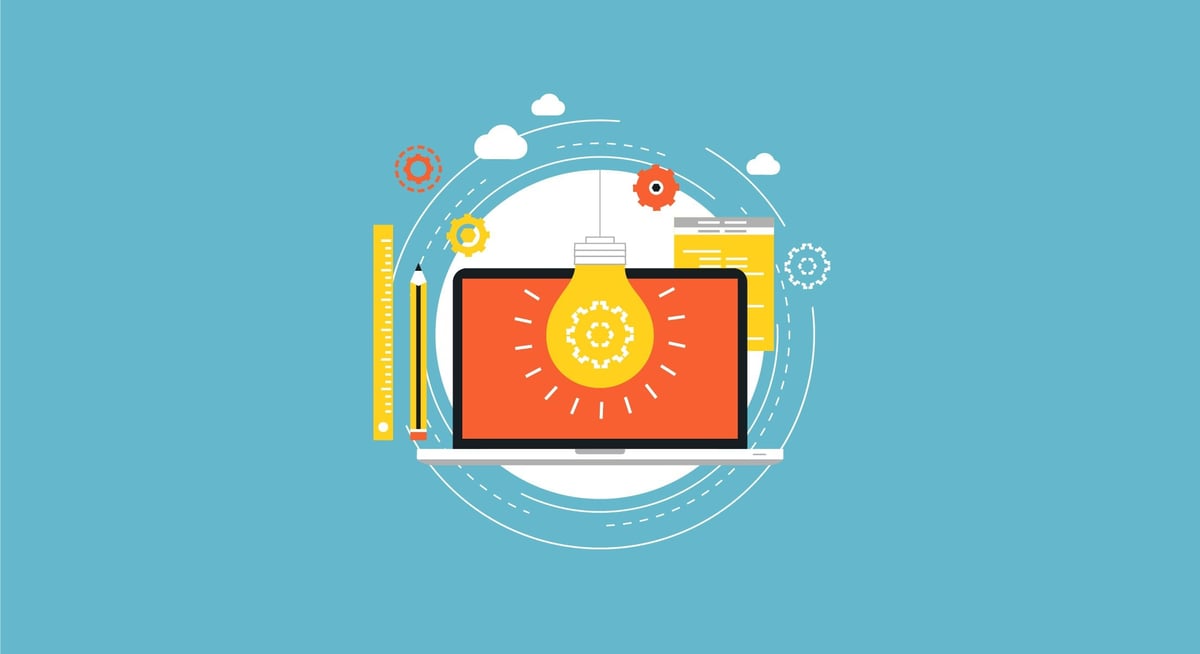 All of us look at our business websites differently.
Some of us think we're doing all the right things on it (but still struggle to hit goals), others see them as opportunities for continuous improvement, and a few of us might question our website's effectiveness.
Regardless of what bucket of thought you're in, the ultimate question to yourself might be "in what ways can I accurately improve my website so I'm more likely to hit my goals and better engage and connect with my audience?"
Rather than immediately brainstorming a list of new strategies to implement, it's important to take a step back to critique and evaluate what you currently have (or even what you've started redesigning).
But critiquing your own website can be a fairly confusing challenge.
How can you pick up on what you need to improve if it already looks like you're doing all the right things?
In this article, we are going to break down the critiquing tips you can use review your website.
These will allow you to better understand what steps you need to take to more effectively attract your audience, engage them, and convince them to convert.
Before We Start, Stop Being You
Listen, before we get any further in this article, I need you to do me a favor.
Stop being you.
I mean it. If you're really going to open your eyes to improvement opportunities, you need to imagine yourself as someone entirely different.
I'm talking about becoming one of your users, or ideally, a user within your target audience.
But why?
As a committed employee, you've submerged yourself in your organization's ideology, services, and its practices. While this means you trust your company and understand its services and content, your users and prospects need to take the time to reach a similar point before they can decide if you're the answer to their solution.
Even I've had the unfortunate pleasure of having moments where I mistakenly start strategizing and neglect thinking about the user before quickly identifying the faux pas and switching tracks.
It's a never ending mindset challenge that you need to be aware of.
If your website's branding doesn't clearly evoke a sense of trust, intellectual leadership, and clearly explain how it solves your personas pain points, then your website already misses the mark at a basic level.
So, put on your user's shoes, spin around three times (for dramatic effect), and attempt to look at your website like a user seeing it for the first time.

To help mentally prepare yourself for the way your user might think about your website, we'll now go into the mindset you need to use as you critique it.
Note: If you're not comfortable critiquing your own website, let us do it for you! Submit your website to our monthly live critique, Website Throwdown here!
1) Aesthetics and Visual Impact
The first aspect of your website your users immediately focus on is its design and visual impact as a whole.
In fact, 94% of users first impressions are design-related, and 75% of users admit they decide on a company's credibility based on its website's design.
So, imagine you're a new visitor to the website.
Maybe you've entered through the blog, or maybe you're on the services or homepage; Evaluate the initial visual impact your site would have.
If they happen to enter through the blog, describe to yourself the overall feeling of the page you see. Is it clean, sleek, and easy on the eyes? Or is it very blocky, overloaded with colors, and you struggle to figure out where your eye should focus?
Do this throughout as many pages as you can, and along the way, ask some of these questions to help direct your train of thought.
Side note: If people are entering your site through your blog, our blog optimization package can help you make the right first impression.
Questions to Ask Yourself
Where is the first place your eye focuses (without scrolling)? Is that the first thing you want your users to see?

Does the layout help illustrate the journey you want the user to take on the page?

Do the colors harmoniously work together and accentuate proper hierarchy? Do they relate to the logo?

Are these colors associated with the type of emotion you want to evoke (

check out this interesting infographic to see

)

Are font weights being used effectively and properly for readability and content separation?

Are there any spots where the content and design don't seem to fit with one another? (Example: And H1 that's 50 characters long, but is a very large font size.)
2) Navigation
Your navigation is the fundamental way users who visit your site journey throughout your it to learn more about your company. It's also how they can make some simple judgments as to who you are and what sort of business you are in.
Imagine you are now looking at the navigation the first time, and all you've had a chance to read was the site page you entered through.
Now, maybe you're looking for further resources, or you want to see what sort of solutions your company solves for. Could your user easily decipher how to do that based upon your navigations current UI and language?
In your mind, it might make sense to stuff as many keywords and pages as possible into the navigation. But tactics like this ultimately result in disorganization and navigation overload for your users.
You need to streamline your navigation with your most important pages using language that doesn't force your users to think
Now that you've had some time to review your navigation, answer some of these questions to verify if it's the most optimized for your users.
Questions to Ask Yourself
Where is your main navigation on your site (top of the page, hidden in a hamburger, etc)? Is it located in an area where it's easily accessible and identifiable for the user?

How is the visual spacing between the content? Is it clear what's separated and what's connected?

How many dropdown levels does your website have? If it's two or more; are they necessary? Are the pages important enough to constitute a spot on the navigation? Can they be condensed?

Do proper styles indicate whether or not you are hovering over items?

Could you users tell what sort of work your business might be in from the navigation? Or are the labels to general?

Are the fonts legible and at an appropriate size?

Is there a clear call-to-action throughout your nav? Or is it competing with something else?

If your sites fairly large, is there an option for users to search to better locate what they are looking for?
3) Content Evaluation
Reviewing your content is probably one of the most challenging areas of a website critique. This is because we typically review the content as if someone like ourselves is reading it, not someone who might be reading the content for the first time.
You need to nurture your users with content that educates them about who you are and how you're a solution to their pain points. This means you need to have a wide variety of content that both resonates with new users on an introductory level, but captivates and engages the more educated ones.
This means you need to review the content your website produces and judge whether or not it's providing the right quality and value for your users. You need to remember who you are marketing to and speak directly to them. These people aren't you.
Questions to Ask Yourself
Review the content you are putting out and reevaluate whether or not you content resonates with all levels of your user's buyer's journey. Is it content worth reading?

This in-depth article can help you better understand this.

Do the offers you put accurately correlate to what you blog about?

How much content do you put out regularly? Is it enough to keep your users engaged?

What is the language like? Is it to you-focused? Does it lack any personality?

Aside from the content you're putting out. Do other pages on your website easily give users the chance to understand who you are, what you do, how you help, and how you can help them?

Does this content focus too much on you? Or is the language explicitly positioned on helping the user.

How is all this content presented? Is it too long/difficult to find/disorganized/too small or large? (You don't want to content stuff just to get everything you want to say onto a page!)
4) Usability
There is nothing more irritating than a website you just can't seem to figure out, or one that doesn't work they way you think it should.
Are their places on your website where users may feel that same emotion? Your website shouldn't sacrifice usability in favor of other features that may only benefit you. If those features are too disruptive to users, then your users won't stick around and your website will take a hit for it.
Ask yourself whether or not your website makes it easy for users to do the desired action they may have, whether it's as simple as reading an article, scrolling through a slider, or filling out a form.
Your users are the bread and butter of your website, and it's them who you're catering the website's experience too.
Questions to Ask Yourself
How fast does your website load? Are you including

a lot of assets that might be affecting it?

Can users easily navigate through the majority of your pages with the ability to successfully judge where certain calls to actions/links lead to? Are these also noticeable yet not intrusive?

Can users intuitively find all pages of your website? Are there any that have confusing user paths to locate?

Does your website incorporate unique functionality? If so, is it intuitive, you do you users need to take some time to understand it?

Is your website responsive and properly optimized for these users?
Bonus Tip: Interview Your Current Customers for Additional Feedback
There comes a time where you do really need to step away from analyzing and reviewing your website and bring in other voices to the conversation. And what better a group to ask for feedback than the people who are currently using your services.
Interviewing your customers and asking questions such as 'what were your first impressions of the website?', 'what kept you coming back?', 'what was your understanding of the way we presented our services?', 'what other content you would be interested in reading that we don't currently produce?'.
Asking these questions and others will allow you to understand how your current customers understand your website and if it's sharing the message you're trying to achieve.

If your customers aren't exactly the type whom you're constantly in contact with daily, there are a variety of software options that will allow you to reach out to them. This allows you the opportunity to still get the feedback you want knowing a phone interview may not be as ideal.
Get Critiqued!
Now, you should have all the tools and insight you need to critique your own website, but if you're still looking for some help, leave it to us! Submit your website for the chance to be critiqued live on the air of our monthly broadcast, Website Throwdown.

This month's episode is on February 28th and we'll be joined by the head of Growth at Wistia, Andrew Capland! The submission period is ending soon, so don't wait! Throw your site into the ring by clicking here or the button below!
Free: Assessment
Does your website build trust with buyers and bring in revenue?
Take this free 6 question assessment and learn how your website can start living up to its potential.