Types of Content Marketing Explained (+ Examples)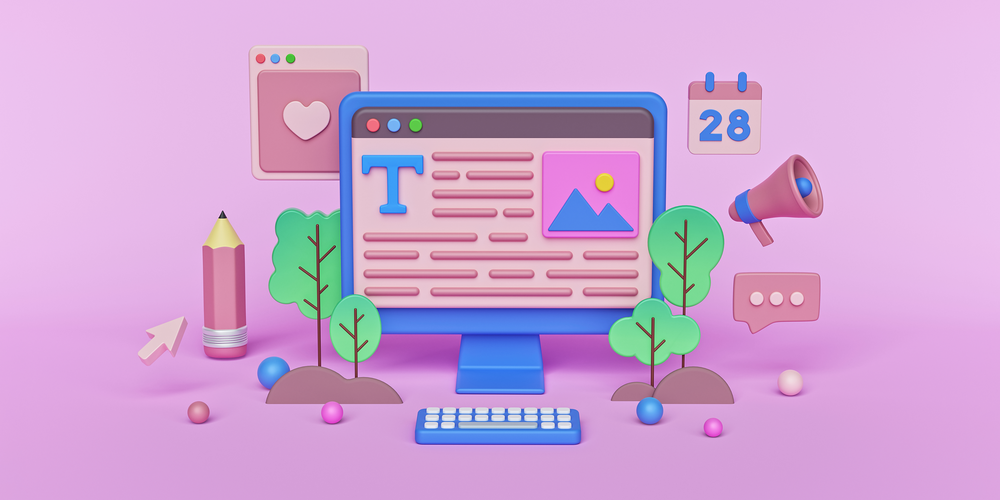 Types of content marketing
Blogs: Written articles that share helpful information such as product comparisons and cost.
Videos: Visual media used to share explainer information, product information, and process how-tos.
Emails: Such as newsletters that keep prospective buyers engaged.
E-books: Long-form content that can help build your contact database.
Podcasts: Audio content your prospects can listen to rather than read.
Whitepapers: In-depth guides ideal for presenting solutions for complex issues.
Checklists: Succinct list of to-dos meant as an action guide.
Social media posts: Visual and easily digestible content meant for catching people's attention and inspiring engagement on social media.
Case studies: An analysis of client success that can be used as a testimonial or review.
For more information about how to do them yourself, including examples, read on.
A strong business-customer relationship — where your buyers feel so satisfied that they not only buy from you repeatedly but also become an advocate of your brand — can only grow by fostering a genuine connection.
Although this concept might seem intuitive to those of us who obsess each day about ways to achieve this relationship with buyers, the question most marketing teams and businesses struggle with is, How? And if you're anything like many of the companies that come to IMPACT for help, you're tired and burned out after scouring the universe for strategies that actually work.
Maybe you've tried everything except content marketing, or perhaps you're dabbling with a content marketing strategy and haven't yet jumped fully in.
The following content marketing formats are some of the most useful at attracting leads and boosting sales, and the examples herein will show you how other businesses are executing them so you can see concrete digital marketing ideas that actually get results.
🎓 IMPACT+ course: They Ask, You Answer fundamentals with Marcus Sheridan
Because you're here and ready to dig into the various types of content marketing, you likely already know a thing or two about content marketing in general. If you need a more well-rounded understanding of this topic before we get into specifics, here are a few great resources to get your marketing efforts started:
In addition, here are some of the most popular (read: effective) content formats your business can use to gather and convert more leads and build better relationships with your buyers, no matter where they are in the buyer's journey.
Blogs
Blogs are some of the most-used content marketing formats — and it's for a good reason. Businesses that blog typically get 67% more leads per month and generate 13 times the ROI. When developed properly, they help digitally driven consumers find your website and learn about your products and services.
The more well-optimized blog content you publish, the better search engines understand the type of services you provide and the more they send people your way to learn about them.
To find the perfect example of how to write an effective blog, look to IMPACT+ client West Roofing Systems, a B2B industrial roofing contractor. After publishing two blog articles per week using the principles of Marcus Sheridan's revolutionary approach to inbound marketing outlined in his book "They Ask, You Answer," among other types of content (such as video), the company grew its website visitors by 1,400% per month and saw a $14 million revenue increase.
But don't think of your blog as a place to share what you had for lunch yesterday or your favorite novel (unless you sell something related to food or books). Avoid irrelevant topics and stick to the information that helps your potential customers by answering their questions.
We recommend starting with the topics that Sheridan found drive the highest rate of leads and sales in nearly any industry: The Big 5. You can see some of these how-to, comparison, cost, and best-of articles in West Roofing System's learning center, including its top-ranking article about troubleshooting what those brown spots on your ceiling could be.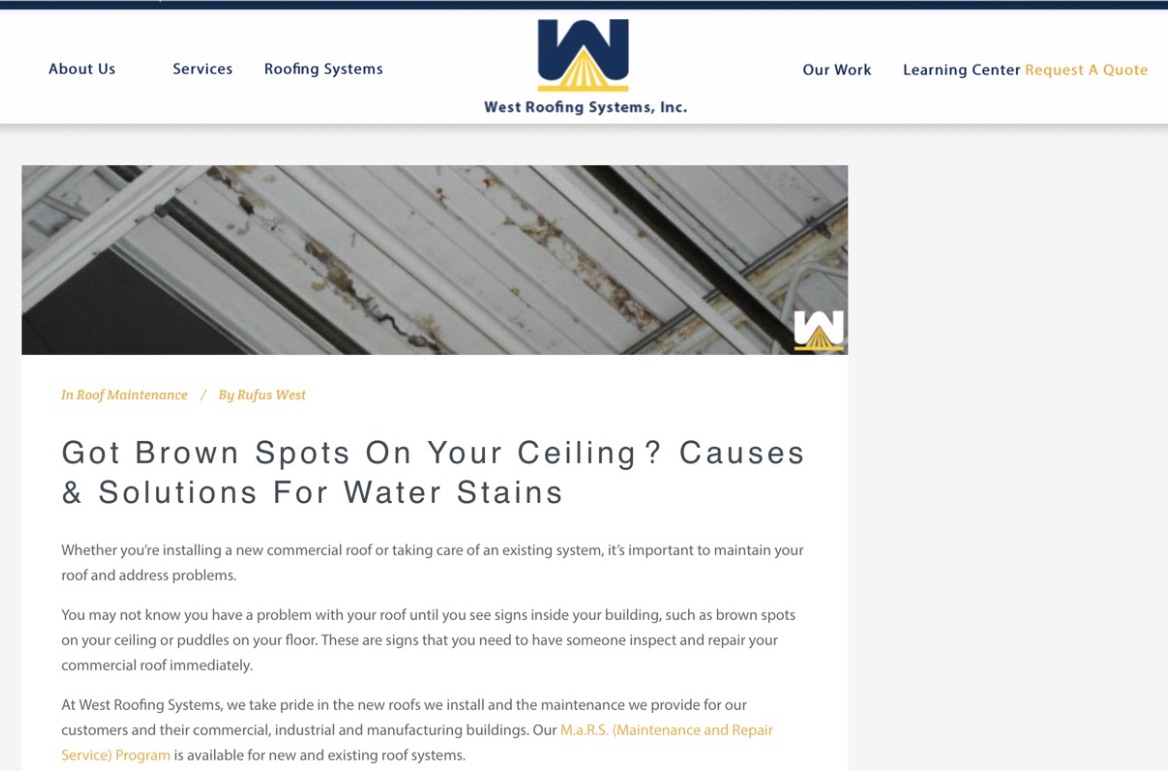 🎓 IMPACT+ course: How to write "The Big 5" best business blog topics
Videos
If there was a "Drop whatever you're doing, and try this!" piece of advice in content marketing, it would be to incorporate video into your digital marketing strategy.
People watch an average of 18 hours of video online, and when it comes to learning about products and services, 69% revealed that video was their go-to. This is because video is a quick and easy way to digest a wealth of information, and for your prospects who aren't big readers, video can be a powerful way to connect with potential customers who might otherwise skip reading your blog.
I can personally attest to the power of video when I recently purchased an item I didn't even know I needed. I love writing longhand. I'm constantly taking notes and have a habit of keeping individual notebooks for everything — from work notes and journal entries to grocery lists and reading responses. But I've always struggled to use my notebooks properly. I don't always have them on hand when I need them and often forget which notebook is for what purpose. By the time I figure out where the notebook I need is, I've lost the urge to write, and my thoughts are lost.
I recently saw a promotional video about reMarkable2, a digital tablet mimicking paper:
The video concisely demonstrates how this tablet would ease all my "pain points."
I learned that if I bought this product, I could:
Have as many notebooks as I wanted, all in one place.
Still feel like I was writing with a pencil and paper.
Write without distracting internet services, like search and social media.
Turn my handwriting into text and send it to my email.
Even read ebooks and PDFs.
And this is just one video. Think of all the ways you could incorporate video into your content strategy by:
Showing how your product works in an explainer video.
Chatting about what your services provide.
Walking people through the back-end processes of how your business pulls everything together.
Introducing your team and sharing a bit about who they are and what they do.
Here are seven types of videos that "They Ask, You Answer" author Marcus Sheridan recommends:
🔎 Related: The Selling 7 sales and marketing videos that get results
Emails
With an average 4,200% ROI, ($42 for every $1 spent), email remains an effective way to keep your customer engaged with your business. But with over 293 billion business and consumer emails sent and received per day, it's also good practice to keep your outreach succinct and helpful rather than salesy and pushing people to buy. Inboxes fill up quickly, and if you want to get through to your buyer, you need to be clear about the value you're providing so your email will be opened, read, and enjoyed.
When in doubt, think less about your company and more about what you can send to your customers that teaches them something and builds a better relationship with them, even if it seems simple.
At IMPACT, we send out a daily newsletter called THE LATEST, which Editor-in-Chief Liz Moorehead has written for over two years.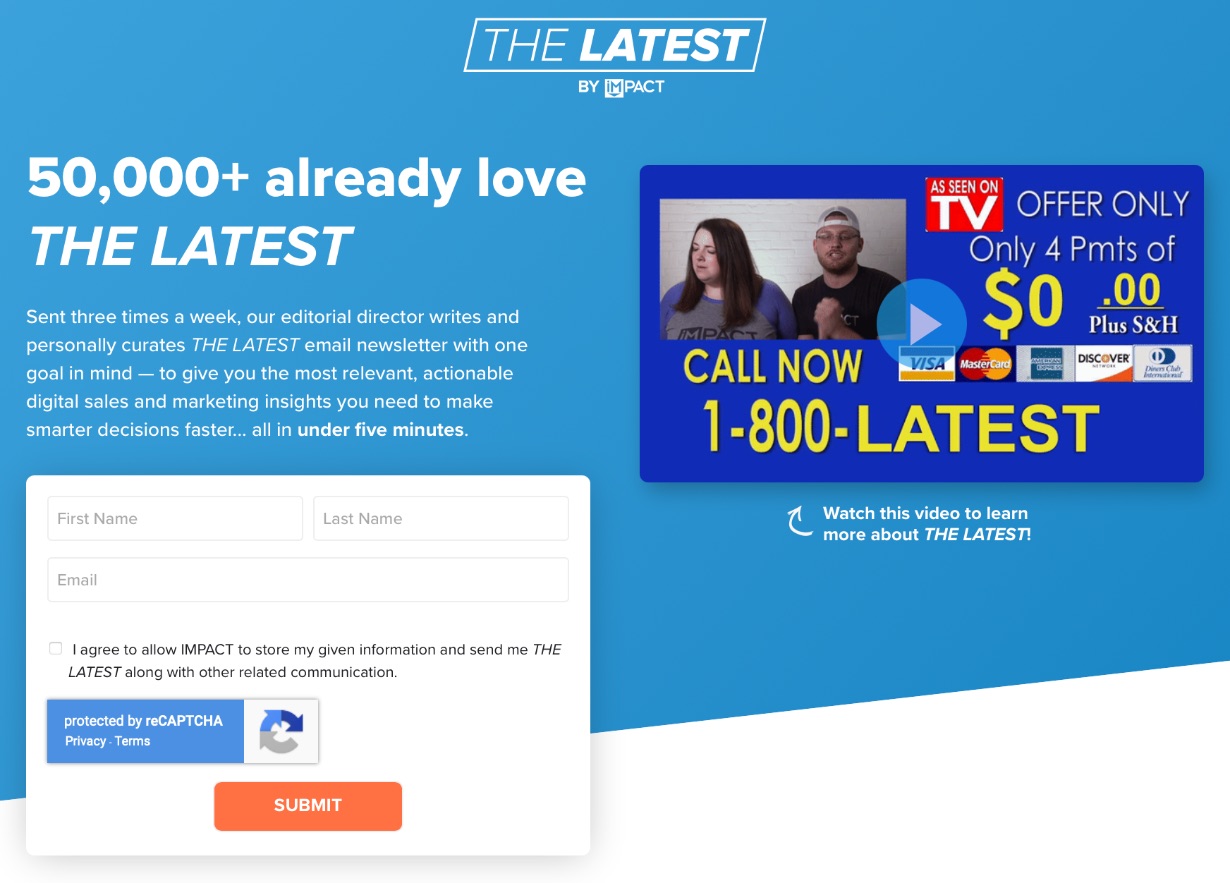 She has a few tips on how to accomplish this:
"I think in many cases (not all, of course), companies create newsletters with this question in mind: 'How will this help us achieve our goals?' When we first conceived of reimagining what our newsletter experience was like about three years ago, we instead asked ourselves, 'How can we create a ridiculously valuable newsletter that empowers our audience (business leaders, digital marketers and sales pros) to achieve their goals?'

"That may seem like a subtle shift in mindset, but I believe it to be a crucial one, and it's how I (as the author of THE LATEST) approach every single issue when I put it together. Am I creating something that truly helps someone achieve better results, grow in their careers and/or make smarter decisions faster?

"The thing is no two email newsletters are alike, nor should they be. So, I would say you can look to THE LATEST as a source of inspiration, but I would encourage other digital marketers to not do so literally.

"Instead, ask yourself the same question we did at the start: 'How can we create a ridiculously valuable newsletter that empowers our audience to achieve their goals?' There's a good chance your audience is different (at least in some way) from ours, but the spirit of the question is universal in its power to guide you toward the right direction of what you should be doing."
You should certainly track your newsletter click-through rates and other data such as ROI and whether the newsletter is being shared, but you might find some of the responses to your outreach more telling as to your newsletter's effectiveness, as Liz has experienced:
"Some people reply just to say thank you, and others will actually also share their own personal stories (failures, triumphs, lessons learned), and it's just amazing to me ... that a newsletter can create and foster these types of connections and a feeling of community.

"But I will say (and this is completely selfish, ha-ha), one of my favorite moments was at HubSpot's annual INBOUND event a few years ago. I was hanging out at our booth for IMPACT, and this sweet, friendly woman came up to me as if we were old friends ... and she asked me how Pumpkin was doing. (I'm a cat lady, so I talk about her a lot in THE LATEST.) She said she knew it was strange, but she just felt like she had gotten to know me as a reader of THE LATEST, and I didn't even know such a connection was possible simply through the power of words."
🔎 Related: How to create a powerful monthly content ROI newsletter
Ebooks
Ebooks are lengthy, which means when written well they generally rank well in search; they're meaty, which means they provide lots of information and value to your customers; and when gated (meaning your user must provide information, such as an email address or company name, to access them), they have the power to build your contact database.
Just keep in mind they're not for everyone. Some people would rather see a quick and easy infographic or checklist rather than have to slog through a lengthy ebook, but they are valuable for some customers, depending on your audience, so they shouldn't be discounted. Just be sure that before users download the document (in most cases, a PDF), you make it immediately clear what the consumer is getting, which you can do with a landing page.
For example, IMPACT client RetroFoam of Michigan — an IMPACT client that has increased its leads by 22,942% with content marketing using the They Ask, You Answer methodology — has an informational landing page for their foam insulation buying guide. Before you hand over your email address, you already know upfront that it provides information about the process, pricing, and building codes related to installing foam insulation.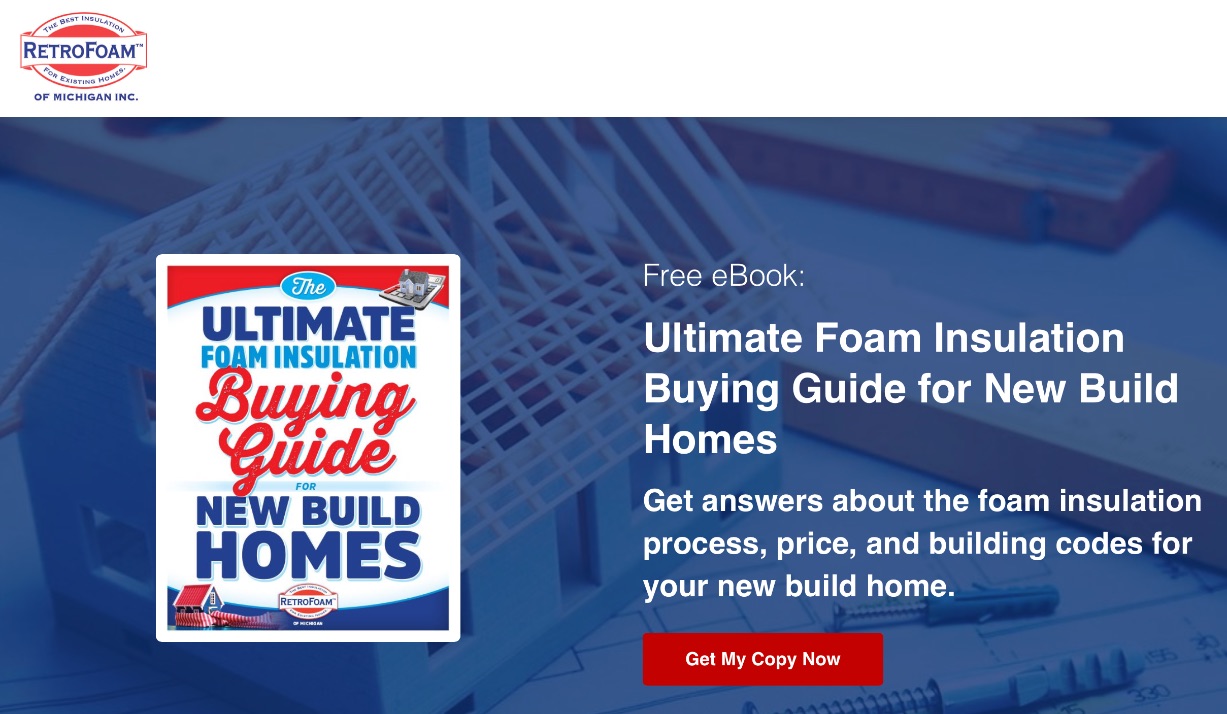 Podcasts
There are roughly 118 million monthly podcast listeners in 2021, which is 10.1% more than in 2020. For some, podcasts are an ideal way for users to consume books or learn something new while they perform some other task, like doing the dishes, walking the dog, or commuting.
You can create a podcast from existing pieces of content or chat about different topics with subject matter experts or guests like we do in our Inbound Success and Content Lab podcasts.
A great way to use podcasts for building traffic to your site is by posting the audio file along with a transcript, so the keywords are on the page as well.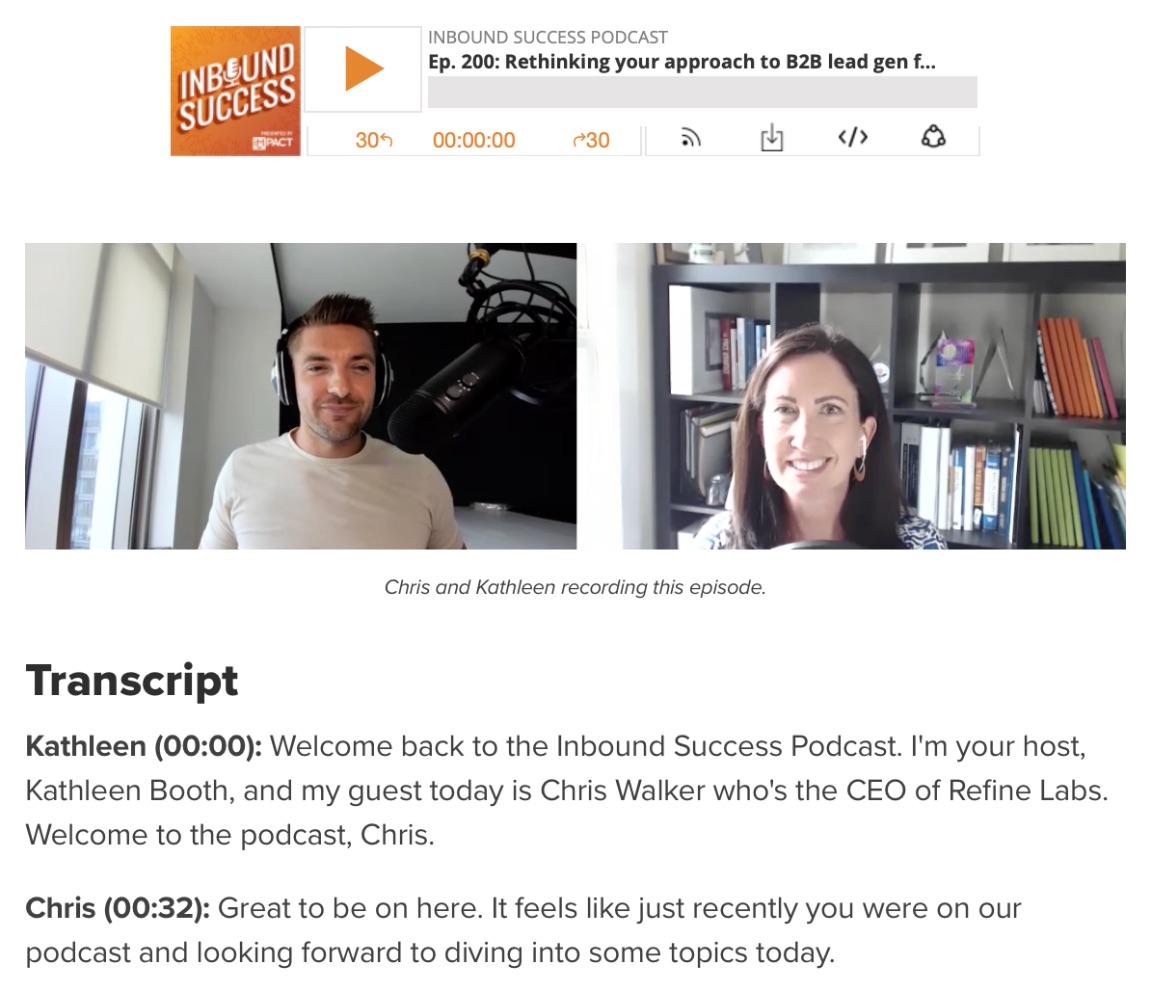 Tools such as SquadCast or Descript will transcribe the text for you, which you then just need to read through to perform a light edit. We also recommend Rev.com.
Whitepapers
Whenever I think of whitepapers, I think super nerdy, in-depth scientific texts with lots of charts and figures that doctors and engineers enjoy. They're the textbooky content subject matter experts love. Just one warning: If you're going to label something a "whitepaper," it needs to be as in-depth and informative as you can possibly make it.
And like with ebooks, it's a good idea to gate the content, since it provides so much value, like this example by San Francisco-based data analytics company Heap.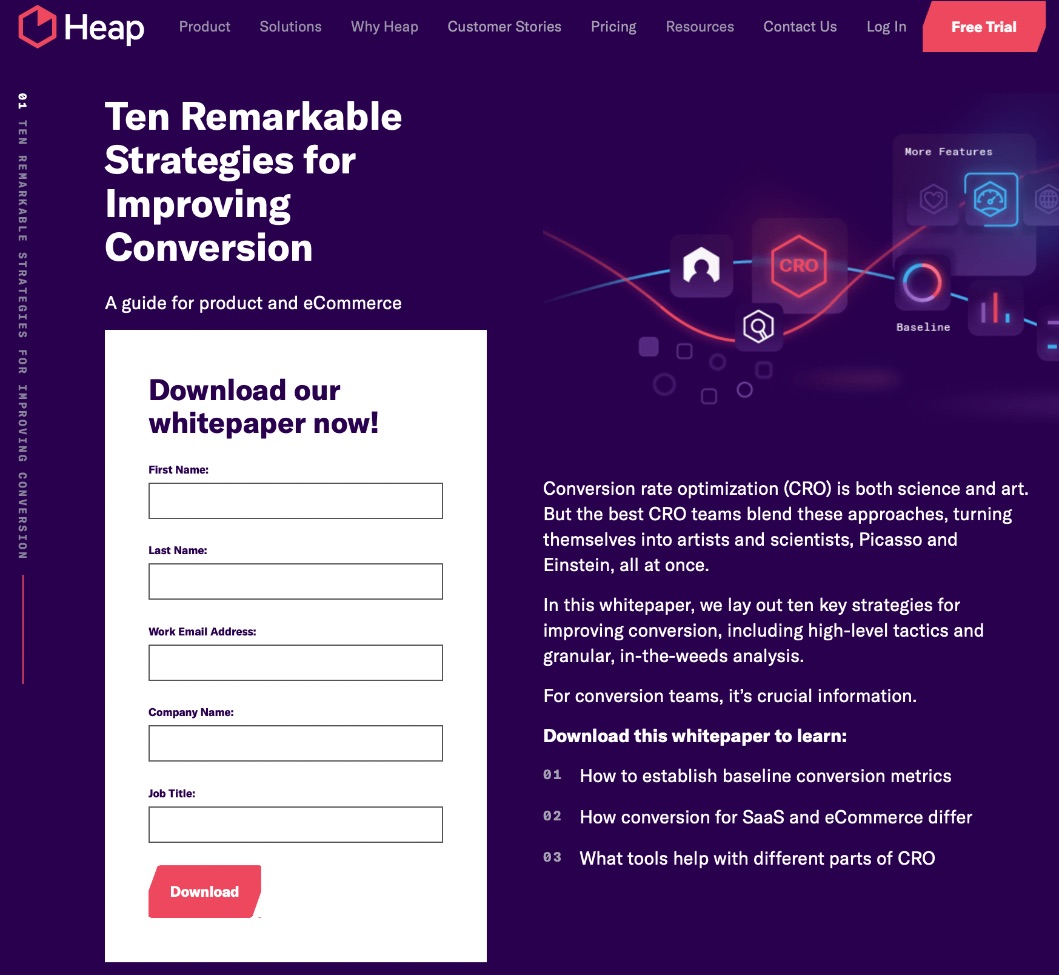 While your whitepaper should be ultra informative, it should also present the case for a specific solution (which ideally you provide). Every point made in these pieces of content should help your customers understand whether or not your solution is right for them.
🔎 Related: Design Must-Haves for Your Next eBook or Whitepaper
Checklists
Checklists are a fun and easy way to help your prospects learn about a topic and all the steps needed to make it happen. It helps those unfamiliar with what you do take action toward accomplishing their own goals.
Are your prospects first-time homebuyers? Create a free and handy checklist of all the things they need to do to buy a home. Are you an interior decorator? Create a fun and engaging checklist about which pieces to include in living room decor or how to create a cozy or modern space.
I love what Simply Stage, a Texas home staging business, did with its checklist, putting together a helpful guide for people staging their own homes. By providing this information, potential buyers remember who the company is and how it already helped, making it more likely they'll reach out should they decide not to do it on their own.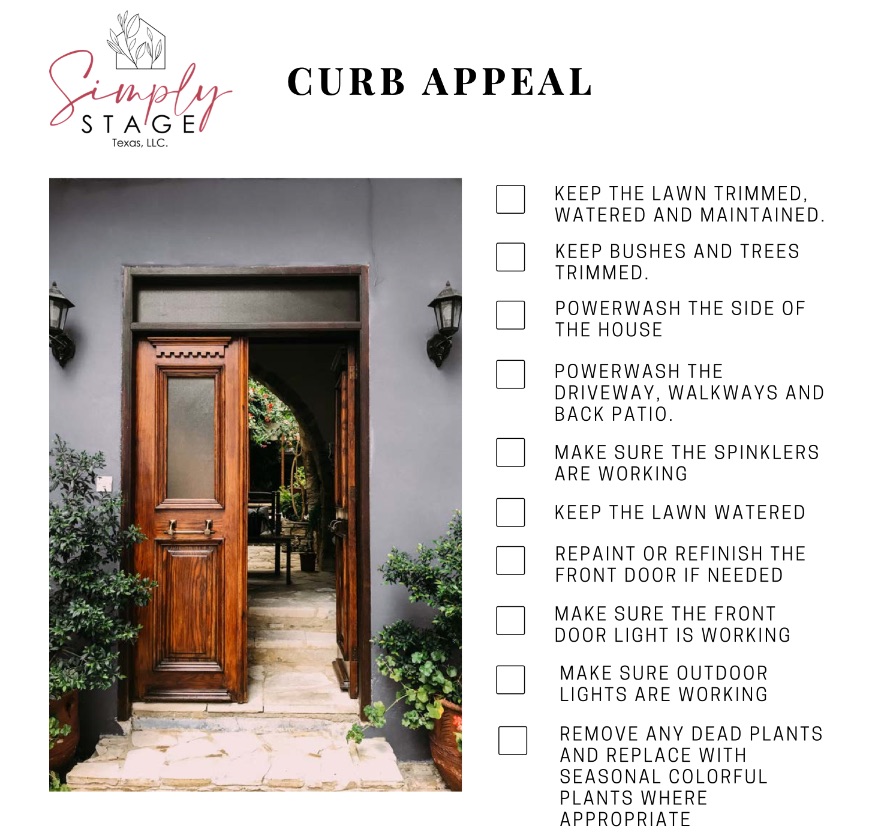 If you want to build trust with your potential buyers, teach them how to do the services you provide. This approach just shows how transparent and helpful your company can be.
Social media posts
It seems like everyone is on some type of social media these days. Even my husband's 90-year-old grandmother uses Facebook (who once thought that "lol" meant "lots of love" and often used it inappropriately).
On average, internet users ages 16-64 who use social media spend 2½ hours on social media per day. Find out which platforms your particular audience frequents based on their demographic information and create engaging social media posts that show how you can help them.
If you have a restaurant, share recipes and enticing photos to show you can solve their hunger. If you build overhead cranes, create infographics that show the cost of such a purchase. If you own a quaint bed-and-breakfast, share a picture of how your guests are finding comfort and enjoying a restful stay at your inn. Keep in mind that social media is ideal for visual elements that grab people's attention as they scroll.
Take, for example, makeup and skincare company Glossier. Its wheelhouse is creating cosmetics that give the wearer a natural look.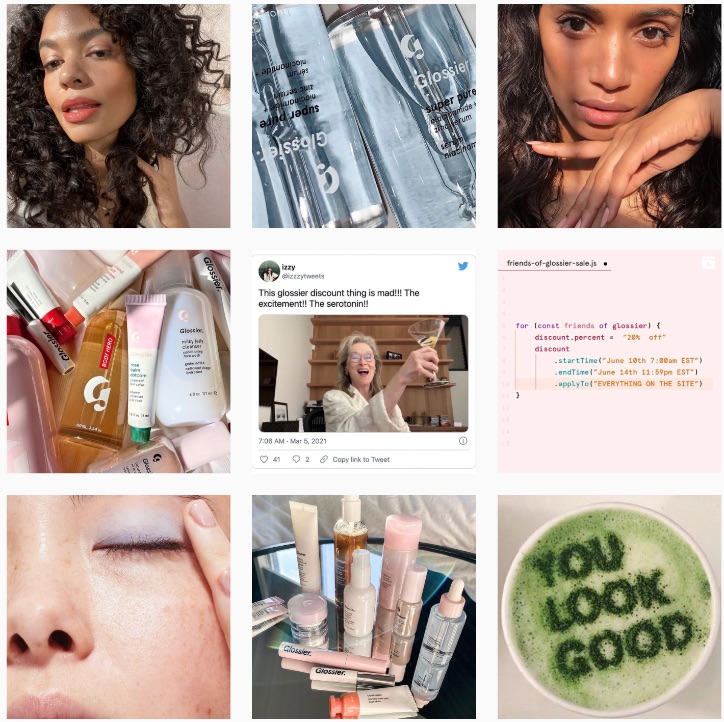 On Glossier's social media accounts, including Instagram, they share lots of fun and uplifting quips, customer testimonials, and enticing product photos, featuring individuals from different walks of life wearing the products. It is a feel-good site that centers around inclusivity and body positivity, but again, using lots of visual media to share its message.
🎓 IMPACT+ course: Fundamentals of social media marketing for businesses
Case studies
Case studies, which are in essence a form of client testimonials and reviews, can be some of the most powerful pieces of content on your site. Being able to show that a company or client achieved amazing results by working with you helps prospects see how they can be helped too. It builds the trust some need to take that leap of faith in choosing your company over all others.
Here's a sample from a case study we put together with Yale Appliance, which worked with IMPACT to generate over 110,000 leads per year and $117 million in revenue with a They Ask, You Answer content strategy:
🔎 Related: How to write a persuasive case study that converts (+ free template)
Find what works for your business
Now that you know about the various content marketing formats your business can use in its digital marketing strategy, you can focus on creating content that actually works for your potential buyers.
It can seem overwhelming because there are many, but keep in mind that certain types might speak to your prospects more than others. Start with one or two of the most effective formats, like blogging and video, and once you master those, keep building on more. As you generate more content, the gravitational pull of your business will continue to strengthen.
Free Assessment:
How does your sales & marketing measure up?
Take this free, 5-minute assessment and learn what you can start doing today to boost traffic, leads, and sales.