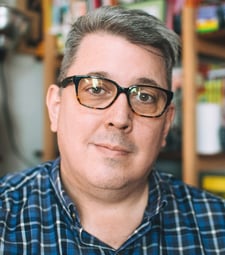 With over a decade of SEO experience focused on content and the user experience, Kevin brings his passion for helping people find the answers they're looking for to IMPACT.
He's helped big brands like Vistaprint, Namecheap and Swappa achieve organic search success and worked with clients in industries such as construction, food service, and photography. As someone who has always focused on answering user questions through learning centers, FAQs, and blog posts, he believes that They Ask, You Answer is the best way for a business to bring in qualified leads.
Kevin's hobbies include photography, curating his ever-expanding Blu-ray collection, enjoying disco unironically, and spending time with his wife and two small dogs.
Get started implementing the concepts of this guide with free tools and training inside IMPACT+.
For more hands-on help from the IMPACT team, book a free meeting with an IMPACT advisor.