What should a 2021 content marketing strategy include? October 6th, 2020 min read
Content strategies can be a lot like New Year's Resolutions. You ponder how the year will go and you set a plan for accomplishing your goals. Sure, you'll have to make some tweaks along the way, but how weird could it really get?
In a nutshell, things got weird this year.
We've all seen (and by now grown tired of) those 2020 memes. OK, maybe I'm not tired of them just yet.

Here's mine.
Picture, for a moment, an unspecified IMPACT content trainer (me) at the beginning of the lockdown last spring. This person is, at heart, an introvert and has the hobbies of an 80-year-old woman (it's me) who would prefer to do jigsaw puzzles and only leave the house to take a cruise (totally me).
I jumped into my new house-bound time fully and bought a puzzle of the planet Mercury. Here's what I ordered: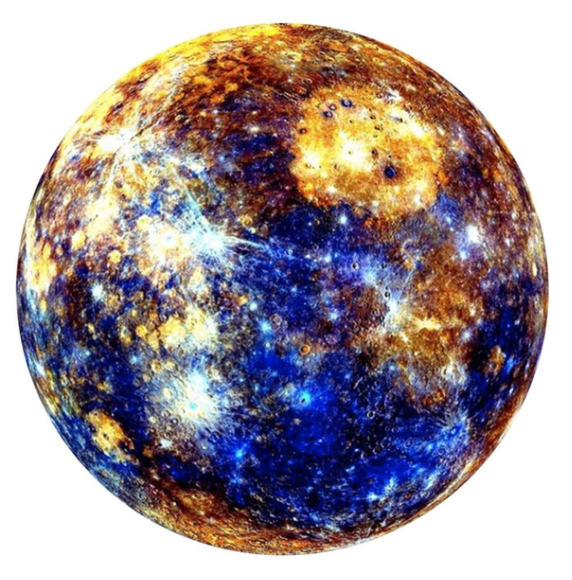 This looks like a basic picture of a planet but I was led to believe it would be a puzzle.
In true 2020 fashion, my puzzle just arrived last week — six months late. It was square and it was Mars (which wasn't even an option on the website!).
If 2020 were a puzzle:
Why is this puzzle of Mars with a black background called a "Buffalo"? It's one of life's little mysteries.
If this year has taught us anything, it's that our best intentions and perfectly made plans are meaningless in the face of change. We can choose to kick the "buffalo" puzzle across the room or we can calmly open the box and start putting the pieces together.
When you think back to last year, what would you have done differently if you knew what 2020 would be like (besides stocking up on toilet paper and wine in mid-January)?
Now that content managers the world over are setting budgets and planning the strategy for 2021, it's time to take an honest look at the past 10 months.
And I realize you probably don't want to.
The year has been stressful enough already, you might be thinking, do I need to take into account everything going on in the world?
Does the content marketing strategy I'm making for 2021 really need to be any different from the year before?
Sweet baby New Year, yes. Yes, it does.
How to plan a content marketing strategy when the world is upside down
The atmosphere we're building a content strategy in isn't like it was last year. I've heard the phrase "these are unprecedented times" so often that it should be turned into a (socially responsible) drinking game. We're all in territories we we could never imagine.
And it's not like the end of the year planning was ever easy to begin with. In the past, I've made grand plans for content months in advance, gathered quotes, pitched budgets, and have had to trim and zhuzh in order to get the finances to stretch what was needed.
This year isn't like that. No year has been like this year.
Consumers are exhausted. They're facing health, economic, and social threats, and their capacity to trust, well, anyone has worn thin. (And as we know, trust is the only true currency in business.)
Digital marketers and business leaders just like you are in disarray because most of the normal rules simply don't apply anymore. Just like the prospects we're targeting, our trust in anything is waning — and that includes the trust in ourselves.
Is it worth the risk to try something new? How do I know what's worked in the past is going to pan out now?
Those playbooks we relied on in the past might still work, but it's too risky to take a chance. And at this point, for many companies, we may not have another quarter to test a strategy and see if it works.
No one can tell you exactly what to do now because no one has ever planned in this environment before.
But as a content trainer working with marketing managers around the world, I can give you my best take on preparing for the unexpected.
🔎 Related: What is a content strategy? (definition + examples)
So what does a 2021 content strategy need to include?
Let's break down your new and improved strategy into four sections.
Think of this as the content manager version of The Home Edit (without the rainbow color-coding). It's time to look at: adding in everyday staples, deciding what to keep, keeping up with trends, and making space for new items.
Where do you start? Just like on TV, start by pulling everything out of the closet and sorting it out. This means digging up your 2020 content strategy, along with all the changes you made to it along the way, and assessing what worked, what didn't and what missed the mark.
Then, with your "keep" pile, look for or add these key elements:
Organizational buy-in
You can spend from now until 2020 blissfully comes to an end building a content marketing strategy to end all strategies, but that work means nothing if you don't have foundational support.
I've said it before and I'll say it again, your content strategy isn't just a marketing document, it belongs to the entire organization.
You'll need to have everyone in the company contributing to your content, whether they are writing, being interviewed as subject matter experts, sharing content, or enabling others to contribute. And this means that having their buy-in early and often is crucial to your success.
This is especially true for aligning the marketing and sales teams.
If your sales team and your marketing folks can't enjoy being in the same Zoom channel together for more than five minutes, something's broken.
There's too much at stake these days to fall back on the old us-versus-them trope. (And, honestly, how did that ever help grow business anyway?)
In a climate where many sales reps are feeling insecure about their ability to hit their revenue targets in the upcoming months, you can't leave any room for miscommunication and you can't waste time on things that don't drive sales.
It's time to align these two teams so that they're working together. There are all sorts of ways to do this, but IMPACT has found that creating a revenue team has been a game-changer when it comes to bringing people who are equally brilliant and strong-minded together.
🔎 Related: Free course: How to create a content strategy for your digital marketing (+video)
Why you need a content manager on your digital marketing team
In-house ownership
I may have been a former freelancer in a past life, but I have to be candid with all of you. Even if you find a freelancer who becomes one of your favorite, most talented people in the world, they might (and can) leave you at any time.
I've known multiple people who have been burned by "perfect" freelancers — all of whom up and left suddenly, whether they got married, got a job with health benefits, or decided on a whim to move to Finland (true story). That's a heartbreak that's just not worth it.
What's more, let me ask you this — can a writer who doesn't fully understand your business really communicate your brand authentically? No, they can't.
No one knows your brand better than you do, so own it. And to do that, you'll need someone on your team, in-house, dedicated to content.
The content manager is a crucial role, and if you're reading this I'm going to assume that you know what a heavy lift guiding a company's content efforts can be.
And, yet, so many businesses still group content management into the daily tasks of someone also balancing lead generation, event management, web development, ad building, underwater basket weaving, and exotic pet training.
(I see you, marketing director in a department of one.)
If you don't already have one, as you're planning your budget for 2021, make hiring an in-house content manager one of your primary investments. Much of your success in other areas will come back to this.
Content alignment with sales
Notice how sales alignment is cropping up again in this list? Does that mean you can choose one and not the other? Nope.
Not only do your marketing and sales team members need to work together, but so do your marketing and sales tactics.
The content that marketing is busy producing should be used the most by the salespeople. After all, what's the point of spending time on writing blog posts and creating resources if they aren't going to make money?
That suite of blog articles you wrote? Yes, sales is frequently sending links to it in follow-up emails with prospects.
The self-assessment tool you stayed up late working on? Absolutely, sales uses this as a homework assignment before selected sales calls.
The cost article you were so proud of you sent a copy to your mom to put on the fridge (even if she doesn't exactly understand what you do)? It's a sales go-to — someone on the sales team sends it out to a prospect weekly, if not daily.
But you can't reach this type of content nirvana if you aren't talking to and working with the sales team. Nor will they get the resources they need to make their jobs and their lives easier if they don't make the time to work with you and tell you what they need.
This is why it's so important and why alignment gets two key positions on this list.
Goals and purpose
Your strategy will need to address your overall goals for the coming year. What's the WHY behind the work you do? What is it that you as a business want to achieve this year?
Depending on your industry, this is a key area to consider how world events may affect your plans. While your purpose shouldn't change due to external factors, your annual goals — and outcomes — could fluctuate greatly.
Audience definition
Who are you serving with the content you create? Your strategy should define who you are planning on reaching in order to measure your success.
To be honest, you should always be doing this, but in 2021, it's especially important to take stock of exactly who it is you're trying to reach and what they're experiencing right now. In short, this is a measure twice, cut once situation. You don't want to find out later you wasted a ton of time targeting the wrong people or the right people in the wrong way.
Content roadmap/user path
How are you going to reach your audience? What will you provide to keep them engaged with you throughout their journey?
This section of your strategy is the most tactical and can include elements like:
Keyword research
Written content, including articles, pillar pages, CTAs, and historic optimization
Video content
Self-selection tools
Key events
Content promotion and amplification
Customer-focused content
The difference between content that truly focuses on the customers' needs versus content created to make your company look good is huge — as is the gap between the money that each type of content generates.
Customer-focused content is honest, trustworthy, and as unbiased as possible. This is content that truthfully answers the burning questions your audience has. It has their best interest in mind, which is what everyone wants during such trying times.
While every business is different, there remain some common topics all buyers want you to address. Think about what they're asking you and your sales team on a regular basis and you'll find that most of these questions break down into five categories we refer to as The Big 5:
Cost
Problems
Comparisons
Best of lists
Reviews and ratings
Once you dig in and start thinking about all the content just these five topics can generate, you should start to see why hiring that content manager who will solely focus on content is so important.
Video content
Video. Is it new? No. Could you do more of it? Absolutely.
While the majority of marketers claim to be using video regularly, I work with several busy content directors who have had this on their to-do list for years.
It's time.
Video allows you to literally show who you are on a different level than writing. Plus — and this is a big component of being customer-focused — video is one of the mediums most audiences want to see more of.
We're now at the point that a solid majority (72%) of consumers would prefer to learn about a product or service via video.
Whether you use video in the sales process, giving prospects the chance to form a relationship with your sales reps, or you create a well-produced video to convey the personality of your brand, video elevates the customer experience.
As you plan and budget for next year, don't leave this important piece of the content puzzle — from hiring a videographer to setting up your own video equipment set — out.
I know what you're thinking, I'm asking you to spend money in a period where every dollar counts. But we are living in a time when your ability to foster trust is more important than ever — when it is also more difficult than ever as our ability to meet face-to-face is limited. Video is how you bridge that divide. So invest in it now before your competitors do.
Martech stack
There are more than 8,000 technology solutions for marketers. It's truly overwhelming when you look at it all at once: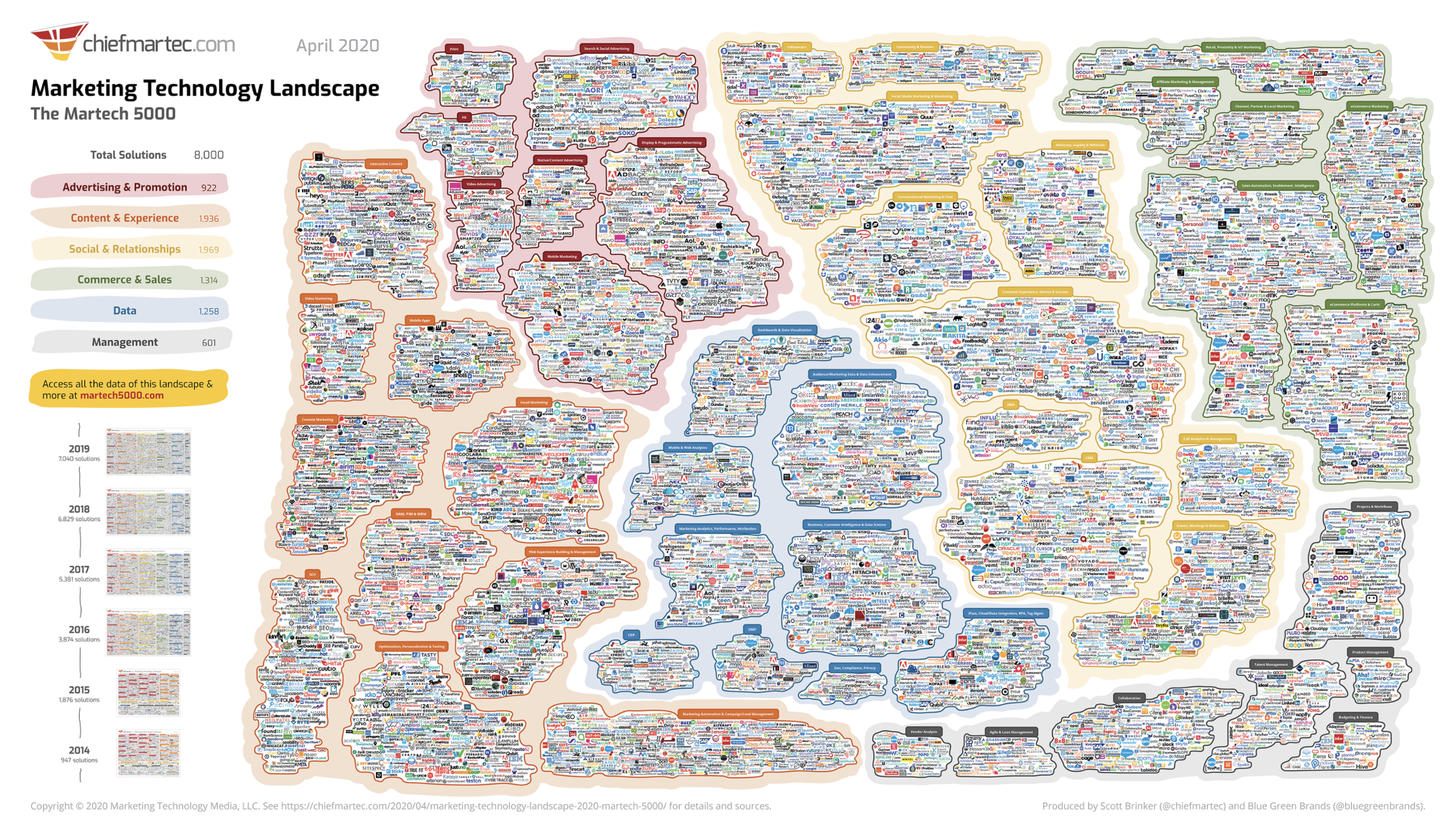 And now for your moment of zen.
Take the time you need to determine exactly what you need to have to produce and distribute your content next year. Some of your must-haves may include:
a content management system (CMS)
a video-hosting service
competitive intelligence software like SEMrush or Ahrefs
project management tools
social media management software
paid advertising management
You'll also want to keep in mind that the chart above grew by 13% from the year before. So anticipate that the next great thing might be out there, just waiting for you.
I'm not suggesting that you need to jump on board with every new tech trend. But when you're planning your strategy, make sure to leave time to stay up on what's new and how it might change the marketing landscape.
While you're taking a lot at your technology stack, there are probably some apps or programs that aren't as useful as they used to be. Now is the time to jettison those to make room for the new toys you'll collect throughout the year.
Honesty: The must-have component of your 2021 content strategy
Whether you're a marketing director of a local business or a content manager of a national brand (or something in between), we've all had to flex our creative muscles to keep the content wheels spinning over the past several months.
But through it all, the thing we can never lose sight of is our customer.
Being customer-focused isn't just a component of your content marketing strategy, as I outlined above. Your ideal customers — and understanding what they need and want and fear — should be your obsession.
More than anything else right now, buyers want one thing and one thing only.
Honesty.
Your ideal customers don't want to be sold to. They want candid, thorough answers to their questions. They want real, substantive solutions to their everyday problems.
These are difficult times. Buyers don't want to be cheated out of their money or convinced to buy something that isn't right for them. We, as human beings in general, are craving humanity, care, and understanding — even from brands.
Maybe people aren't ready or equipped to buy from you right now (and they might be ready by early next year), but that doesn't mean you stop building your relationship with them.
The more they trust the information you can give your audience through your content, videos, pillar pages, and so on, the more likely they are to come to you when they are finally ready to make that buying decision that makes them (at last) one of your buyers.
🔎 Related: Why trust is the true currency for any business
Building your strategy and embracing the weird
You're about to embark on a journey no one has gone on before. Building a content marketing strategy during a time of crisis is taxing. Building one when a new and vastly different crisis pops up every week is, well, weird? stressful? panic-inducing?
But it doesn't have to be. Your audience isn't a group of faceless beings out there to poke holes in what you have to say. They're people. In this environment, they're people who are hungering for an honest connection. So give them what they want.
While you might not be able to meet in a physical setting, bring your company together by having everyone buy-in to your strategy. Plan to dedicate someone on your team to creating content that is truthful and relatable. And build the content with the entire organization participating.
It's also important to be flexible and graceful with yourself when things go sideways. As we've learned over these past few months, not everything works the way we expect it to.
Case in point, let's look at my puzzle progress over the past few days: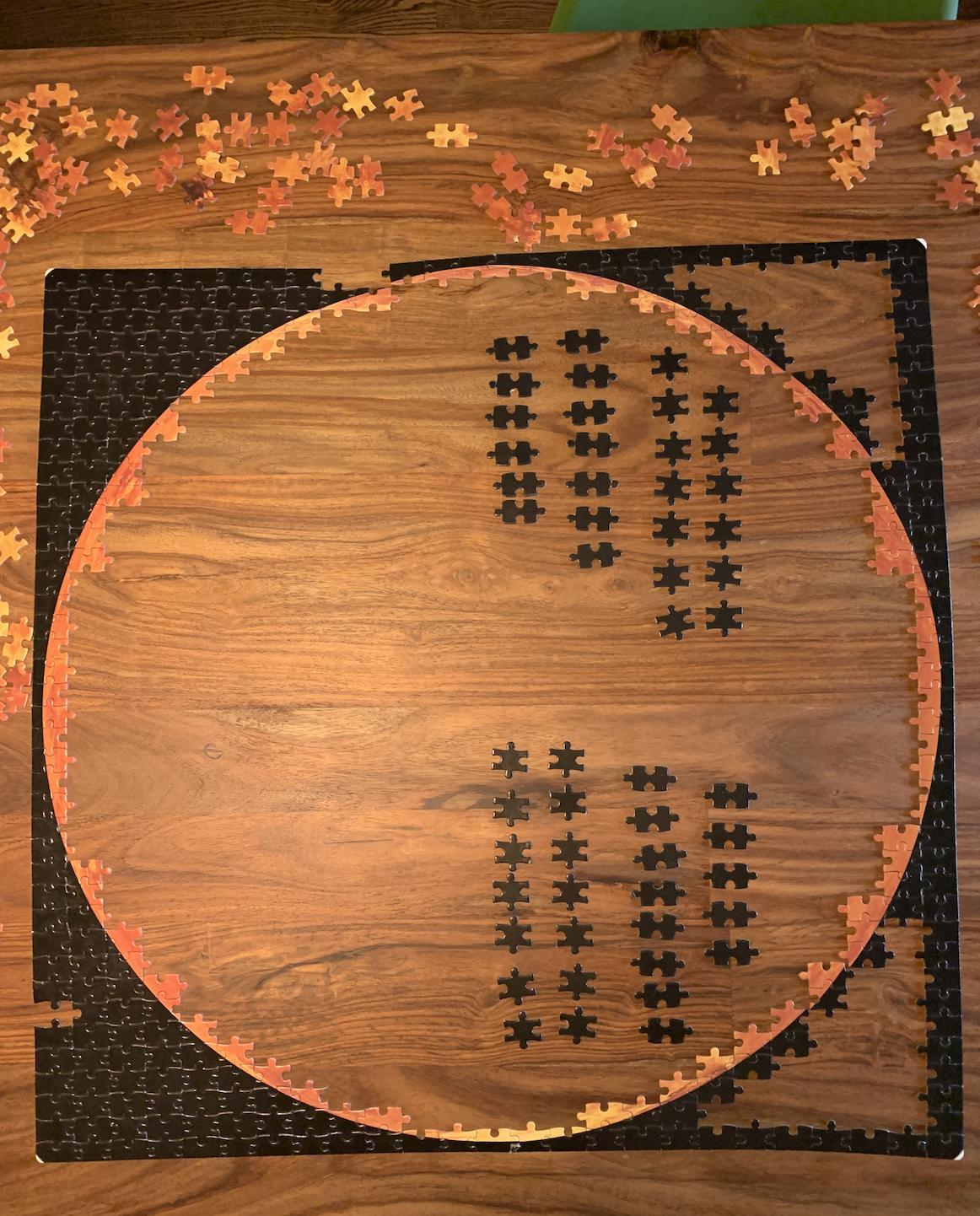 It was missing a piece at least three pieces and it was not happy.
So my puzzle was late, and not round, and the wrong image. It also is missing pieces. Every black puzzle piece is pictured above. My Type A personality is learning to live with the gaps in the border…kind of.
I'm choosing to accept what I cannot change and forge ahead on the puzzle anyway. My husband and I are now taking bets on the total amount of missing pieces.
Celebrate what you can and laugh about what you can't control. Be kind and honest with yourself and with your audience. And plan to give yourself the tools you need to make the next year — and your 2021 strategy — better than the last.