Is your Content Marketing strategy suffering from tunnel vision?
Content Marketing is simple in theory, but it can get very complex in practice. It's easy to get lost in the details and carried away with advanced strategies that don't really matter.
On a regular basis, I see people obsessing over some random marketing strategy they read about online and they tell me how frustrated they are with their lack of results.
When I go to their website to take a look at what they're doing, I notice they aren't executing on hardly any of the fundamentals.
Free Guide: The Ultimate Inbound Marketing Strategy Playbook 2022
Maybe it's time to consider that you aren't missing out on the latest and greatest content marketing strategy -- you're overlooking the strategies that have already been proven to work.
Here are some of the most effective and most ignored strategies in inbound marketing.
Make Excellent Use of Visual Content
Never neglect the power of visuals. Visuals illustrate your point in a way words alone never could, but using any old generic photo or graphic isn't enough to have an impact on your readers.
Types of Visual Content That Increase Engagement
The featured photos of your blog articles, for example, should always be high-quality and relevant to the topic or story that you're telling. In fact, content with relevant images gets 94% more views than content without relevant images.
Visual content within the post increases engagement, encourages shares, lowers your bounce rate (which improves SEO), and just makes the post more aesthetically pleasing.
Infographics
Although the novelty of the infographic has faded, the hype is real. Rather than tell you why infographics work so well, I'll show you.
Infographics are a highly shareable way of communicating complicated statistics or typically "boring" facts, and on average, they are liked and shared on social media 3X more often than other any other type of content.
While not helpful in terms of SEO, this "sharability" helps increase brand awareness and expand the potential reach of your voice.
SlideShare/Slide Presentations
SlideShare is a useful tool that allows you to embed presentations in your blog posts.
Not only are they engaging, but they change up the pace from your usual photos and graphs to keep in interesting for your persona.
Here's a SlideShare we created for choosing the perfect stock photo:
Create Evergreen Content
Evergreen content is content that stands the test of time. These are the "ultimate guides" and "beginner's guide to" posts that usually deliver the most organic traffic and leads to your website.
Evergreen content are your pieces that are timeless, thorough, and so comprehensive that people who find them years from now will still be able to put them to use. They are essential to building your site authority and getting found through search engines.
Unfortunately, far too many companies aren't creating evergreen content at all.
I see a lot of companies that publish valuable, but concise content on a consistent schedule and that's great. You want to provide content for your persona on a regular basis and you can't expect them to read 2,000+ word article every single day.
All of your content doesn't need to be evergreen, but every brand needs to produce some to stay competitive long term.
I'll be honest with you, creating evergreen content takes a lot more work.
You have to do more research, you have to put more thought into the structure of your content, and the actual writing part takes significantly longer. (Evergreen content typically ranges from 2,000 to 10,000+ words.)
But, even just one or two of these pieces of month with provide you with valuable instruments for getting found.
To get started, read this: What is Quality Content? That article will explain the standard of quality that is required for evergreen content.
Diversifying Your Content Formats
Are you putting all of your eggs in a blog basket?
We often associate "content" with blog posts because it usually houses all other pieces, but content comes in a variety of formats.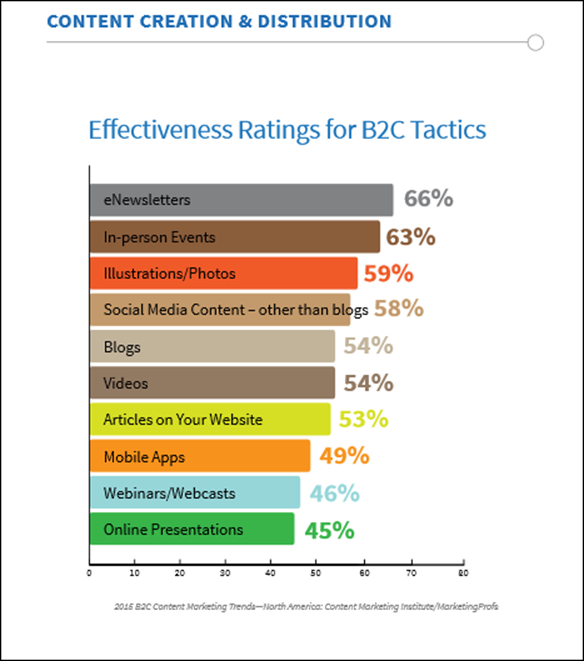 Blogging is only one of the tools in an inbound marketer's tool belt. As we mentioned earlier, there are a variety of visual and interactive formats that can be more effective depending on your audience, so try them out.
I suggest you experiment with a little bit of everything until you've identified which types of content your persona likes best. Then you can narrow it down and focus primarily on those that are achieving your goals (i.e. getting the most views, converting the most leads, etc.).
Create Customer-Focused Content
The goal of inbound marketing is to increase sales by providing value to our buyer personas. It's a balancing act of helping others while still trying to subtly position ourselves as a solution in the process.
One of the biggest mistakes I see with businesses is that they are creating content that is very me-focused. In other words, it focuses more on the brand than on the buyer persona.
As a brand, you will need to talk about yourself from time to time, of course, but the trick is to treat it almost as an after-thought. Frame your message in terms of the value it provides to the reader or even better, showcase it by providing value.
Just take a moment to admire this clever piece of video content from Hootsuite:
In this short, but entertaining video, Hootsuite compares the struggle of social networks to conquer the market to that of the houses in Game of Thrones trying to conquer and unite Westeros. And what's at the center of it all? Their software.
Pretty powerful message, right?
With this subtle, yet strong positioning, Hootsuite effectively sells itself to its audience without ever overtly saying, "hey, buy from us." Instead the company aims to entertain its audience and engage it in a visually appealing, culturally relevant piece of content.
Your inbound marketing strategy will be most effective when your content works in the same way.
There's a time and a place for promotion in your inbound marketing strategy, but most of your content should be solely focused on providing real value for your persona. There's a reason we throw away junk mail (and even call it that) without looking at, but we read blog posts daily.
Don't let your brand's content look like junk mail.
Be the "Go-To" Expert
The last strategy that I see businesses overlook is one of the most overlooked -- aim to be the "go-to" resource for expertise in your market.
What I mean is do everything you possibly can to help out your buyer persona, even if that means sending them away from your website to other influencers.
You'll notice that in our articles we link to a lot of resources outside of our own brand. We even link to competitors if they have a valuable piece of content that we feel you can benefit from.
Why do we do that?
We want you to always consider us your go-to resource for inbound marketing.
How many times do you click on a link to an article and never return to that website?
Countless, right?
So why would you worry about losing all of your customers by sharing useful content from other brands?
As long as you are always helping your persona out, they will remember you and they'll come back to you the next time they need help.
You become the authority in your industry by helping the most people.
Want me to evaluate your inbound marketing strategy?
If you'd like me to evaluate your marketing strategy, please fill out this form. I'll be happy to strategize with you about some ways to take your marketing efforts to the next level.