Pros and cons: A short-term website project vs. a 12-month website project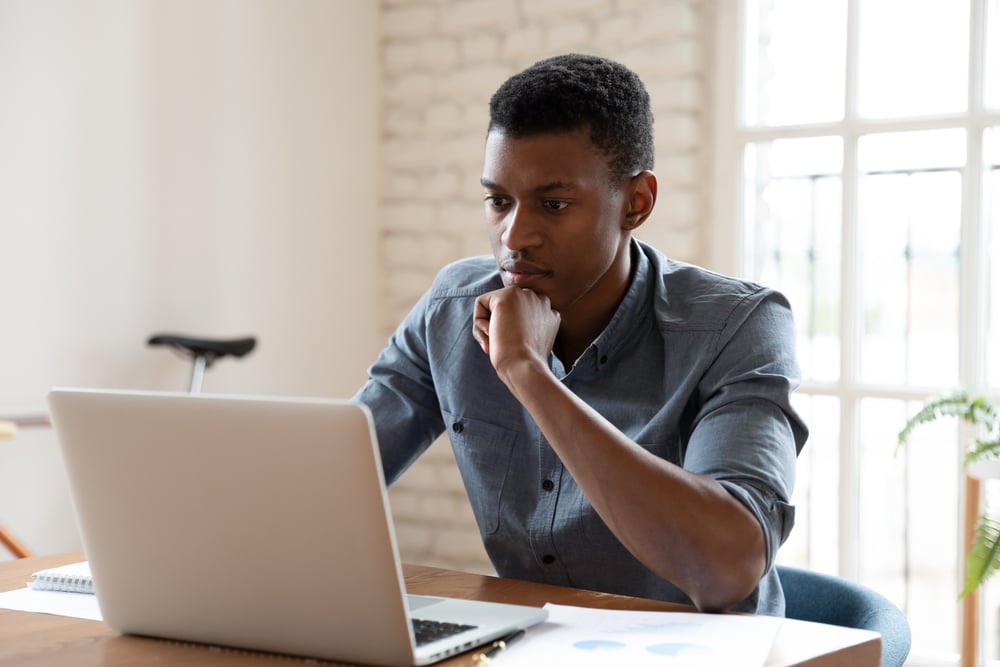 For businesses today, a robust, engaging website is a must, no matter what industry you're in. A sub-par website is sure to cost you revenue. If your website seems dated, prospects could think your business isn't cutting edge. If your website is too salesy, you could lose prospects who feel pressured to buy. If your website is structured in a confusing way, your prospects will grow frustrated.
By contrast, the best website leaves your visitors feeling informed, understood, and delighted by their experience. In turn, those visitors are more likely to convert by filling out a form, scheduling a meeting, signing up for your newsletter, or making a purchase.
Because of the paramount importance of each company's web presence, the website redesign process is one of both excitement and anxiety. If you're going to invest heavily to alter your business' digital footprint, you need to know just what you're getting into, and what you should expect to get out of it.
The process usually follows one of two formats:
In the traditional website redesign, a company works with an agency on a strategy, design, and development process that takes three to five months, from start to launch.
In growth-driven design, a company works with an agency on a longer timeline. The agency still works with the client to strategize, design, and develop the site, but an ongoing retainer adds another dimension. After the site launches, the agency continues to monitor and analyze data, adjusting and tweaking the site to optimize its performance.
While each method has its proponents, IMPACT favors the latter because we believe it yields a better final product for our clients.
Whichever process you choose, here's a breakdown of what you can expect, along with an explanation of why each could be better in certain circumstances.
A short term website project (Duration: 3-5 months)
A short-term website project promises to get your new site up and running in record time. Businesses new to the redesign process might be surprised to find that it takes as long as it does, but every step must be carefully planned and completed before moving to the next one. If anything goes incorrectly, the final product will suffer.
Expect to follow these steps: strategy, blueprint, design, development, testing, launch. Once the site launches, you're done.
Pros
This website redesign format lets companies get a new site completed (or their old site refreshed) relatively quickly.
Typically, these projects cost slightly less than a growth-driven design project.
Cons
Because

of all-too-common delays

, these projects may fail to launch on time.
Alternately, a deadline can force teams to work too quickly.
The design and structure are based on best practices and speculation, not data.
Better for who?
This redesign method works best for businesses that need a site developed quickly. This model can also work better for companies that don't have too much web traffic to pull user data from.
A growth-driven design website project (Duration: 12 months)
Growth-driven design agencies advocate that your website redesign should be data-driven, and this difference will primarily affect the process after launch.
The beginning of your engagement with an agency will be similar. You will still meet to strategize and plan your new site, which will be designed and developed by agency specialists.
However, once the site launches, your agency partners will continue to monitor it, watching numerous metrics to make sure conversion pathways, site structure, and design details are performing as they should. The will also frequently evaluate the technical SEO aspects of your site.
Your agency will utilize user data so you can actually see if landing pages and other elements are working as well as you hoped.
Then, your agency will test various elements, making sure the final result is the best website possible.
Pros
A site that is optimized by data will best serve your clients and visitors.
Better conversion rates will yield more revenue for your business.
Typically, the growth-driven design process is more thorough than a traditional redesign.
Cons
A growth-driven design project will cost slightly more. (

Here's why that is

.)
You won't feel like your website is "done" in the same way.
Better for who?
This redesign method works best for companies who understand that their website is the centerpiece of their business. While it might cost slightly more up front, that cost will be offset by the revenue that results from higher traffic and more leads.
The growth-driven design model also best serves agile businesses who are inclined to pivot and adjust their strategy and offerings as the market dictates.
Rather than viewing their website as a "set it and forget it" tool, these businesses know that websites are never really finished.
Embracing a mindset shift: Your website is never complete.
Growth-driven design isn't about paying an agency to monitor your website forever, but the model does urge you to consider a philosophy that might seem intimidating to some businesses: Your website should never be finished.
The most successful businesses are in a constant state of reflection and self-analysis. This means evaluating sales processes, product lines, pricing models, and more. Your website — the digital presence of your business — should be doing the same, and even going one step farther. Not only must your website reflect every update to your business, it must adapt to industry changes and search engine algorithm updates as well.
At IMPACT, we're constantly iterating and updating our website based on what we see from our users and the industry. This constant tinkering has yielded tremendous results over the last five years, and our site continues to improve with each new release.
The idea of testing and adjusting your website is at the core of growth-driven design. Rather than set and forget, we believe in test, tinker, and optimize.
The COVID crisis has taught us that unanticipated external events can wreak havoc on our businesses as well. Suddenly, language, imagery, and service offerings had to look very different so as to still appeal to the pandemic buyer.
For some businesses who lean particularly hard into frequent website updates, it might make sense to bring on a full-time website specialist who can do minor design and development, as well as troubleshooting and routine maintenance.
The strategy that comes before your website strategy
We believe that even the most effective company website is limited without a broader business strategy behind it.
After all, much of the written content that will appear on the site is the responsibility of the client, not the agency, and without a content strategy, you can end up producing fluffy writing that doesn't move your prospects forward.
For instance, we believe strongly that businesses should openly talk about cost on their website. We have our reasons, backed by data, and we'd happily share them with you.
But If you've never heard this before, you might be resistant if you're in the middle of a website redesign.
If you begin working with IMPACT's web team, you can expect some larger strategic discussions that have little to do with icon placement or page speed (although both are critically important!), and everything to do with making sure you're speaking to today's buyer.
We call our philosophy They Ask, You Answer, and we've helped hundreds of businesses adopt it as a guiding set of principles. When it informs your website strategy, you are building a site that is optimized for the way people buy today.
🔎Related reading: Getting started with They Ask, You Answer: Your first 6 months
The hidden cost of a bad website
Each potential sale for your business can be disrupted by any number of small factors. Thankfully, in the age of web analytics, we have more insight into those decisions than ever before.
We can track each user's path through our site. We know if they abandoned their shopping cart or if they bounced from a page. We know how far down the page our users are scrolling, and whether or not the CTA caught their eye.
With so much data out there to track user behavior, why wouldn't you want that data to help you build a better website?
A bad website will cost you in numerous small ways — which add together to result in diminished traffic and search ranking, fewer leads converting, and diminished sales opportunities.
A good website may seem to cost more when you look at the price, but it will more than pay for itself by mitigating the hidden costs of a bad website.
Free: Assessment
Does your website build trust with buyers and bring in revenue?
Take this free 6 question assessment and learn how your website can start living up to its potential.