We want a new website; Why do we need to talk about marketing strategy first?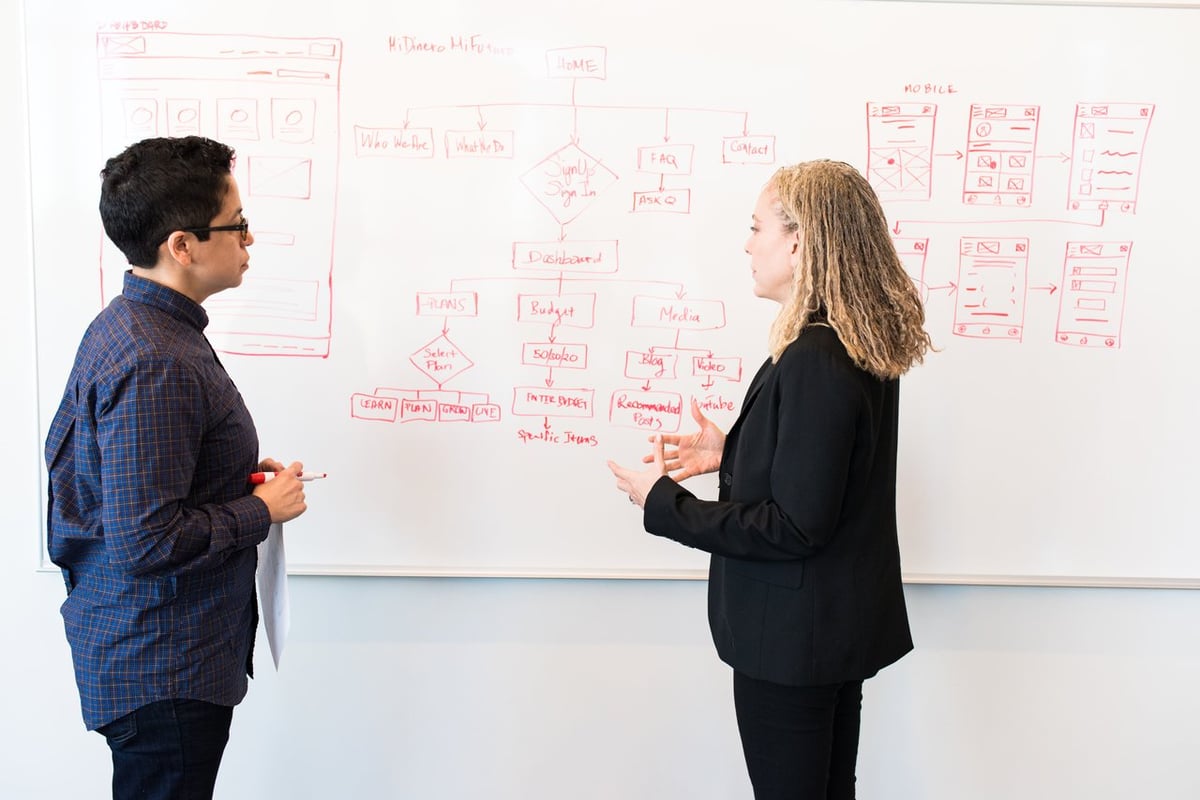 We all know the old cliche about buying a new car — it's value drops as soon as you drive it off the lot.
While that may be true, you at least drive away with some peace of mind knowing that your warranty protects you if anything goes wrong in the first few years. If your engine seizes up or your transmission fails, you know the manufacturer will fix it.
You hope you're buying quality, but you are comforted by knowing that the company stands behind the product, and will help you if something goes wrong, on their dime, not yours.
When you're updating your website, you're making a similar investment — paying up front for something you hope will serve you well for years to come.
But with the traditional development website redesign model, you're driving off the lot without much in the way of warranty protection.
Sure, you and your agency think you're designing the best possible website for your business — both now and over the next few years — but there's a chance you've missed the mark.
And, even if your new website is everything you've dreamed of, it starts to depreciate as it ages. Maybe design elements start looking dated, conversion paths are not what you expected, or landing pages don't sound quite right.
Imagine if your agency, instead of launching and cutting you loose, kept working with you, using data to make tweaks and adjustments to that new page? Imagine if they made sure the website fit into your larger marketing strategy?
In the end, you'd have a website informed by analytics and strategy — and optimized to your needs.
A website design cannot just be about delivering a pretty website. Without data and strategy informing your choices, the site will not fully serve your needs. And you will have wasted your money.
A different website design philosophy
IMPACT's Website Mastery differs from traditional website design and development by way of the relationship between agency and client.
In a traditional website redesign, the agency and client meet to align on needs, then designers lay out the individual pages and pathways, then the developers build the site and it launches. While there will be some onboarding to make sure the client knows how to run things, the agency typically "hands over the keys" and the client is in charge.
What's more, there's little if any talk about marketing strategy — or what will really draw visitors to your site.
So, you end up with a beautiful website. But will it help you bring in revenue?
We see things differently.
Before IMPACT even starts talking with your team about a website, we make sure you've built the marketing strategy that serves as the website's foundation.
If you don't have that strategy, we help you build it.
How Website Mastery works
Once your strategy is in place, Website Mastery follows a similar initial planning and design process. However, rather than focus on building the whole site at once, we build a "launchpad site" first, which we launch and test. This is the 20% of your site that provides the most value to your users. In many cases, this means your homepage and services/product pages. Updating and replacing "About Us" pages are less critical at this point.
Then, our team works with the client to gather data on site performance, which is then used to make tweaks and updates.
This begins an iterative process in which strategists work on developing one part of the site while also monitoring analytics on other sections that have already been updated.
The internet can be a fickle place. Even within an industry, what works for one business might not work for another. The perfect site for the dental company in Phoenix, Arizona might underserve a similar business in St. Paul. The nuances of unique user experiences generate data that can be used to optimize each site for each business.
The Website Mastery model allows us to see problems and solve for them quickly, rather than the client going for months without really knowing.
Client training
As our team is gather data and making tweaks and updates, we also train your team to take control of the website after we hand it over.
This doesn't mean we're teaching you to code. We're making sure you know how to make adjustments, build landing pages, change copy, and refresh information and media.
After all, it's your website. It should feel like yours.
We don't want you to be dependent on us forever.
Marketing strategy is critical to your website: Why don't web designers talk about it?
If you've got $50,000 to spend on a new website, agencies will line up around the block to take your money. There are even some who promise a brand new website in 30 days, start to finish.
It's tempting to be swayed by these offers, but there's a giant catch.
Think about why visitors visit a website. Unless we're talking about social media, visitors are not coming for entertainment. They want information.
If your site is beautiful but useless, how many visitors will come and stay?
When an agency sells a new site, conversion paths and marketing strategy are rarely part of the conversation. There's more focus on bells and whistles — and this is a big problem.
At most agencies, the web team is totally separate from the marketing team. As such, your website redesign is not seen as a marketing undertaking. This is backwards thinking. After all, your website is supposed to attract inbound leads with content marketing, right? How can you talk about a website and not talk about marketing strategy?
It gets even worse. In many cases, the businesses approaching redesign agencies only think they need a new site. In reality, they might just need an refresh or update, which should cost about one third of a full redesign. But, if an agency is keen on selling a website, they'll do so, whether the client needs one or not — and whether or not their marketing strategy is solid.
🔎Related: Will a website redesign solve our marketing problems?
Your website, your strategy, our guidance
Website Mastery is not going to focus on selling you a shiny new site that won't accomplish your business goals. Nor is it a never-ending process that leaves you with an incomplete website.
Our steps are simple:
Make sure our client has a marketing strategy in place that ensures growth
When they're ready, work with them to design and build a website that will serve their needs — now and in the future
Monitor user data from the site and adjust as necessary
Train the client's team so they know how to use and update the site
At the end of the engagement (typically nine months), you have the site, the tools, and the training to be in complete control of a website that grows along with your business.
And you have the security that comes from knowing your biggest marketing investment is actually in line with your marketing strategy.
The cost of Website Mastery
At IMPACT, rather than charging a big fee up front, we use a retainer model that is suited to the needs of our clients. Clients can expect to spend more during dev-heavy months (typically months two through five) and less before and after.
While each client is unique, here's a generalized breakdown of cost:
Phase 1: Planning and strategy
Length: One to two months
Focus: Planning session, content messaging strategy, sitemap and navigation, launchpad page design, and website wishlist
Cost: $7,500 per month
Phase 2: Launchpad site
Length: Three to five months
Focus: Designing, developing and launching the core of your new site
Cost: $10,000-$12,500 per month
Phase 3: Training and improvements
Length: Ongoing; typically three to six months
Focus: Team training, data collection, site adjustments
Cost: $7,500 per month
Strategy first, website second
We all use the internet to shop — and to do research before we shop. As shoppers, we can all think of times where we have started looking into a company and then backed out upon seeing a website that was unprofessional, confusing, dated, or too pushy.
For many of your customers, your website serves as their first introduction to your products and services.
You want your website to provide the best experience possible for your visitors — and that assurance can only come if you use data to inform your site's structure and content.
At the same time, that site also needs to be in lock-step with a broader marketing strategy that helps you connect and build trust with customers. Without that in place, your branding, messaging, and content could be adrift and ineffective.
Once you have that strategy in place, we'd love to talk to you about your website needs.
But strategy needs to come first. Anyone who tells you otherwise is not concerned with your organization's long-term growth.
Website Mastery will allow you to truly partner with IMPACT experts to make sure your design and development is based on more than just best practices and assumptions.
When we make decisions with data, when we are guided by strategy, we make the best decisions possible.
Free: Assessment
Does your website build trust with buyers and bring in revenue?
Take this free 6 question assessment and learn how your website can start living up to its potential.