Marcus Sheridan's recent book, The Visual Sale, co-authored with Tyler Lessard, provides many tips and best practices to help you adapt your sales process to virtual platforms.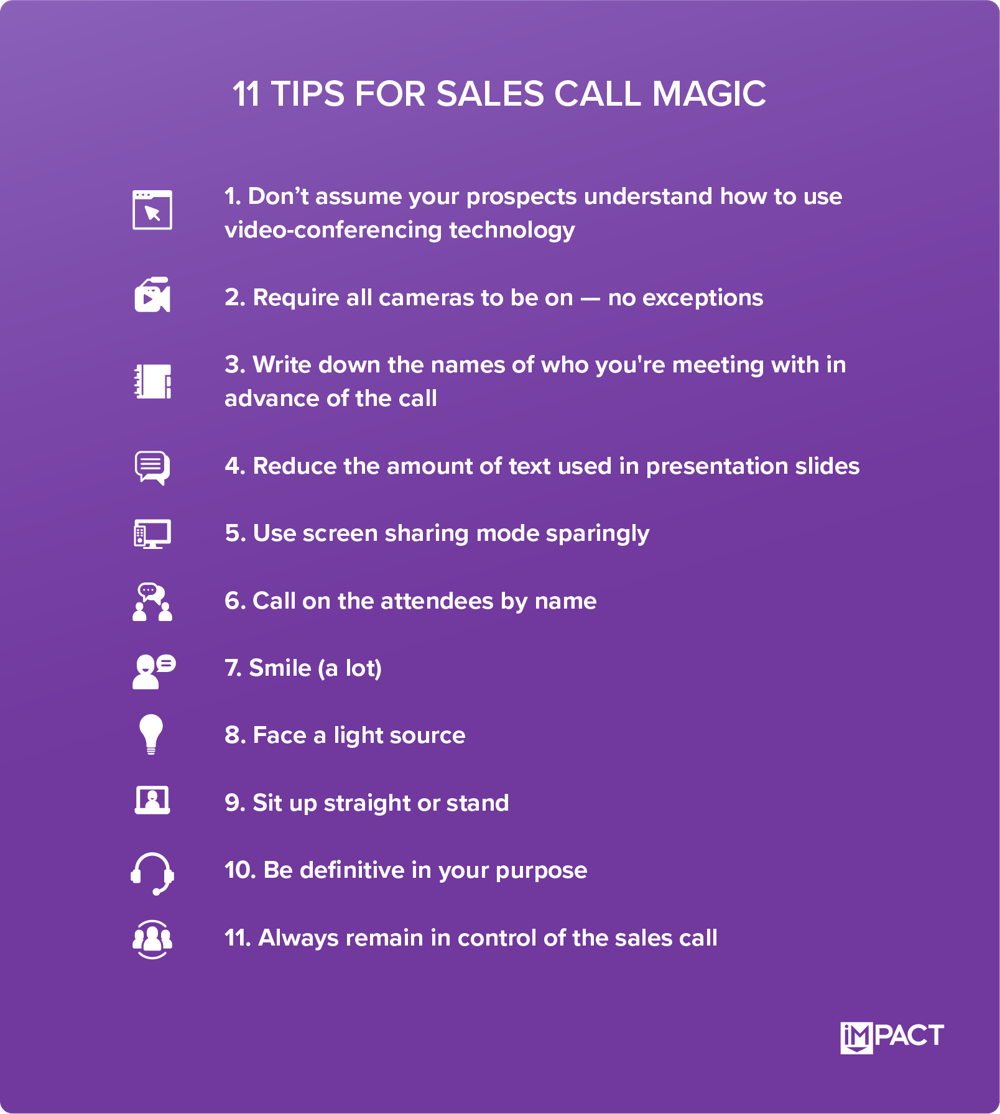 The 11 listed below might seem simple, but they are often neglected despite making a world of difference to your sales team's ability to close deals.
Don't assume your prospects understand how to use video-conferencing technology. Send a quick explainer video detailing what they can expect when meeting with you and how to work the technology. This builds goodwill and levels the playing field.
Require all cameras to be on — no exceptions. Make sure this is clear ahead of time. Being on camera helps keep your prospects engaged and increases closing rates.
Write down the names of whom you're meeting with in advance of the call. Especially when meeting in groups, it's important to keep track of who's who.
Reduce the amount of text used in presentation slides. If you have a lot of reading material for your prospects, send it ahead of time. Keep the text on your

virtual sales appointment

to a minimum to reduce distractions.
Use screen sharing mode sparingly. When sharing a slide deck, take time to switch out of screen sharing mode to allow for discussion and face-to-face interaction.
Call on the attendees by name. When you call on people by name, you keep everyone engaged and paying attention. You also help drive discussion and bring in the perspectives of people who are less likely to speak up on their own.
Smile — a lot. When your sales team members smile more on camera, it makes them more approachable and trustworthy.
Face a light source. You want prospects to see you clearly. If you don't have a convenient natural light source, use a ring light or an equivalent.
Sit up straight or stand. This helps keep you sharp and focused and helps your message come across more clearly. You'll speak with more energy, too.
Be definitive in your purpose. Make sure you clearly define the aim of the meeting and what you're hoping to accomplish.
Always remain in control of the sales call. You are in charge of the call. You should be the one setting expectations, empowering discussion, and controlling the tempo and pacing of the meeting.
Get started implementing the concepts of this guide with free tools and training inside IMPACT+.
For more hands-on help from the IMPACT team, book a free meeting with an IMPACT advisor.