Optimizing your videos for search (at-a-glance)
Video for sales and marketing isn't "the future," it's already here. For example, 88% of your ideal customers will spend more time on a website with video than one that doesn't.
Moreover, The Selling 7 types of sales and marketing videos are proven to help you drive more traffic and leads, in addition to shortening your sales cycle. In short, video is essential to your strategy.

However, most of those videos will often live on your website, rather than on YouTube (although some might).

For example, landing page videos, product and service page videos, and so on are virtually always only going to be found on your business website.
Recognizing this, Google (which owns YouTube) has created new ways for business website owners like you, who are using video in your sales and marketing strategy, to optimize videos that live on your business website for search, so they are more easily found by your ideal customers.
According to Search Engine Journal, "

It's now easier for publishers to markup their videos for the 'key moments' rich snippet, which allows searchers to navigate directly to certain video segments."
This is a bit technical – and, admittedly, it is. In plain language, however, this new little technical trick will empower you to make the sales and marketing videos on your website more enticing and click-worthy to your ideal customers, when they discover them via search.
Free Course: How to Hire a Content Manager
Why do key moments and segments matter with sales and marketing videos?
The best way to explain this is to show you.
One of the most powerful types of The Selling 7 videos is a pricing and cost video. That's why we created an educational pricing and cost video around one of the most common questions we get from our ideal buyers:
How much does a business website design cost?
YouTube isn't just a video hosting platform, though. It's the second-largest search engine in the world.
So, much like you would optimize a piece of written content for search (like a blog article) with relevant, (usually) keyword-focused headings and subheadings – that way, Google can easily understand what your content really is about beyond just what the title says – you do the same for your videos in YouTube with segments: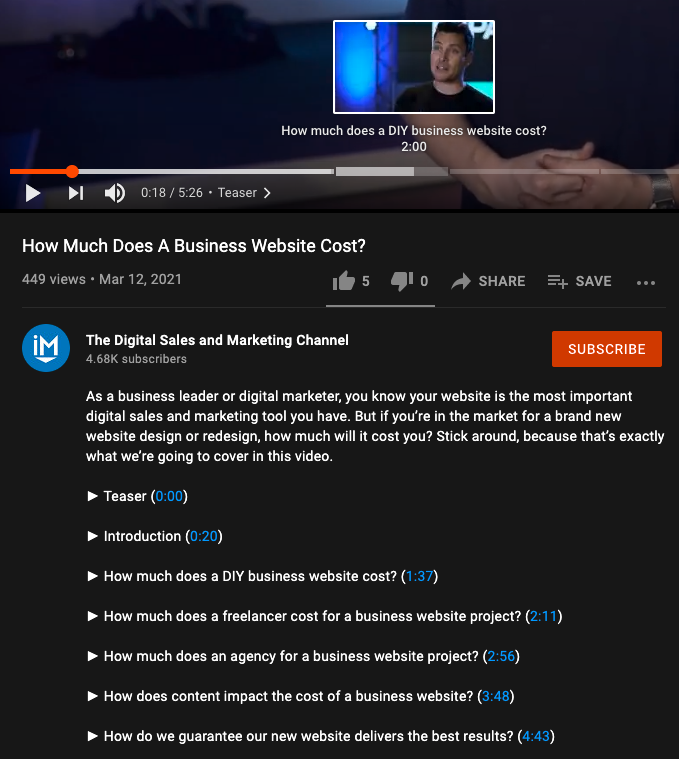 Then, depending on what the search term is, you may hit the jackpot with your video (and those relevant "key moments," as Google calls them) showing up as an interactive element in search results like this: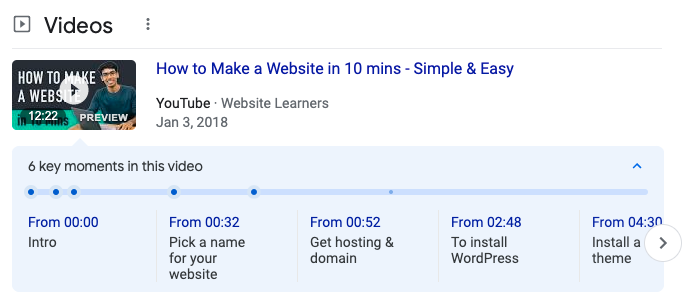 Of course, optimizing videos on your business website like this has always been kind of a pain. This level of optimization really was only possible if you had your video on YouTube, which is built so you can easily create these "chapter"-like key moments yourself.
(Psst! All you need to do is add timestamps and the chapter titles to your video description, as shown above, and YouTube does it automatically for you.)
That has now changed, thanks to something called "schema markup," which I'm sure a few of you content manager all-stars out there have heard of before.
How does schema markup help ideal customers find your content (written and video)?
In order to understand this amazing advancement rolled out by Google to help your business website videos get found more easily online by your ideal customers, we need to have a quick technical SEO 101 lesson.
As search engines and their algorithms (which crawls and ranks your content) have become more complex, so has their "language." This language is called "schema markup" or "structured data."
"Liz, I need you to explain quickly why I should bother reading any further ..."
I know, we're starting to dig into the weeds, so let me make the value of what I'm teaching you very clear:
Your goal: Get found online by your ideal customers by creating content (both written and video) that answers their most pressing questions, thus establishing yourself as the No. 1 go-to resource in your industry.
What schema markup does: Helps those search engines you're trying to win over understand quickly and easily what all of that content you're publishing is all about.
As Ryan MacKeller put it:
"No matter how smart we think Google is, it still struggles to make sense of what a webpage is actually about. That's why there's schema markup. It's a form of metadata added to a website that tells the algorithm what it is drawing and how to categorize it."
How do you optimize your website videos for search and key moments?
Of course, the answer here is schema markup. Specifically, a little ditty called "SeekToAction," which has been fully rolled out following beta testing by Google.
Before I tell you what to do, here's how it works:
You plop a bit of schema code (SeekToAction) in the backend of your website that tells Google's little robots how to skip to different timestamps in a video.
Do nothing else. Google's AI now understands how to skip around your videos and will identify your key moments for you and display them in rich search results, if applicable.
OK, here is what you are doing (if you're a content manager, technical SEO whiz or website developer), or what you're telling someone else to do.
You need to drop in the SeekToAction schema markup on your website, and here is an example from Search Engine Journal of what that can look like: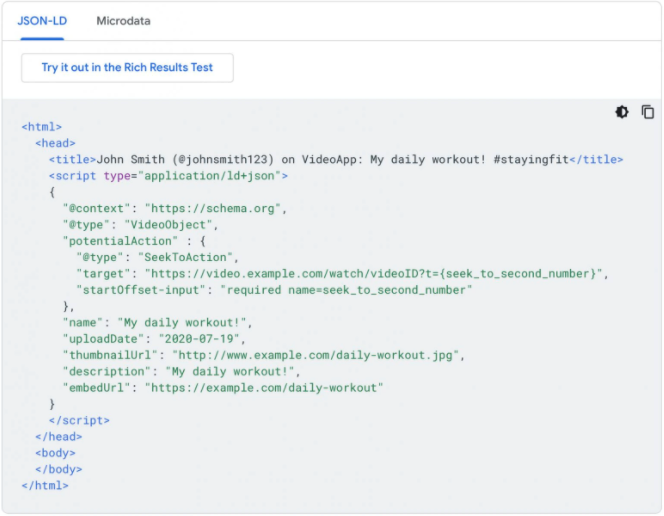 The video hosting platform you're using must allow you to create a link that automatically starts a video from a specific timestamp (a "deep link") like you can on YouTube.
Additionally:
You need to put VideoObject and SeekToAction markup on every page where there's a video you want Google to crawl.
For example, if you have an 80% video or a product and service video on every product and service page you have, each page will need VideoObject and SeekToAction structured data.
You want Google to identify key moments from your videos? Great! It needs to be able to retrieve the content files for your videos.
The minimum length of a video getting this treatment is 30 seconds. Which makes sense, given that videos that have segments are almost always at least a few minutes in length.
The video must include the required properties that are listed in the VideoObject structured data documentation.
Does all this technical stuff really matter to your ability to hit your traffic, leads, and sales goals?
The short answer is yes, it does.
Even just 10 or 15 years ago, empowering your ideal customers to organically discover your written content around their most pressing questions was much, much easier. You just needed to put the keywords in the right spots (URL, meta description, headings, etc.), and you were good to go.
Now, it's not as simple.
Yes, the basics still matter:
You need to be publishing written content that addresses the top questions of your ideal buyers – pricing and cost, problems, comparisons, reviews, best – because that's what they're searching for more than anything else.
You also need to be creating the types of sales and marketing videos that are proven to increase traffic, leads, and sales, because video is how your ideal customers want to consume information.
But you need to understand that recently developed strategies such as pillar content and schema markup are now a requirement if you want to guarantee that all of that amazing content you're creating isn't getting missed by the ideal customers you're trying to attract.