Not ready for They Ask, You Answer Mastery yet? IMPACT+ is your logical first step
For many companies, the best way to They Ask, You Answer mastery is online learning with IMPACT+.
John Becker also recommends this free course: They Ask, You Answer Fundamentals with Marcus Sheridan.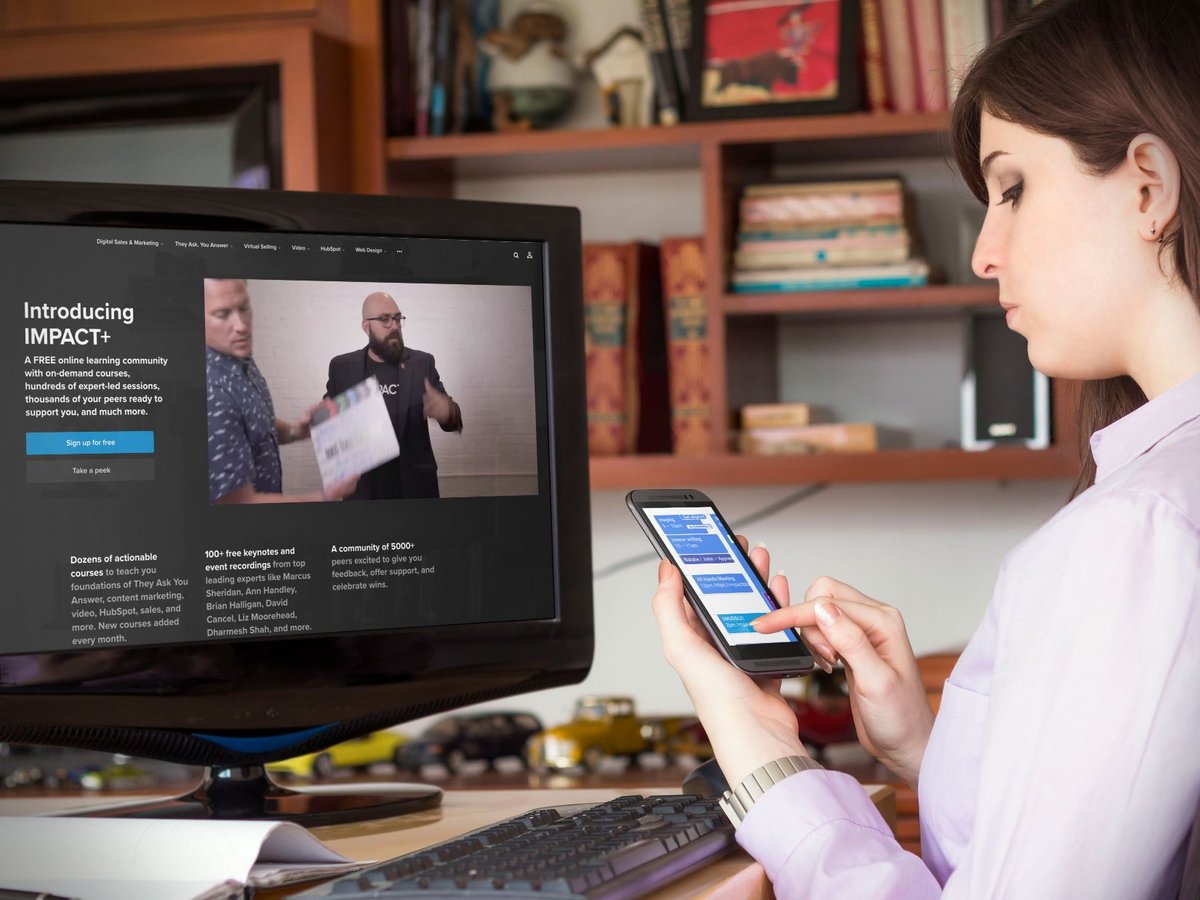 They Ask, You Answer Mastery is IMPACT's flagship service, and with good reason. Over an average of 12-18 months, clients work directly with IMPACT's coaches, trainers, and account managers in a program that is tailored to each company and its goals. This includes in-depth strategy sessions, tactical training with specialists, and quarterly goal setting.

The end result of the Mastery program is complete in-house expertise. We train your team to take full ownership of your digital sales and marketing — with everything from HubSpot implementation to content writing to video production taking place in house.
Free Course: They Ask, You Answer Fundamentals with Marcus Sheridan
While this program is an extraordinary option for any organization truly looking to break the cycle of dependency on inbound agencies who over-promise and under-deliver, it does come at a price that puts it out of reach of some companies.
All of that bespoke attention requires an investment of between $8,500 and $15,000 per month, which does not include salaries for your marketing team or fees for HubSpot and other tech stack necessities.
For some companies, They Ask, You Answer Mastery is just not an option. They would need to grow before they can afford our in-person expertise.
However, IMPACT+ — our inline learning and community platform is the perfect place to benefit from similar education and to interact with the same great IMPACT minds.
Then, when you're ready for Mastery, it's a smooth transition within the IMPACT ecosystem.
What is IMPACT+?
IMPACT+ is our online learning community and platform that gives users what they need to adopt They Ask, You Answer and take control of their digital sales and marketing. Here, you learn how to connect with buyers through trust-building written and video content by way of a host of educational opportunities.
IMPACT+ offers a wide range of learning materials to its users. Here are the basics:
Courses: The centerpiece of IMPACT+ is its courses, ranging from foundational courses like

Digital Sales & Marketing Framework for Today's Modern Buyer

with Marcus Sheridan to advanced offerings like

On-Page SEO and User Experience

with Kevin Phillips.
Courses are available on-demand and utilize real-life situations and assignments to spur growth. At the time of this article there are 34 courses on the platform, with many more in production.

Events and recordings: From IMPACT's first event (that was held in a brewery back in 2016!) to thousand-person live and virtual conferences, events, summits, and more, recordings let you hear keynotes and presentations from luminaries like Marcus Sheridan, Ann Handley, Brian Halligan, Jill Konrath, and many others.

Business tools: You'll need to measure the progress you're making. The platform offers scorecards and planning tools to chart priorities and other metrics so you can keep on target.
Community features: With thousands of users, IMPACT+ is a place to post ideas or questions to gather and share insight. If you're up against a certain challenge, it's likely that someone else has worked through something similar.
Virtual peer groups: One of the greatest values of any community is the human connection it offers. Virtual peer groups are monthly sessions that let you connect with others who fill similar roles in other companies and industries.
There are VPGs for videographers, content managers, HubSpot users, business executives, and more.
An IMPACT expert leads each meetup, often assigning action items in between to extend the learning.
Most IMPACT+ materials are available to anyone who signs up for a free account. For users looking to go a step further, there is the Pro-level subscription, which unlocks all materials on the platform, including the VPGs and all courses and recordings.
🔎 Related: Why was IMPACT+ created?
How IMPACT+ helps you do your job better
IMPACT+ is designed to offer on-demand instruction for professionals eager to grow their digital sales and marketing chops.
According to Connor DeLaney, community and events manager at IMPACT, "We built the platform to help you take the incremental steps toward owning your digital sales and marketing."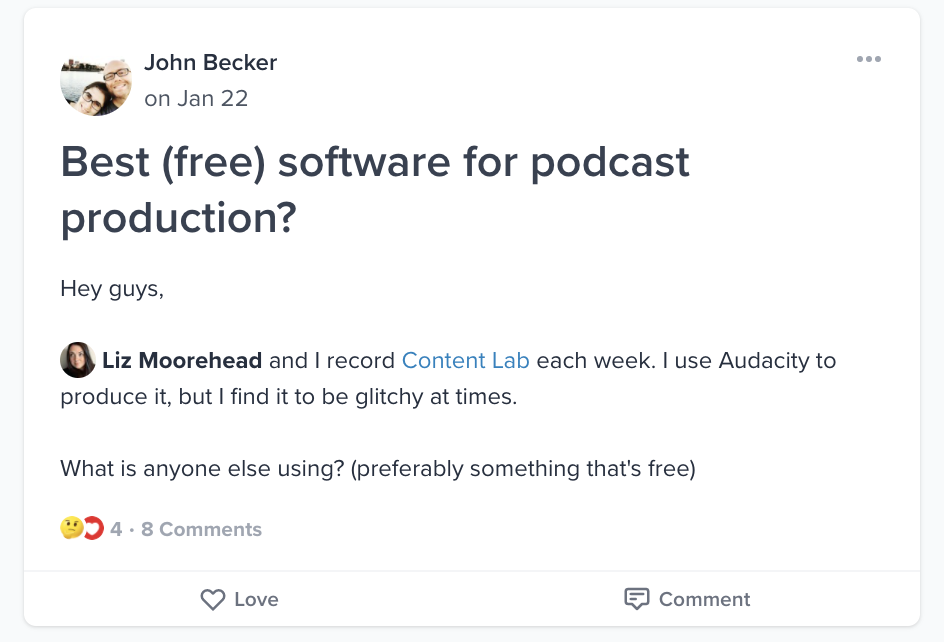 That learning process will look different for different people, but the key to growth, says Connor, is daily routine. "If you check in for 10 minutes a day, those ten minutes can make you better at whatever you want to learn."
Whatever it is you're after, you'll find resources broken down into manageable chunks to meet you where you are and move you forward.
Learning as a team
We learn best when we learn together.
Joining IMPACT+ as a team means that your company gains shared language and foundational understanding of They Ask, You Answer, The Big 5, 1:1 video, assignment selling, and more.
Self-directed learning
At the same time, your needs are unique. Even as some courses and other learning materials should be something your whole team experiences, there are some topics that only apply to specific roles and individuals.
If you want to learn more about using video in the sales process, building workflows in HubSpot, or exploring Google Suite tools, there are resources for your unique needs.
They Ask, You Answer Mastery uses IMPACT+ as its hub
For companies ready for the Mastery program, much of their work with IMPACT is supported by (and a part of) the IMPACT+ platform, and any time they've previously spent in IMPACT+ will give them that much more of a head start.
In other words, when you're ready to start your Mastery program, the more time you've spent on IMPACT+ the better.
Not only will you have internalized core tenets from courses, but your familiarity with the platform will give you one less thing to learn.
For example, those business tools you've been using to track your growth? Your IMPACT coach will use your data to build a more complete profile of your business.
According to Account Manager Lexie Ward, IMPACT+ features heavily in They Ask, You Answer Mastery in two major ways. First off, coaches will frequently assign homework to client team members, be that courses to complete or presentations to watch.
But the bigger focus is the tools.
"We assign online trainings pretty often," reports Lexie, "but the main area of the platform that we use from a coaching standpoint is the priorities and strategic planning tools."
The tools allow coaches to set quarterly priorities and then assign client team members to be owners for each task. The clients then use the platform to keep the team updated and track progress throughout the period or quarter.

Even more exciting is this: As our coaches, trainers, and account managers see the need for new features and functionality, they relay these requests to our developers, who start adjusting and adding to the platform accordingly.
IMPACT+ is a growing and evolving platform that is constantly becoming better.
Your growth starts with learning
IMPACT+ has been designed to be a hub for your sales and marketing education, offering everything from expert instruction to guided self-reflection. Wherever you are on your They Ask, You Answer journey, the platform will meet you there and guide you forward with a tailored experience.
You're never alone. There are countless other companies and individuals who are keen on learning the same things. Like you, they believe in the same core principles that inform all of their sales and marketing efforts:
The way people buy has changed
We should openly answer customer questions on our website
IMPACT+ allows you to connect and learn from others who hold the same beliefs. Whether you're at step one or step 100, there are things you can learn and things you can teach — and IMPACT+ is the platform to do both.
Free Course:
They Ask, You Answer Fundamentals with Marcus Sheridan
Master the Fundamentals of They Ask, You Answer
In this course, you will learn:
The way people buy has changed and what that means for your business
How to create the right types of content to drive sales
How to use content to speed up your sales process
Published on February 22, 2021