What Marketers Need To Know About Switching to GA4 [Google Analytics 4]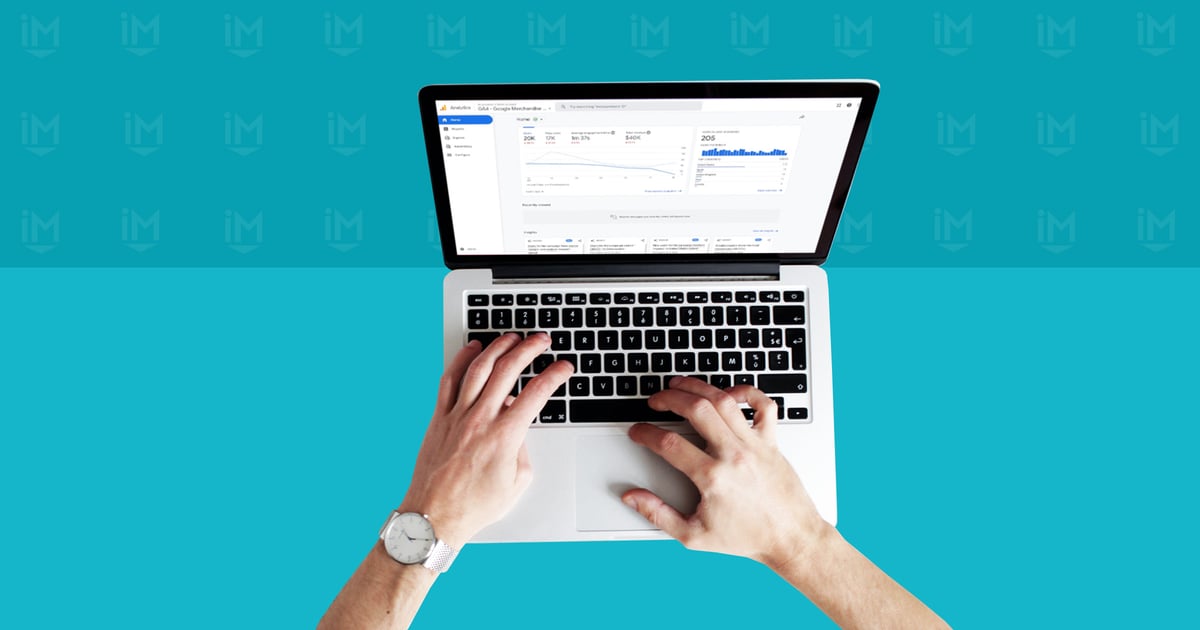 Google Analytics is the most widely used traffic analysis tool in the world — but if you're reading this article you likely already know that.
You probably use Google Analytics (GA) to track user engagement for your website or mobile app, and you're aware of the major change that's coming in 2023.
We've used Google Analytics for well over a decade. Many of our clients have, too.
This article will be a round-up of what you need to know about Google Analytics 4 (or GA4) so that you can best prepare your team and your organization to seamlessly transition to the updated platform.
Below we'll explain:
What you need to know about Google Analytics 4 (GA4)
An overview of what's new with GA4
Step-by-step guidance to prepare you for the transition
Why data is critical to inbound marketing
At IMPACT, we hear from businesses every day looking to grow their business with inbound marketing.
What we explain, though, is that though boosting organic traffic is a fine goal, boosting the wrong kind of organic traffic will not bring in revenue.
If you publish content that attracts a million informational searchers — that is, searchers with no intent to buy — your traffic numbers explode, but your revenue numbers will stay flat.
Data and goals are closely tied, but the relationship is not always clear on the surface. You can't set goals without truly understanding what the numbers you're after mean — and you can't track your progress toward those goals without monitoring the right KPIs.
For our clients, Google Analytics is a critical tool for tracking user data. Used in conjunction with HubSpot and Semrush, it provides the data and insight critical to meaningful goal-setting.
Remember, data is not a strategy
Setting the right goals depends on having a strategy that positions you for long-term success. Data analysis is critical, but it is not a strategy in and of itself.
You can work with a business coach like those at IMPACT to set a course and track your results so you can move closer to your goals.
Without guidance, you run the risk of pulling in troves of data without being able to collate and organize it into meaningful insights.
With that disclaimer out of the way, let's dive into the specifics of Google Analytics.
What is GA4?
To start with, Google Analytics was launched back in 2005, offering a suite of tools to help businesses get more information about website traffic.
Google Analytics can monitor a website, a mobile app, a blog — anything that has a unique tracking ID. Anything you're monitoring is called a property.
Google Analytics is the most widely used traffic analysis tool in the world, and it's not even close.
Research shows that 55% of all websites use Google Analytics. That sounds impressive enough, but when you realize that more than one-third of all websites use no tracking tools at all, you start to get a sense of how massive Google Analytics' market share truly is.
Google is such a big player in so many facets of the internet that any change it announces is bound to send ripples. And the shift to the fourth version of Google Analytics is no exception.
How does GA4 compare to past versions of Google Analytics?
If you're new to GA4 (but not new to Google Analytics), it will look pretty new to you.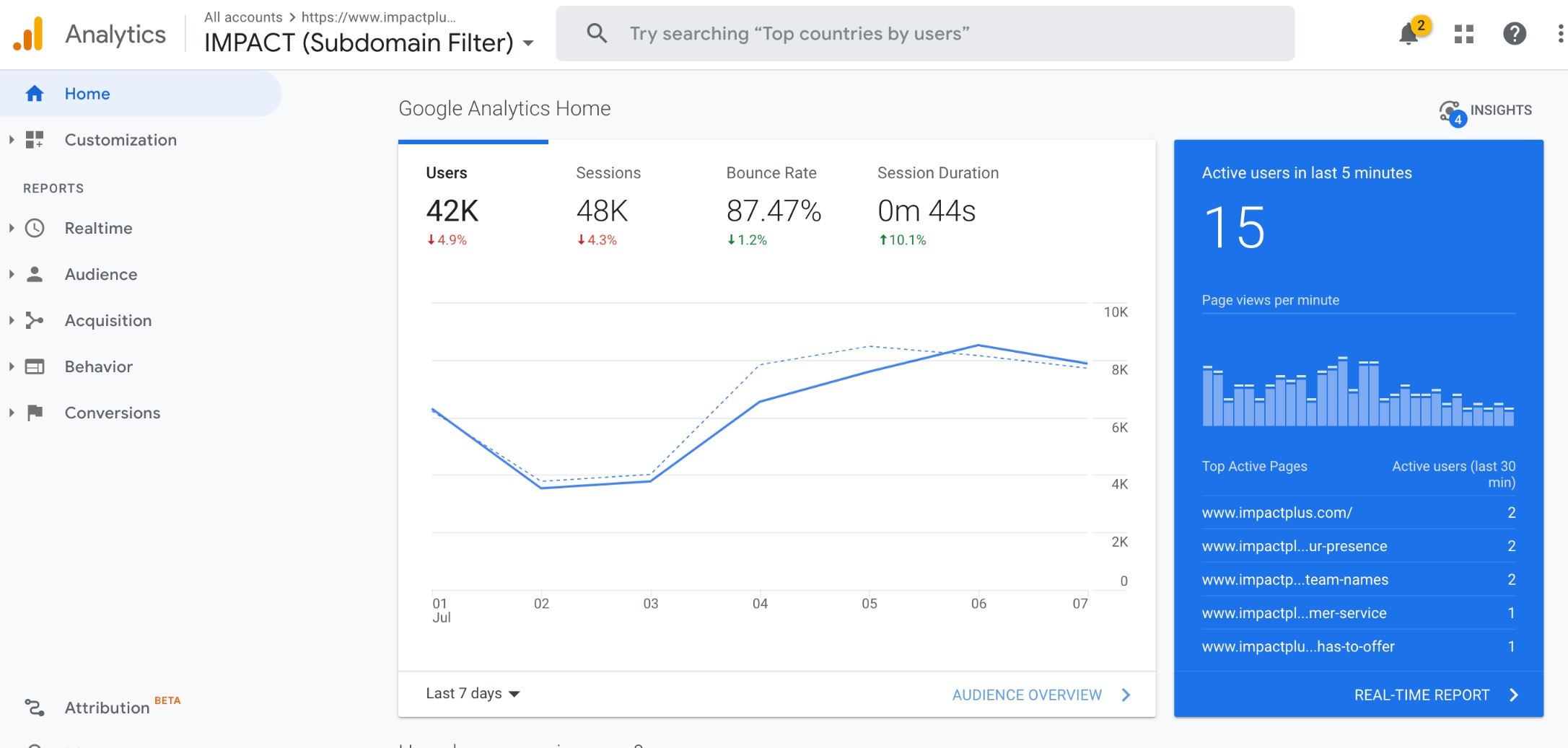 The user experience (UX) is definitely different. Your old familiar reporting metrics (like page views, sessions, new users, etc.) are in there, just in different places than you're used to.
The main focus for G4 is engagement metrics.
So, what does that look like to the new user?
Bounce rate has gone away. You'll need to get familiar with new metrics, such as engaged sessions, average engagement time per session, and engagement rate.

Note: Google defines an engaged session as "a session that lasted 10 seconds or longer, or had 1 or more conversion events or 2 or more page or screen views."

The GA4 measurement model is based on events, and you have the ability to customize them.
Many of the standard reports you're used to are not in GA4.

Instead, GA4 has an Explore tab where you can try different reporting templates or create custom reports.
Once you get over the newness, GA4 will become familiar and you'll be off to the races. Below, I'll provide step-by-step instructions for how to get started.
You'll need to start using GA4 — and the sooner the better
GA4 launched in the fall of 2020. In March of 2022, Google announced that all users would need to upgrade to GA4 by July 1, 2023. At that point, previous versions of Google Analytics will no longer process web traffic data from any property.

Google strongly encourages all users to switch to GA4 as soon as they can. This way, you can get comfy in the new tool before you have to make the switch. Also, the sooner you switch, the sooner you start building a library of data within the tool.
Here, Google has provided a 10-minute overview of the whole GA4 interface.
But you're sure to have questions about the transition.
'But what will happen to my old data?'
Google hasn't been completely clear about what will happen to data in your old Google Analytics portal.
According to an official release from Google:

"After July 1, 2023, you'll be able to access your previously processed data in your Universal Analytics property for at least six months. We know your data is important to you, and we strongly encourage you to export your historical reports during this time."
Google has said it will provide more details than "at least six months" at some point soon, but as of press time, that has not been released.
What you should do to keep your old data
We recommend that our clients export all of their historical Universal Analytics data if they want to hang on to it.
A simple way to do this is to create a free Databox account for storage.
Here's IMPACT's Head of Web Strategy Vin Gaeta providing a walkthrough of how to do it:
All that being said, we should take a minute and consider why Google isn't letting you keep your historical data. The new metric set is quite different.
For example, Google is getting rid of the bounce rate metric. Pageviews and sessions are now classified as events. This is a huge deal. Google wants people to focus on users who are interacting with their site. That's why Google is prioritizing metrics like engagement rate.
Changes like these will make comparisons to old data very difficult.
How to get started with Google Analytics 4
Making a change in your tech stack can be intimidating. It's the kind of thing that businesses put off, waiting for a "perfect time" that never ends up coming.
To avoid the mad scramble, Google has provided three ways to get started with GA4, each with thorough instructions that are easy to follow.
Option 1: Setting up Google Analytics for the first time
If you're new to the Google Analytics platform, this is the option for you. You don't need to worry about migrating old data or un-learning an older platform.
GA4 will be new to you, and you should follow the step-by-step directions Google has created for you.
Option 2: Adding GA4 to a site that you currently monitor with an older version of Google Analytics
If you're familiar with Google Analytics, this is the option for you. Google's setup assistant will add a GA4 property alongside the Google Analytics property that already exists.
Until July 2023, the older platform will continue to collect data. You can toggle between both — traditional and GA4 — using the property selector in the Admin section.
Here are step-by-step directions from Google.
Option 3: Adding GA4 to a website built on a content management system (or CMS)
If you host your website on a CMS, your steps will be slightly different. In Google's language, this means a "website created using Wix, WordPress, Drupal, Squarespace, GoDaddy, WooCommerce, Shopify, Magento, Awesome Motive, HubSpot, etc."
If you're in this boat, your experience will be similar to Option 2 listed above, but Google has specific instructions here for you to follow.
The big question is whether the platform you use offers native support for GA4. If it doesn't, you may need to manually add the site tag snippet into your platform's custom HTML field, which Google will walk you through.
What should I do now?
Find the time to rip the bandaid off. As with any big change you keep putting off, this one will sit in the back of your mind and cause ambient stress until you get it done.
Google's advice strikes a similar tone:
We strongly encourage you to make the switch to Google Analytics 4 as soon as possible. Doing so will allow you to build the necessary historical data and usage in the new experience, preparing you for continuity once Universal Analytics is no longer available.
If you feel like you've got too much data and not enough direction, talk to our team at IMPACT. We help take the guesswork out of content marketing and digital sales.
Free Assessment:
How does your sales & marketing measure up?
Take this free, 5-minute assessment and learn what you can start doing today to boost traffic, leads, and sales.