With roughly 2.89 billion monthly active users as of the second quarter of 2021 (and a growing audience over age 35), Facebook is the biggest social network worldwide.
It has maintained its dominance, despite privacy concerns, by regularly evolving in a slow, thoughtful manner according to consumer behaviors and preferences.
For instance, noticing the popularity of Snapchat and Instagram in recent years, Facebook has leaned heavily into visual content, introducing Facebook Live and Stories.
It has also optimized popular features like Events and Groups, and adjusted its feed algorithm to give priority to posts from users' family and friends over businesses (unfortunately for marketers). They've even introduced personalized avatars following the popularity of the Bitmoji app, and wrapped all of these features into a robust advertising offering.
While some of these updates have mixed impacts on businesses marketing on Facebook, they also present a number of powerful strategic and creative opportunities for brands of all backgrounds.
Who Should Be Marketing on Facebook?
A Facebook Page (or a dedicated public page on Facebook where artists, public figures, businesses, brands, organizations, and nonprofits can connect with their fans or customers) has become one of the foundational elements of establishing your business online.
It's a signal to buyers that you are real and active.
With this in mind, given the fairly low barriers to getting started on the platform and its massive reach across all demographics, you'd be hard-pressed not to find a reason to market on Facebook.
Whether you are a big corporation or a small business, you should establish a presence on Facebook.
Strategic Best Practices for Facebook Marketing
Every audience is different and may respond to different things, but if you're just starting out with social media marketing, it's smart to begin by testing some universal strategic best practices and then honing your tactics from there. Here's what to know about Facebook.
Do: Use Video and Facebook Live to Answer Questions
Video grabs eyes and keeps their attention. In fact, engagement in video posts on Facebook is nearly double its average engagement rate overall.
This is why Facebook is investing heavily in a viewer experience that keeps people on their site longer rather than redirecting it to YouTube or Instagram.
With this in mind, its algorithm and user interface (UI) actually work to draw attention away from external posts by removing thumbnails and forcing you to click through to actually view the content. (Previously, you could watch directly on the platform.)
That being said, in order to reach your audience, upload content directly to Facebook Video or host events on Facebook Live. This will not only quench users' thirst for video content, but also gain more favor in newsfeeds than text-based or external content.
What Kind of Videos Should You Create?
Facebook is a great place to share educational videos that address your buyer's questions, including what we call in They Ask, You Answer, The Big 5 (Cost and Pricing, Problems, Comparisons, Best-of Lists, and Reviews).
Though we usually suggest creating written articles around these topics, videos discussing them can be just as valuable, especially on social media.
Consider using Facebook Live to host an Ask Me Anything (AMA) and answer questions directly from your audience or upload videos of product reviews and comparisons.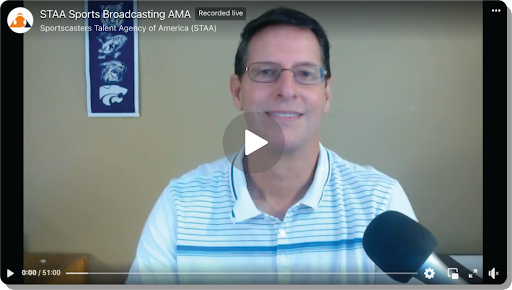 Example from STAA (Sportscasters Talent Agency of America)
Sharing this type of content will not only address questions that may prevent people from buying head-on, but also deliver immense value to followers.
Do: Use Facebook Groups to Beat the Algorithm
In 2019, Facebook went through a major redesign bringing more focus to features it found most popular, such as Events and Groups, so you should use them to your advantage when relevant.
Do you have an active community? Consider creating a Facebook Group to foster and guide conversations.
Groups also give you an area to share content (including live videos) that can override the algorithm and deliver an instant notification to everyone in your group.