Despite various controversies, there are over 4.55 billion people using social media across the world, which makes it a sea of opportunity for B2C and B2B businesses alike.
As discussed in Marcus Sheridan's They Ask, You Answer, over the past decade, there has been a dramatic shift in consumer behavior.
Consumers don't want to be sold to. They want to be empowered to do research on their own time and make their own decisions, which makes it no surprise that 60% of B2B consumers reported consuming between three and seven pieces of content before ever speaking with a salesperson.
Buyers want to buy from companies that enable them to do this rather than hound them for a sale. They support companies that not only help them, but who are also experts in their fields, share their values, and are engaged with their customers.
Why is this? Well, because they trust them.
When you educate your audience to make the best purchase decision for themselves (even if it's not with you), they know you're not just out to make a sale. You're not just trying to cheat them out of their money or get them to buy something that won't work for them.
Social media marketing can play a significant role in establishing this trust.
Like quality content on your website, quality content on social media comes back to authentically engaging and educating.
At a high level, it means giving your audience content they want to consume and focusing more on bringing value to them, rather than yourself.
It also means being genuine. Social media is about connecting as human beings, not about cold-hearted business.
The more value and authentic connection you can provide for someone on social media, the more they will like, trust, and feel comfortable doing business with you.
Universal Social Media Best Practices
In this guide, we'll be focusing on more advanced, strategic practices for each network, but before we get into that, there are some things that you should do regardless of the social media platform you're on.
Do: Complete Your Profiles
Next to a website, your social media profiles have become one of the foundational elements of establishing your business online.
While creating a website can be a time- and budget-consuming project, getting started on social media is free and relatively quick. However, that doesn't mean you should take it lightly.
Make sure to fully complete and optimize your profiles with the following:
Company name
Company logo as your profile image
Relevant, high-quality banner images where applicable
Website URL
Information on how to get in contact with you (phone number, email address, guidelines for direct messages, etc.)
About/Company description
In each of these elements, be thoughtful about including relevant keywords and highlighting the value you bring to your customers. Buyers don't care about you; they care about what you can do for them.
Do: Be Consistent with Posts and Branding
Consistency is crucial for maintaining your audience's attention and getting engagement on any social media channel.
Test out posting one piece of content on your profile every day for at least two weeks. Based on this data, you can refine your days and times to when people were most responsive.
You also want to make sure your brand is consistent across all of your platforms. This means the profiles look and sound like they belong to the same company.
Our friends at Sprout Social do a wonderful job of keeping their profiles complete, current, and consistently branded.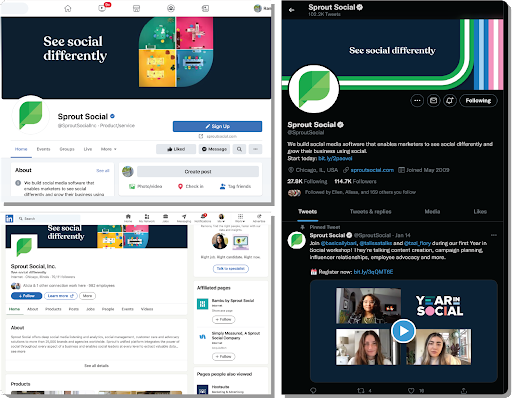 Do: Optimize for Mobile
It likely comes as no surprise, but research shows 98.8% of social media users are accessing social media via mobile devices, so optimizing for this experience should be a top priority.
Pay close attention to how your images and posts are displayed on smaller screens and how users will encounter them on those screens. For example, though a link in your post may display without a click on desktop, on a mobile device, it may get pushed behind a "read more" tag.
Notice how much of the content in this post from IMPACT's Facebook page gets hidden behind a "read more" on mobile.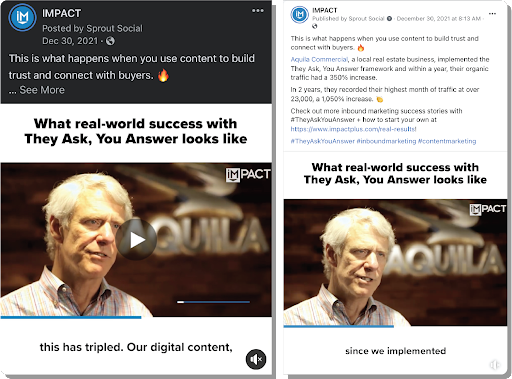 While much of it gets cut off on desktop as well, you can still expand the post and view the whole video simultaneously. On mobile, the video is pushed down and you need to scroll to view it.
Speaking of which, consider video. With most people accessing your content via mobile, you'll likely want to post more vertical (or square) videos that can be watched without turning your device rather than traditional, horizontal videos.
Staying apprised of these differences and planning for them will help you create the best experience on mobile for your users and get even more out of your efforts.
Do: Respond to All Customer Engagement (Positive and Negative)
People are talking about brands on social media, and they're likely talking about yours. Whether it's a good review, an angry comment on a photo, or an innocent question, make sure to respond to all engagement in a well-thought-out, but timely manner.
Bonus Tip: Always address users by name. Human beings are wired to react to hearing or seeing their names so doing this automatically grabs more attention and adds an extra personal touch.
Doing this signals to your visitors and followers that you are listening. You care about their experience and about what they think and are actually taking it into consideration.
Actively listening and responding to customer engagement also gives you insight into how you can improve.
This insight may come in the form of actual messages or feedback that can inform your content, product, or service, or even engagement numbers (like shares and likes), which tell you what content followers want to see more of on your page.
Furthermore, if a customer writes a bad review or negative comment and you ignore it (or worse, delete it), they and others will notice and it will likely do more damage to your reputation than the bad review. Instead, address their concerns and do your best to remedy the situation and learn from it.
Note: Never delete any content posted by your audience unless it is clearly spam or harassment. Like ignoring customer commentary, deleting it can also reflect badly on your business.
Do: Be as Concise as Possible
Now, I'm not one for word counts or time limits, but the fact is, the human attention span is minuscule and only getting shorter — especially on social media, with bite-sized videos like TikToks and Reels exploding in popularity.
With that said, when it comes to any content, always ask yourself "Could I cut this post in half?" The quicker you can get your point across, the more likely it will be to be consumed.
Do: Look to Spark Conversation
With every post you create, you should aim to spark conversation. Social media is all about engagement, so ask questions, present polls, prompt action. Let your audience know it's not only safe to express themselves in comments, but encouraged.

HubSpot does a great job of sparking conversation on Twitter:

Do: Focus on Delivering Value and Answers
Social media users understand that you want to promote your business but don't want to feel like they are constantly being sold to, especially on platforms they turn to when they want to connect with friends and family.
With this in mind, make sure that every piece you share brings some sort of value to your followers, whether it be education or, on occasion, entertainment.
Answer common questions and concerns via different varieties of videos or posts. While we usually suggest creating written articles around these topics, social media is a great place to expand the reach of this content and get seen by a wider audience.
Consider hosting an Ask Me Anything (AMA) and answer questions directly from your audience or upload videos of product reviews and comparisons.
In a similar vein, be cognizant not to spam your profiles with repetitive, boring, or self-promotional content. Sixty-eight percent (68%) of people feel that brands don't share interesting social content and subsequently unfollow them.
A popular approach is Gary Vaynerchuk's "jab-jab-jab-right hook." According to this approach, 75% of your posts should give value, and no more than 25% should promote your products or services. However, Marcus Sheridan would go so far as to say 90% of your posts should focus on value and only 10% should sell.
Regardless of which approach you take, the point is, you should be helping and connecting more than selling.
Do: Lean Into Telling Stories
One of the most effective ways to showcase your message/value without overtly selling is by telling relatable, human stories — stories you and your product/service or team can help shape and influence.
Narratives like these help people place themselves in a situation and better grasp and feel tangible and intangible concepts they couldn't connect with simply by seeing them listed on a page.
For example, reading that using a product changed someone's life is one thing, but seeing them using it, talking about it, and how exactly their day-to day-life improved with it is another.
Target's "Welcome To" holiday series is a great example.
In the YouTube series, the retail giant shows how some of its average customers celebrate lesser-discussed fall holidays like Diwali and El Dia De Los Muertos, while subtly showing how some of the items needed for these celebrations can be purchased at Target.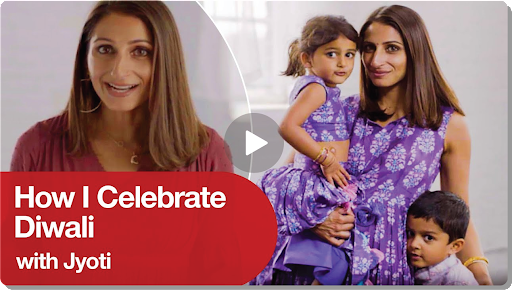 Target isn't the focus; rather, the customers and their lives are. As The Storybrand Framework preaches, telling stories in this way makes your audience the "hero" of your content, not you and your company.