Hosting nearly 800 million members in more than 200 countries and territories, LinkedIn has the unique claim of being the social media network for professionals.
Since its launch in 2003, LinkedIn has secured its position as the platform to turn to when you want to showcase your professional expertise, network, list a job or find one, and grow your career, making it a powerful tool for B2B marketers.
The platform has only become more valuable over the years with the addition of native content publishing (text and video), a host of educational courses and assessments, revamped LinkedIn Groups, and robust advertising capabilities.
Who Should Market on LinkedIn?
LinkedIn users come from all backgrounds, and, along with its professional focus, it is ideal for B2B businesses looking to connect with potential talent and buyers.
It is particularly effective for reaching executives and decision-makers at organizations. Four out of five LinkedIn users drive business decisions and 33% of B2B decision-makers actively use LinkedIn to research purchases.
Strategic Best Practices for LinkedIn Marketing
Do: Publish Native Articles
LinkedIn makes it easy to share your long-form content on your personal profile as well as your company page.
Rather than copy and paste a lengthy article into the usual "Start a post" section, you can instead click "Write an article on LinkedIn" where the platform has a blog publishing platform built-in.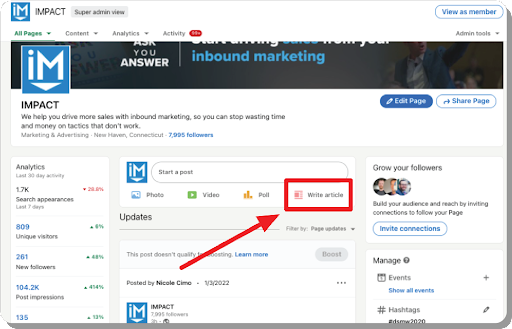 This is a great way to educate your audience, show your expertise in your industry, and build trust by honestly and thoroughly answering customers' most burning questions around your product, service, and industry.
And you don't necessarily need to create all new content either.
With the use of hashtags and its built-in sharing tools, repurposing or republishing your existing content on LinkedIn can help extend its reach to a new audience that may not visit your website.
After you hit publish, LinkedIn even gives you the option to share a post with it and send a notification via a personal message.
Do: Upload Native Video
Similar to publishing native articles, publishing native videos can give you a big boost in the LinkedIn newsfeed and in audience preference.
In 2017, LinkedIn introduced native video to the platform, allowing users to either record live video or upload a video and publish it to their newsfeed. You can simply click the video icon at the top of the page and add a video directly into your post.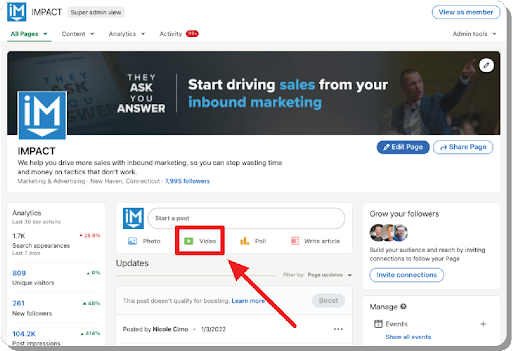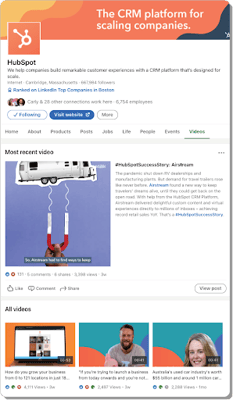 According to the platform, users spent three times more time watching videos than viewing status content on the platform, and videos were shared 20 times more.
And this is not surprising. With its use of audio and visuals, video delivers messages faster and in a more memorable way than static text.
When you feature members of your team, as HubSpot does, it can also help humanize your brand and further build trust with your audience.
Get started implementing the concepts of this guide with free tools and training inside IMPACT+.
For more hands-on help from the IMPACT team, book a free meeting with an IMPACT advisor.