YouTube is the second largest search engine in the world behind Google.
In fact, with video continuing to surge as a preferred form of content, YouTube is actually the second most-visited site on the web as a whole, again, behind only Google. This prominence alone should make the ears of all marketers perk up.
YouTube content creators publish 400 hours of video every minute, and users watch over 1 billion hours of YouTube videos every day.
Now, as a brand, I'm sure you're thinking it's difficult to justify using YouTube because you may be in an industry or offering a product or service that is niche or less flashy than others.
However, looking at the most popular types of videos on YouTube, I'd beg to differ. As a business, use YouTube to share videos viewers crave, such as:
Product reviews
Top or best-of lists
How-to tutorials
Q&As and interviews addressing popular purchasing questions
Case studies
And education overall
This will only help your brand and give you an increased chance of being found by consumers.
To illustrate, see what happens when I search "How to use HubSpot 2019" on Google. The first results were all YouTube videos being featured above the first text-based search result, which was from HubSpot themselves.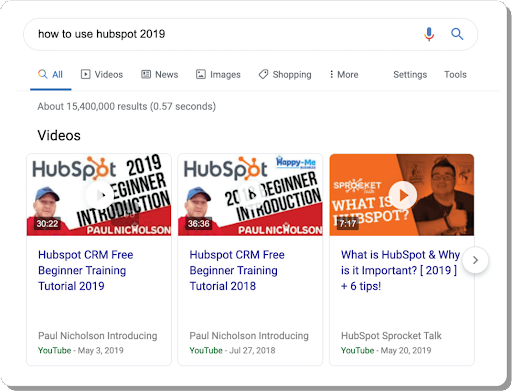 Who Should Be Marketing on YouTube?
Like Facebook, YouTube has a global presence across all demographics, so you'd be hard-pressed not to find your audience here.
Add in its strength in helping you get found in search engines (as a popular search engine itself) and low barriers to entry, it is a valuable platform for businesses of all sizes and industries.
With all that in mind, the main criteria for marketing on YouTube should truly come down to if you can produce high-quality video content on a regular basis that your audience seeks out.
In the rest of this chapter, we'll get more granular on what this entails.
Strategic Best Practices for Marketing on YouTube
Do: Incorporate "The Video 6"
It's not enough to grab user eyes on YouTube — you need to keep them.
Retention and engagement are major triggers for the platform to favor your videos in search results and recommendations, and a lot of this comes back to how your video is structured and edited.
IMPACT's Zach Basner summarizes the six most important elements that your videos must have to be more effective.
He calls these The Video 6:
The Teaser: An exciting pre-intro to grab the viewer's attention and let them know what to expect.
Logo Bumper: A design element that keeps your business's name and logo front and center throughout your video.
Introduction: A briefing at the start of your video talking about you, your subject, and the purpose of the video.
Segments: Digestible chapters of your video that make it easier for viewers to follow along and pace their progress through the video.
Call-to-action: Verbal and visual cues of what to do next.
Outro: A reiteration of your call-to-action and positive closing message to the viewer.
All of these pieces help create a familiar and easy-to-follow video structure that will keep your viewers engaged (so long as the content is valuable, of course) and help optimize your message delivery.
Do: Create Videos Around Education and Questions
As mentioned earlier, educational videos are some of the most popular and highly sought-after videos on YouTube, which makes it the perfect place to share videos answering your buyer's most pressing questions.
That doesn't, however, mean you should create a video just for the sake of creating a video.
Think about the query or topic and then consider whether a video is the best way to deliver an answer. Is it something your buyer would look for on YouTube? A good rule of thumb is to highlight topics that require or heavily benefit from visual guidance or instruction.
For example, if you are an insurance company, you may want to create a video on "how to file an insurance claim" that walks through the process. But "what should I look for in an insurance company?" is probably not a topic that makes sense for YouTube.
This video from Guitar Center on "How to Use a Guitar Pick" is a great example: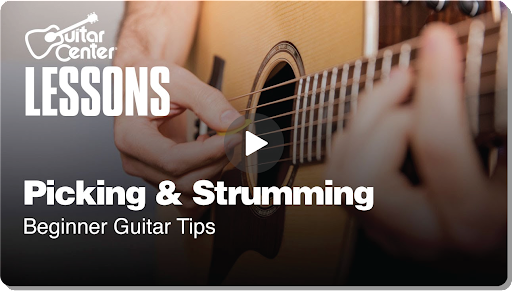 Get started implementing the concepts of this guide with free tools and training inside IMPACT+.
For more hands-on help from the IMPACT team, book a free meeting with an IMPACT advisor.