The 10 marketing KPIs you should be tracking (updated for 2021)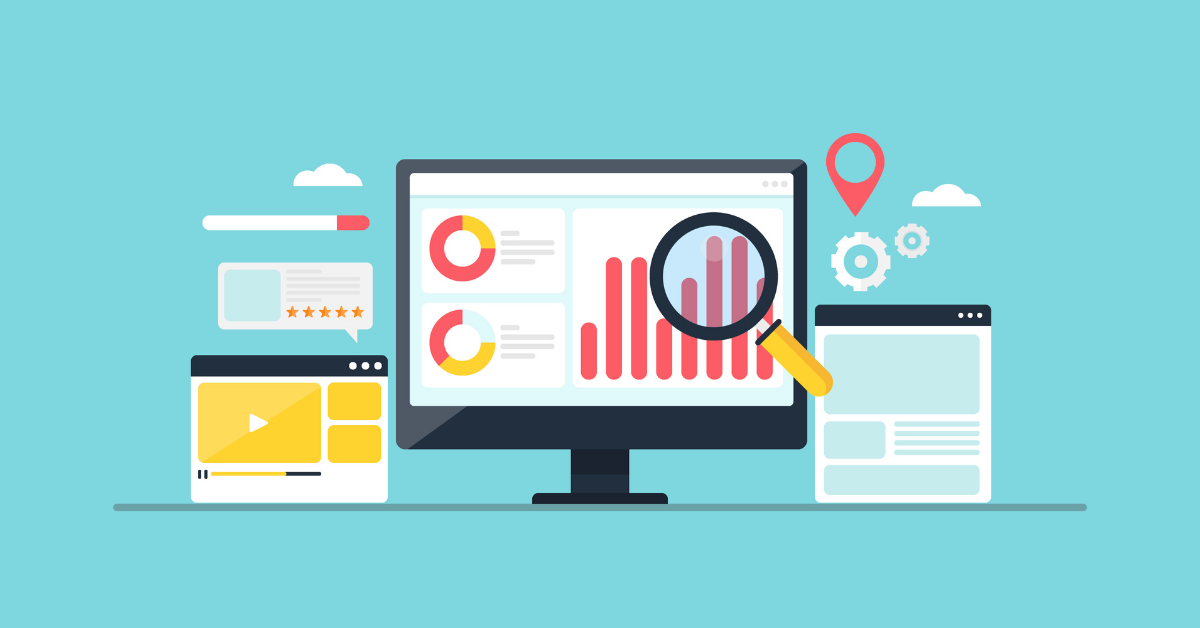 What are marketing KPIs?
Marketing KPIs (key performance indicators) are specific, numerical marketing metrics that organizations track in order to measure their progress towards a defined goal within your marketing channels.
When it comes to setting and tracking your marketing KPIs, many marketers and business owners give all their attention to the usual suspects:
But there are a number of other KPIs you should be tracking in order to execute a more successful digital marketing strategy — helping you to identify which campaigns and tactics are having the biggest impact so you can reach your sales and marketing goals.
No one wants to support a marketing activity that's losing their company money. By tracking the right marketing KPIs, your company will be able to make the right adjustments to various strategies and budgets.
Without the right ones, however, your company might be reporting and making decisions based on incomplete information.
The 10 most important marketing KPIs you should be tracking
Which marketing KPIs should you be tracking? Here are the 10 most important ones that, in our experience, matter most to marketers.
Marketing KPIs
Marketing revenue attribution
Customer acquisition cost (CAC)
Customer lifetime value (LTV)
Digital marketing ROI
Traffic-to-lead ratio (new contact rate)
Lead-to-customer ratio
Landing page conversion rates
Organic traffic and top 5 entry pages
Social media traffic (and conversion rates)
Mobile traffic, leads, and conversion rates
1. Marketing revenue attribution
How much revenue has your digital marketing campaigns brought to your company? How much of your revenue comes from your content marketing efforts?
Understanding how much revenue can be attributed to digital marketing is important in knowing how effective your campaigns are. No company wants to spend money on something that isn't generating a return.
This is something you can track and attribute to all of your marketing efforts, and not just as a whole. You can see how just blogging or social media, for example, impacted sales.
There are various models you can use to track revenue attribution; consisting of single-touch attribution models that look at your first or last interaction, or you can have multi-touch attribution models that divide deal credit over each touchpoint.
With marketing revenue attribution, you're looking beyond the number of leads you closed to how much of your revenue was influenced by your marketing efforts. Tracking this information is a great way for your team to show the value of its efforts.
If you're using HubSpot Enterprise, they've made it easy for you to track and report on those numbers.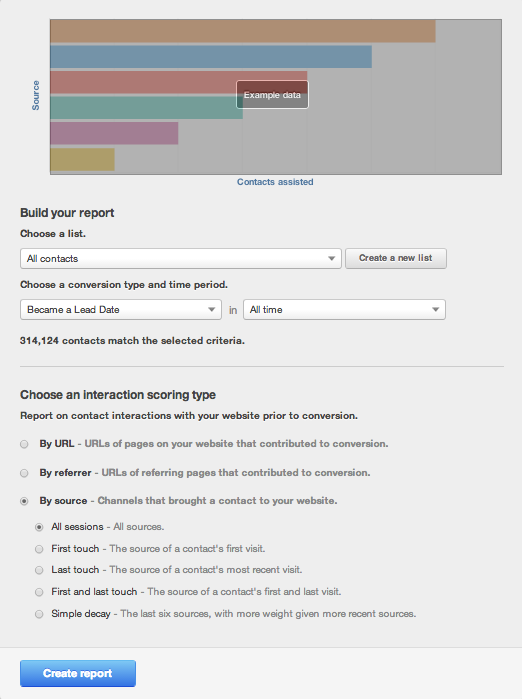 Image credit: HubSpot
This can be extremely important if your entire company helps create content marketing materials. It's a great way to show how their efforts have helped close a deal.
2. Customer acquisition cost (CAC)
Customer acquisition cost looks at the total sales and marketing spend needed to gain a new customer. This includes all program and marketing costs, salaries, commissions, technology, software, and any overhead associated with a lead becoming a customer.
Not only do you want to calculate your customer acquisition costs for digital marketing, but outbound marketing as well: How much is it costing you to acquire a customer through digital marketing versus outbound marketing?
When calculating this metric, you will also need to determine the time frame in which you're going to evaluate this cost (month, quarter, year).
Once you've narrowed down your time frame, use the examples below to help calculate your total sales and marketing costs associated with digital and outbound marketing.
Calculating CAC for digital marketing, relevant costs include:
Manpower (sales, creative, and technical)
General overhead
Calculating CAC for outbound marketing, relevant costs include:
Advertising
Marketing distribution
Manpower (sales and marketing)
General overhead
You can calculate your CAC from digital or outbound marketing by utilizing the following calculation.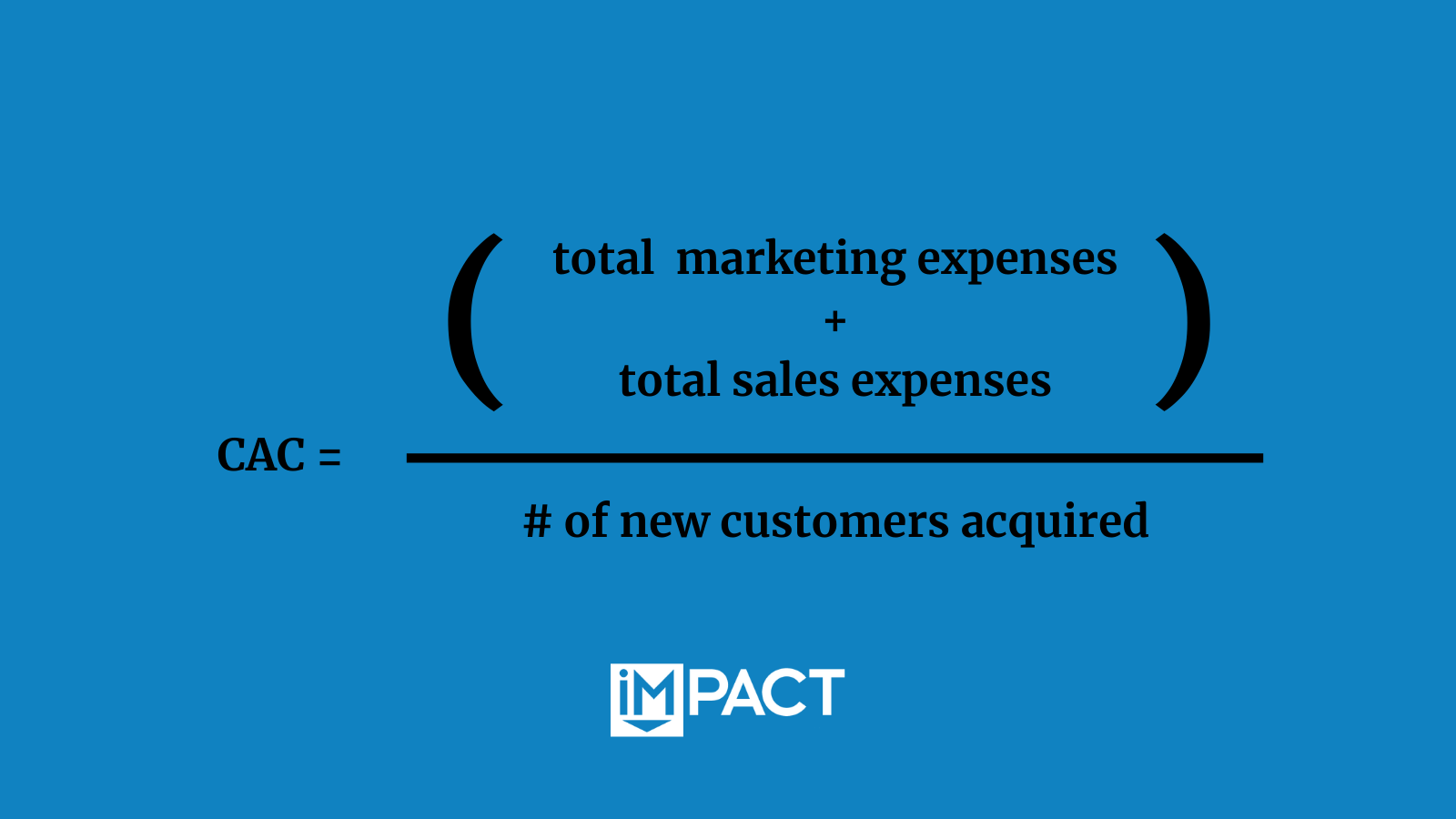 By calculating the costs associated with your digital and outbound marketing campaigns, you can directly account for new sales, as well as allocate particular budgets for each campaign.
If your company is utilizing mostly digital marketing, you can break down that component further by campaign types, then assess how successful and profitable each activity is. When you know that, you can start implementing activities to improve over time.
Some ways you can improve your customer acquisition costs is by spending a little more time on activities that can optimize your conversion rates. Make it easier for website visitors to convert to leads, which you can do by adding CTAs and links to relevant content throughout your website and blog. Make sure that the content is as clear as possible and conveys your ability to alleviate your prospective customers' pain points.
You should also check to see if your website is optimized on mobile. Something you might also want to consider is implementing a self selection and touchless buying experience.
3. Customer lifetime value (LTV)
Customer lifetime value looks at how much revenue a business can reasonably expect over the average lifespan from a single customer.
With digital marketing, there is no better way to measure customer value than to reach out to your current customers to see what they value and where you can improve. Not only can doing this help you keep up your relationship with your main points of contact, but it can also help reduce churn, keep your customers happy, and expand your customer's lifetime value.
You can determine the lifetime value of your customers by using the following calculation: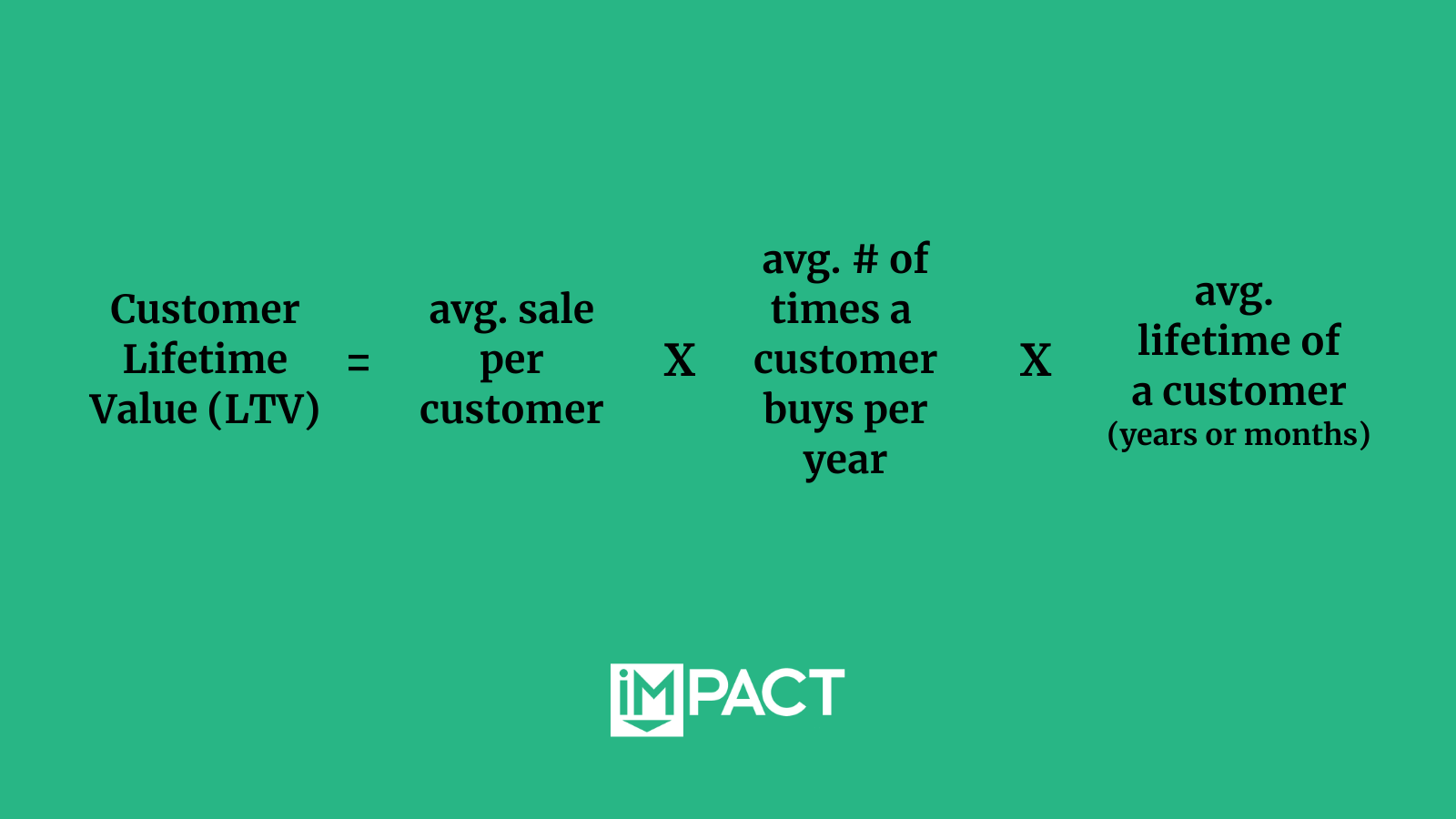 One way that you can increase the lifetime value of your customers is by developing lead nurturing campaigns that reach out to existing customers, providing you and your sales team the opportunity to inform existing customers about new services, products, and resources.
Automated messages can often feel impersonal. Consider getting to know your customers on a personal level, like you would a family member or friend. This type of messaging could be key coming from the CEO of your company.
Our CEO personally reaches out to a handful of clients every quarter to touch base with them. He uses this time to see how they're doing and understand any areas of improvement we might have — and to get their overall thoughts on working with us.
4. Digital marketing ROI
Every company wants to see a return on their investment.
Calculating your digital marketing return on investment is crucial in assessing your monthly and annual performance. Equally important is the ability to start planning strategies and budgets for upcoming planning periods.
You don't want to continue increasing your budget for a marketing activity that is costing your company. So, no matter what marketing activity your company is using, your return on investment will determine how you proceed in the future.
Use the formula below to calculate your digital marketing ROI: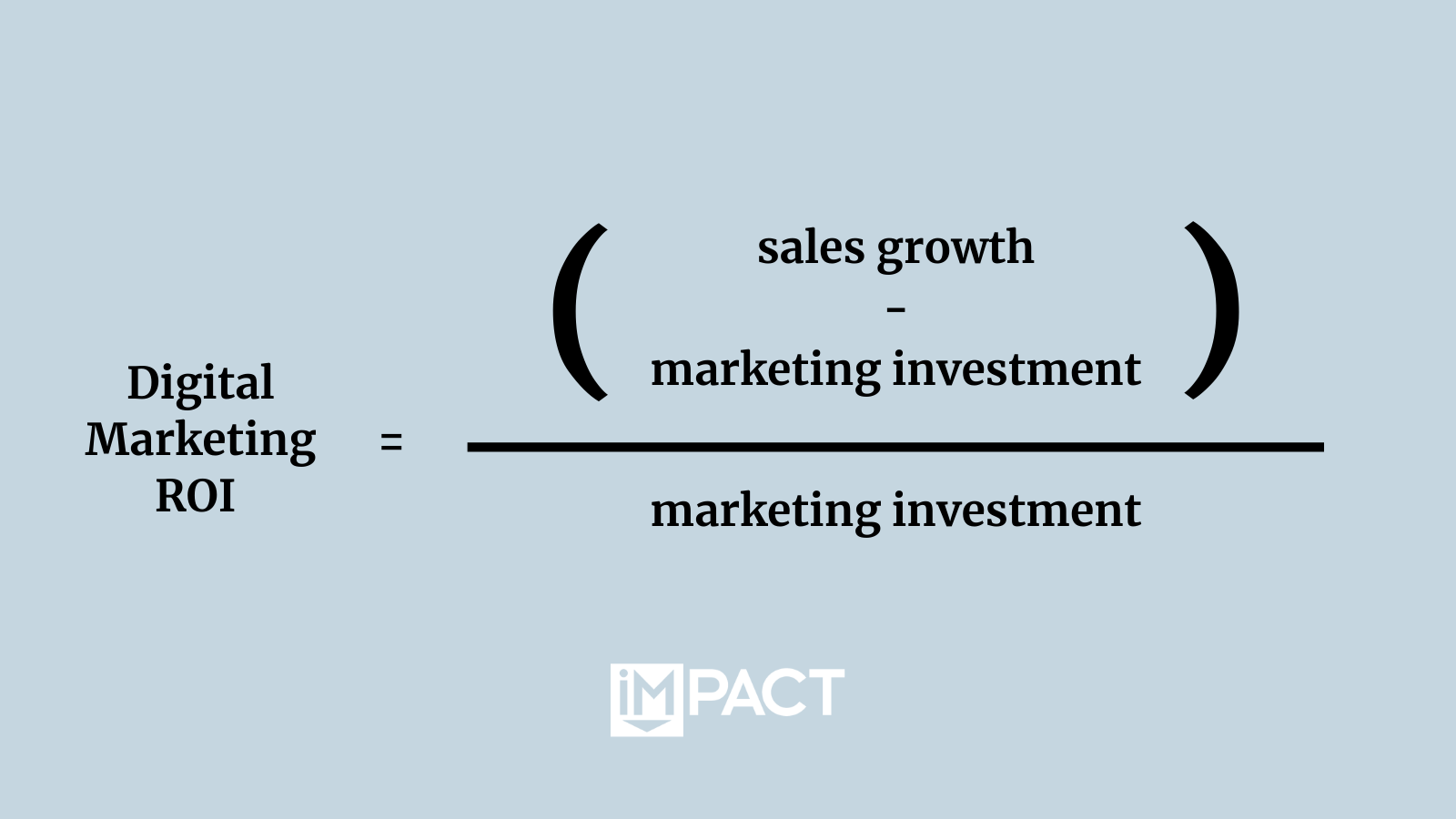 5. Traffic-to-lead ratio (new contact rate)
Understanding your website traffic, especially knowing where it is coming from, is extremely important — whether it's organic, direct, social media, or referrals.
If your traffic is steady or increasing, but your traffic-to-lead ratio is low or decreasing, that's a surefire sign that something is missing on-page. There could be a number of culprits, but the biggest is misalignment between what users thought they were clicking on and the information they were shown. You might also be showing them content they aren't yet qualified for, or you simply didn't answer their question, leaving them to find another resource that will.
Before optimizing your content, it's important to identify what pages have the highest bounce rate and the lowest view-to-contact rate. Arming yourself with this information will help you identify which pages you should optimize first.
Another tool you might want to consider adding to your marketing report are heatmaps, especially on your landing pages and high performing blog posts. Heatmap tools you can implement include Lucky Orange and HotJar. This information will be helpful in determining if viewers are actually scrolling all the way through your content. If not, consider adding additional CTAs throughout your content rather than only at the end. Or ask yourself, are you answering searchers' questions?
Regularly tracking your traffic to lead ratio can help determine when it might be time to change your website page copy, design, CTA, or even the attached form.
6. Lead-to-customer ratio
After all of your marketing efforts, it's important to know how many leads your sales team is able to close. You will want to calculate both your sales qualified lead conversion rate and sales accepted lead conversion rate.
What's the difference between the two?
Sales qualified leads (SQLs) are leads considered to be sales-ready based on their lead score or specific activities/triggers they completed. Most companies would consider a lead who filled out a form (such as "contact a rep") to be a lead who is ready to buy your service or product. For example, for a waste management company a lead who filled out the form "rent a dumpster" would be considered a sales qualified lead.
Sales accepted leads are simply leads your sales team considers opportunities and have either contacted the directly or scheduled a call.
Note: It's also possible for these two types of leads to overlap.
Looking at your lead-to-customer ratio for sales qualified and sales accepted leads, ask yourself the following questions:
Is my campaign capturing leads?
Is our CRM successfully passing qualified leads to sales at the right time?
Do we have a high close rate?
If the answer to any of these questions is no, meet with your sales team to determine what is missing and how you can work together to improve your numbers.
Here are a few questions to help encourage sales enablement and move the conversation along:
What does the sales process look like?
What qualities make a lead sales-qualified?
What are the most common objections leads have?
Another strategy for increasing your lead to customer ratio is utilizing assignment selling. The premise of assignment selling is to use content to educate prospects in an effort to help close deals faster. Your prospects should see your sales team as a valuable resource whether they decide to work with you or not.
Broaden your mindset and focus on being a resource for your leads and customers — and you will close more deals along the way.
7. Landing page conversion rates
So your landing page is live. It's beautiful and it follows all the best practices, but is it actually converting?
A landing page that doesn't generate leads is useless, no matter how much traffic it gets or how beautifully designed it is, so monitor your conversion rate.
Like your traffic to lead ratio, if your landing page is getting a lot of traffic but has a low conversion rate, this is a red flag that you need to change something on the page.
Try A/B testing some of the changes below to see which are delivering the highest conversion rate:
Change your CTA color
Convey more value in your CTA text
Make your written content more persuasive
Shorten your form
Add social proof (i.e. reviews, social counts, awards, etc.)
🔎 Related: Inbound lead generation and conversion optimization
8. Organic traffic and your top 5 entry pages
The goal of any business using digital marketing is to have the majority of its website traffic come from organic search.
High organic traffic means people are finding your website on their own.
It should come as no surprise that organic traffic is directly correlated to your SEO strategy, so make sure to monitor this number (along with your keywords) and refine your SEO strategy accordingly.
While each page should have a targeted keyword, you also want to make sure that your content and website pages are optimized and actually answering the question your prospects are asking.
Look at the top five landing pages and blog posts that are bringing visitors to your website. Those pages are the first experience visitors are going to have of your company and website. Not only should you know what those entry pages are, but you should be regularly making sure those pages are updated and optimized for conversions.
This is especially true if your website visitors could be landing on content that was published over a year ago.
You should be optimizing your content to not only generate leads but to also increase the number of pages your visitors and leads are reading. The more pages they're reading, the more educated they'll be, likely reducing the amount of time it will take sales to close a deal.
9. Social media traffic (and conversion rates)
Many clients are often wary about the importance of social media in their digital marketing. It's not always seen as an avenue for generating leads, or even a way your audience would be engaging with you. However, we've found that social media has proven invaluable to every campaign's success.
Social media platforms are great for educating your audience, generating buzz, and building awareness.
Metrics you can utilize to show the importance and impact of social media on your marketing efforts include:
Number of lead conversions generated via each social media channel
Number of customer conversions generated through each social media channel
Percentage of traffic associated with social media channels
You might not have time to effectively utilize every platform, including Twitter, Facebook, LinkedIn, Instagram, Pinterest, and TikTok, but breaking them down by the number of leads, customers, and percentage of traffic coming from each will help you determine where to focus your efforts.
While there are a number of social media KPIs you can be tracking, remember that the amount of engagement you're seeing on social media is a reflection of how well your content and brand resonates with your audience on that platform, as well as how much trust you've generated with them.
10. Mobile traffic, leads, and conversion rates
Is your website effectively optimized for mobile? With so many people browsing the web exclusively from their smartphones and other devices, and Google showing a preference for sites optimized for mobile, you need to know how your visitors are using their mobile devices to access your site.
Pay close attention to:
Mobile traffic
Number of lead conversions from mobile devices
Bounce rates from mobile devices
Conversion rates from mobile-optimized landing pages
Popular mobile devices
Understanding how and what your visitors are doing on your website on mobile will help you improve the experience, allowing you to optimize it to increase mobile conversions.
Want to learn more about growing your digital marketing?
These metrics aren't something you should check once and then never track again.
You should be tracking these on a weekly or monthly basis. Regularly tracking these numbers will arm you with the data you need to do your job better, ultimately allowing you to pivot when a marketing campaign isn't working.
You should make these metrics available to everyone on your sales and marketing team to give everyone insight into how well your sales and marketing efforts are going.
The overall goal of marketing is to acquire customers and increase company revenue. Tracking, reviewing, and improving those metrics can help your team accomplish that goal.
Use these metrics to have deeper conversations with your sales team, which in turn will help you identify any missing pieces in your digital marketing strategy.
Published on January 5, 2021