Expert Facebook Ads Tips for 2019, Our New Ultimate Guide to Video for Sales, & Real-Time Testing of Featured Snippets ...This is THE LATEST!
This is our cat, and her name is Pumpkin: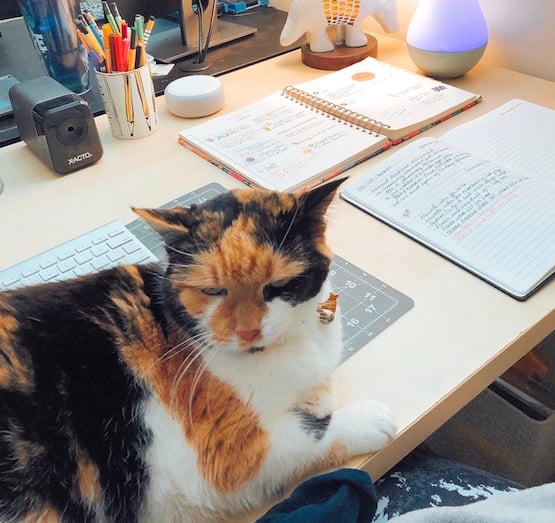 She loves long walks on the beach, being in the way, and looking disappointed.
Yesterday, while I was in a meeting -- and I was on video, of course -- she hopped up on my desk, sat down in front of me, stared at me quizzically, and then hit me in the face when I was mid-sentence.
No claws. Just a little fuzzy smack.
She then flicked a few pens off my desk before sauntering back toward the living room.
At first, I assumed she wanted attention. But as I thought about it, I realized the more likely explanation was that she's still upset that most marketers don't think of Facebook advertising as an equitable part of their marketing strategy. And I'm not doing enough to change that.
(Pumpkin is a sophisticated feline with a lot of opinions about paid social advertising.)
📊 Our Facebook Wizard Shares What You Need in Your 2019 Facebook Ads Strategy
IMPACT Facebook Strategist Ali Parmelee is basically a genius when it comes to paid advertising on the world's largest social networking platform. (One of her clients made 20% of their total earnings for December 2018 with a single Instagram story ad.) Because we all have so much to learn from Ali the Facebook Wizard, I interviewed her about what you need to know to craft an extraordinary Facebook ads strategy in 2019 that brings home the bacon -- and lots of it.
🎥 Learn How to Be a Sales Video Master with This Ungated, 134-Page Guide on Video for Sales
You've heard the success stories -- video helps sales teams close more deals faster, with more educated customers signing on the dotted line. But where do you even start? What tools and technology do you really need? How do you integrate video into your sales processes? And how do you make sure you're likable and comfortable on camera? IMPACT Client Success Specialist Myriah Anderson answers these questions and much, much more in her just-published Ultimate Guide to Video for Sales.
💡 You Can Now Test Featured Snippets in Real-Time with Google's Updated Rich Results Test Tool
Google made an update to its Rich Results Test tool that takes some of the guesswork out of how a featured snippet -- one of 2018's hottest SERP trends -- will perform on search engines. Thanks to this change, users can now edit the snippet code directly within the tool and see how those edits impact search results in real-time. Learn more about the Rich Results Tool and how this update gives marketers seeking front page SERP glory a huge advantage.
👀 ...When You're All Ears (& Eyes)
📅 Save the Date
How do you create brand loyalists out of your current customer base?

On Thursday, January 24, Will Harris of Real Thread will show you. During this interactive webinar, you'll learn how to retain your customers and what you need to do from first-touch to signed contract (and beyond) to transform those customers into lifelong brand loyalists.

Register for this webinar today.
IMPACT Client Success Specialist Myriah Anderson

will be a featured speaker for Sales Hacker's

Accelerating Sales with Video: Lessons Learned from Those Seeing Success

live web event on January 17.

Limited spots are available, so snag yours today.
Chicago HubSpot User Group: In Chicago? Ready to win at social media? Join the Chicago HUG on Wednesday, January 23, at 6 p.m. as Dan Gingiss, speaker and author of Winning at Social Customer Care, shares how to identify what will get shared on social media. Space is limited so register for the Chicago HUG today.
🔢 Weekly Number Crunching
I am still reeling from the depth of insights found in this year's State of UX in 2019 from UX Collective: "UX is not only about the times when people are using our products, but also about the times when they are not." This is more important than ever as, according to this curated report, 33% of divorced couples cited Facebook as a cause of the dissolution of their marriage.
I know that's a lot for a Saturday, but seriously, it's a mind-blowing read.
🤣 Weekend Nonsense
OK, let's lighten the mood, shall we? Here is a hamster living its best life, while eating a carrot: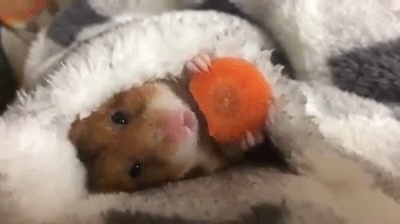 Tell me that this ridiculous fuzzball isn't the most relaxing thing you've seen all day. This hamster is officially my Saturday mood.
Until next week!