How to actually NOT work while attending conferences this year, why Digital Sales & Marketing World is no longer single-track, and the 10 best marketing events you need to attend in 2020 ...this is THE LATEST!

🔥 Hot off the presses




🎬 Are you ready to embrace the power of video to build brand awareness and close more deals faster? Learn how to expand your brand's reach, grow your business, and build trust faster with video on February 26 at 2 p.m. (Eastern) with Marcus Sheridan and Vidyard's Tyler Lessard.
In addition to a mutual commitment to our "relationship built on sarcasm and sass" (his words), IMPACT Content Marketing Trainer (and man about town) Connor DeLaney and I also share something else in common.
Both of our IMPACT careers began with Digital Sales & Marketing World as our first real introduction to the company... as well as several hundred of IMPACT's closest digital sales and marketing friends.
For Connor, his "unusual employee onboarding" story took the form of a 600-person icebreaker at our annual event last year, back when it was still called IMPACT Live.
For me, my initiation into IMPACT (and our event) was in 2017. I spent most of my time manning registration, smiling until my face hurt, and watching our incredible lineup of speakers from the balcony:
Oh, and I literally forgot who now-IMPACT CLO Chris Duprey was... three times during that week. Because I'm a gem of a lady.
It's funny to think about how much has changed since my first IMPACT Live experience. There's the selfish side of it, in that I wasn't a speaker in 2017; heck, I wasn't even speaking at all back then.
Now, I'll be speaking twice at DSMW this year — once during the content manager's track on April 6, and then I'll be an afternoon keynote on the last day.
Then (more importantly), there's the larger scope of how the event has evolved itself in two major and definitive ways:
Exciting, right?
On the one hand, I am so hyped to travel to Hartford for a third year in a row for another unique, inspiring, and exhausting experience.
On the other hand, we are only a little over a month away from the event. Our team is frantically filling out spreadsheets about travel arrangements, hotel roommates, and.... uh, I still have two talks I need to write and make slides for.
Which is fine. Totally fine. No big deal. I am on top of it, and I am in no way panicking.
Now, if you'll excuse me, I'm going to go breathe heavily into a brown paper bag for a little while. For no particular reason.
👉 "What are the best hacks and tricks for not getting stuck working while at a conference?" (7-minute read)
Whenever we go to conferences, we always act like we're being personally victimized when we're "forced" to work while we're there. In reality, however, we're lying to ourselves. So, today, I'm breaking the silence. Together, we're going to rip off the band-aid and have a real talk about how you can take control of your own marketing conference destiny. This article from yours truly will teach you how to prepare in advance for conferences, how to deal with clients who have boundary issues, and coworkers who never play by the rules, so you can be fully present at your next conference experience.
💬 You asked, we answered
👉 "Why is Digital Sales & Marketing World a multi-track event this year? I thought you were all-in on single-track..." (4-minute read)
What was once IMPACT Live has become Digital Sales & Marketing World — an engaging, two-and-a-half day educational event in Hartford just six weeks away. Beyond the change in name, the event has grown and expanded, now offering role-specific and industry-specific summits that will personalize the experience for each attendee, while still fostering alignment around core principles and best practices. But why is this significant? Well, in this illuminating interview, IMPACT's founder and CEO Bob Ruffolo explains the strategy behind making DSMW a multi-track event and how it will make the experience even more beneficial, transformational, and actionable for attendees.
💬 You asked, we answered
🔥

Psst! Early-bird pricing for Digital Sales & Marketing World expires on February 29.

Have you gotten your tickets yet

?
👉 "DSMW sounds great, but what are other great marketing conferences we should be looking at for this year?" (6-minute read)
When it comes to marketing conferences, IMPACT Director of Demand Generation Kristen Harold has done it all! She's been to conferences as an attendee, a sponsor, a speaker, exhibitor, and an employee. It's safe to say that over the years she's learned a thing or two about what makes for a great marketing conference and what to avoid. As a marketer, attending the right event is a great way to learn about the latest trends, get inspired and grow your network. To make your life easier, Kristen has put together this best-of-the-best, comprehensive list of the top 10 marketing conferences she's the most excited about for 2020 — and you should be, too!
💬 You asked, we answered
📅 Upcoming events
🎧

Latest shows and podcasts
⚡ One last thing
We've got one more big Digital Sales & Marketing World speaker announcement coming up...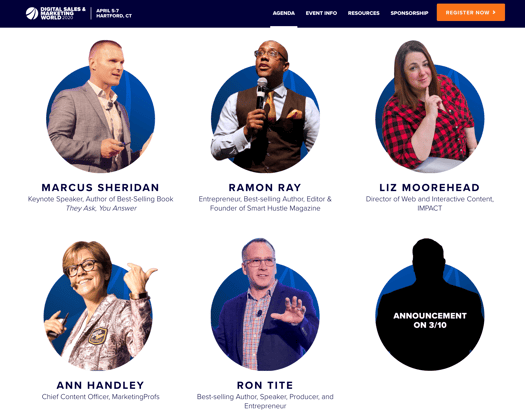 Later, nerds! 👋