How B2B businesses are going digital with coronavirus, coronavirus marketing strategy checklist for small businesses, and virtual selling in the age of coronavirus ...this is THE LATEST!
🔥 Hot off the presses




🏆 Digital Sales & Marketing Day — a virtual event that will empower you and your business to thrive during these uncertain times — is happening on April 6, 2020. Use code "LATEST39" to get your ticket for ONLY $39 — a $260 savings!
Breaking news: I'm a hypocrite.👇
With that unfortunate confession out of the way, I want to share three things that are getting me through this morning:
And with that, here's THE LATEST...
👉 "How are B2B businesses adapting their strategies in the wake of the coronavirus pandemic? What is digital's role?" (4-minute read)
As marketers, we've been conditioned to be prepared for any changes or disruptions that come our way. Being in such a fast-moving industry, we have no choice but to be proactive and embrace the pace. The unfortunate spread of the coronavirus is no exception, and marketers everywhere are starting to review their strategies in an effort to adapt and overcome. In this article from IMPACT Director of Operations Kaitlyn Petro, you'll see how many B2B businesses — the vast majority of which rely on trade shows and traditional marketing to grow — are adapting their strategies to go digital, in light of the coronavirus crisis, and what you can learn from them.
⚠️ "Our whole team is now working from home, and we are struggling — how do we keep our teams aligned, our business afloat, and thrive beyond this crisis?" (Here's how)
With recent events rapidly making the remote workplace a new standard, it's more important than ever to ensure your sales and marketing teams:

• Have the right tools to thrive in a digital sales space.
• Are aligned on what will quickly move leads to close.
• Are focused on what moves the needle, not vanity metrics.

IMPACT's proven methodology to succeed in a remote, digital environment was created during the 2008 recession and has helped thousands of businesses beat the competition — even the toughest economic times.
👉 "With coronavirus, what should our new marketing strategy checklist now include?" (5-minute read)
We were far from the only business hit with tough decisions to make over the past two weeks. In addition to live events postponing, cancelling, or going virtual, companies are faced with a multitude of questions, from how to set up their team for remote work to how to keep customers in unstable economic times. Other businesses have been forced to temporarily close or lay off employees. From a marketer's standpoint, everything we once knew has been turned on its side. How should marketers be handing all of this? In this comprehensive checklist, IMPACT Director of Demand Generation Kristen Harold covers everything you need to do as digital marketers — from email marketing and paid media, to your website and events — in the wake of coronavirus.
💬 You asked, we answered
👉 "With coronavirus, our sales team now needs to embrace virtual selling, but what questions should we be asking?" (6-minute read)
In the past two weeks, IMPACT's clients have reached out to us and shared fears, worries, and concerns about how they can transition to digital. And a large part of that is helping sales team transition to virtual selling and using video in their sales process. Luckily, since we love all things digital and have been operating as a remote culture for nearly five years, we've been able to help identify the mistakes and offer solutions to help our clients weather the storm. In this enlightening article from VP of Revenue Melanie Collins, she answers the top six questions we hear from clients and our audience about how to get started with virtual selling right away, so your sales team can weather the COVID-19 storm without missing a beat with prospects.
💬 You asked, we answered
🎧 Latest shows and podcasts
⚠️ Resources from our pals at Petra
Not only do we coach our own clients, we have our own coaches at IMPACT, as well — the incredible and inspiring team at Petra, whose sole goal is to help businesses and entrepreneurs thrive.
In response to coronavirus, Petra has put together this fantastic resource center for businesses trying to make it through these uncertain times, including webinars, articles, and other valuable insights.
🌶️ Hot topics in Elite
IMPACT Elite is our exclusive Facebook group for the brightest minds in digital sales and marketing, with almost 6,000 members. In response to the coronavirus crisis, there have been so many incredible conversations happening in this group.
Here's one that caught my eye:
😜 Weeklong nonsense
Usually, I hold all nonsense for the Saturday edition, but I think we could all use a laugh right now. So, until the world calms down, you're getting nonsense in every edition.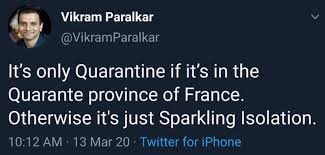 Talk to y'all this weekend!