5 mistakes you're making on camera, why digital marketing consultants are valuable, and the most common problems you'll face in your first 6 months with They Ask, You Answer ...this is THE LATEST!
🔥 Hot off the presses


🚨

Every other code for Virtual Selling Summit is for

$39.

But I like to be the best. Use the code LIZHASFRIENDS to get your VSS2020 ticket for ONLY $23. Why $23? Because it's my lucky number. So, there you go. An actual exclusive deal that only you are getting access to — because we're friends, and I like you better than anyone else.


Professional agitator and IMPACT Video Trainer Will Schultz dropped that little bomb on me not too long ago — and it's been bothering me.
When have I been so sure about something only to be proven wrong at work?
Oh my gosh. All. The. Freaking. Time. Here's the thing, though. I'm not bothered by the fact that I have to admit that "all the time" is the answer.
I'm actually totally fine with that.
For example, I resisted video for years, and (as many of us do) I swore up and down I would be terrible on camera. Yet I had a total blast filming recently. And while I'm still not a huge fan of watching myself on camera, the feedback I get from our video team is that I'm good at it. And that feels good. As it turns out, I was letting fear drive me away from something I now enjoy.
The reason why Will's question bothered me is that this pattern is not work-specific. (I do not have enough fingers or toes to count how many times I've been so fundamentally wrong about predictions and choices and people and goals in my life.)
Moreover, I do not view being wrong as a negative. Quite the opposite.
My biggest successes at work, my most captivating loves, my grandest adventures, my most rewarding lessons, my deepest cries, my most exhilarating thrills, my loudest laughs, my most treasured memories...
...almost all of them can be traced back to a moment where I had to say to myself some version of, "Wow, I was so utterly and categorically wrong about this one thing. I couldn't have been more wrong if I had tried."
I bet if you were to look back on your own life, you'd find the same thing, too.
To be wrong is to truly live. And I can't wait to be wrong again.
👉 "We're doing video marketing at our company, but what are the most common mistakes people make on camera?" (5-minute read
)
Almost nobody believes they are good on camera. Unless of course, you were to poll a group of actors or news anchors. Even our most seasoned video pros here at IMPACT sometimes have fears about their own performance in front of a camera. So, this begs the question, are we all actually terrible on camera, or are we just making a few simple mistakes that cause us to believe that? In this article from IMPACT Director of Inbound Training and Video Strategy breaks down the most common mistakes folks make on camera, why they happen, and how to easily fix them.
💬 You asked, we answered
👉 "We don't have a lot of money to spend, are digital marketing consultants really that valuable? They seem like a waste of our already tight budget..." (6-minute read)
For most business people, hiring a consultant is relatively expensive — especially if your frame of reference is the hourly rate of your employees, your own salary, and perhaps how much you pay to other vendors and suppliers. There's also the perception that it's more expensive to hire a consultant than to just do it yourself. Honestly, I thought that for years, too. But in this perception-altering piece from IMPACT Lead Digital Sales and Marketing Coach Chris Marr, explains why this is a flawed way of looking at consultants and what true digital marketing consulting can mean for your business — if it's the right path for you.
💬 You asked, we answered
👉 "What can go wrong in our first six months of embracing the They Ask, You Answer methodology of inbound?" (6-minute read)
They Ask, You Answer is a powerful approach to inbound. Thousands of companies around the world have embraced the philosophy of becoming the #1 teacher about what they do for their ideal buyers, and have seen astounding digital sales and marketing results from their effort and commitment to that philosophy. However, the road to success is not always without incident. In this super candid, experience-backed article from IMPACT Account Executive Marc Amigone, learn the six ways most businesses stumble out of the gate with They Ask, You Answer and how to avoid those pitfalls.
💬 You asked, we answered
💥 HubSpot Chief Customer Officer Yamini Rangan is keynoting at our Virtual Selling Summit on June 23. (See the full agenda!)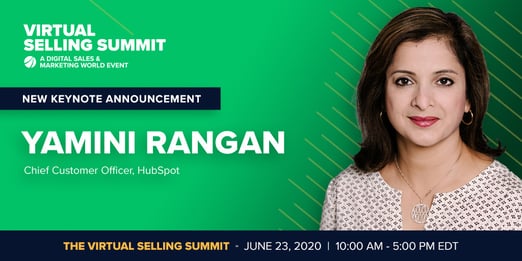 Learn more about the Virtual Selling Summit on June 23.
Use code LIZHASFRIENDS to get your ticket for $23!
🎧 Latest shows and podcasts
🌶️ Hot topics in Elite
IMPACT Elite is our exclusive Facebook group for the brightest minds in digital sales and marketing. Here's the discussion that's caught my eye:
📆 Marketing events you need to know
June 23: Join us for IMPACT's Virtual Selling Summit, an all-day virtual event you won't want to miss. USE CODE "LIZHASFRIENDS" TO GET YOUR TICKET FOR ONLY $23. That's right. No other code out there will make it that low. Just mine. Because we're friends.

❤️
🌊 Weeklong nonsense
With everything going on in the world, you now get nonsense in every single issue of THE LATEST...
Every time I see this, I go slowly insane. I refuse to suffer alone in this mental void. Now it's your problem, too.
Until we meet again!