11 business pricing page examples you'll want to copy ASAP, YouTube audio ads now in beta, and the 7 most common HubSpot lead scoring mistakes ...this is THE LATEST!
🗞️ Extra, extra! Read all about it!


🎉 ONLY ONE DAY OF Video Sales & Marketing World IS LEFT EVERYBODY! There is still time to get in on the action. Use promo code "DAYTWO" to get your one-day pass for only $29 — plus you'll have access to all of the day one content on-demand for 30 days in our events platform!
"Holy balloons!" 🎈 as my digital sales and marketing coach pal, Will Schultz, likes to say. I am going to sleep like a baby tonight. Why? Well, today was day one of Video Sales & Marketing World — and my brain is totally fried after an all-day explosion of intense learning and fun.
For instance, after having to keep everything under wraps, I was able to unveil my very first music video for IMPACT (in collaboration with my partner in crime, Alex Winter), as the opener to my talk: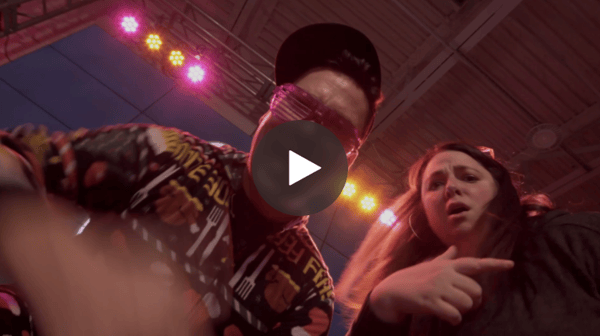 And the crowd seemed to dig it:
On top of that, I had a blast doing small-group networking (slash miniature virtual dance parties) in our virtual events platform...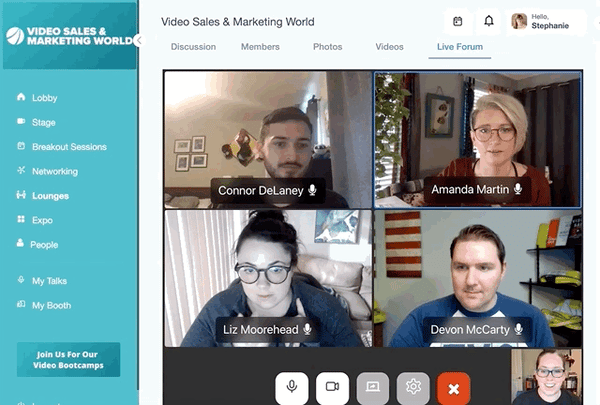 You know, when I don't have to change out of my gingerbread man pajama pants, networking with people is actually fun!
I also got to learn from video all-stars like Zach Basner, Marcus Sheridan, the team over at Design Pickle, and Vidyard mastermind and The Visual Sale co-author Tyler Lessard: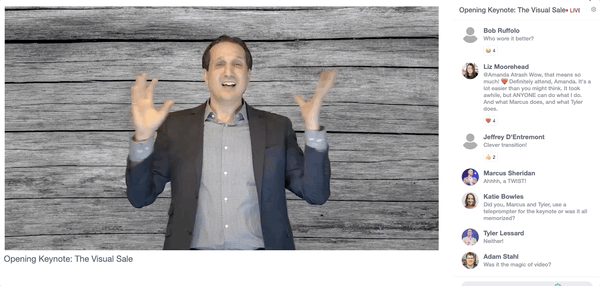 And the best part is I get to do it all over again tomorrow when day two of the #VSMW2020 kicks off at 9 a.m. Eastern! If you want to join in on the fun, you can still grab a one-day pass for VSMW for only $29 using code "DAYTWO," which will give you live access to tomorrow's festivities, as well as on-demand access for 30 days to the stuff you missed on day one.
I hope to see you there! But for now... I nap.😴
👉 What are the absolute best pricing page examples all businesses should look at? (8-minute read)
It doesn't matter how "complicated" you think your pricing is, your ideal buyers (no matter what your industry) have an expectation that they will be able to find pricing information about your products and services on your website without having to talk to someone. But what does a great pricing page look like? And how can you have a great pricing page if you have a product or service with variable or complex pricing factors? Learn the answers to those questions in this article from yours truly, in which I showcase 11 of my absolute favorite pricing pages from across all industry types.
📚 Related reads and resources:
👉 YouTube has rolled out audio ads in beta

(2-minute read)
With more people turning to online services as a result of the COVID-19 pandemic, there is an increase in competition for attention, and YouTube is finding new ways to help businesses cut through the noise to expand market reach. Recently, the video and music streaming giant released the beta version of YouTube audio ads, advertisements in an audio format that display a static image or simple animation instead of a video. And in this article from IMPACT Website Strategist Magdalena Day, get the full skinny on everything you need to know about YouTube audio ads and best practices.
📚 Related reads and resources:
👉

Here are the 7 most common HubSpot lead scoring mistakes digital marketers make (8-minute read)

Lead scoring was supposed to be the HubSpot feature that solved all of our digital sales and marketing problems. A simple system of checks and balances. Cold-hard math to help your marketing and sales teams focus their collective efforts on the most qualified business opportunities. If you've tried to implement lead scoring at your organization, you might have come across a very common problem:Setting up a lead scoring system that actually works is hard. Thankfully, IMPACT HubSpot Trainer Jess Palmeri is here to save the day with this myth-busting, tactics-driven article that covers the seven most common lead scoring mistakes you can make in HubSpot and how to fix them.

📚 Related reads and resources:
🎬 What's new on the Digital Sales & Marketing Channel
5 reasons why you're not hitting your sales goals (with me and Tupac)
We're releasing new educational content for digital marketers, business leaders, and sales pros every single week on our YouTube Channel. Don't miss out and subscribe to our channel today!
🗓️
Virtual events calendar
Stay up-to-date with our virtual events in 2021 by signing up today for our event updates! But for now, here's what we've got...
🌶️ Hot topics in Elite
IMPACT Elite is our exclusive Facebook group for the brightest minds in digital sales and marketing. Here's a recent discussion that caught my eye for those who work in non-profits:
😊 Weeklong nonsense
With everything going on in the world, you now get nonsense in every single issue of THE LATEST...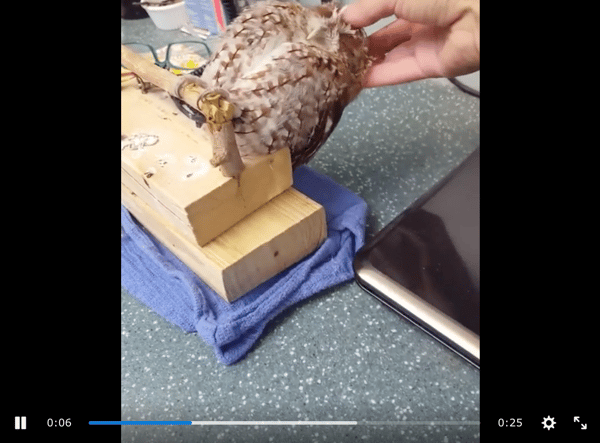 I understand this owl. And I appreciate its utter disregard for things like gravity and physics in its pursuit of comfort.