Game of Thrones Newsjacks, DigitalMarketer's Success with Freemium, & Lessons from CONEX Chicago...This Is THE LATEST!
Last Monday, I was sitting on the shore of a blue-watered Colombian beach overlooking the Caribbean Sea...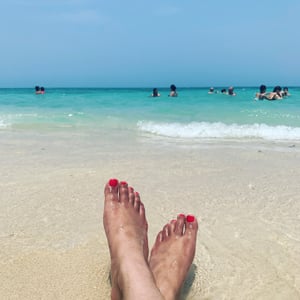 Those are my feet with a terrible strappy sandal tan.
Yet, today, I couldn't be more excited to be back home.
Why you ask?
Well, for one, I actually feel recharged. Fall of last year into 2019 was a very trying time for me both professionally and personally, and as I'm sure many of you have felt in the past, I was burnt out. I had edited a few too many articles and written a few too many emails.
But, last week, thanks greatly to my amazing team, I was able to unplug with no cell service and limited WiFi and actually hold myself to not checking my email or Slack (though admittedly I did sneak onto the homepage every once in a while...). It was glorious and I'm so grateful.
But that's not the only reason I'm happy to be back.
I'm excited to be home -- because Game of Thrones came back with me.
Yes, as I write this, I'm wearing a Khaleesi T-shirt and have a pack of special edition Oreos by my side: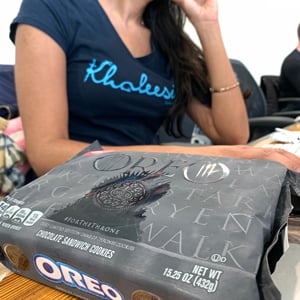 Didn't believe me, did you?
And I'm not the only one giving into the final season hype...
🐉
These X Brands Knew Just How to Capitalize on the Big Game of Thrones Premiere
Even if you're not a fan of the HBO series, it's impossible not to know that Game of Thrones is in its final season. The show is so popular, brands big and small across a wide variety of industries are using it to grab their audiences' attention with unique campaigns and products.
📈
This Is How DigitalMarketer Rebounded Its Conversion Rates Using Freemium
DigitalMarketer may be one of the biggest names in the industry, but that doesn't mean it's immune to dropping metrics or missed goals. In this episode of The Inbound Success Podcast, Kathleen sits down with the organization's VP of marketing, Justin Rondeau, as he details how a freemium model, form update, and remarketing campaign helped them bounce back from a nearly 86% drop in conversions.
🤐
Here Are 4 Secrets to an Intentional and Glorious Content Experience from CONEX Chicago
Last week, our Director of Audience Engagement & Community, Stephanie Baiocchi, attended CONEX Chicago, one stop on Uberflip's content experience (CONEX) tour of eight cities leading up to the main event in Toronto this August. While she went in hoping to catch up with some friends at other companies and looking forward to a talk or two, she walked away with four big lessons on how to transform the experience of your content as a brand.
👀 ... When You're All Ears (& Eyes)
🚨 Save Your Seat
🌎

IMPACTers On The Move
Catch Marcus Sheridan at Brightcove's PLAY 2019 in One Month! At this three-day conference (May 14-16 in Boston, MA), you will immerse yourself in what's new, what's next, and what matters in online video and have the chance to catch IMPACT partner, keynote speaker, and author, Marcus Sheridan live. Register for PLAY now.

Want someone from IMPACT to speak at your event? Click here!