Personalized Sales & Marketing Recommendations, Your Ultimate Guide to Google Ads, & Twitter Is Testing New Layouts ...This Is THE LATEST!
Greetings and salutations, ladies and gents! I have returned.
Over the course of the past two weeks, I bought a house (complete with a firepit!), stayed in a tiny cabin in the woods without my smartphone or internet access, and began setting up my new home office...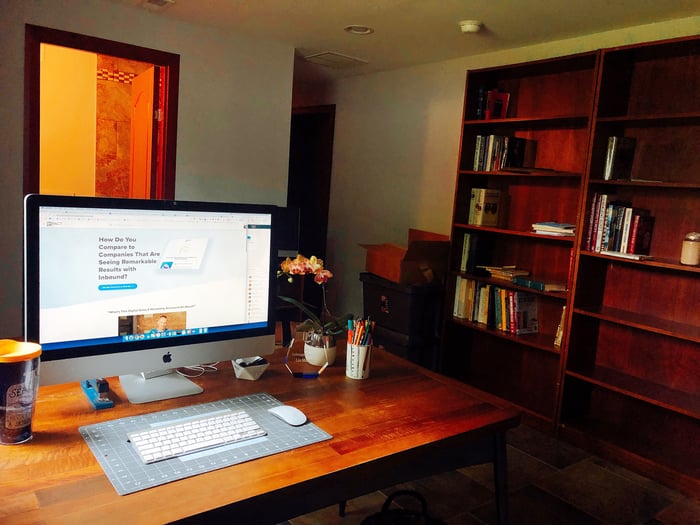 Admittedly, I still have several boxes of my beloved books to unpack, but overall, I am in love with my new working space (and my new desk). Also, this is kind of crazy, but my downstairs bathroom has a bluetooth speaker... in the ceiling.
Anyway! This week has been all about getting back in the saddle for me -- and I'm sure you know how it goes after vacation, right? You only have time to devote attention to the stuff that actually matters and will make a real difference in what you're working on right in this moment.
So, in this issue, I only included the most actionable and relevant content we've produced in the past week that will have an immediate impact on your digital marketing and sales programs.
🔥 Your Digital Sales & Marketing Scorecard Is Your Personalized Roadmap to Success with Inbound
After years of working with hundreds of companies around the world, we created the Digital Sales and Marketing Scorecard -- a series of 24 questions that assess the six core areas of your business -- to give all companies (like yours) a holistic, personalized roadmap of what you need to do to get the greatest bottom-line results with inbound.
Here's Marcus Sheridan to tell you more about the scorecard -- what it is, how it works, and what you can expect from it...
Ready to get started? Get your Digital Sales and Marketing Scorecard.
👉 JUST RELEASED: Our Definitive Guide to Google Ads for Digital Marketers (Ungated!)
You know what the Google Ads platform is super good at? Draining your marketing budget. You know what the Google Ads platform is not super good at? Making it clear how to maximize your investment with Google Ads, so you can get the most bang for your buck. That's why IMPACT Paid Media Coordinator Dan Baum and Paid Media Specialist Jason Linde -- our very own Google Ads dream team -- created this comprehensive 11,000-word guide to Google Ads, which includes tons of tactical insights and expert recommendations.
🚧
Twitter Is Experimenting with New Desktop Layouts Ahead of 2020 Redesign
There's a good chance that a few of you have been included in Twitter's low-key testing of new desktop homepage layout designs for its conversation-based social platform. What's interesting, however, is that the Twitter team appears to be testing multiple versions of different layouts, not just one. Get a sneak preview of the different Twitter layouts being tested in advance of their scheduled layout change slated for January of next year.
👀 ... When You're All Ears (& Eyes)
🚨 Save Your Seat
⏰ Throwback Thursday
It's a fact -- when video is used at different stages in the sales process, it shortens the sales cycle. But how do you actually implement video in a way that isn't a time-suck for your sales teams, so you can reap the rewards of closing more deals faster?
Last year, IMPACT Client Success Specialist Myriah Anderson created the ultimate guide to video for sales teams, and it covers everything...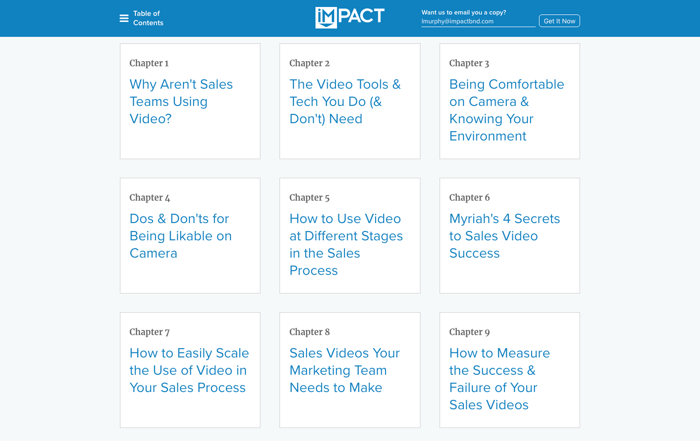 This obscenely bookmark-worthy resource includes loads of visuals, examples, tactics, sample sales processes, and guidance -- to the point where you can immediately start using video in your sales process.
So, what are you waiting for? Learn how to get your sales team using video right now.
Later, squares!