How poor UX exacerbated a tragic loss, you may never have heard of Jumpshot (but its shutdown is a big deal), and the 6 best SEO news sites you need to bookmark ...this is THE LATEST!

🔥 Hot off the presses




🎬 Video is a win for both sales and marketing — but how do you actually start generating demand for your company with video? What are the most impactful videos you should be creating right now, and how do you create an in-house culture of video without blowing your budget? Join Marcus Sheridan and Vidyard's Tyler Lessard on February 26 for a free webinar that will show you how to generate more leads and sales with video.
Does anyone else ever have the irresistible urge to put on a tightly-cinched Burberry trench coat and bright red lipstick, and then initiate a hostile corporate takeover whenever they hear the theme song to HBO's Succession?
No? Just me? OK, then.
Anyway, I don't want to belabor today's introduction to THE LATEST, because the first featured article is something I'm exceptionally proud of — not because I wrote it; I am not the author. And I want to preface it by sharing what I wrote in the editor's note you'll find at the top of it:
As the content director for IMPACT, I am proud of how we go out of our way to encourage radically honest and vulnerable storytelling from our contributors — both internal and external — as a means to humanize some of today's most pressing digital sales and marketing challenges for our audience.

This pieceis no exception to that, and we are humbled that one of our very own was willing to tell such a raw and personal story that we can all learn from. That being said, due to the sensitive nature of the contextualized subject matter discussed, we want to acknowledge that what follows may be difficult for some to read.

Should you have any questions, concerns, or feedback on this piece, please do not hesitate to contact me directly atlmoorehead@impactplus.com.

The voices of our readers are just as important as the voices of our own, and my door is always open to you all.
And now, here's THE LATEST...
👉 "How did poor UX exacerbate the tragic loss experienced by an IMPACTer, and what can we learn from it?" (12-minute read)
IMPACT Director of Client Success Dia Vavruska was hundreds of miles away from home when she found out she was pregnant. Although she and her husband, Mike, were excited, they listened to friends who said not to share the news until they were through the first trimester. Then, at their 12-week appointment, their world came to a screeching halt. They had lost their baby. As Dia put it, "My pregnancy was over and my world was shattered." Unfortunately, her pain did not end there. In this raw, emotional, and educational piece that is a must-read for every digital marketer, Dia explains how poor UX across multiple sites took what was already a tragic event and made it so much worse.
💬 You asked, we answered
🔥 "How do we get started with inbound right now, without having to commit to an agency that may not be the right fit for us in the long run?" (find out)
You're looking for an inbound marketing agency to help bring your business to another level. All too often, however, the sales process goes too fast. And it doesn't take long for you to realize your agency partner never made enough time to get to know your business or its true challenges in the first place, so as to help you achieve your most aggressive growth goals with inbound marketing.
Don't get stuck in a long-term contract and then find out what your business really needs to be successful with inbound in the long-run. With IMPACT's Fast Start Program, you can get your inbound marketing on the right path fast, while truly getting to know us as your agency partner, risk-free.
👉 "We've never heard of Jumpshot, so why does every digital marketer need to know about what happened?" (3-minute read)
You haven't heard of Jumpshot but, last week, it was shutdown amid controversy surrounding user data privacy and allegations of selling user information. This is a big deal because Jumpshot supplied invaluable click and buyer journey data many of you have likely accessed through tools like Moz, SEMrush, and more — and folks like Sparktoro co-founder and Moz founder Rand Fishkin (who called the move "wrong") are not happy. In this article from IMPACT VP of Marketing Vin Gaeta, you'll learn everything you need to know about the Jumpshot shutdown (including expert analysis), and what the future looks like for digital marketers without one of the most powerful sources of how people truly use the web.
💬 You asked, we answered
👉 "I don't have time to browse 18 different websites; what are the top SEO news sites I need to be reading?" (2-minute read)
How do I stay up-to-date on the latest Google, Bing, and Yahoo! slight against me and my fellow marketers? Well, in addition bugging IMPACT technical SEO partner and Narrative SEO founder) Franco Valentino, there are a handful of specific websites I have bookmarked in my Feedly account, so I am never out of the loop on SEO news. So, let's keep this simple, shall we? Here are the six best SEO news sites you need to have bookmarked, so you are the first to know the next time Google tries to make your life harder with a new update.
💬 You asked, we answered
📅 Upcoming events
🎧

Latest shows and podcasts
👋 Work for IMPACT
Wouldn't you love to call me a teammate? Well, here's your chance. We're currently accepting applications for:
🔎 One last thing
Did you miss last week's big announcement? We unveiled the agenda for Digital Sales & Marketing World 2020, and it's pretty spectacular: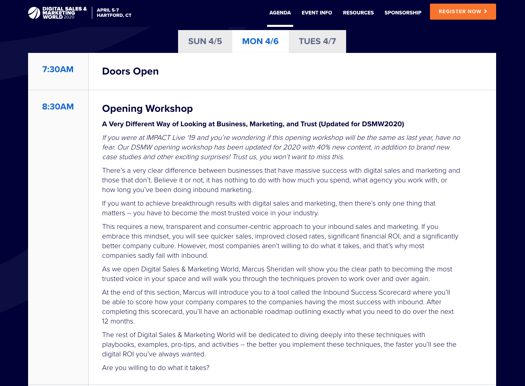 Ta-ta for now!