How to Not Work at Marketing Conferences, INBOUND vs. IMPACT Live, & Hacks for Making Conferences More Affordable... This Is THE LATEST!
This photo was taken last August, one day after IMPACT Live 2018: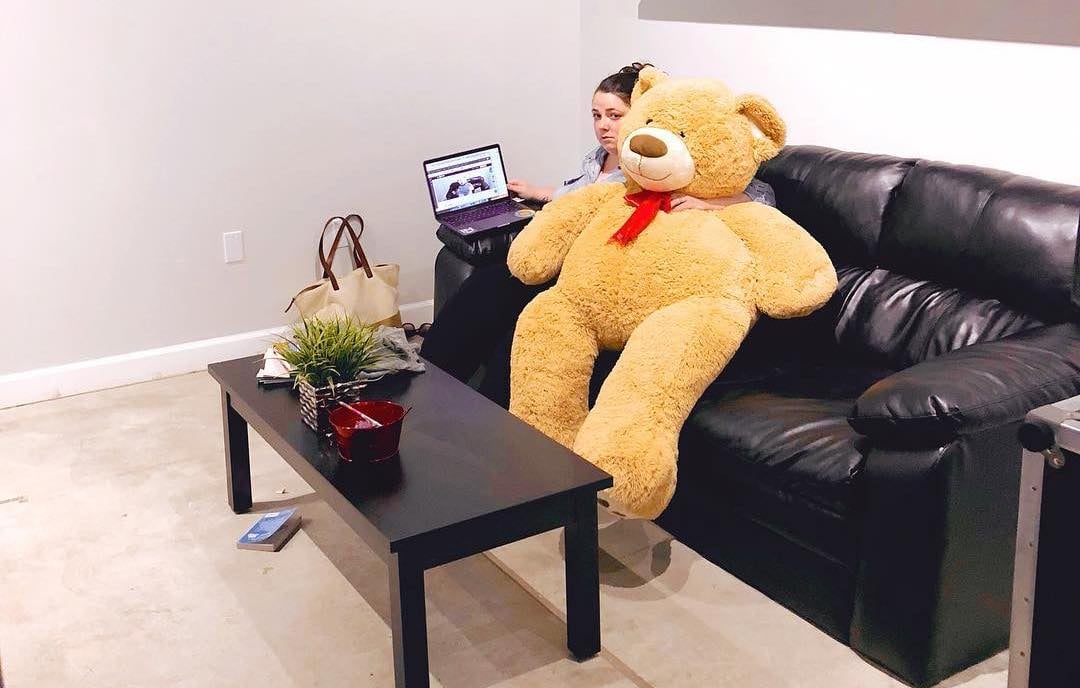 That's me. A 35-year-old woman. Using a teddy bear of unusual size as a fuzzy bodyguard, shielding me from responsibility and all forms of human interaction.
I'm sharing this because, yesterday morning, I woke up to not one, not two, not three, not four, but five (five!) emails about different marketing conferences taking place in 2019. "Call for speakers is now open! Early bird pricing expires soon! We've announced a new keynote! Thank you to our new sponsor, Quackers, the only gluten-free cracker for ducks!"
Part of me wants to cry, "It's only January!"
But the professional digital marketer part of me -- the part that isn't a total wuss -- understands that making the most of the 2019 marketing conference season without going completely insane requires planning.
So, gather 'round, ladies, gents, and water fowl. I'm hijacking my issue of THE LATEST this week to arm you with the tough love, tactics, and tips you need to be a marketing conference pro.
💯 Working at
Marketing Conferences Is a Problem We Pretend We Can't Solve -- But We 100% Can
The only thing standing between you and remarkable, career-shaping, life-changing marketing conference experiences where you get to learn and explore and network and get inspired is you. I wish I could say I didn't learn this the hard way, but I totally did. Multiple times. Because why learn something once when you can learn it three times, right? Sigh. Anyway, in this article, I share my advice -- based on years of experience -- on how to make sure you don't end up working through your next marketing conference.
🎟
INBOUND vs. IMPACT Live: Is There Room for Both in Your 2019 Conference Calendar?
IMPACT Director of Audience Engagement and Community Stephanie Baiocchi has been a loyal attendee of both HubSpot's INBOUND conference and IMPACT Live for years. That's because she loves both events -- but they're also both very, very different. Even though she's an IMPACTer now, Stephanie provides a candid assessment of where each event excels (and falls short), and what marketers need to consider before making their final choice between IMPACT Live or INBOUND.
💰 Our Favorite Hacks
for Making 2019 Marketing Conferences Much More Affordable
I love going to conferences. But between the cost of admission, hotel, travel arrangements, food, new outfits, and around one and five cups of coffee per day, marketing conferences are murder on the company wallet. IMPACT Talent Manager Carolyn Edgecomb to the rescue! Here's a list of her favorite, tried-and-true hacks, tips, and tricks for making marketing conferences more affordable.
👀 ... When You're All Ears (& Eyes)
⏳ Throwback Thursday
Marketing conferences are awesome. But I also find them to be completely draining. So, I wrote 7 Brutally Honest Marketing Conference Survival Tips last year.
This article is for those who are tired of hearing about the importance networking at conferences for the 1,000th time and instead want to know what you really need to do to not lose your mind at INBOUND, IMPACT Live, or any other conference.
📅 Save the Date
TODAY: How do you create brand loyalists out of your current customer base?

Later today, January 24

, Will Harris of Real Thread will show you in this interactive webinar. You'll learn how to retain your customers and what you need to do from first-touch to signed contract (and beyond) to transform those customers into lifelong brand loyalists.

Register for this webinar today.
What's your favorite tip for making the most of a marketing conference experience without totally burning out?
I'm asking for a friend. And by friend, I mean me. 👀
(Also, don't forget -- use the code LATEST50 to get $50 off your ticket to IMPACT Live before January 31!)