2020's best marketing events, real-life assignment selling examples, and how B2B sales managers should prep for next year ...this is THE LATEST!
🔥 Jump right into the good stuff




💥 Guarantee better results in 2020. Get on the path to inbound success fast, without a long-term commitment with IMPACT's brand new, six-week Fast Start Program.
So, in the last issue of THE LATEST, I shared that we were going to be unveiling one of our amazing keynote speakers for Digital Sales & Marketing World 2020...
If you missed the announcement, don't panic — I've got you covered.
That's right, y'all. Vidyard VP of Marketing Tyler Lessard will be back again this year and rocking the main stage at DSMW2020!
Also joining him as one of our spotlight speakers, crowd favorite IMPACT Director of Inbound Training and Video Strategy Zach Basner: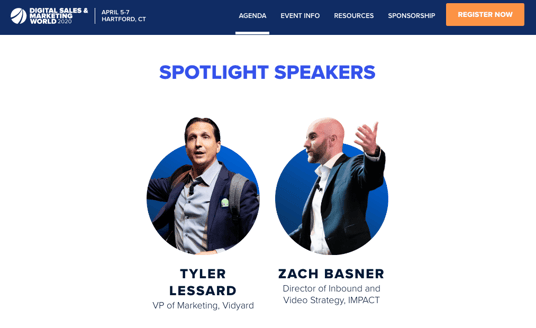 You may remember Zach from such timeless classics as:
Don't forget to follow DSMW on Twitter, Facebook, and Instagram, because we still have more exciting announcements and speaker reveals coming your way...

...but until then, now is the time to get your tickets for DSMW2020: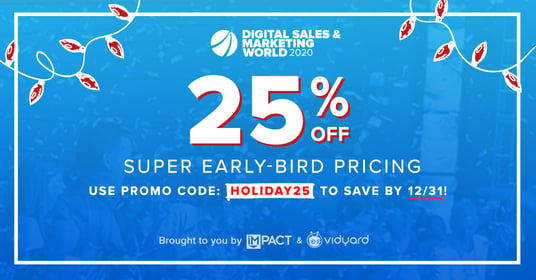 Now is the time to give yourself (and your team) the gift of alignment, growth, and true business transformation, because this is the lowest price tickets for Digital Sales & Marketing World will ever be. Really.
OK, time for me to get back to staring at the Secret Santa gift that has been taunting me from its innocuous little spot in the corner of my office ALL WEEK LONG. Whatever this mysterious gift is, it's packaged in a three-foot tube, it's not heavy — but it's not lightweight either — and it says "Store Upright" at the top.
It's driving me crazy. What could it be?!
Anyway, here's THE LATEST...
👉 Here are the 8 best marketing events you need to check out next year (5-minute read)
Whether you're looking for the latest digital sales and marketing strategies to increase website traffic, leads, and sales with marketing, or you simply want to grow your network, marketing events are a great way to build your career and learn how to get better results for your company. In this article from IMPACT Director of Demand Generation Kristen Harold, get the skinny on the eight marketing events that are worth your investment to attend in 2020.
💬 You asked, we answered
👉 5 real-life examples of assignment selling in action that every sales rep and marketer must see (10-minute read)
The theory behind assignment selling posits that the more educated the prospect, the faster the sales process, and the higher the close rate. But how do salespeople know the right content to assign? How much "homework" is too much? What's the proper timeline? In this article from IMPACT partner and Director of Client Success Tom DiScipio, you'll get an inside look at how and why we use assignment selling at IMPACT during various stages of the sales process, and what we do when problems arise.
💬 You asked, we answered
🏆 Get on the path to inbound success fast, without the long-term commitment (learn more)
You're looking for an inbound marketing agency to help bring your business to another level. All too often, however, the sales process goes too fast. And it doesn't take long for you to realize your agency partner never made enough time to get to know your business or its true challenges in the first place, so as to help you achieve your most aggressive growth goals with inbound marketing.
Don't get stuck in a long-term contract and then find out what your business really needs to be successful with inbound in the long-run. With IMPACT's Fast Start Program, you can get your inbound marketing on the right path fast, while truly getting to know us as your agency partner, risk-free.
👉 Finally, there are 4 things every B2B sales manager should assess at the end of this year (6-minute read)
Great B2B sales managers must calmly face chaos, enthusiastically embrace change, and always adjust to whatever tough challenges lie ahead. But what should you be looking at as the year comes to a close? How can you use this information to improve your efforts for next year? In this super insightful read from one of our favorite contributors, Steve Bookbinder of DM Training, you'll learn about the four mission-critical areas every B2B sales manager must review in order to best prepare for the year to come.
💬 You asked, we answered
🎧 Latest shows and podcasts
⏰ Throwback Thursday
Writing a blog post introduction is probably one of the worst parts of content creation. Yes, even though I eat, sleep, drink, dream, and breathe creating content, even I am not immune to that feeling of complete and utter defeat when I don't know how to write a catchy opener that succinctly explains what I'm going to talk about in a way that engages the right audience and gets them excited to read more.
If this sounds like you, listen to this recent episode of Content Lab, during which I share my six fail-proof formulas for writing blog post introductions. If you're more of a reader, however, you can also find all of them (along with my blog conclusion formulas) in my definitive blogging tips guide.
🤕 One last thing
I don't want to laugh too hard, because I might slip a disc...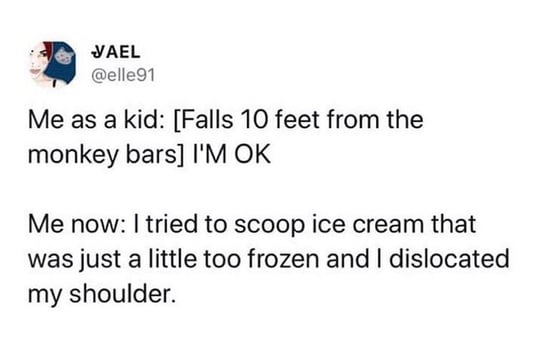 Until we meet again! 💋