How to serve clients through COVID-19, why agency relationships fail (and how to keep yours healthy), and the difference between 80% videos vs. product and service videos ...this Is THE LATEST!
🔥 Hot off the presses




👋 Face-to-face sales conversations are a thing of the past — at least for the foreseeable future. Empower your sales team to start crushing their revenue goals right now in this new virtual world with IMPACT's video for sales training service. Your sales reps (and your bottom line) will thank you.
One of the things I love most about IMPACT is how seriously we take relationships. That not only includes the relationships we foster with our clients — even when times are tough — but also with each other.
In fact, since we last spoke on Thursday, I've been thinking a lot about relationships.
More specifically, these uncommon, cray, taxing, 12 monkeys-like times have thrown how we are all treating each other and coming together — as individuals and as communities — into my little mental spotlight.
For example, let's take a gander across the pond to one of my favorite places in the entire world, the country of Belgium:
Oh, Brugge, Belgium. Swoon. You're the Venice of the North...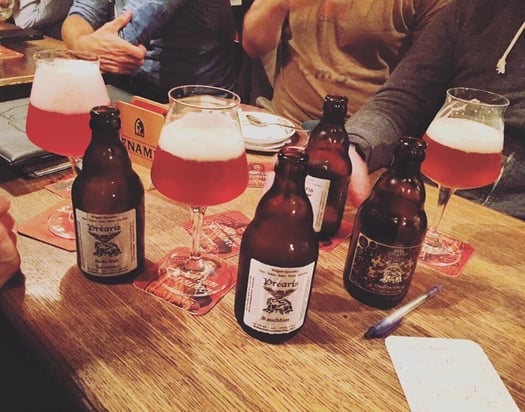 ...and you have some of the best beer on the planet. You're simply the best. 💋
One of the things Belgium is most famous for is its frites. (And for good reason; they are freaking delicious.) But the coronavirus pandemic has forced the closure of most frites stands and restaurants, meaning the country's potato industry is in a bit of a panic.
Now Belgapom — the country's perfectly named trade association for potato farmers and processors — is urging all Belgians to pull together as one and fulfill their "national duty" by consuming more frites. For the good of Belgium and their fellow potato-dependent countrymen (and women).
Wild, right?
I just love this news story. Because whether you're talking about potatoes or people (or both), every relationship we have right now matters. So, don't forget to take care of each other.
Anyway, without further ado, here is THE LATEST...
👉 "Coronavirus is making it so much harder for us to be there for our customers and clients — what should we do?" (5-minute read
)
The coronavirus pandemic has not only impacted how we attract new customers, it's also thrown a monkey wrench into many of the ways in which we do business with the clients we already have. So, how can you continue to serve your customers and clients well when every day brings new uncertainty and challenges? How can you steward your relationships through unfamiliar terrain? In this insightful, tactics-full interview with IMPACT VP of Client Services Tom DiScipio, he offers his thoughts on the unique challenges facing all businesses right now, and what you can do in this moment to continue to bring value to your clients and customers.
💬 You asked, we answered
👉 "What exactly do we need to do to make sure the relationship with our agency is healthy and gets us the results we want?" (7-minute read)
Even though there are loads of books and articles on the subject, IMPACT Content Marketing Trainer Brian Casey hasn't seen anything written that clearly defines what a good two-way agency client-consultant relationship looks like. Most of what's out there touts the benefits of "great communication" and "trust," as if those are the earth-shattering ideas that will form a great partnership. That's why Brian wrote this outstanding, completely candid article, which outlines the core set of principles that will help you have healthier relationships with your marketing agency consultants, with tips on how to side-step the most common challenges you've likely encountered in the past.
💬 You asked, we answered
🚨 Have you updated your website to address COVID-19?
Have you updated your website to address the coronavirus pandemic with your audience? If not, your customers might be missing vital information they need from you right now.
We're offering free 30-minute homepage optimization consultation calls which will provide you with actionable takeaways that you can implement on your own or with your current agency — or you can see how we can help. Claim your free call now because, frankly, we can only do so many.
👉 "We know we need both video types, but can you please explain the difference between 80% videos and product and services videos? We don't get it." (4-minute read)
The Selling 7 is a set of seven digital sales and marketing videos that are guaranteed to drive the most traffic, leads, and (most of all!) sales for your company. Two of those videos are the 80% video and the product and service video. While the two are similar, they are quite different. But how do you know which type of video you need and when? In fact, what are the real differences between those two video types anyway? In this awesome article (with examples), IMPACT Director of Inbound Training and Video Strategy Zach Basner explains the critical differences between those two video types, when you should be using each of them in your video strategy, and the best practices you need to keep in mind.
💬 You asked, we answered
🎧

Latest shows and podcasts
🌶️ Hot topics in Elite
IMPACT Elite is our exclusive Facebook group for the brightest minds in digital sales and marketing. Here's the discussion that's caught my eye:
📆 Marketing events you need to know
😒 Weeklong nonsense
With everything going on in the world, you now get nonsense in every single issue of THE LATEST...
Your words wound me, Kristen. They wound me.
Talk to y'all on Thursday! 😘