Four Fantastic Brochure Layout and Design Ideas
Andy Scherer also recommends this free website performance assessment.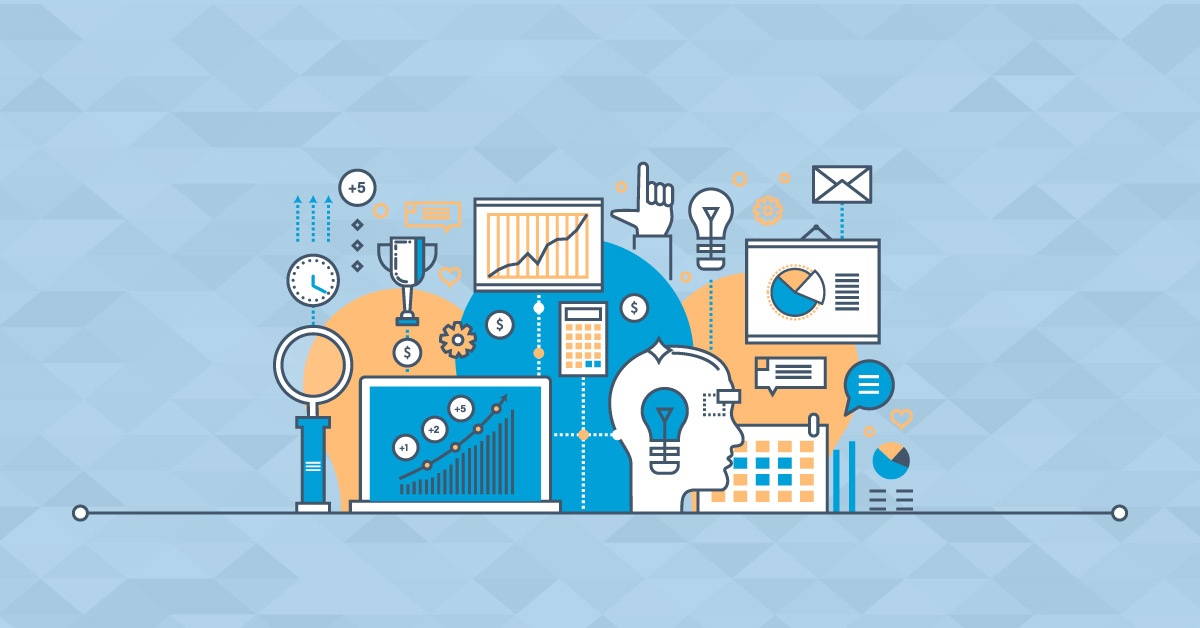 Internal and external marketing, like the relentless winters are to the Northeast, are an inevitable piece of each and every company. No matter the medium you choose to utilize, there are always techniques and strategies to help you take the next step to business success. In fact, today we will

Free Assessment: Website Performance Assessment

take a look at four different ways that you can design and/or layout your brochure to stay one (or two) steps ahead of your competition.
Classic Design -- Let's kick our discussion off with the classic brochure design. Not surprisingly, this layout receives the highest percentage of use as it is extraordinarily safe with clean and crisp lines as well as the frequent implementation of the logo. These brochure place information throughout the cover (front and back) as well as the content pages. Overall, this is a straight information with no-nonsense feel and is a great fit for companies looking to publish a lot of information as efficiently as possible.
Posterized Design -- The second most utilized brochure design currently throughout corporate society is the poster layout. While significantly more visual than the classic layout, this brochure design has the potential to hinder as space for quality content is limited. Based on your ability to create effective and substantial imagery, the image used on the cover should descriptively summarize the information inside the brochure. Should you be creating a brochure for homelessness or any other non-profit organization this may be the ideal brochure layout for your company.
Attention Grabber -- While a majority of companies (including your competitors) try to stick with an informational brochure and only have specific content, the attention grabber brochure is based on posing a question to your audience. The single question on the front of the brochure is meant to seduce a specific audience to find more information within the brochure folds. For example, while the interior of your brochure may have great content and information on your financial services, the cover displays the question, "When will you retire?" (or something similar). If your primary goal with the brochure is to create awareness then this is the perfect design for you.
Symbols Stand Alone -- From our branding articles and updates (especially the recent post about logo design), you will have learned that simple symbols standout in a person's memory. If you want to have a long-lasting effect, place a symbol (this can be your company's logo, a sketch of a product or service, etc) on the front cover as detailed or effective as possible. If you have one single product or brand concept you are looking to promote then this is the opportune brochure layout.
In summary, there are a significant number of ways that you can design your brochure, and the decision of the layout depends solely on your ability to decipher which will be most effective with your target audience. Should you need assistance with the graphic design or layout of your brochure(s) please feel free to contact IMPACT with your questions.
Need Help?
If graphic design is something that you are interested in but don't know how to get started, contact us today to schedule your free marketing analysis.
Sources:

"The Essential Step-by-Step Guide to Internet Marketing"-E-Book

SlideShare.net

Image Source: HubSpot, "The 2011 State of Inbound Marketing", E-Marketer.com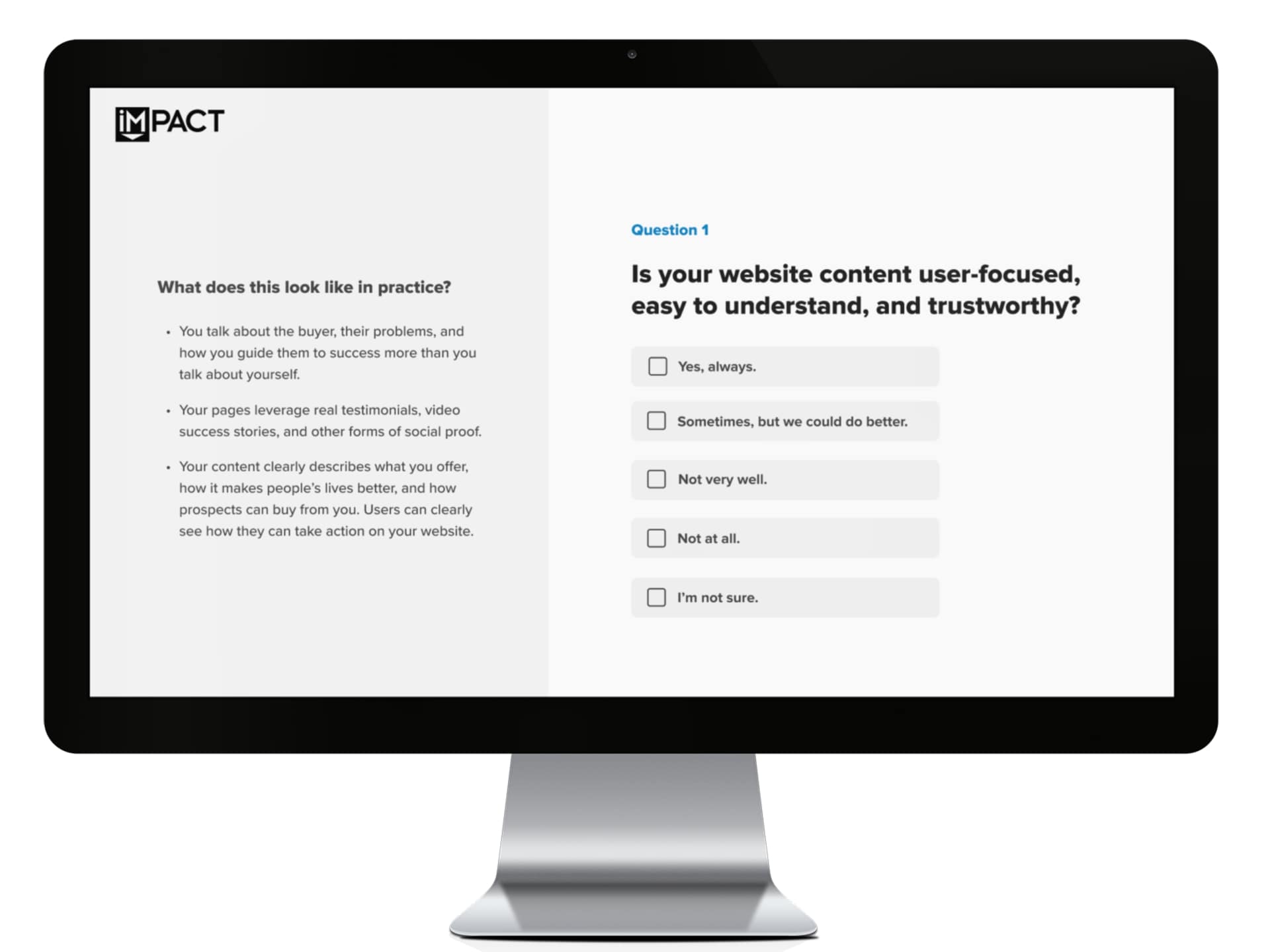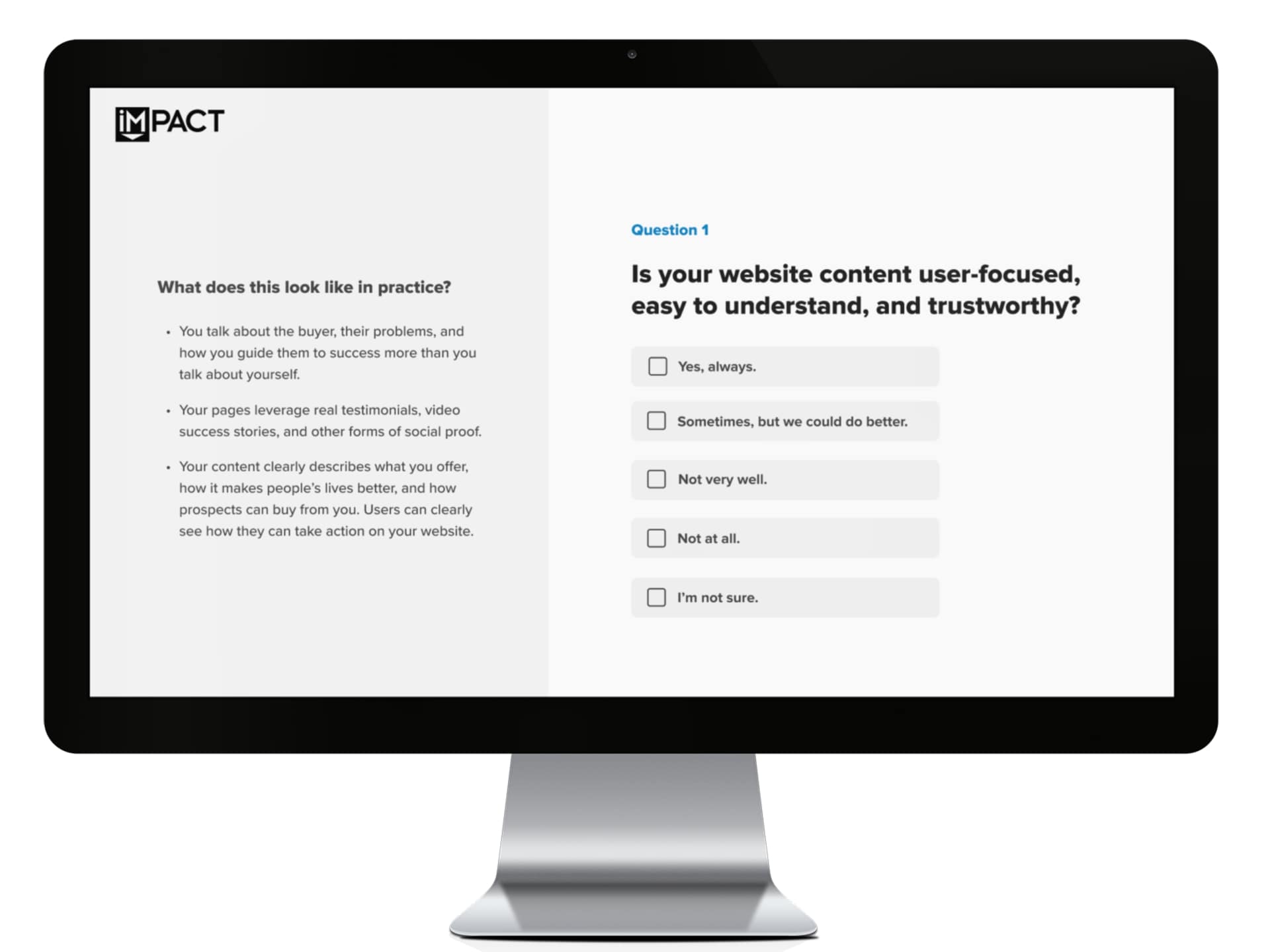 Free Assessment:
Website Performance Assessment
Does your website build trust with buyers and bring in revenue?
Take this free 10 question assessment and learn how your website can start living up to its potential.
Published on November 6, 2010