Subscribe
Join 40,000+ sales and marketing pros who receive our weekly newsletter.
Get the most relevant, actionable digital sales and marketing insights you need to make smarter decisions faster... all in under five minutes.
Thanks, stay tuned for our upcoming edition.
When you feel guilt as a leader, even the 'right' choice feels 'wrong'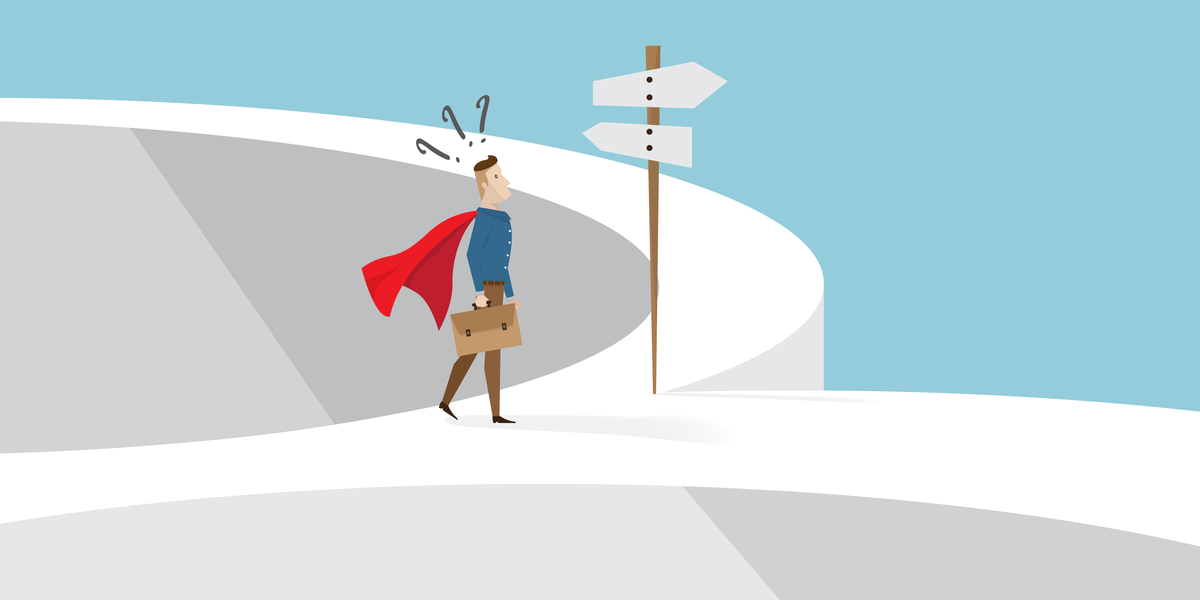 It was late afternoon on November 20, 2018.
More specifically, it was two days before Thanksgiving, and I was facing a decision that, quite frankly, all leaders face at one point or another.
I had to choose between my work family and my actual family.
On the one hand, I knew that afternoon was going to be the only time I had available to buy what I needed to contribute to our family's holiday feast, since I was having company over the night night before the big day.
On the other hand, my work as IMPACT VP of Services loomed ominously, as I felt more pressure than usual. I had been working overtime to recruit more top-performing marketers for our team, to help with capacity constraints we were having at the time.
And the longer it took me to hire new people, the more pain my team felt.
A collision of competing priorities
Truthfully, I had forgotten Thanksgiving was even coming up. I had been traveling for work earlier that moment and had been in catch-up mode ever since. So, proactive "get ahead" grocery shopping hadn't even crossed my mind.
"What's happening next quarter that I need to prepare for now?"
That question consumed my thoughts, rather than, "What's for dinner?"
So, there I sat at 4 p.m. Eastern, an hour before our typical close of business, wondering if I should go to the grocery store.
🔎 Related: The ultimate guide to inbound leadership
If I didn't go, I'd have to wake up at the crack of dawn Thursday morning — Thanksgiving Day, ugh — to grab what I needed, and still have time to cook and let the dishes cool before heading to my family's house.
Of course, that would also mean I'd have to call it pretty early or at least take it easy the night before... which is when I was supposed to have company over.
But if I went to the store in that moment — and did the right thing by my personal family — I felt it would be a failure on my part, as a leader.
In addition to challenges of capacity, in the general sense, my team was also working harder than usual, since we knocking on the door of the holidays. (Not only did they want to work ahead, since we would all be celebrating with friends and family soon, they also wanted to position their clients for a strong end-of-year finish.)
They were making the same sacrifices and didn't have the option to leave early on that fateful Tuesday afternoon. Not even by a single hour.
So, at the time, I felt leaving early wasn't an option for me either.
I would further our capacity issues, look like a jerk, and let my people down.
Ultimately, I made the choice to keep working, doing right by my work family, but screwing over my actual family in the process.
My feelings on guilt as a leader have changed
I originally wanted to share that story with you shortly after it happened last year. I'm glad I didn't, as my perspective on the guilt I felt then (as a leader and a member of my family) has changed quite a bit since then.
Back then, I would have said:
"Guilt as a leader is only when you feel you're letting your team down by choosing your personal life."
Now, I realize that leadership guilt creates ripple effects that extend well beyond scenarios like the one I shared.
Although anyone can feel a level of guilt at work when they're responsible and want to be a dependable team member, as a leader, I believe it kicks up a few notches.
As a leader you are responsible for your team's wellbeing. You're in a position to take care of people at work, and most likely you're in the same spot at home with friends and family.
In both roles, you have to be there for people.
You have to do your part in the relationship.
You have to make time for your people.
When work and life crescendo at the same time, something has to give. On that fateful November afternoon, the thing that gave was my family.
How do you choose?
Inevitably, all leaders will find themselves in some version of the predicament I was in — where you, as a leader, find yourself (and your priorities) at odds with your persona life. So, how do you decide which part of yourself "gives," when you feel that you'll inevitably let someone down, no matter what you choose to do?
There's no hard and fast rule here, and I can't tell you what's important in your own life. However, I can share the thought process I go through when I find myself in this position, since I've reflected on how I handled Thanksgiving last year.
Ask yourself, "Is this reality or a story I'm telling myself?"
One of the biggest things I've been working on personally is to not judge myself so harshly. The phrase, "I'm my own worst critic" is an understatement for how I typically see myself.
In working through that, I've been working on stopping myself from going down an assumption rabbit hole that serves no one.
🔎 Related: The toxic myth of fearless leadership
Meaning, as I rationalize myself through tough moments, big decisions, and choices, I purposefully walk myself through my rationalizations to determine if my thoughts are reflective of reality or a fear-based "story" I'm telling myself.
In examining my situation and decision process last Thanksgiving, you can see what "telling yourself a story" truly looks like, as there were four flawed "stories" I was telling myself at the time.
And for each, now I see a question I should have asked myself to bring me back to reality.
"My team is working just as hard. I should keep working hard, too."
I should have asked myself, "What would I accomplish (really) by working three extra hours?"
The answer:
Not much.
I didn't have any interviews lined up for that block of time, I'd gone through all applicants, and nothing I did that afternoon pushed anything forward. I piddled around in my email.
Oh, and I started writing this article — which, clearly, was not that urgent given that I'm only finishing it now.
"I'm going to make our capacity issues worse for my team."
Again, I should have asked myself, "What would I accomplish (really) by working three extra hours?"
The answer:
Nothing I did helped one bit. Nothing else I could have done in that time would have helped either.
I was already doing everything I could to push that forward.
I had already reached out to teams to see if I could take work off anyone, but the effort to bring me up to speed outweighed any help it would have been to them.
"If I leave early, my people will think I'm a jerk and resent me, as they still had work to do."
I should have asked myself, "Is this true? Will they really think that?"
The answer:
Honestly? Maybe.
But they wouldn't have known if I was working or not, and that's a pretty negative thing to assume others would have thought.
I work remotely.
So, no one really knows when I'm at my computer other than if I message them on Slack immediately or not. And I can do from my phone.
On top of the fact that no one would have known, it's likely no one would have cared. Work-life balance isn't reserved for only select members of our team. We all want that for each other, so I genuinely don't think anyone would have thought a negative thought about me going to the grocery store.
When you find yourself faced with your own "tough choice," ask yourself challenging questions. Yours may differ, but push yourself to determine the real reasons behind your concerns.
Sometimes they may be founded, but other times they may simply be stories you're telling yourself
Second- and third-order effects
In addition to checking yourself on what stories you may be making up as a leader, you have the added responsibility to send the right message to your team through your actions and choices.
In my case, my actions communicated the following to my team:
"It is OK to overwork. Your family and your personal times always comes second to the company."
Of course, I don't think that. No leader at IMPACT does. We know we don't get the best of our people when they're working off of caffeine and fear. But I sent a message loud and clear that commiserating was just as productive as actually working and helping to resolve a problem.
So, examining what stories you're telling yourself is only half of the battle. Take a long hard look at what your potential actions will communicate to your team. You enable the behavior you see in your team.
Of course, sometimes you will choose work over personal priorities — and that's also OK
If I could go back and make this decision again, I would have clearly gone to the store. There are times, however, when you will choose work.
For example, I ran into the same exact dilemma when Christmas rolled around later that year.
We typically close the office the week between Christmas and New Years. Toward the end of November, we decided to add on five team members for 2019. This meant, I had five times the amount of hiring I needed to do, while juggling implementing a restructure for my department.
No biggie, right?
At this time, I made the decision to work over that week to keep our hiring on pace. I had interviews lined up because it actually worked better for candidates to interview on their time off rather than talk to me in the parking lot of their current job.
🔎 Related: Ultimate list of marketing interview questions
Because I committed the extra time, I was able to find all five candidates between the week of Christmas and the first week of the year.
It was the smart move to work.
There were no stories told. I don't think most people even know I did that so no bad messages were sent.
It simply needed to be done and was the right way to prioritize my time.
I'd make this decision again in a heartbeat.
Stay grounded in reality, don't be the martyr, and focus on the smart moves
Ever scenario you will encounter as a leader will be different. And even when you make what you think is the right choice, it won't always be easy.
The key is to maintain clarity in your decision-making by asking yourself two critical questions:
"Is my assessment of the situation true?"

"What messages will my potential actions send to my team?"
Most of all, while we, as leaders, are meant to empower, challenge, and inspire our people, we should never do so at the expense of ourselves.
Free Assessment:
How does your sales & marketing measure up?
Take this free, 5-minute assessment and learn what you can start doing today to boost traffic, leads, and sales.