Subscribe
Join 40,000+ sales and marketing pros who receive our weekly newsletter.
Get the most relevant, actionable digital sales and marketing insights you need to make smarter decisions faster... all in under five minutes.
Thanks, stay tuned for our upcoming edition.
Spotify Becomes a Bigger Podcast Player with Gimlet & Anchor Acquisitions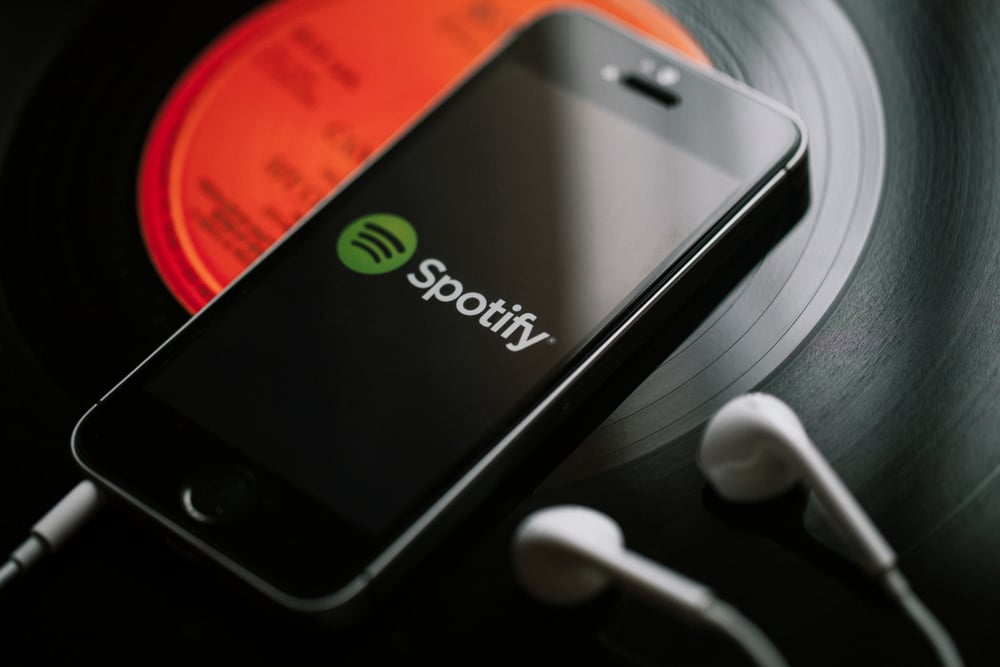 Spotify is acquiring two of the top podcasting companies, Gimlet and Anchor, in an effort to "become the leading platform for podcast creators around the world and the leading producer of podcasts," according to their blog post.
In their announcement, Spotify CEO Dan Ek spoke of the company's massive growth in users in 2018, with currently 96 million users - up 36% from last year.
Why the Change?
Of the millions of users, Ek noted that podcast listeners spend nearly twice the amount of time on Spotify - even spending more time listening to music than non-podcast listeners.
In order to maximize value for its users, Spotify made the strategic business decision to acquire the two podcasting companies in order to beef up that side of the platform.
If successful, this move will likely give Spotify a competitive edge over other music streaming platforms like Apple Music and Pandora.
Ek also backed his decision with the knowledge that many people are consciously trying to reduce their screen time.
Since many of us work on a computer all day, and then go home and continue to use tablets, smartphones, or televisions - it's becoming clear to many it's time to take a break and music/podcasts are a popular alternative.
Some apps have created built-in screen time trackers to help users be more aware of the time they're spending within apps, but Spotify took a different approach, which Ek explains:



With the world focused on trying to reduce screen time, it opens up a massive audio opportunity.

This opportunity starts with the next phase of growth in audio — podcasting. There are endless ways to tell stories that serve to entertain, to educate, to challenge, to inspire, or to bring us together and break down cultural barriers.

The format is really evolving and while podcasting is still a relatively small business today, I see incredible growth potential for the space and for Spotify in particular."
Essentially, Spotify is trying to fill the demand for consumers to reduce their overall screen time while still being entertained. With both podcast creation and podcast listening on the rise, this has massive potential to be a successful endeavor.
A New Place to Expand Your Podcast Audience
First, this news is a key indicator that Spotify is getting serious about growing as a prominent podcasting platform.
With their already massive audience (and already expected to grow), combined with these new acquisitions that will bring new tools to the table, this is something current and future podcasters and marketers interested in podcasting should take notice of.
As Spotify becomes more attractive to podcast listeners, its a great opportunity for your personal or business podcast to expand its reach and gain more listeners.
Additionally (though not confirmed), we can expect this acquisition may present some new ad opportunities as well.
In general, podcasts that cover topics based on your product or service are a great opportunity to reach potential customers through ads.
To make it easier for brands to engage with audiences via podcast ads, both Gimlet and Anchor currently offer ad opportunities of their own, such as in-podcast ads or other sponsored content.
Anchor also offers tools that make it easy for advertisers to create their own.
These tools include a "sponsorship match" that analyzes your brand and matches you with an ideal podcaster based on their demographic.
From there, advertisers have the ability to choose exactly where their ads appear in the podcast, and can even record directly in the Anchor platform.
While it's unclear if these specific tools will come over from the merge, it's important for marketers to be aware of.
Overall, a world where people are actively trying to reduce their screen time can be worrisome for digital marketers, who actively rely on video and written content. However, by keeping up with current consumer behavior trends, like investing in podcast ads, marketers can remain ahead of the curve and continue to capture users where they're hanging out.
With popular platforms like Spotify shifting more in support of the medium, you'll likely find even more opportunities to see return and growth with podcasting for your brand.
Free Assessment:
How does your sales & marketing measure up?
Take this free, 5-minute assessment and learn what you can start doing today to boost traffic, leads, and sales.