Lessons from the new Under Armour marketing plan: Your story matters
Athletic apparel giant Under Armour has big plans for its marketing budget in 2020.
During the company's most recent investor call Dave Bergman, CFO, highlighted that Under Armour's marketing investment "hit a trough" in 2018, being reduced down to 10.5% of revenue.
Under Armour's traditional marketing and advertising methods were no longer as effective. As a result, Bergman detailed a big shift in its marketing strategy for 2020, starting with the budget.
The company is planning to increase their budget to about 12% of revenue, which equates to about an $80M increase and a $650M total marketing budget for 2020.
Bergman explained further that Under Armour's marketing shift is not just about an increase in spend, but about its mix. The company's main focus is to spend its budget "the right way."
In 2020, even the biggest, most recognizable brands realize that traditional advertising is not enough.
Spending money 'the right way'
One example of how Under Armour is adjusting its "mix" is by shifting spend that was previously committed to sports marketing contracts, like its endorsement deal with Steph Curry. Instead, the company will reinvest in the brand, like content creation, website redesign, and investing in a CRM.
While an endorsement deal with a famous athlete may be effective, it can be very difficult to quantify the return on that spend.
Under Armour plans to rebuild its e-commerce site and integrate a CRM in order to align its digital sales and marketing, and ensure its marketing budget is spent "the right way."
Spending against the brand
Patrik Frisk, CEO, elaborated on this and explained that ultimately, they are looking to drive brand consideration. Brand awareness is there, but they struggle to answer the consumer's main question, "why should [a consumer] consider Under Armour" over Nike, Adidas, and the other industry heavyweights.
Frisk continued, "As we started coming to 2019 and now into 2020, we're starting to be able to activate more of the money top-of-funnel and mid-funnel and that's incredibly important."
"That's why I keep saying that there isn't anything wrong with the brand, the problem is consideration. To be able to drive consideration you need to spend against the brand."
What he means by spending against the brand is that they want to drive consideration for their products by marketing them "in combination" with the brand.
For example, you can now shop items in Under Armour's instagram posts, which feels more organic than a typical product shot: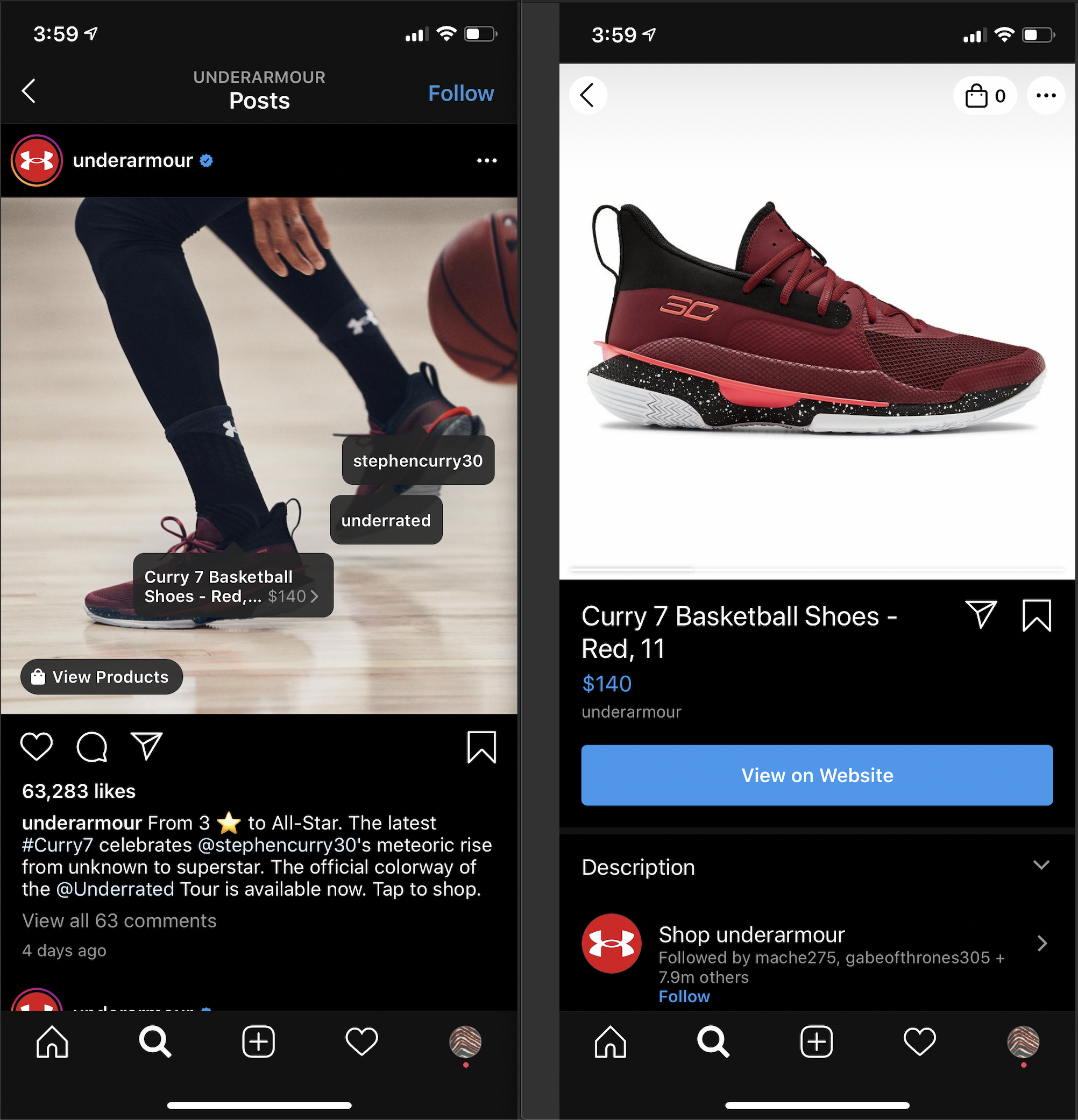 UA's new campaign, "The Only Way is Through", is an example of their product and brand co-marketing in action.
The overall message here isn't about a new product or technology, but to showcase their new items while also reinvesting in their brand and reinforcing their bigger initiative, that "Under Armour understands athletes"
They also want to understand their target consumer better as well. Frisk added, "'It's not [that] the company wasn't consumer-centric before, it's just that we are now able to use data much more purposefully to understand what matters to the consumer."
Personalizing and aligning their digital sales and marketing
Another key shift is that Under Armour is investing heavily into more personalized marketing by leveraging a CRM to "drive higher engagement, frequency and repetition," alongside a new e-commerce platform.
Frisk has admitted that UA's current website is "challenged" and "behind where [they] thought it would be."
They plan to leverage the website and CRM platform in order to convert more top-of-funnel and mid-funnel.
Why does this matter?
To business leaders and marketers working with much smaller budgets, what is there to learn from an international corporation's marketing shift?
The biggest take-away for SMBs is that Under Armour — a company with $2.4B in profits last year — has acknowledged that its traditional marketing approach needs to change.
In other words, even billion-dollar behemoths make missteps and have to continually reevaluate their marketing tactics.
By investing heavily in digital and marketing, UA's main goal is to continue to increase brand awareness and consumer engagement by aligning their digital sales and marketing efforts.
This should sound familiar.
If you're a frequent reader of our blog, Under Armour's adoption of a "customer-first" marketing approach is just another example of how the principles of They Ask, You Answer can be applied to any company, no matter the size.
The company has launched a new podcast, too: "The Only Way is Through: The Under Armour Podcast".
If Under Armour's shift in marketing strategy teaches us nothing else, it should be further proof that all companies NEED to be publishing consistent, quality content, regardless of why you may think "your company is different".
It's all about consistently creating quality content that not only adds value to your brand, but truly reinforces your company's mission. In this case, the message they're trying to convey is simple: "Under Armour understands athletes."
Aligning your sales and marketing around a clear company mission, whether you are a company of 10 or 10,000, is certainly sound advice.
Free Assessment:
How does your sales & marketing measure up?
Take this free, 5-minute assessment and learn what you can start doing today to boost traffic, leads, and sales.