6 Incredible Tools To Boost Your Podcast Results [IMPACT Toolbox Sep 2019]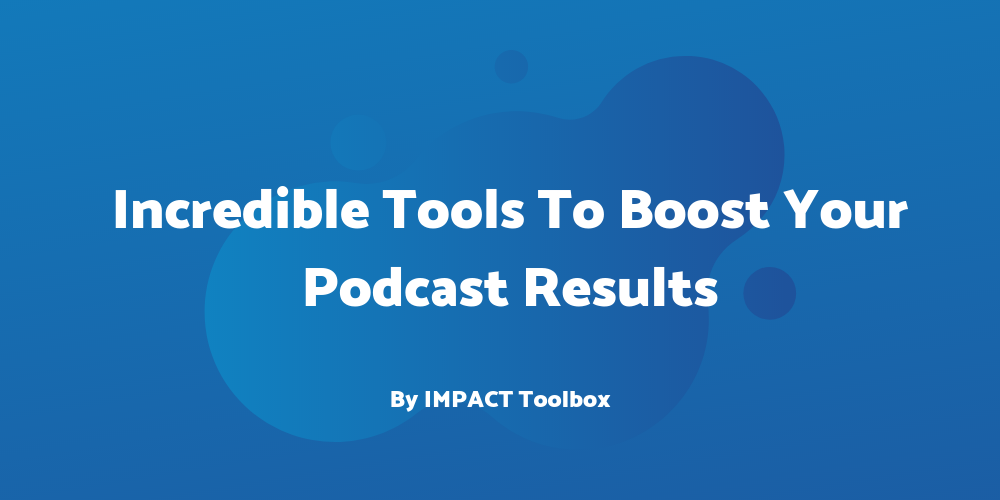 It feels like every time we turn around, the podcasting industry is even bigger.
Between the dramatic listener growth in 2019 and huge industry acquisitions (like Spotify buying Gimlet and Anchor), there's never been a better time to start and grow a podcast.
And, as in every successful industry, tools are popping up left and right to help you create, market, and see results from your podcasting efforts.
Whether you have a podcast, are thinking of starting one, or you're just a listener, you will find something useful in this collection of podcast tools released or updated in the last few months.

This article is part of our IMPACT Toolbox series
With IMPACT Toolbox, we discuss all of the latest (and sometimes underrated) digital sales and marketing tools that you need to try. We make recommendations by category, helping you figure out what tool is best for your situation, and introduce you to tools you may not hear of otherwise.
Have questions about a marketing tool? Want to know whether or not we've reviewed it? Reach out to @morganandrewv on Twitter and let me know!

Today we're going to look at:
1. Plink: One smart link that connects your podcast on most major platforms
Price: Free, with custom links and additional features for $14/year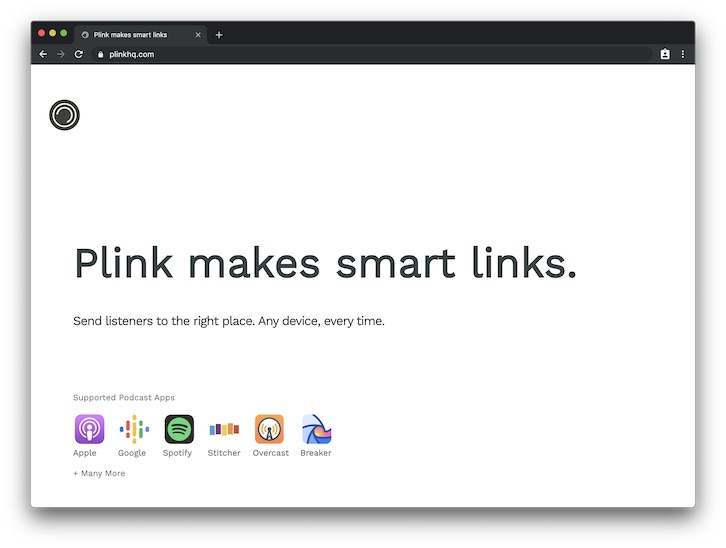 How do you usually share your podcast episode links? Do you link directly to an app like Apple Podcasts?
Better yet, how many times have you gone to click on a podcast link only to find it links to an app you don't have or for a different platform?
Doesn't seem like a great experience for anyone.
Enter Plink.
With Plink, you get a "smart link" for podcast shows. It gives you two options for sharing your podcast episodes:
Share a link that opens a native app on your listener's device
Share a link that opens a "show" page that allows listeners to select their podcast app, and then your episode opens in that app
You can get access to your show's link for free, or upgrade for some additional features such as:
Custom short branded link (plnk.to/yourshow)
Add your iTunes affiliate ID
Add/edit/customize podcast app's page URLs
Custom show pages - remove "powered by plink"
Custom embeds - remove "powered by plink"
Increased visibility - page search indexing
With the number of podcast listening apps increasing, your listeners may not be using the native app on their phone anymore. At the very least, you know Android users can't smoothly open an Apple Podcasts link.
Using Plink can help reduce the friction between sharing a link and your audience starting to listen.
2. Pod Hunt: Podcast discovery and curation platform to find the best episodes and engage with listeners
Price: Free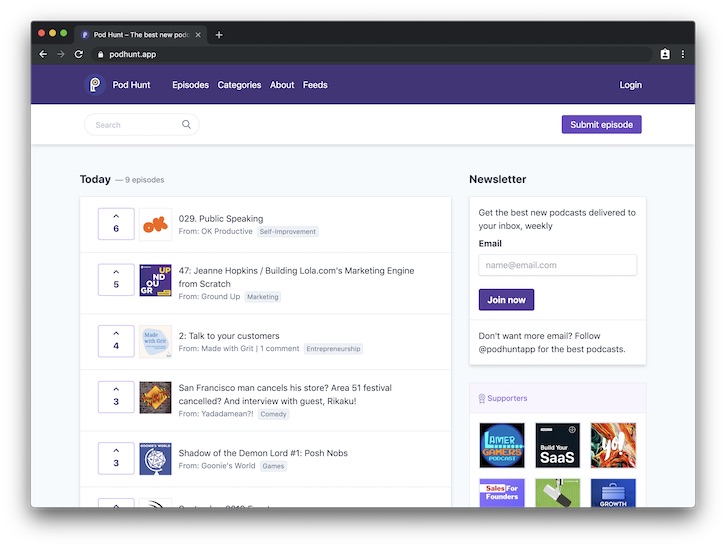 While some podcasts are better listened to back-to-back, there are many cases where episodes work perfectly fine as a standalone experience.
There's also a general lack of consolidated places to find and talk about podcast episodes, unless you're searching around on Reddit or various social platforms.
But again, I wouldn't consider those consolidated.
Pod Hunt is attempting to solve those issues.
At its most basic, Pod Hunt is a place to share and vote on individual podcast episodes.
Each episode can have a category, description, details, and a preview. There's also a section for comments, so it builds a public community around episodes. You can add a short preview of the episode in a playable audio snippet. If you're the host or guest of an episode, you'll have a tag next to your avatar when you're commenting, for a little visual differentiation.
On top of that, Pod Hunt offers an RSS feed that collects the top five episodes each day and sends them to your podcast player. Or, you can get the best episodes delivered to your inbox weekly and via Twitter.
Pod Hunt is still a young platform, so you have a good opportunity to regularly share your content and engage with audiences there. As with other social platforms, interacting with content that is not your own will have benefits for you and the community. And you can encourage your listeners to visit the site, upload or upvote your episodes, and talk to one another.
Check it out, upload your latest episode, and share the link in IMPACT Elite!
3. Supercast: Add a subscription to your podcast as an alternative to sponsored ads
Price: Beta, early adopter pricing of $0.99/subscriber (plus payment processing unless you use a custom membership platform)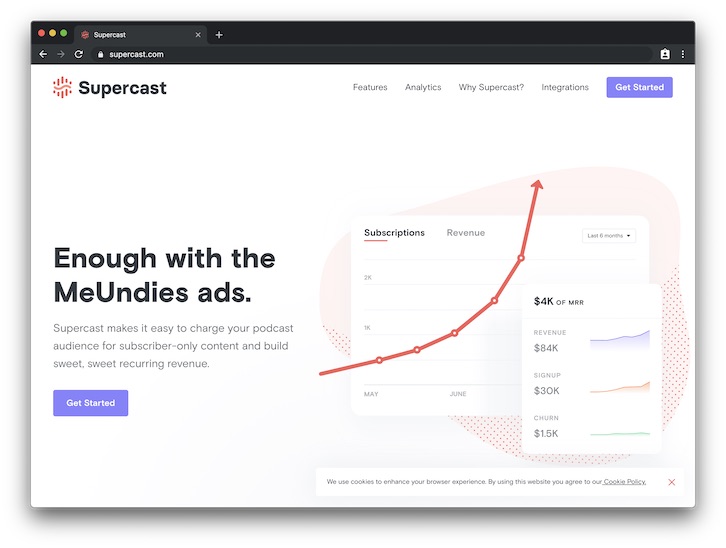 I would hazard to guess that one of the reasons businesses don't start podcasts is because they aren't sure how to tie them back to revenue.
How is this podcast thing going to help us make money?
The most common revenue generation for podcasts is through sponsorships and advertising, but that can be a rabbit hole of its own.
Who is going to advertise on your show?
What stats do they need to know about your audience before signing on? Do you even have those stats?
But there is another way.
Supercast is a membership platform built specifically for podcasters. You customize a landing page with a private podcast feed link that your audience can pay for. And then they add the private feed link to their favorite podcast app. It's all listed on one page, so it's a simple process for them with minimal friction. They click their podcast player of choice, and they are taken to it with a pre-populated link.
As part of using the subscription, you'll get:
Business metrics (revenue, lifetime value, churn, etc.),
Audience analytics (top episodes, who is listening to what, etc.)
Feed fraud alerts (warn offenders and suspend abused feeds)
So what are some use cases of a private podcast feed?
The purpose of a private podcast feed is sharing some kind of exclusive content with your subscribers. But that can be more than just a private podcast.
For example, you could have a public podcast feed that is available to everyone, but the private feed has additional content like bonus episodes, extended interviews, or AMAs / Q&As.
You could also allow early access, behind the scenes, or special guests on a private feed.
If you currently have sponsors, your private feed could be an ad-free version of the episode.
You could even use a private podcast feed as a way to deliver courses and professional development.
Who is Supercast not a good fit for?
If you are just getting into podcasting, or don't have an audience that you can get subscribers from right away, I would probably not use Supercast yet.
Not that you couldn't benefit or that there wouldn't be value. But if you're just starting out, your priority should be on producing consistent, quality content. Once you have that working — even if you have a small audience — then you can explore private feeds.
4. SquadCast: Remote interview service for podcast hosts to record quality audio anywhere
Price: Plans $5/hour, $20/month, and custom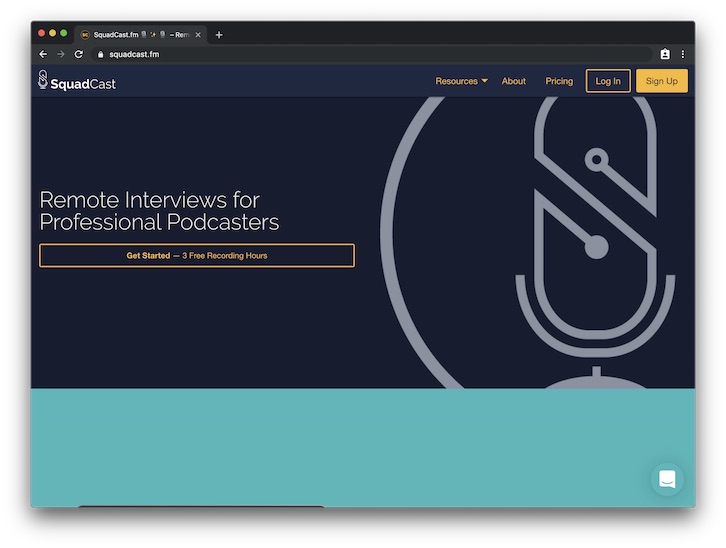 Having great audio for your podcast is key.
And if you have remote guests on your podcast, that can be a bit of a struggle (especially if they aren't in a studio setting).
What tool(s) are you using to record?
Is the audio being recorded on a single track? Or is it double-ended?
There are options like Zoom, Skype, or a few others. But those require your guests to have a separate account.
And, let's be honest, those platforms were not designed for recording podcast episodes.
Enter SquadCast, a tool designed by podcasters, for podcasters for high quality, remote audio recordings. Invite your guests, prep together prior to recording, record and conduct the discussion, and access your high-quality audio recordings after.
SquadCast requires no downloads and works directly in the browser. Everyone's audio is recorded separately so you have the highest quality with minimal issues. Access a green room prior to recording so you can check the equipment setup and welcome guests to the episode.
It also uses progressive uploads and cloud backups, so you don't lose your recordings even if they don't end according to plan.
At the moment, its platform allows one host and up to three guests. Your audio is available in WAV and MP3 formats.
Future updates will include video recordings and transcriptions.
Speaking of transcriptions...
5. Descript - The new Podcast Studio update makes editing your podcast simple
Price: Free plan with core features and three hours of transcription, Paid starting at $10/month with free automated transcription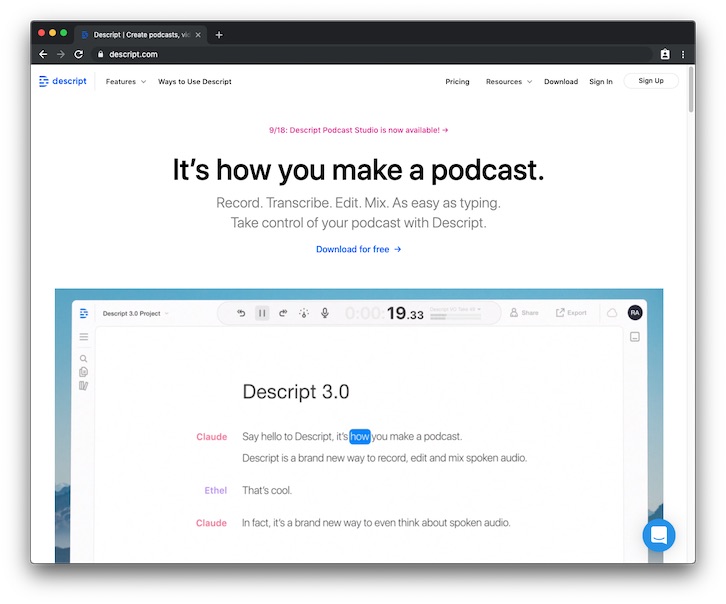 You might remember Descript, a tool for editing videos like a document from the November Toolbox article.
Well, now they're back with a huge Podcast Studio update and some pricing changes that sweeten the deal.
Add your audio, and Descript provides an editable transcript for you to control. Easily delete parts of your audio transcript to remove the associated audio. You can adjust the volume, add fades and crossfades, add music tracks, and edit with more than one person in a project, and a lot more (plus all this still applies to videos).
Descript also has an amazing new integration with Lyrebird AI that can allow you to auto-generate your voice (what?!). So now, not only can you delete audio by deleting text, but you can add audio by typing. This feature is currently in beta and requires contacting Descript to see if you're a good fit.
And if you need more fine-tuning, Descript exports non-destructive files that you can edit further in Final Cut Pro, Premier Pro, or Adobe Audition.
6. Vivid.fm - Get automatic video teasers for your podcast
Price: Pricing starting at $8/month - use the code IMPACTEARLY2019 for 30% off all plans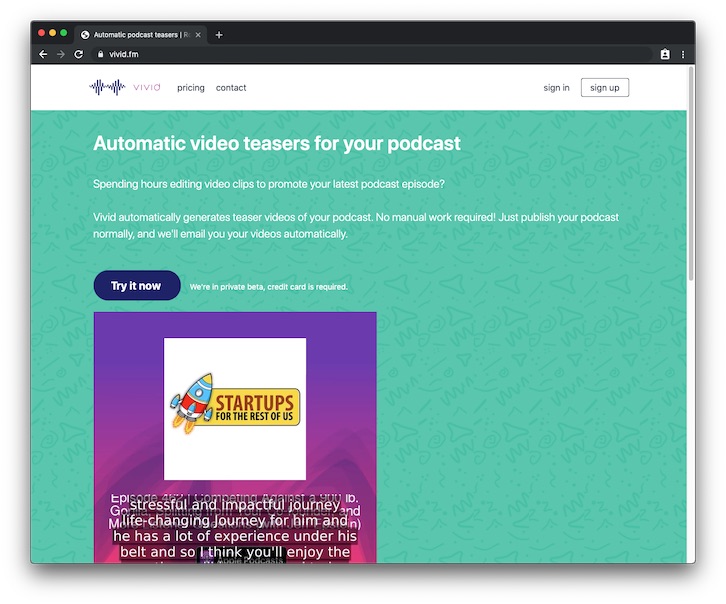 Hot off the press, Vivid in private beta with some updated plans and pricing.
Vivid is a tool that generates teaser videos for your podcast episodes. You add your podcast feed, and every time you publish a new episode, Vivid will email your video teaser.
Some of the features that are coming with V1 include:
Edit the transcript and regenerate the the teaser
Get the full transcript of your episode (Pro plan)
Higher level plans will enable you to get more automatic teasers per episode and additional editing options.
Hang on, why do I need videos for my podcasts?
Because people interact more often with videos, and social platforms treat video better than any other medium!
So, by converting your audio podcasts into some form of video, you're adding a lot more reach and potential interactions than just an audio snippet or text quote.
Tools to share, discover, edit, monetize, and record your podcasts
The only time better than today to start a podcast was yesterday.
So get to it!
The tools we discussed today can help you take better advantage of the time you are putting into podcasting. If you have other tools you are using, feel free to share!
Did you find something useful in our round-up? Let us know how one of these tools helped improve your business in IMPACT Elite! And if there's a specific tool you have questions about, let us know and we'll see if we can help you figure out the best option for you.
Free Assessment:
How does your sales & marketing measure up?
Take this free, 5-minute assessment and learn what you can start doing today to boost traffic, leads, and sales.